Bhrosa Shayari"Yeh Mati Ke Insaano Per Bharose Ki Saza Hai"
|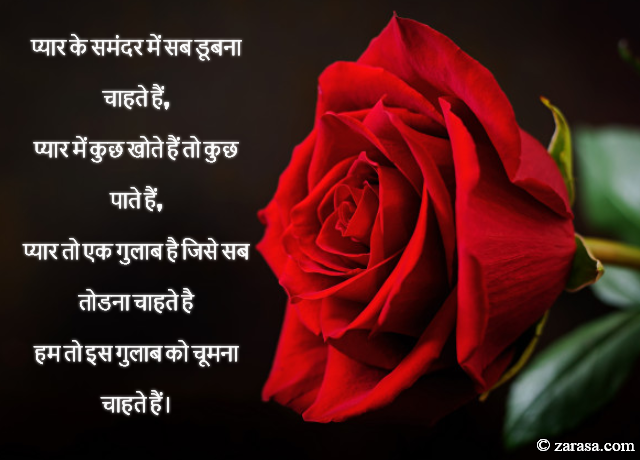 Pyaar ke Samandar Me Sab Doobna Chahte Hain,
Pyaar me Kuch Khote Hain, Toh Kuch Paate Hain,
Pyaar Toh Ek Gulaab hai Jise Sab Todna Chahte Hai,
Hum To Es Gulab Ko Chumna Chahte Hain.
प्यार के समंदर में सब डूबना चाहते हैं,
प्यार में कुछ खोते हैं तो कुछ पाते हैं,
प्यार तो एक गुलाब है जिसे सब तोडना चाहते है
हम तो इस गुलाब को चूमना चाहते हैं।
پیار کے سمندر مے سب دبنا چاہتے ہیں
پیار مے کچھ کھوتے ہیں ٹوہ کچھ پاتے ہیں
پیار ٹوہ ایک گلاب ہے جسے سب توڑنا چاہتے ہے
ہم تو یس گلاب کو چومنا چاہتے ہیں
---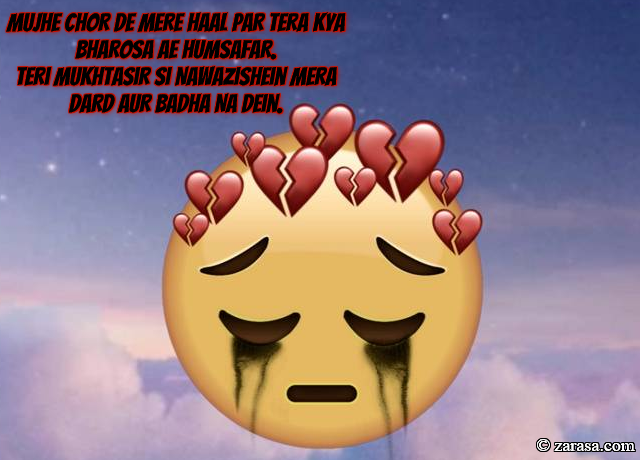 Mujhe Chor De Mere Haal Par Tera Kya Bharosa Ae Humsafar.
Teri Mukhtasir Si Nawazishein Mera Dard Aur Badha Na Dein.

मुझे चोर दे मेरे हाल पर तेरा क्या भरोसा ऐ हमसफ़र .
तेरी मुख़्तसर सी नवाज़िशें मेरा दर्द और बढ़ा न दें .

مجھے چھوڑ دے میرے حال پر تیرا کیا بھروسہ اے ہمسفر.

تیری مختصر سی نوازشیں میرا درد اور بدھ نہ دیں .
---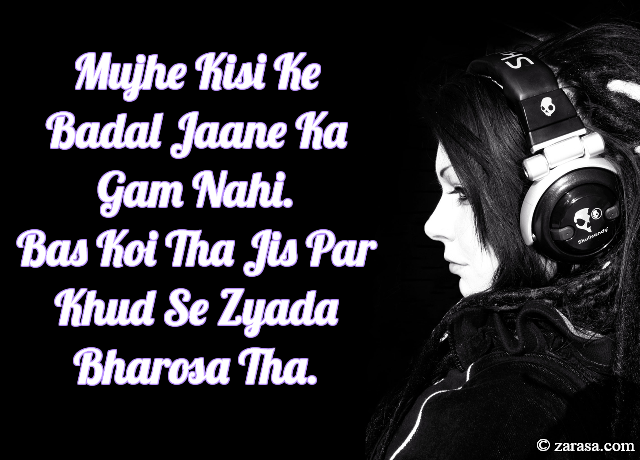 Mujhe Kisi Ke Badal Jaane Ka Gam Nahi.
Bas Koi Tha Jis Par Khud Se Zyada Bharosa Tha.
मुझे किसी के बदल जाने का ग़म नहीं .
बस कोई था जिस पर ख़ुद से ज़्यादा भरोसा था .
مجھے کسی کے بدل جانے کا گم نہیں .
بس کوئی تھا جس پر خود سے زیادہ بھروسہ تھا .
---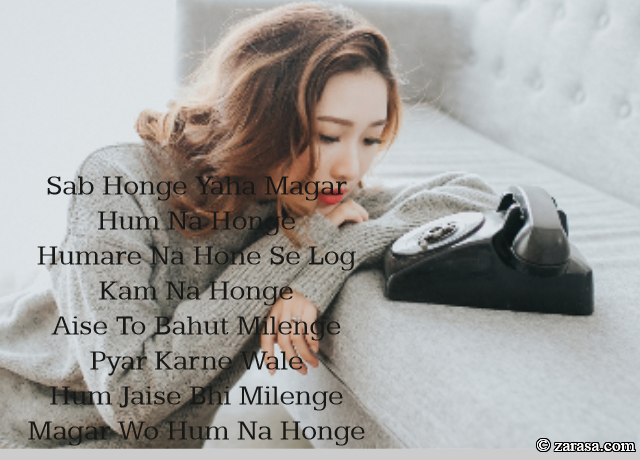 Sab Honge Yaha Magar Hum Na Honge
Humare Na Hone Se Log Kam Na Honge
Aise To Bahut Milenge Pyar Karne Wale
Hum Jaise Bhi Milenge Magar Wo Hum Na Honge
सब होंगे यहाँ मगर हम न होंगे
हमारे न होने से लोग काम न होंगे
ऐसे तो बहुत मिलेंगे प्यार करने वाले
हम जैसे भी मिलेंगे म मगर वो हम न होंगे
سب ہونگے یہا مگر ہم نہ ہونگے
ہمارے نہ ہونے سے لوگ کم نہ ہونگے
ایسے تو بہت ملینگے پیار کرنے والے
ہم جیسے بھی ملینگے مگر وہ ہم نہ ہونگے
---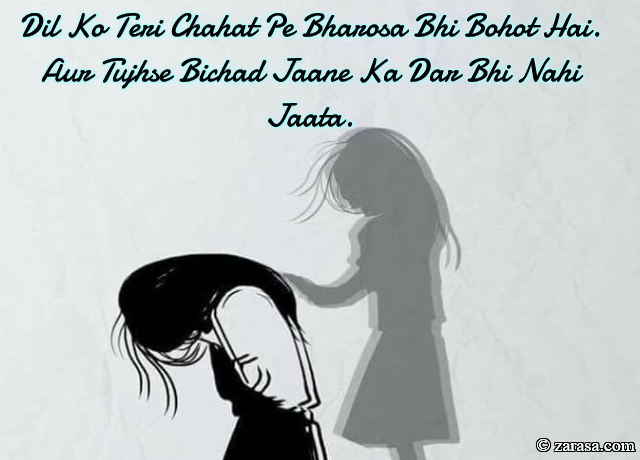 Dil Ko Teri Chahat Pe Bharosa Bhi Bohot Hai.
Aur Tujhse Bichad Jaane Ka Dar Bhi Nahi Jaata.
दिल को तेरी चाहत पे भरोसा भी बोहोत है .
और तुझसे बिछड़ जाने का डर भी नहीं जाता .

دل کو تیری چاہت پی بھروسہ بھی بوہوت ہے .
اور تجھسے بچڈ جانے کا ڈر بھی نہیں جاتا .

---