Shayari for Kamyabi (success)"Kisi Ke Liye Rona Bhi Zindagi Hai"
|
Pyar Mein Kisi Ko Khona Bhi Zindagi Hai
Zindagi Mein Ghamo Ga Hona Bhi Zindagi Hai
Yuh Toh Rehte Hai Hamare Hontho Par Muskurahat
Par Chupke Se Kisi Ke Liye Rona Bhi Zindagi Hai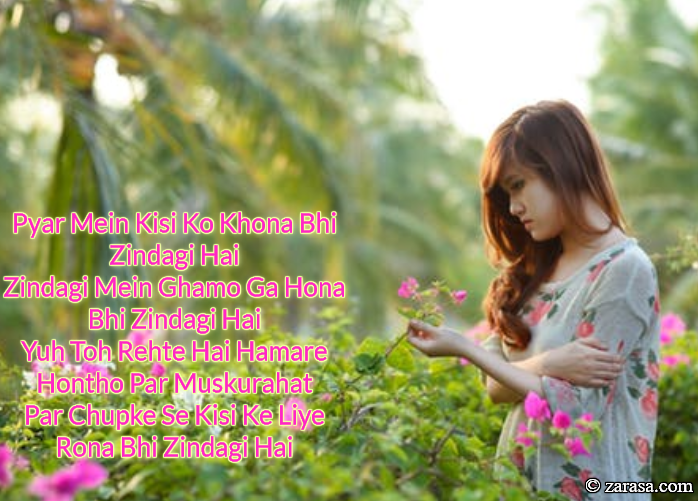 ---

प्यार में किसी को खोना भी ज़िन्दगी है
ज़िन्दगी में ग़मो का होना भी ज़िन्दगी है
यह तोह रहते है हमारे होंठो पर मुस्कराहट
पर चुपके से किसी के लिए रोना भी ज़िन्दगी है


---

پیار میں کسی کو کھونا بھی زندگی ہے
زندگی میں غمو کا ہونا بھی زندگی ہے
یھ تو رہتے ہے ہمارے ہونٹھو پر مسکراہٹ
پر چپکے سے کسی کے لئے رونا بھی زندگی ہے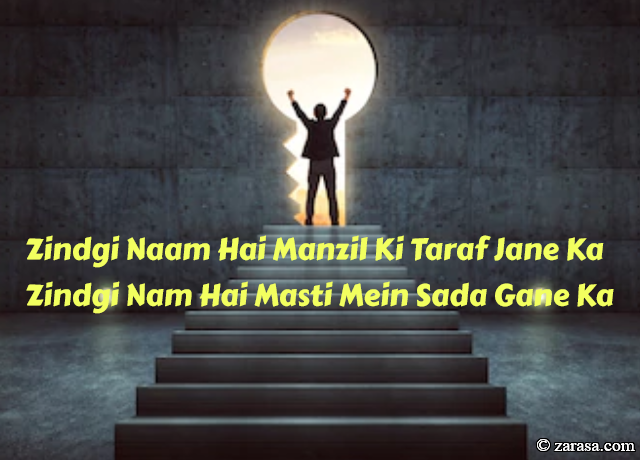 Zindgi Naam Hai Manzil Ki Taraf Jane Ka
Zindgi Nam Hai Masti Mein Sada Gane Ka
ज़िंदगी नाम है मंज़िल की तरफ जाने का
ज़िंदगी नाम है मस्ती में सदा गाने का
زندگی نام ہے منزل کی طرف جانے کا
زندگی نام ہے مستی میں سادہ گانے کا
---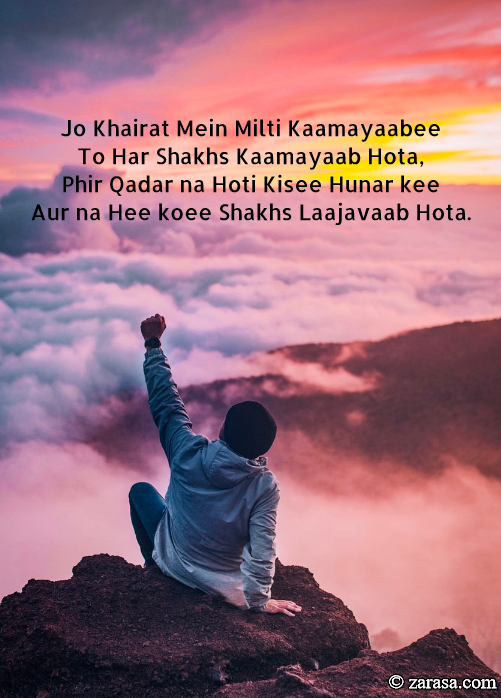 Jo Khairat Mein Milti Kaamayaabee
To Har Shakhs Kaamayaab Hota,
Phir Qadar na Hoti Kisee Hunar kee
Aur na Hee koee Shakhs Laajavaab Hota.
जो खैरात में मिलती कामयाबी
तो हर शख्स कामयाब होता ,
फिर क़दर न होती किसी हुनर की
और न ही कोइ शख्स लाजवाब होता


جو خیرات میں ملتی کامےابے
تو ہر شخص کامیاب ہوتا
پھر قدر نہ ہوتے کیسے ہنر کی
اور نہ ہی کوئی شخص لاجواب ہوتا
---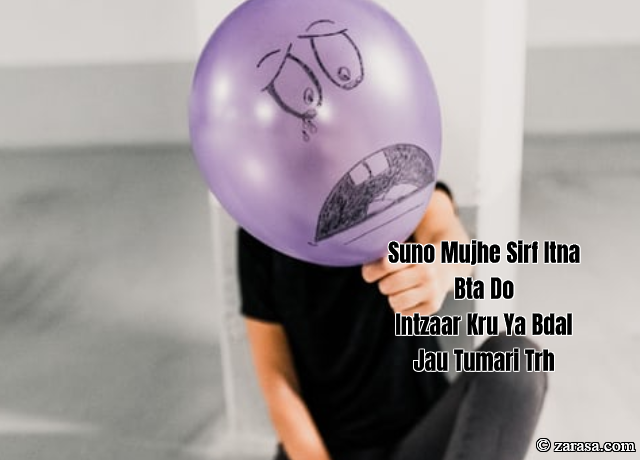 Suno Mujhe Sirf Itna Bta Do
Intzaar Kru Ya Bdal Jau Tumhari Tarh
सुनो मुझे सिर्फ इतना बता दो
इंतज़ार कृ या बदल जाऊ तुम्हारी तरह
سنو مجھے صرف اتنا بتا دو
انتظار کرو یا بدل جاؤ تماری طرح
---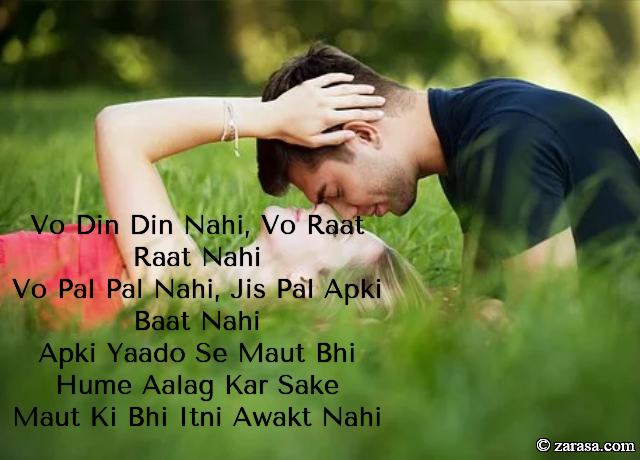 Vo Din Din Nahi, Vo Raat Raat Nahi
Vo Pal Pal Nahi, Jis Pal Apki Baat Nahi
Apki Yaado Se Maut Bhi Hume Aalag Kar Sake
Maut Ki Bhi Itni Awakt Nahi
वो दिन दिन नहीं , वो रात रात नहीं
वो पल पल नहीं , जिस पल आपकी बात नहीं
आपकी यादो से मौत भी हमे अलग कर सके
मौत की भी इतनी अव्यक्त नहीं
وہ دن دن نہیں , وو رات رات نہیں
وہ پل پل نہیں , جس پل آپکی بات نہیں
آپکی یادو سے موت بھی ہمیں الگ کر سکے
موت کی بھی اتنی آواکت نہیں
---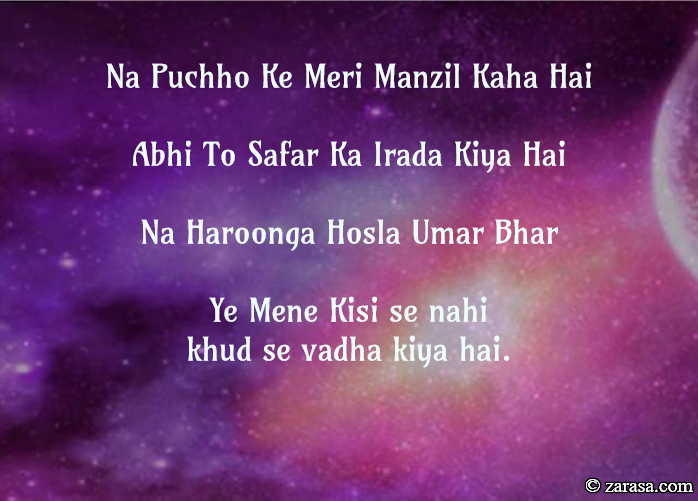 Na Puchho Ke Meri Manzil Kaha Hai
Abhi To Safar Ka Irada Kiya Hai
Na Haroonga Hosla Umar Bhar
Ye Mene Kisi se nahi khud se vadha kiya hai.
न पूछो के मेरी मंज़िल कहा है
अभी तो सफर का इरादा किया है
न हरूँगा हौसला उम्र भ
ये मेने किसी से नहीं खुद से वधा किया है .
نہ پوچھو کے میری منزل کہاں ہے
ابھی تو سفر کا ارادہ کیا ہے
نہ حرونگا حوصلہ امر بھر
یہ مینے کسی سے نہیں خود سے ودھ کیا ہے .
---