Shayari for Kamyabi (success)"Kisi Ke Liye Rona Bhi Zindagi Hai"
|
Pyar Mein Kisi Ko Khona Bhi Zindagi Hai
Zindagi Mein Ghamo Ga Hona Bhi Zindagi Hai
Yuh Toh Rehte Hai Hamare Hontho Par Muskurahat
Par Chupke Se Kisi Ke Liye Rona Bhi Zindagi Hai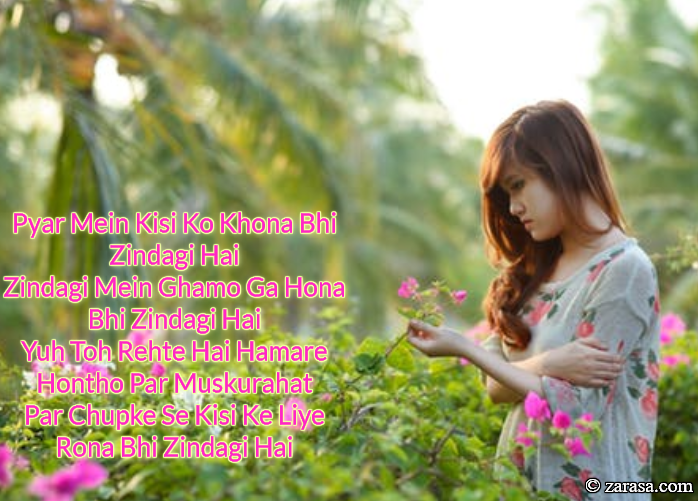 ---

प्यार में किसी को खोना भी ज़िन्दगी है
ज़िन्दगी में ग़मो का होना भी ज़िन्दगी है
यह तोह रहते है हमारे होंठो पर मुस्कराहट
पर चुपके से किसी के लिए रोना भी ज़िन्दगी है


---

پیار میں کسی کو کھونا بھی زندگی ہے
زندگی میں غمو کا ہونا بھی زندگی ہے
یھ تو رہتے ہے ہمارے ہونٹھو پر مسکراہٹ
پر چپکے سے کسی کے لئے رونا بھی زندگی ہے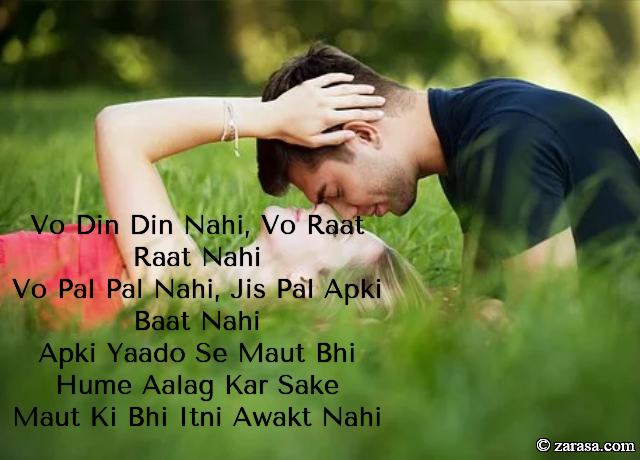 Vo Din Din Nahi, Vo Raat Raat Nahi
Vo Pal Pal Nahi, Jis Pal Apki Baat Nahi
Apki Yaado Se Maut Bhi Hume Aalag Kar Sake
Maut Ki Bhi Itni Awakt Nahi
वो दिन दिन नहीं , वो रात रात नहीं
वो पल पल नहीं , जिस पल आपकी बात नहीं
आपकी यादो से मौत भी हमे अलग कर सके
मौत की भी इतनी अव्यक्त नहीं
وہ دن دن نہیں , وو رات رات نہیں
وہ پل پل نہیں , جس پل آپکی بات نہیں
آپکی یادو سے موت بھی ہمیں الگ کر سکے
موت کی بھی اتنی آواکت نہیں
---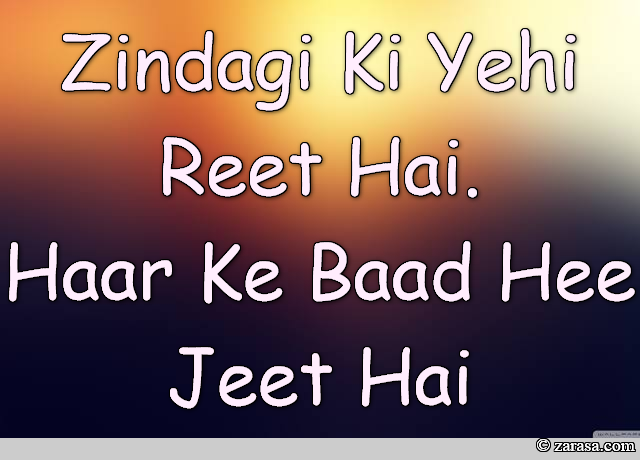 Zindagi Ki Yehi Reet Hai.
Haar Ke Baad Hee Jeet Hai.
ज़िन्दगी की एहि रीत है ,
हार के बाद ही जीत है
زندگی کی یہ i رے t ہے ,
ہار ک کے بعد ہی جیت ہے
---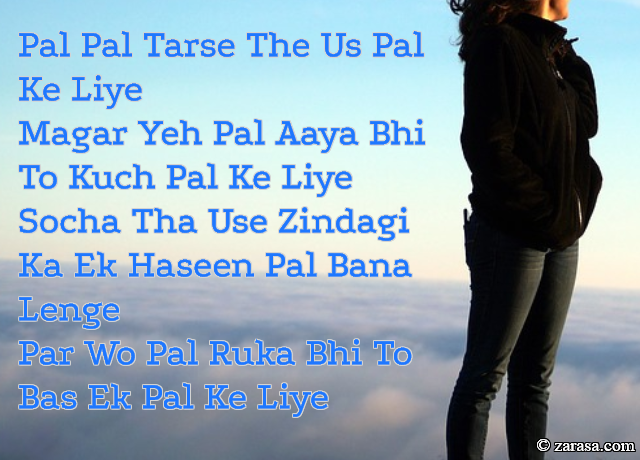 Pal Pal Tarse The Us Pal Ke Liye
Magar Yeh Pal Aaya Bhi To Kuch Pal Ke Liye
Socha Tha Use Zindagi Ka Ek Haseen Pal Bana Lenge
Par Wo Pal Ruka Bhi To Bas Ek Pal Ke Liye
पल पल तरसे थे उस पल के लिए
मगर यह पल आया भी तो कुछ पल के लिए
सोचा था उसे ज़िन्दगी का एक हसीं पल बना लेंगे
पर वो पल रुका भी तो बस एक पल के लिए
پل پل ترسے تھے اس پل کے لئے
مگر یہ پل آیا بھی تو کچھ پل کے لئے
سوچا تھا اسے زندگی کا ایک حسین پل بنا لینگے
پر وو پل روکا بھی تو بس ایک پل کے لئے
---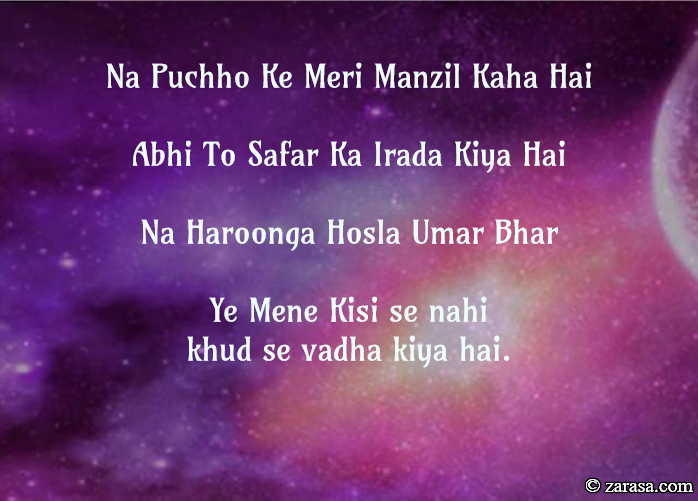 Na Puchho Ke Meri Manzil Kaha Hai
Abhi To Safar Ka Irada Kiya Hai
Na Haroonga Hosla Umar Bhar
Ye Mene Kisi se nahi khud se vadha kiya hai.
न पूछो के मेरी मंज़िल कहा है
अभी तो सफर का इरादा किया है
न हरूँगा हौसला उम्र भ
ये मेने किसी से नहीं खुद से वधा किया है .
نہ پوچھو کے میری منزل کہاں ہے
ابھی تو سفر کا ارادہ کیا ہے
نہ حرونگا حوصلہ امر بھر
یہ مینے کسی سے نہیں خود سے ودھ کیا ہے .
---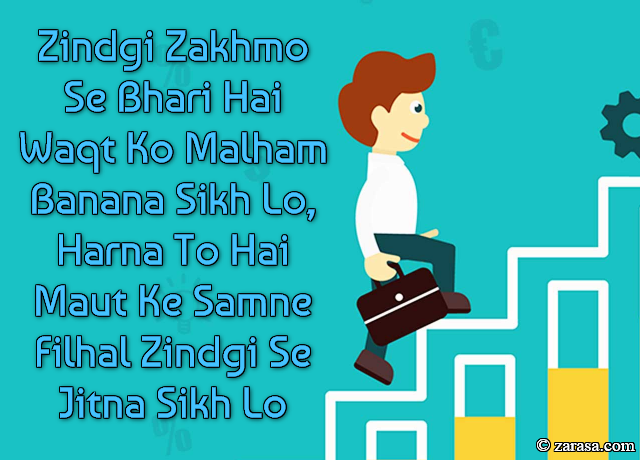 Zindgi Zakhmo Se Bhari Hai
Waqt Ko Malham Banana Sikh Lo,
Harna To Hai Maut Ke Samne
Filhal Zindgi Se Jitna Sikh Lo
ज़िंदगी ज़ख्मो से भरी है
को मलहम बनाना सिख लो
हारना तो है मौत के सामने
फ़िलहाल ज़िंदगी से जितना सिख लो
زندگی زخمو سے بھری ہے
وقت کو ملہم بنانا سکھ لو
ہارنا تو ہے موت کے سامنے
فلحال زندگی سے جتنا سکھ لو
---