Shayari for Chaand Taare"Aasman Ka Chand Teri Baaho Me Ho"
|
Aasman Ka Chand Teri Baaho Me Ho
Tu Jo Chahe Teri Raaho Me Ho
Har Vo Khawab Ho Pura Jo Teri Ankho Me Ho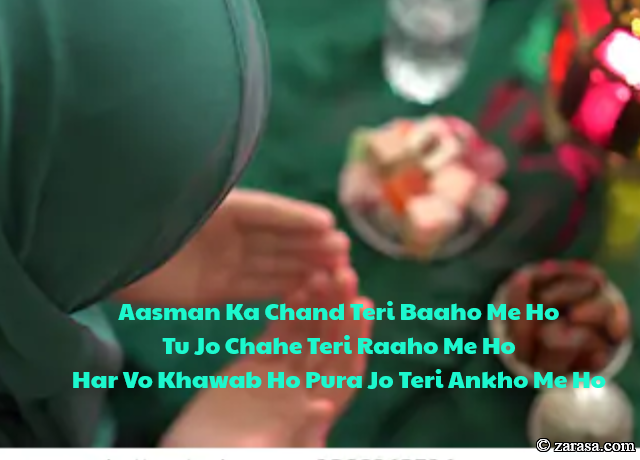 ---

आसमान का चाँद तेरी बाहो में हो
तू जो चाहे तेरी राहो में हो
हर वो खवाब हो पूरा जो तेरी आँखों में हो


---

آسمان کا چاند تیری بہو مے ہو
تو جو چاہے تیری رہاہو مے ہو
ہر وہ خواب ہو پورا جو تیری آنکھو مے ہو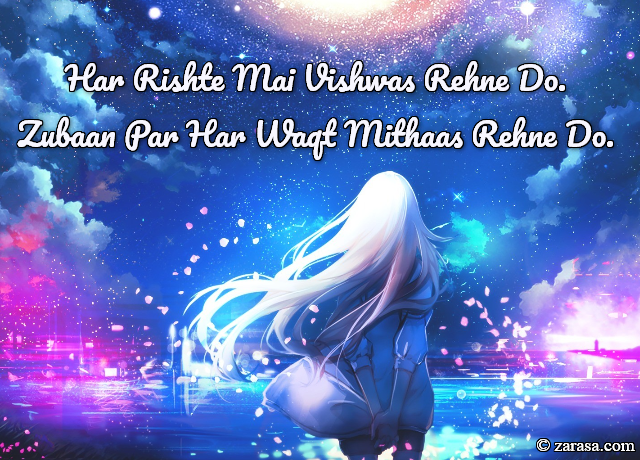 Har Rishte Mai Vishwas Rehne Do.
Zubaan Par Har Waqt Mithaas Rehne Do.
हर रिश्ते मैं विश्वास रहने दो .
ज़ुबाँ पर हर वक़्त मिठास रहने दो .
ہر رشتے می وشواس رہنے دو .
زبان پر ہر وقت مٹھاس رہنے دو .
---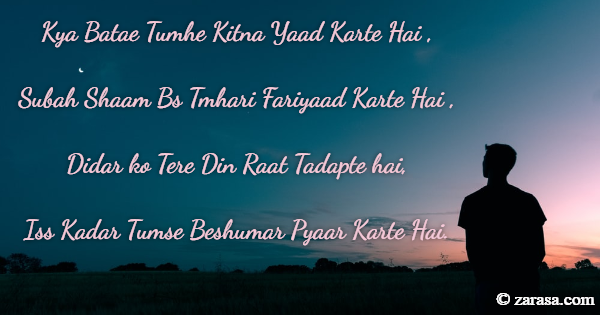 Kya Batae Tumhe Kitna Yaad Karte Hai ,
Subah Shaam Bs Tmhari Fariyaad Karte Hai ,
Didar ko Tere Din Raat Tadapte hai,
Iss Kadar Tumse Beshumar Pyaar Karte Hai.
क्या बताए तम्हें कितना याद करते है ,
सुबह शाम बस तम्हारी फ़रियाद करते है,
दीदार को तेरे दिन रात तड़पते है ,
इस कदर तुमसे बेशुमार प्यार करते है।
کیا بتاۓ تمھ کتنا یاد کرتے ہے
صوبہ شام بس تمہاری فریاد کرتے ہے
دیدار کو تیرے دن رات تداپتے ہے
اسس کدر تمسے بیشمار پیار کرتے ہے
---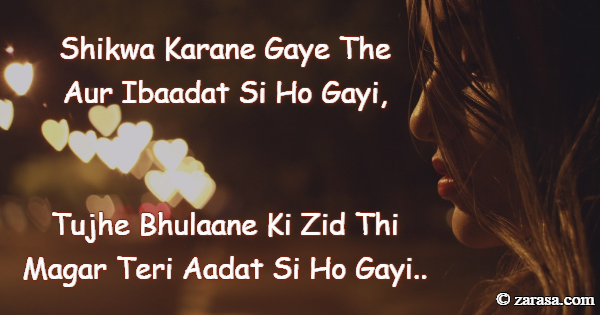 Shikwa Karane Gaye The Aur Ibaadat Si Ho Gayi,
Tujhe Bhulaane Ki Zid Thi Magar Teri Aadat Si Ho Gayi..
शिकवा करने गए थे और इबादत सी हो गई…
तुझे भुलाने की जिद थी मगर तेरी आदत सी हो गई.....
شکوہ کرنے گئے تھے اور عبادت سی ہوگیی
تجھے بھلانے کی زد تھی مگر تیری عادت سی ہوگیی
---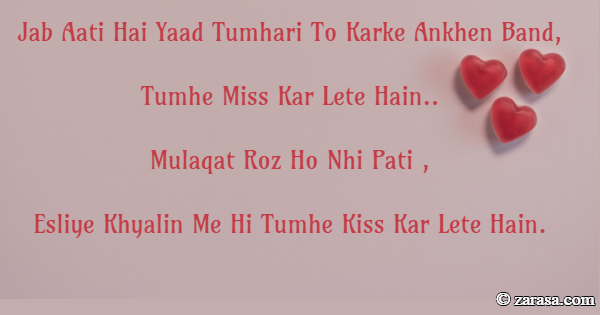 Jab Aati Hai Yaad Tumhari To Karke Ankhen Band,
Tumhe Miss Kar Lete Hain..
Mulaqat Roz Ho Nhi Pati ,
Esliye Khyalin Me Hi Tumhe Kiss Kar Lete Hain.

जब आती है याद तुम्हारी तो करके आंखे बंद,
तुम्हें मिस कर लेते हैं..
मुकालात रोज़ हो नहीं पाती,
इसलिए ख्यालों में ही तुम्हें किस कर लेते हैं।
جب آتی ہے یاد تمہاری تو کرکے آنکھ بند
تمھ مس کر لیتے ہیں
ملکات روز ہو نہی پتو
اسلئے خیالوں مے ہی تمھ کس کر لیتے ہیں
---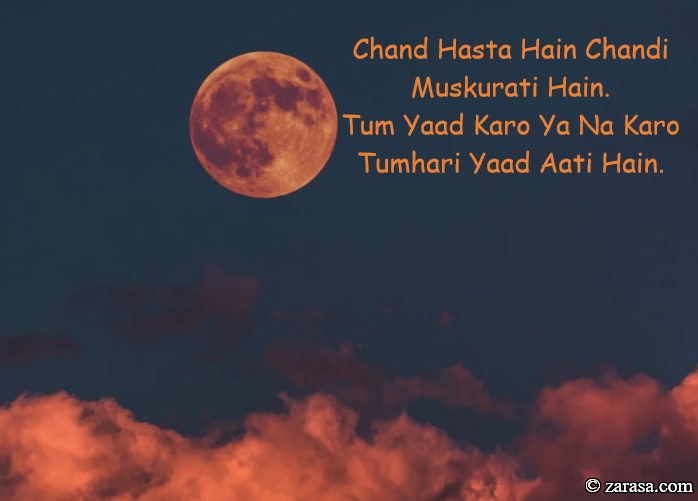 Chand Hasta Hain Chandi Muskurati Hain.
Tum Yaad Karo Ya Na Karo Tumhari Yaad Aati Hain.
चाँद हस्ता हैं चंडी मुस्कुराती हैं .
तुम याद करो या ना करो तुम्हारी याद आती हैं .
چند ہاسٹ ہیں چاندی مسکراتی ہیں .
تم یاد کرو یا نہ کرو تمہاری یاد آتی ہیں .
---