Shayari for Kids "Bachpan Nahi Raha"
|
Aajkal Aam Bhi Ped Se Khud Girke Toot Jaayaa Karte Hain.
Chhup Chhup Ke Inhein Todane Wala Ab Bachpan Nahi Raha.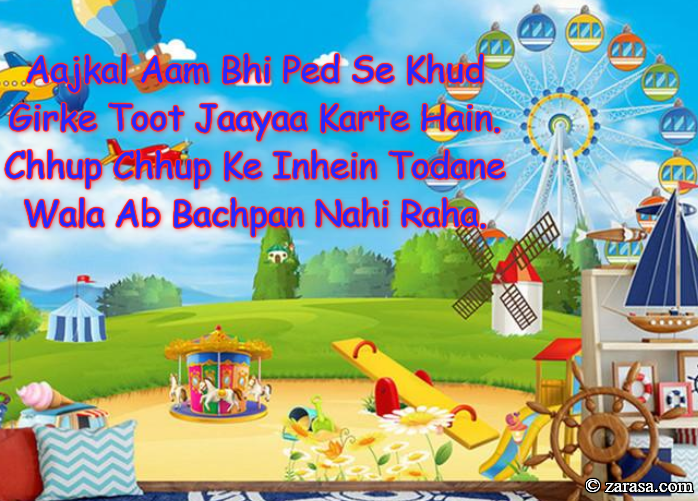 ---

आजकल आम भी पेड़ से खुद गिरके टूट जाया करते हैं .
छुप छुप के इन्हें तोड़ने वाला अब बचपन नहीं रहा .


---

آجکل ام بھی پید سے خود گرکے ٹوٹ جایا کرتے ہیں .
چھپ چھپ کے انہیں تودانے والا اب بچپن نہیں رہا .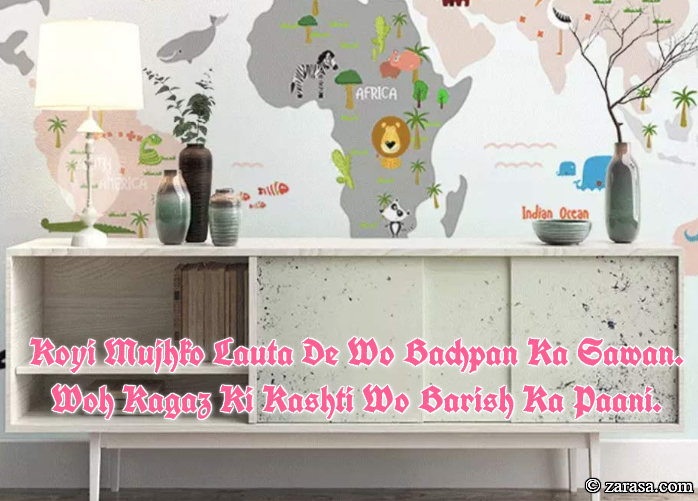 Koyi Mujhko Lauta De Wo Bachpan Ka Sawan.
Woh Kagaz Ki Kashti Wo Barish Ka Paani.
कोई मुझको लौटा दे वो बचपन का सावन .
वह कागज़ की कश्ती वो बारिश का पानी .

کویی مجھکو لوٹا دے وو بچپن کا ساون .
وہ کگاز کی کشتی وو بارش کا پانی .
---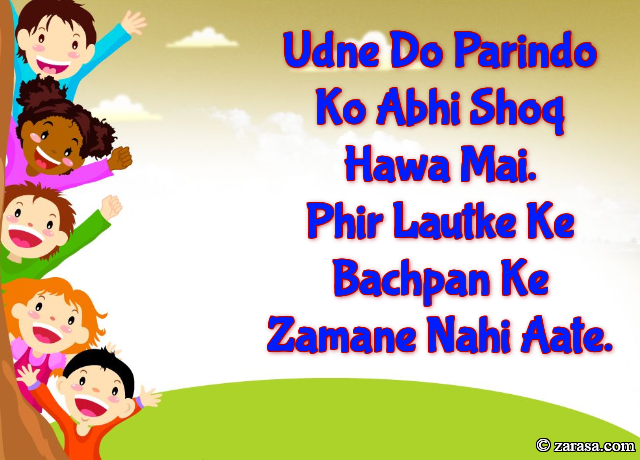 Udne Do Parindo Ko Abhi Shoq Hawa Mai.
Phir Lautke Ke Bachpan Ke Zamane Nahi Aate.
उड़ने दो परिंदों को अभी शोख़ हवा में
फिर लौट के बचपन के ज़माने नहीं आते
اڑنے دو پریندو کو ابھی شوق ہوا می .
پھر لوٹکے بچپن کے زمانے نہیں آتے .
---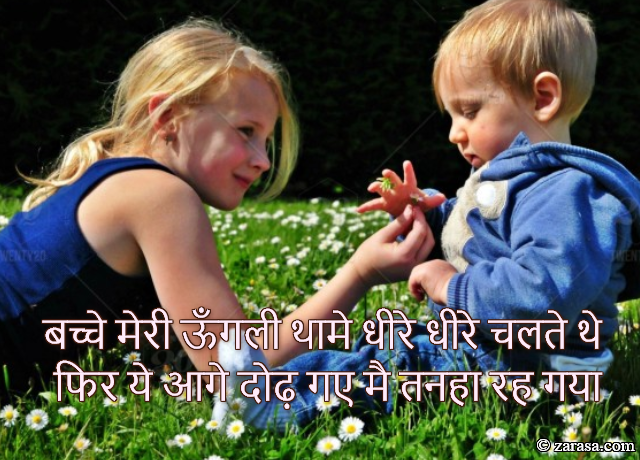 Bachche Meri Ungli Thame Dheere Dheere Chalte The
Phir Ye Aage Daurh Gaye Mai Tanha Reh Gaya.


बच्चे मेरी ऊँगली थामे धीरे धीरे चलते थे
फिर ये आगे दोढ़ गए मै तनहा रह गया .
بچچے میری انگلی تھامے دھیرے دھیرے چلتے تھے
پھر یہ آگے دوڈ گئے می تنہا رہ گیا-
---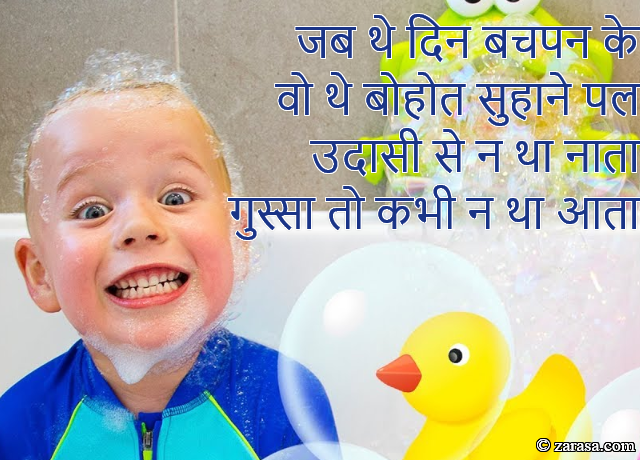 Jab The Din Bachpan Ke
Vo The Bohot Suhane Pal
Udasi Se Na Tha Nata
Gussa To Kabhi Na Tha Aata
जब थे दिन बचपन के
वो थे बोहोत सुहाने पल
उदासी से न था नाता
गुस्सा तो कभी न था आता
جب تھے دن بچپن کے
وو تھے بوہوت سہانے پل
اداسی سے نہ تھا ناتا
گسسا تو کبھی نہ تھا آتا
---
Der Tak Hansta Raha Unn Par Humara Bachpana.
Jab Tajurbe Aaye The Sanjeeda Banaane Ke Liye.
देर तक हँसता रहा उन् पर हमारा बचपना .
जब तजुर्बे आये थे संजीदा बनाने के लिए .
دیر تک ہنستا رہا ان پر ہمارا بچپنا .
جب تجربے اے تھے سنجیدہ بنانے کے لیا .
---