Shayari for Kids "Kashti Wo Barish Ka Paani"
|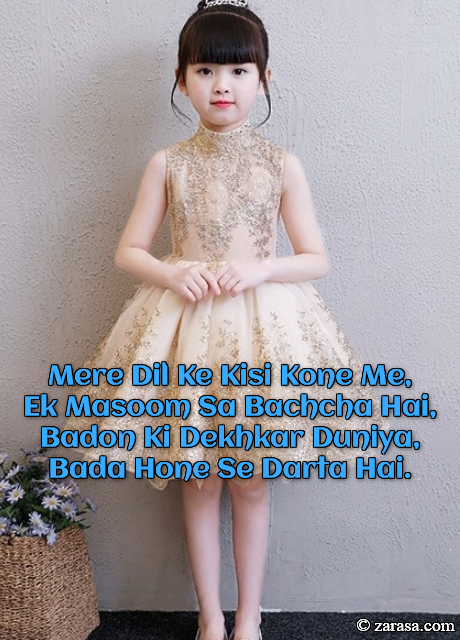 Mere Dil Ke Kisi Kone Me Ek Masoom Sa Bachcha Hai,
Badon Ki Dekhkar Duniya Barda Hone Se Darta Hai.
मिरे दिल के किसी कोने में, इक मासूम सा बच्चा है.
बड़ों की देखकर दुनिया, बड़ा होने से डरता है.
میرے دل کے کسی کونے مے ایک معصوم سا بچچا ہے,
بڑوں کی دیکھکر دنیا بڑا ہونے سے ڈرتا ہے
---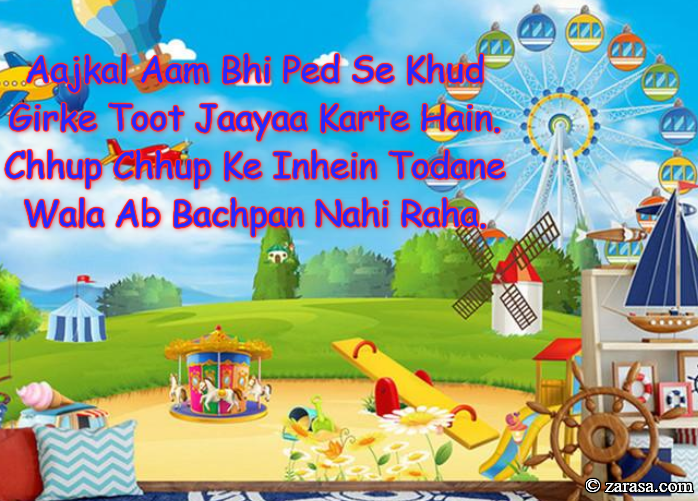 Aajkal Aam Bhi Ped Se Khud Girke Toot Jaayaa Karte Hain.
Chhup Chhup Ke Inhein Todane Wala Ab Bachpan Nahi Raha.
आजकल आम भी पेड़ से खुद गिरके टूट जाया करते हैं .
छुप छुप के इन्हें तोड़ने वाला अब बचपन नहीं रहा .
آجکل ام بھی پید سے خود گرکے ٹوٹ جایا کرتے ہیں .
چھپ چھپ کے انہیں تودانے والا اب بچپن نہیں رہا .
---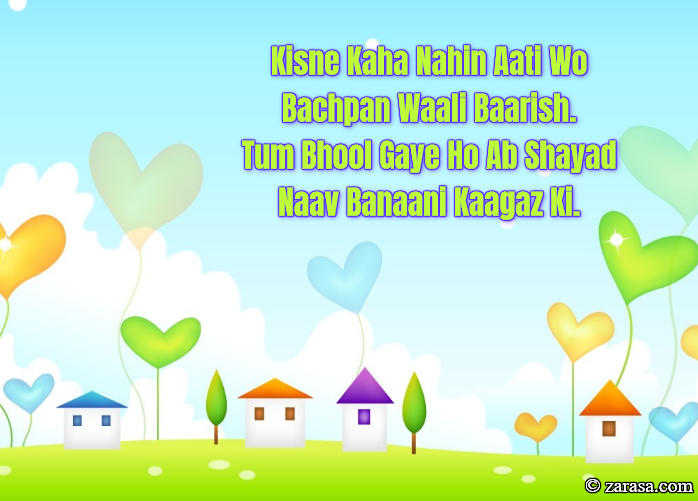 Kisne Kaha Nahin Aati Wo Bachpan Waali Baarish.
Tum Bhool Gaye Ho Ab Shayad Naav Banaani Kaagaz Ki.
किसने कहा नहीं आती वो बचपन वाली बारिश .
तुम भूल गए हो अब शायद नाव बनानी कागज़ की .
کسنے کہا نہیں آتی وو بچپن والی بارش .
تم بھول گئے ہو اب شاید ناؤ بنانی کاگز کی .
---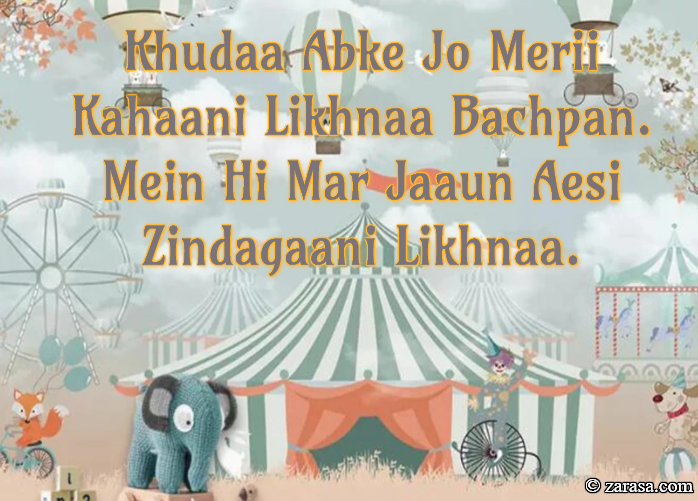 Khudaa Abke Jo Merii Kahaani Likhnaa Bachpan.
Mein Hi Mar Jaaun Aesi Zindagaani Likhnaa.
खुदा अबके जो मेरी कहानी लिखना बचपन .
में ही मर जाऊं ऐसी ज़िंदगानी लिखना .
خدا ابکے جو میری کہانی لکھنا بچپنا .
میں ہی مر جان ایسی زندگانی لکھنا .
---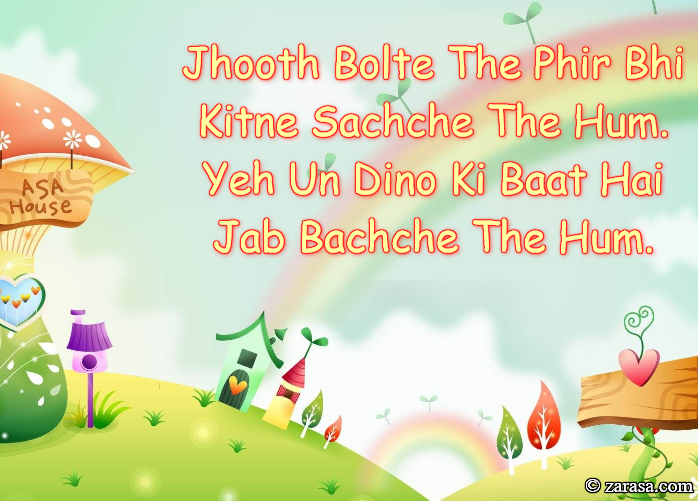 Jhooth Bolte The Phir Bhi Kitne Sachche The Hum.
Yeh Un Dino Ki Baat Hai Jab Bachche The Hum.
झूठ बोलते थे फिर भी कितने सच्चे थे हम .
यह उन दिनों की बात है जब बच्चे थे हम .
جھوٹھ بولتے تھے پھر بھی کتنے سچچے تھے ہم .
یہ ان دنو کی بات ہے جب بچچے تھے ہم .
---