Shayari for Welcome"Aks Kis Ka Hai Ki Itni Roshni Paani Main Hai"
|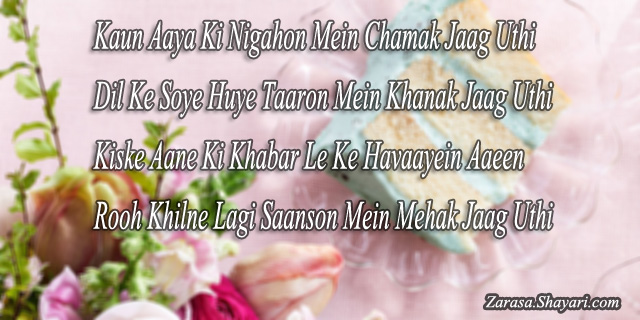 Kaun Aaya Ki Nigahon Mein Chamak Jaag Uthi
Dil Ke Soye Huye Taaron Mein Khanak Jaag Uthi
Kiske Aane Ki Khabar Le Ke Havaayein Aaeen
Rooh Khilne Lagi Saanson Mein Mehak Jaag Uthi

 



कौन आया की निगाहों में चमक जाग उठी
दिल के सोये हुए तारों में खनक जाग उठी
किसके आने की खबर ले के हवाएं आईं
रूह खिलने लगी साँसों में महक जाग उठी
کون آیا کی نگاہوں میں چمک جاگ اٹھی
دل کے سوئے ہوئے تاروں میں کھنک جاگ اٹھی
کس کے آنے کی خبر لے کے ہوائیں آئیں
روح کھلتے لگی سانسوں میں مہک جاگ اٹھی
---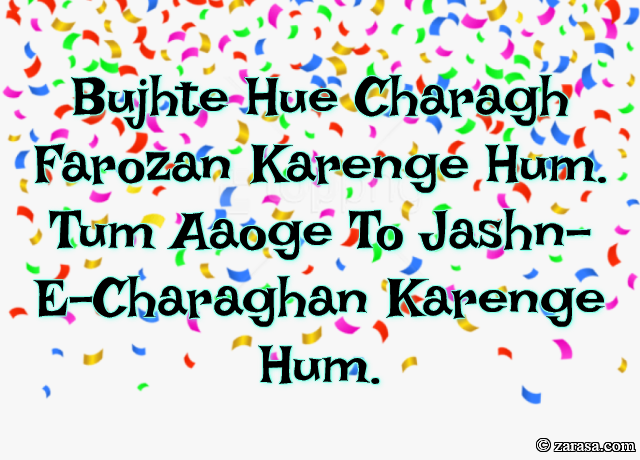 Bujhte Hue Charagh Farozan Karenge Hum.
Tum Aaoge To Jashn-E-Charaghan Karenge Hum.
बुझते हुए चराग़ फ्रोज़न करेंगे हम .
तुम आओगे तो जश्न -इ -चराग़ाँ करेंगे हम .
بجھتے ہوئے چراغ فروزاں کرینگے ہم .
تم آؤگے تو جشن -ا -چراغاں کرینگے ہم .
---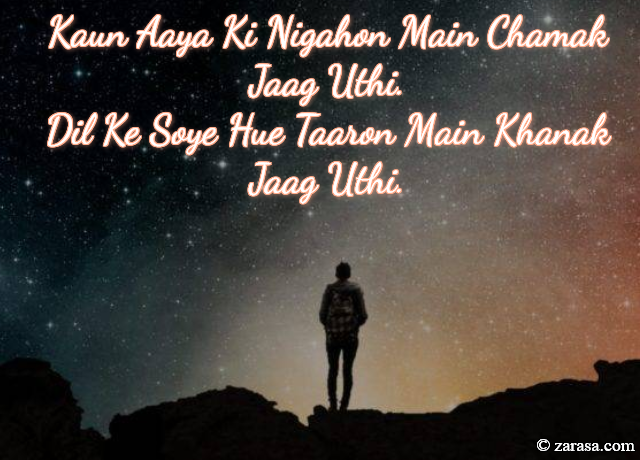 Kaun Aaya Ki Nigahon Main Chamak Jaag Uthi.
Dil Ke Soye Hue Taaron Main Khanak Jaag Uthi.
कौन आया की निगाहों मैं चमक जाग उठी .
दिल के सोये हुए तारों मैं खनक जाग उठी .
کون آیا کی نگاہوں میں چمک جاگ اٹھی .
دل کے سوی ہوئے تاروں میں خنک جاگ اٹھی .
---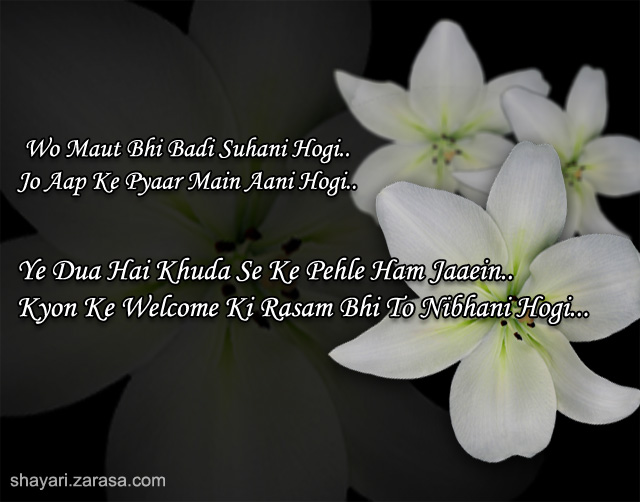 Wo Maut Bhi Badi Suhani Hogi..
Jo Aap Ke Pyaar Mein Aani Hogi..
Ye Dua Hai Khuda Se Ke Pehle Ham Jaaein..
Kyon Ke Welcome Ki Rasam Bhi To Nibhani Hogi...

 


 
वो मौत भी बड़ी सुहानी होगी..
जो आप के प्यार मे आनी होगी..
ये दुआ है खुदा सै के पहले हम जाएं..
क्यों के वेलकम की रस्म भी तो निभानी होगी...
وہ موت بھی بڑی سہانی ہوگی
جو آپ کی محبت میں آنی ہو گی
یہ دعا ہے خدا سے پہلے ہم جائیں
کیوں کے ویلکم کی رسم بھی تو نبھانی ہوگی
---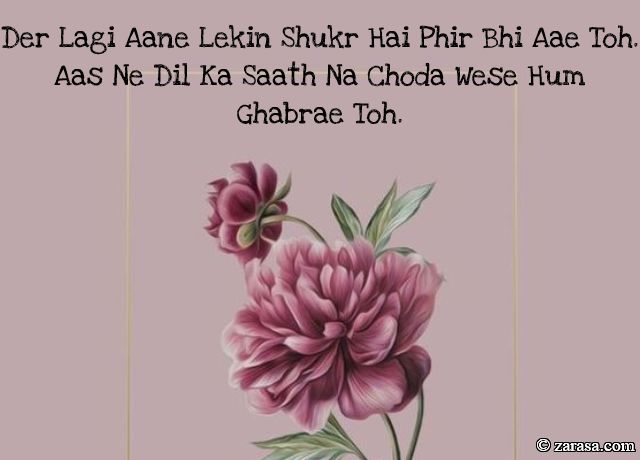 Der Lagi Aane Mai Lekin Shukr Hai Phir Bhi Aae Toh.
Aas Ne Dil Ka Saath Na Choda Wese Hum Ghabrae Toh.
देर लगी आने मै लेकिन शुक्र है फिर भी आए तो .
आस ने दिल का साथ न छोड़ा वैसे हम घबराए तो .
دیر لگی آنے می لیکن شکر ہے پھر بھی ے تو .
اس نے دل کا ساتھ نہ چودہ ویسے ہم گھبراۓ تو.
---