Zulm Shayari "सब है पैसों का खेल"
|
Garibon Ko Hoti Hai Jail ,
Amiron Ko Milti Hai Bail,
Kuch Or Nhi Hai Doston,
Sab Hai Paison Ka Khel.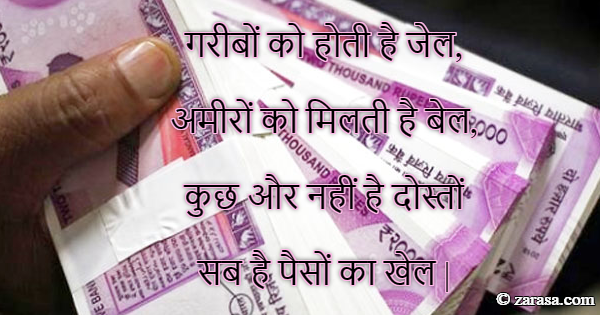 ---

गरीबों को होती है जेल,
अमीरों को मिलती है बेल,
कुछ और नहीं है दोस्तों
सब है पैसों का खेल |


---

گریبوں کو ہوتی ہے جیل
امیروں کو ملتی ہے بیل
کچھ ور نہی ہے دوستو
سب ہے پیسوں کا کھل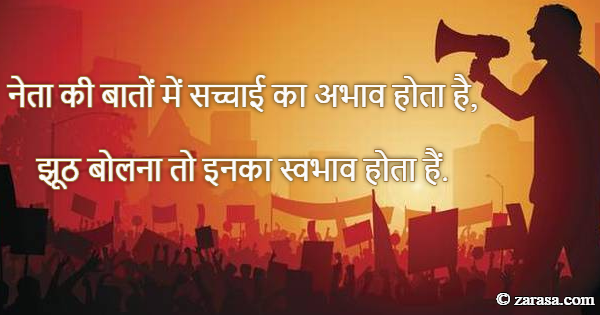 Neta Ki Baton Mai Sachai Ka Aabhav Hota Hai,
Jhut Bolna to Inke Saubhav Hota Hai.
नेता की बातों में सच्चाई का अभाव होता है,
झूठ बोलना तो इनका स्वभाव होता हैं.
نیتا کی باتو می سچھائ کا ابہاو ہوتا ہے
جھٹ بولنا تو انکے سبھاؤ ہوتا ہے
---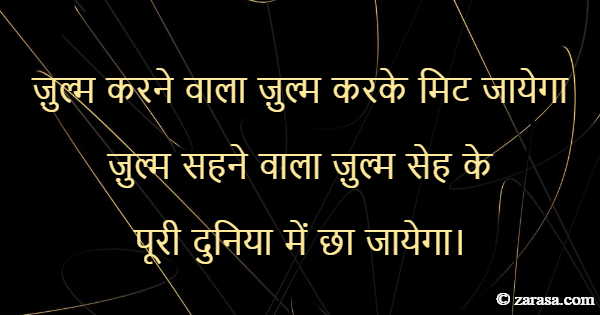 Zulm Karne Vala Zulm Karke Mit Jaega
Zulm Sehne Vala Zulm Sah Ke
Puri Duniya Ke Dilo Mai Cha Jayega.
ज़ुल्म करने वाला ज़ुल्म करके मिट जायेगा
ज़ुल्म सहने वाला ज़ुल्म सेह के
पूरी दुनिया में छा जायेगा।
ظلم کرنے والا ظلم کرکے مٹ جاےگا
ظلم سہنے والا ظلم سہ کے
پوری دنیا کے دلو می چا جاےگا
---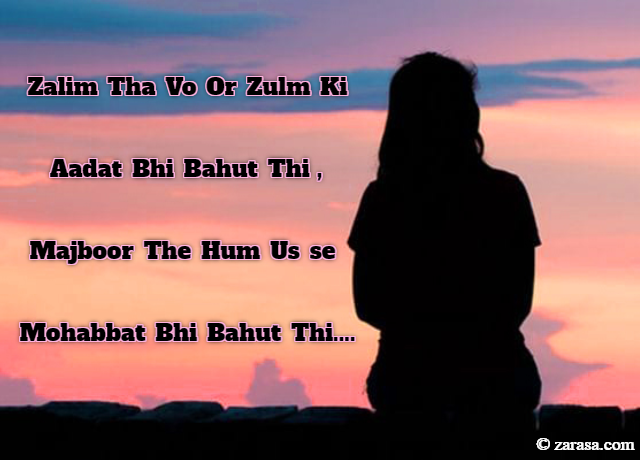 Zalim Tha Vo Or Zulm Ki
Aadat Bhi Bahut Thi ,
Majboor The Hum Us se
Mohabbat Bhi Bahut Thi....
ज़ालिम था वो और ज़ुल्म की
आदत भी बहुत थी ,
मजबूर थे हम उस से
मोहब्बत भी बहुत थी।
ظالم تھا وہ اور ظلم کی
عادت بھی بہت تھی
مجبور تھے ہم اس سے
موحبّت بھی بہت تھی
---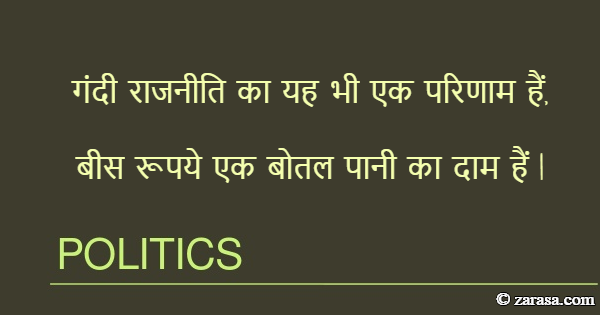 Gandi Rajneeti ka yeh Bhi Ek Parinaam Hai,
Bees Rupye ek Botal Pani Ka Daam Hai.

गंदी राजनीति का यह भी एक परिणाम हैं,
बीस रूपये एक बोतल पानी का दाम हैं |
گندی رجنیتی کا یہ بھی ایک پڑینام ہے
بیس روپے ایک بوتل پانی کا دام ہے
---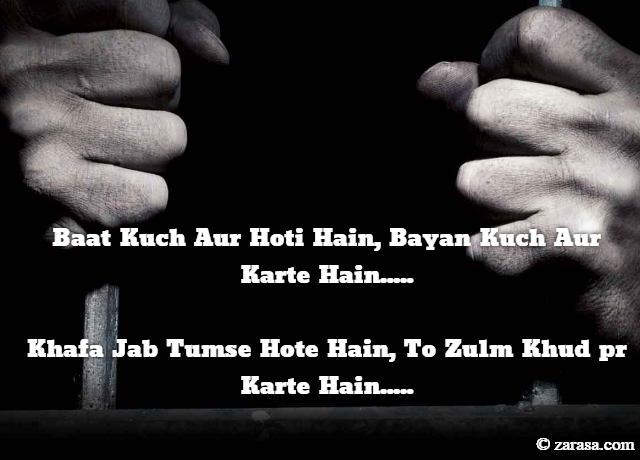 Baat Kuch Aur Hoti Hain, Bayan Kuch Aur Karte Hain.....
Khafa Jab Tumse Hote Hain, To Zulm Khud pr Karte Hain.....
बात कुछ और होती है,बयाँ कुछ और करते हैं….
ख़फा जब तुमसे होते हैं,तो जुल्म खुद पर करते है….
بات کچھ اور ہوتی ہے ،بیان کچھ اور کرتے ہے
خفا جب تمسے ہوتے ہے ،تو ظلم خود پر کرتے ہے
---