Intezaar shayari "Aaj Intezaar Tera In Ankho Ko Had Se Zyada Hai"
|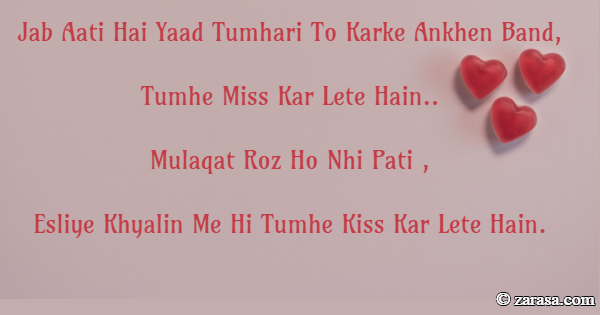 Jab Aati Hai Yaad Tumhari To Karke Ankhen Band,
Tumhe Miss Kar Lete Hain..
Mulaqat Roz Ho Nhi Pati ,
Esliye Khyalin Me Hi Tumhe Kiss Kar Lete Hain.

जब आती है याद तुम्हारी तो करके आंखे बंद,
तुम्हें मिस कर लेते हैं..
मुकालात रोज़ हो नहीं पाती,
इसलिए ख्यालों में ही तुम्हें किस कर लेते हैं।
جب آتی ہے یاد تمہاری تو کرکے آنکھ بند
تمھ مس کر لیتے ہیں
ملکات روز ہو نہی پتو
اسلئے خیالوں مے ہی تمھ کس کر لیتے ہیں
---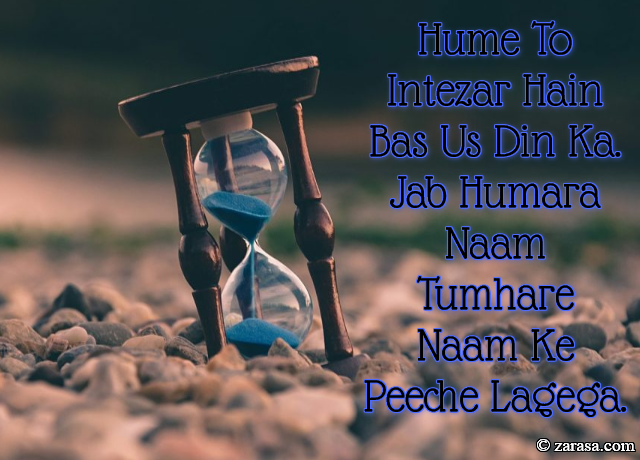 Hume To Intezar Hain Bas Us Din Ka.
Jab Humara Naam Tumhare Naam Ke Peeche Lagega.
हमे तो इंतज़ार हैं बस उस दिन का .
जब हमारा नाम तुम्हारे नाम के पीछे लगेगा .

ہمے تو انتظار ہیں بس اس دن کا .
جب ہمارا نام تمہارے نام کے پیچھے لگےگا .

---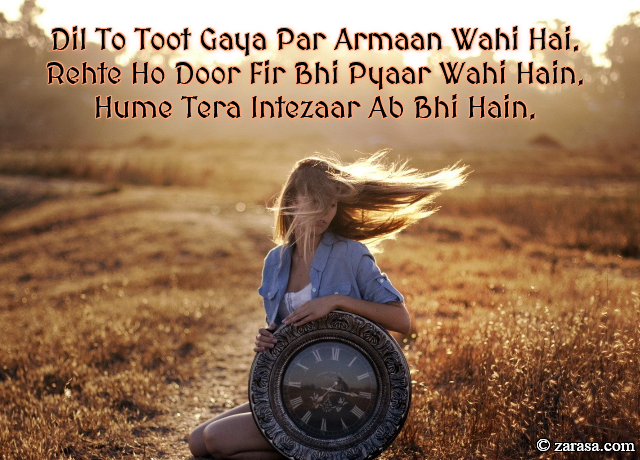 Dil To Toot Gaya Par Armaan Wahi Hai.
Rehte Ho Door Fir Bhi Pyaar Wahi Hain.
Hume Tera Intezaar Ab Bhi Hain.
दिल तो टूट गया पर अरमान वही है .
रहते हो दूर फिर भी प्यार वही हैं .
हमे तेरा इंतज़ार अब भी हैं .


دل تو ٹوٹ گیا پر ارمان وہی ہے .
رہتے ہو دور فر بھی پیار وہی ہیں .
ہمے تیرا انتظار اب بھی ہیں .


---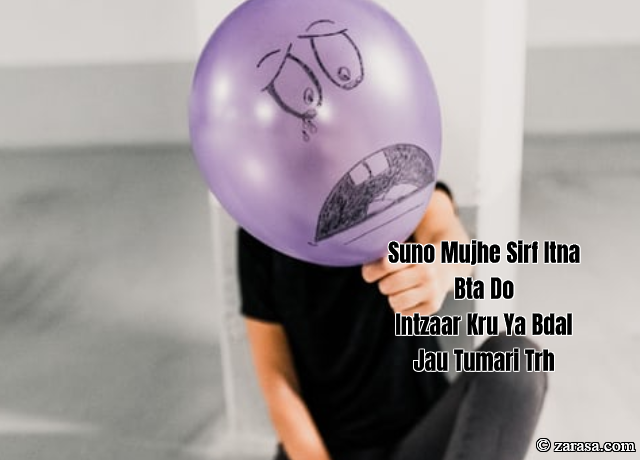 Suno Mujhe Sirf Itna Bta Do
Intzaar Kru Ya Bdal Jau Tumhari Tarh
सुनो मुझे सिर्फ इतना बता दो
इंतज़ार कृ या बदल जाऊ तुम्हारी तरह
سنو مجھے صرف اتنا بتا دو
انتظار کرو یا بدل جاؤ تماری طرح
---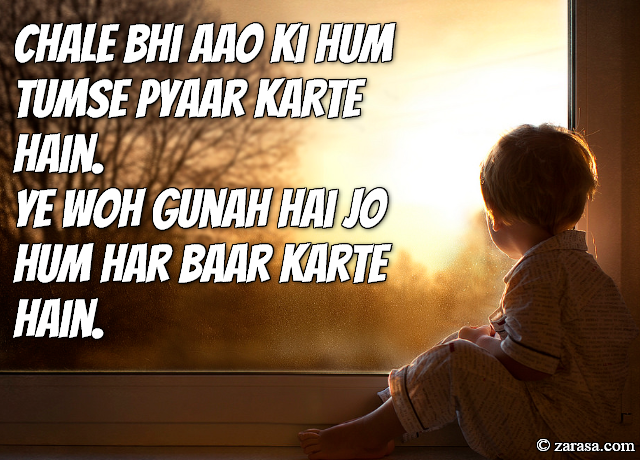 Chale Bhi Aao Ki Hum Tumse Pyaar Karte Hain.
Ye Woh Gunah Hai Jo Hum Har Baar Karte Hain.
चले भी आओ की हम तुमसे प्यार करते हैं .
ये वह गुनाह है जो हम हर बार करते हैं .

چلے بھی او کی ہم تمسے پیار کرتے ہیں .
یہ وہ گناہ ہے جو ہم ہر بار کرتے ہیں .

---