Intezaar shayari "Hume Tera Intezaar Ab Bhi Hain"
|
Dil To Toot Gaya Par Armaan Wahi Hai.
Rehte Ho Door Fir Bhi Pyaar Wahi Hain.
Hume Tera Intezaar Ab Bhi Hain.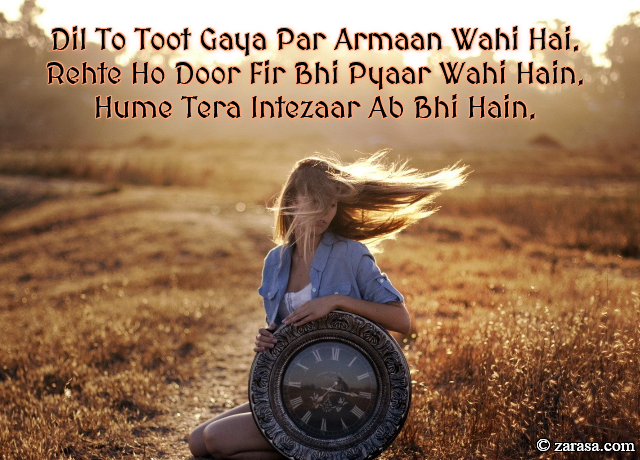 ---

दिल तो टूट गया पर अरमान वही है .
रहते हो दूर फिर भी प्यार वही हैं .
हमे तेरा इंतज़ार अब भी हैं .




---

دل تو ٹوٹ گیا پر ارمان وہی ہے .
رہتے ہو دور فر بھی پیار وہی ہیں .
ہمے تیرا انتظار اب بھی ہیں .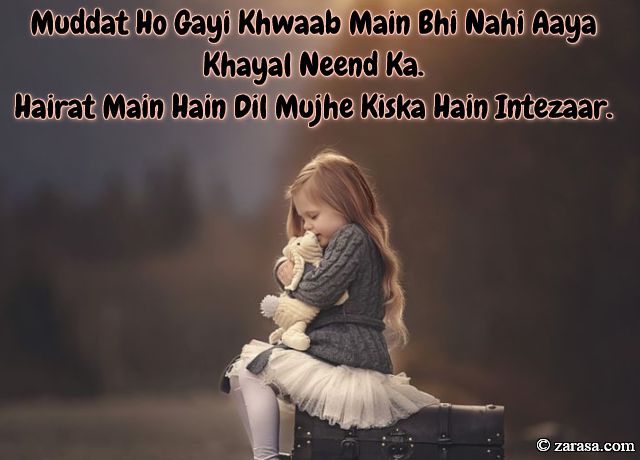 Muddat Ho Gayi Khwaab Main Bhi Nahi Aaya Khayal Neend Ka.
Hairat Main Hain Dil Mujhe Kiska Hain Intezaar.
मुद्दत हो गयी ख़्वाब मैं भी नहीं आया ख़याल नींद का .
हैरत मैं हैं दिल मुझे किसका हैं इंतज़ार .
مدّت ہو گی خواب میں بھی نہیں آیا خیال نیند کا .
حیرت میں ہیں دل مجھے کسکا ہیں انتظار .
---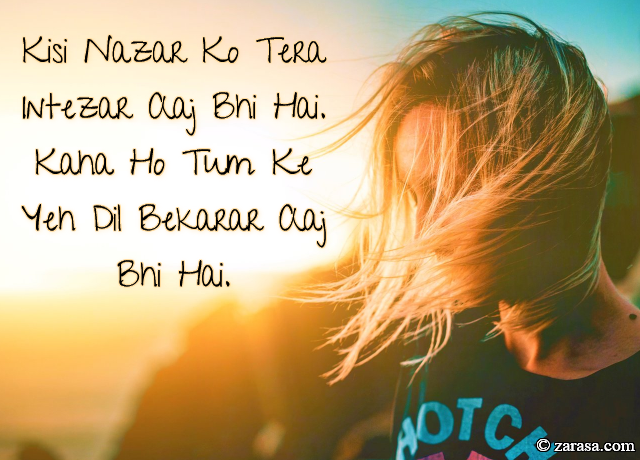 Kisi Nazar Ko Tera Intezar Aaj Bhi Hai.
Kaha Ho Tum Ke Yeh Dil Bekarar Aaj Bhi Hai.
किसी नज़र को तेरा इंतेज़ार आज भी है .
कहा हो तूम के यह दिल बेक़रार आज भी है .
کسی نظر کو تیرا انتظار آج بھی ہے .
کہا ہو تم کے یہ دل بکرر آج بھی ہے .
---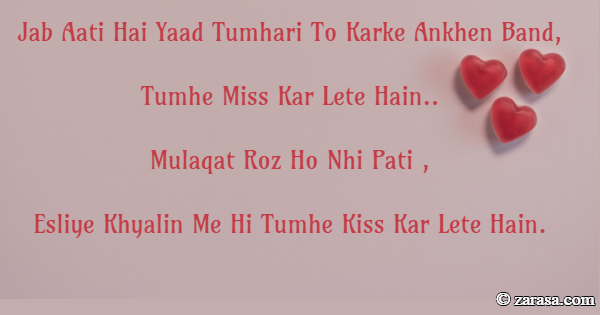 Jab Aati Hai Yaad Tumhari To Karke Ankhen Band,
Tumhe Miss Kar Lete Hain..
Mulaqat Roz Ho Nhi Pati ,
Esliye Khyalin Me Hi Tumhe Kiss Kar Lete Hain.

जब आती है याद तुम्हारी तो करके आंखे बंद,
तुम्हें मिस कर लेते हैं..
मुकालात रोज़ हो नहीं पाती,
इसलिए ख्यालों में ही तुम्हें किस कर लेते हैं।
جب آتی ہے یاد تمہاری تو کرکے آنکھ بند
تمھ مس کر لیتے ہیں
ملکات روز ہو نہی پتو
اسلئے خیالوں مے ہی تمھ کس کر لیتے ہیں
---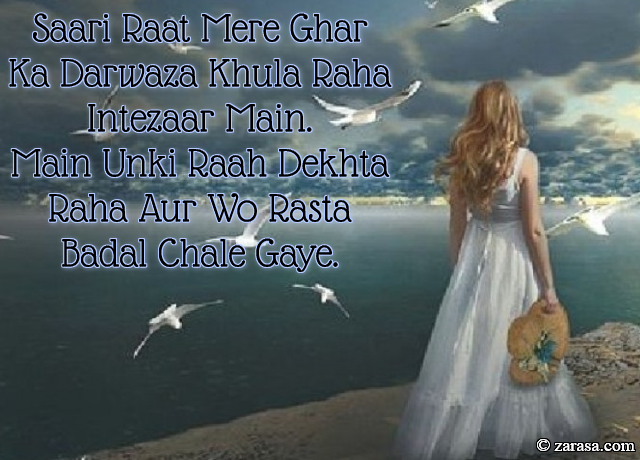 Saari Raat Mere Ghar Ka Darwaza Khula Raha Intezaar Main.
Main Unki Raah Dekhta Raha Aur Wo Rasta Badal Chale Gaye.
सारी रात मेरे घर का दरवाज़ा खुला रहा इंतेज़ार मैं .
मै उनकी राह देखता रहा और वो रास्ता बदल चले गए .
ساری رات میرے گھر کا دروازہ خلا رہا انتظار میں .
میں انکی راہ دیکھتا رہا اور وو راستہ بدل چلے گئے .
---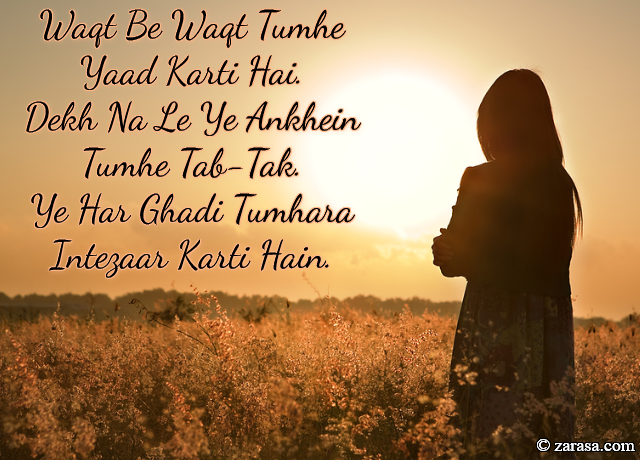 Waqt Be Waqt Tumhe Yaad Karti Hai.
Dekh Na Le Ye Ankhein Tumhe Tab-Tak.
Ye Har Ghadi Tumhara Intezaar Karti Hain.
वक़्त बे वक़्त तुम्हे याद कराती है .
देख न ले ये आंखें तुम्हे तब -तक .
ये हर घडी तुम्हारा इंतज़ार करती हैं .
وقت بے وقت تمھ یاد کرتی ہے .
دیکھ نہ لے یہ آنکھیں تمھ ٹیب -تک .
یہ ہر غدی تمہارا انتیزار کرتی ہیں .
---