Judaai Shayari "Kuch To Rahega"
|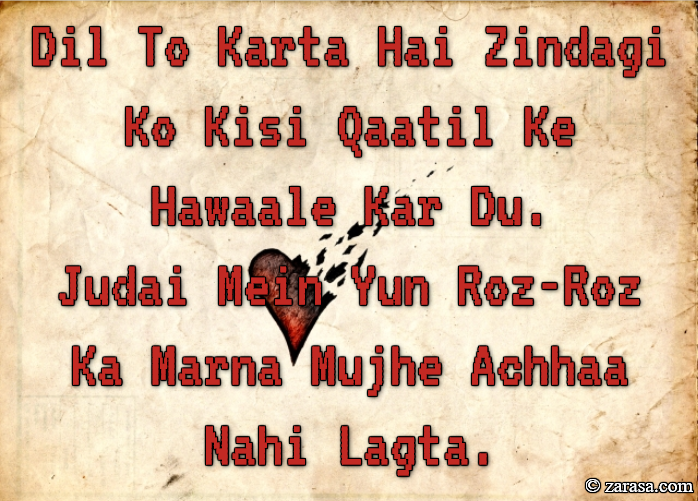 Dil To Karta Hai Zindagi Ko Kisi Qaatil Ke Hawaale Kar Du.
Judai Mein Yun Roz-Roz Ka Marna Mujhe Achhaa Nahi Lagta.
दिल तो करता है ज़िन्दगी को किसी कातिल के हवाले कर दू .
जुदाई में यूँ रोज़ -रोज़ का मरना मुझे अच्छा नहीं लगता .
دل تو کرتا ہے زندگی کو کسی قاتل کے حوالے کر دو .
جدائی میں یوں روز -روز کا مارنا مجھے اچھا نہیں لگتا .
---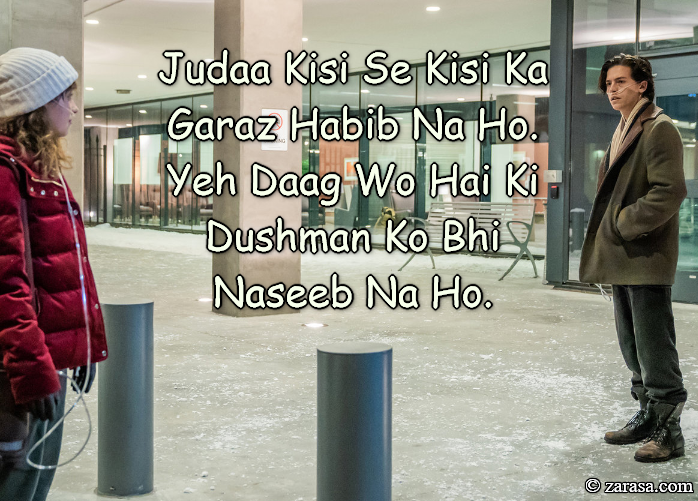 Judaa Kisi Se Kisi Ka Garaz Habib Na Ho.
Yeh Daag Wo Hai Ki Dushman Ko Bhi Naseeb Na Ho.
जुड़ा किसी से किसी का गरज़ हबीब ना हो .
यह दाग वो है की दुश्मन को भी नसीब ना हो .
جدا کسی سے کسی کا گرز حبیب نہ ہو .
یہ ڈاگ وو ہے کی دشمن کو بھی نصیب نہ ہو .
---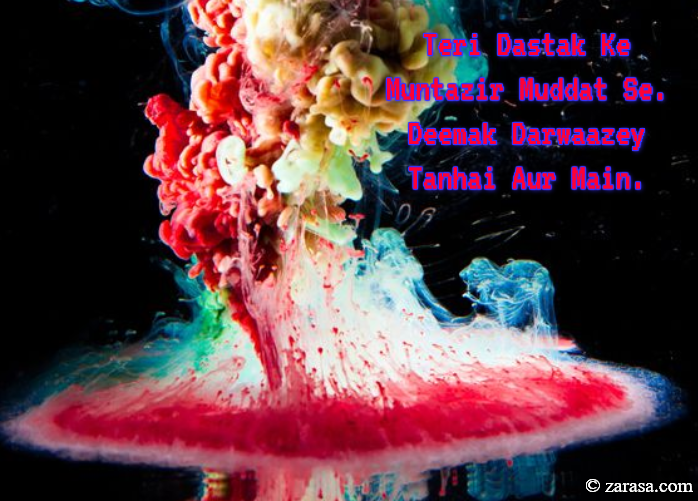 Teri Dastak Ke Muntazir Muddat Se.
Deemak Darwaazey Tanhai Aur Main.
तेरी दस्तक के मुन्तज़िर मुद्दत से .
दीमक दरवाज़े तन्हाई और मैं .
تیری دستک کے منتظر مدّت سے .
دیمک دروازے تنہائی اور میں .
---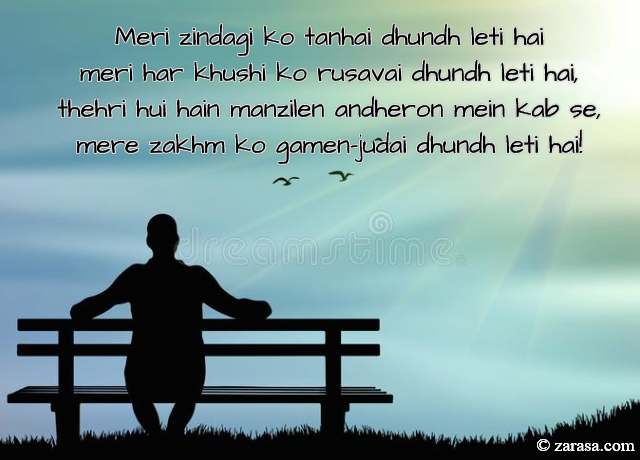 Meri zindagi ko tanhai dhundh leti hai
meri har khushi ko rusavai dhundh leti hai,
thehri hui hain manzilen andheron mein kab se,
mere zakhm ko gamen-judai dhundh leti hai!

मेरी ज़िन्दगी को तन्हाई ढूँढ लेती है,
मेरी हर खुशी को रुसवाई ढूँढ लेती है,
ठहरी हुई हैं मंजिलें अंधेरों में कबसे,
मेरे ज़ख्म को गमे-जुदाई ढूँढ लेती है!
میری زندگی کو تنہائی ڈھونڈ لیتی ہے
میری ہر خوشی کو رسوائی ڈھونڈ لیتی ہے
ٹھہری ہی ہیں منزلیں اندھیروں میں کب سے
میرے زخم کو گیم -جدائی ڈھونڈ لیتی ہے
---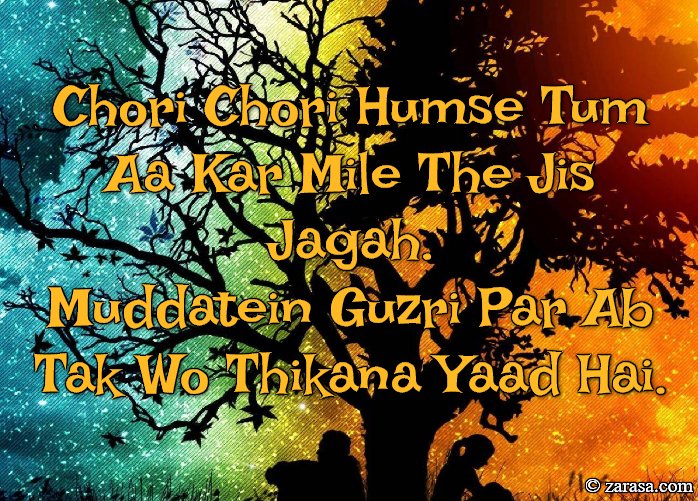 Chori Chori Humse Tum Aa Kar Mile The Jis Jagah.
Muddatein Guzri Par Ab Tak Wo Thikana Yaad Hai.
चोरी चोरी हमसे तुम आ कर मिले थे जिस जगह .
मुद्दतें गुज़री पर अब तक वो ठिकाना याद है .
چوری چوری ہمسے تم آ کر میل تھے جس جگہ .
مدّتیں گزری پر اب تک وو ٹھکانہ یاد ہے .
---