Judaai Shayari "Suna Hai"
|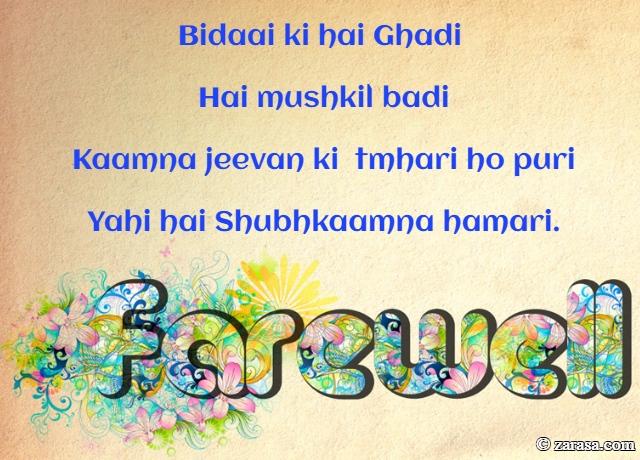 Bidaai ki hai Ghadi
Hai mushkil badi
Kaamna jeevan ki  tmhari ho puri
Yahi hai Shubhkaamna hamari.
विदाई की है घड़ी
है मुश्किल बड़ी
कामना जीवन की तम्हारी हो पूरी
यही है शुभकामना हमारी।
بدای کی ہے گھاڈی
ہے موشکل باڈی
کامنہ جیون کی تمہاری ھو پوری
یہی ہے شبھکامنہ ہماری
---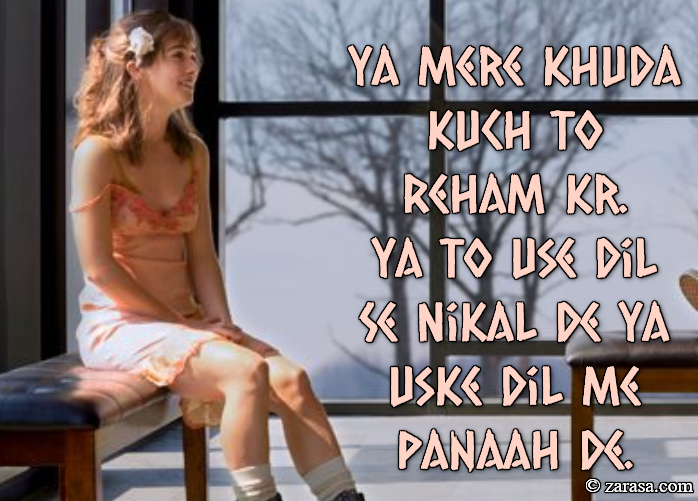 Ya Mere Khuda Kuch To Reham Kr.
Ya To Use Dil Se Nikal De Ya Uske Dil Me Panaah De.
या मेरे खुदा कुछ तो रेहम क्र .
या तो उसे दिल से निकल दे या उसके दिल में पनाह दे .
یا میرے خدا کچھ تو رحم کر .
یا تو اسے دل سے نکل دے یا اسکے دل مے پناہ دے .
---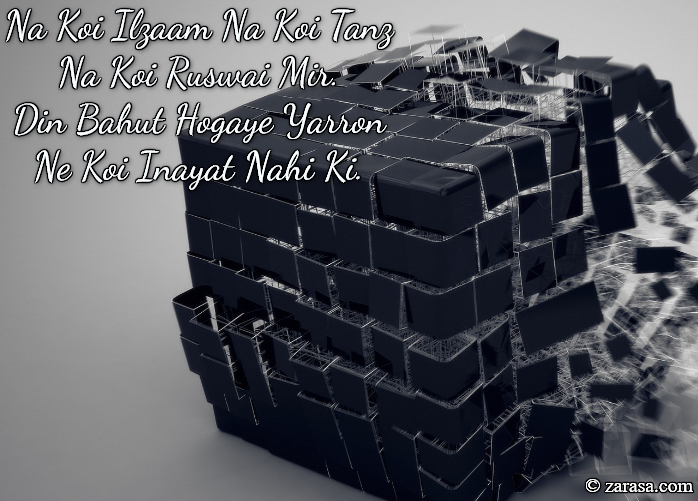 Na Koi Ilzaam Na Koi Tanz Na Koi Ruswai Mir.
Din Bahut Hogaye Yarron Ne Koi Inayat Nahi Ki.
ना कोई इलज़ाम ना कोई तंज़ ना कोई रुस्वाई मीर .
दिन बहुत होगए यार्रों ने कोई इनायत नहीं की .
نہ کوئی الزام نہ کوئی طنز نہ کوئی رسوائی میر .
دن بہت ہوگے یارروں نے کوئی عنایات نہیں کی .
---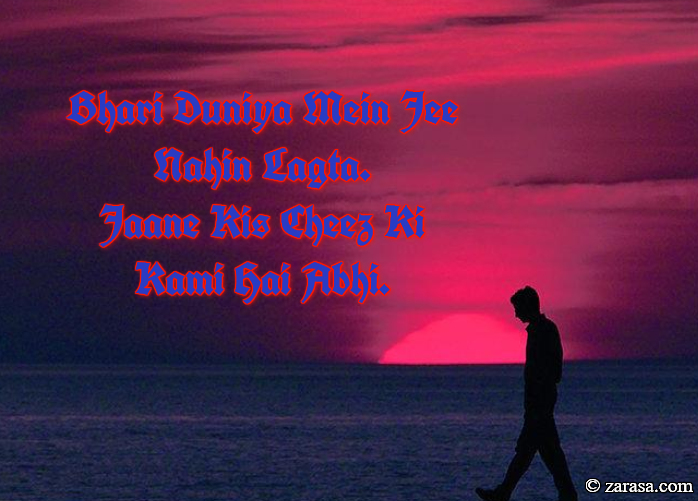 Bhari Duniya Mein Jee Nahin Lagta.
Jaane Kis Cheez Ki Kami Hai Abhi.
भरी दुनिया में जी नहीं लगता .
जाने किस चीज़ की कमी है अभी .
بھری دنیا میں جی نہیں لگتا .
جانے کس چیز کی کمی ہے ابھی .
---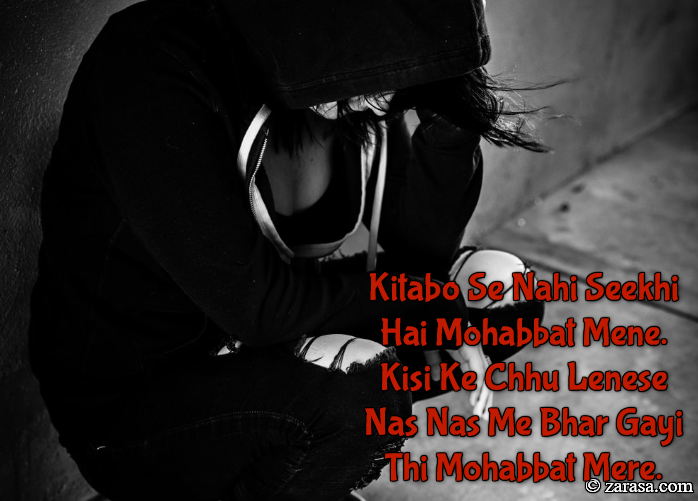 Kitabo Se Nahi Seekhi Hai Mohabbat Mene.
Kisi Ke Chhu Lenese Nas Nas Me Bhar Gayi Thi Mohabbat Mere.
किताबो से नहीं सीखी है मोहब्बत मेने .
किसी के छू लेनेसे नस नस में भर गयी थी मोहब्बत मेरे .
کتبو سے نہیں سیکھی ہے موحبّت منے .
کسی کے چھ لنسے ناس ناس مے بھر گی تھی موحبّت میرے .
---