Naseeb Shayari "Ae Sanam"
|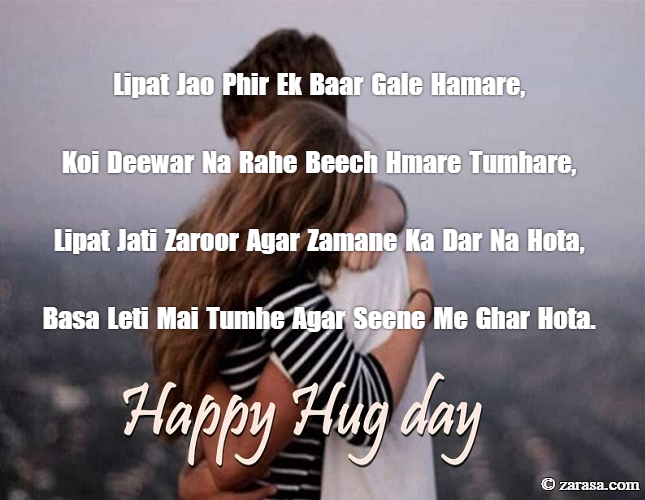 Lipat Jao Phir Ek Baar Gale Hamare,
Koi Deewar Na Rahe Beech Hmare Tumhare,
Lipat Jati Zaroor Agar Zamane Ka Dar Na Hota,
Basa Leti Mai Tumhe Agar Seene Me Ghar Hota.
लिपट जाओ फिर एक बार गले हमारे,
कोई दीवार ना रहे बीच हमारे तुम्हारे,
लिपट जाती जरूर अगर जमाने का डर ना होता,
बसा लेती मैं तुम्हें अगर सीने मैं घर होता।
لپٹ جاو پھر ایک بار گلے ہمارے
کوئی دیوار نہ رہے بیچ ہمارے تمہارے
لپٹ جاتی ضرور اگر زمانے کا در نہ ہوتا
بسا لیتی می تمھ اگر سینے مے گھر ہوتا
---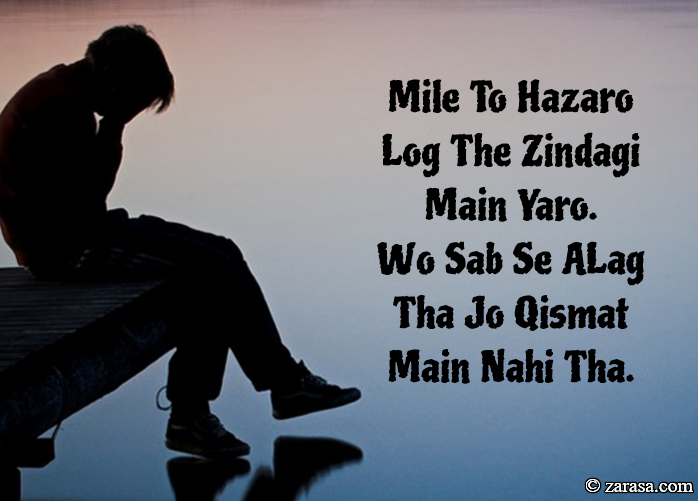 Mile To Hazaro Log The Zindagi Main Yaro.
Wo Sab Se ALag Tha Jo Qismat Main Nahi Tha.
मिले तो हज़ारो लोग थे ज़िन्दगी मैं यारो .
वो सब से अलग था जो किस्मत मैं नहीं था .
ملے تو ہزارو لوگ تھے زندگی میں یارو .
وو سب سے الگ تھا جو قسمت میں نہیں تھا .
---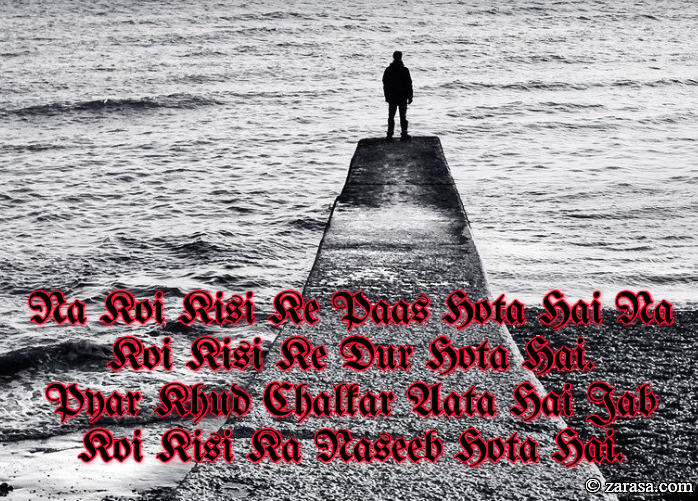 Na Koi Kisi Ke Paas Hota Hai Na Koi Kisi Ke Dur Hota Hai.
Pyar Khud Chalkar Aata Hai Jab Koi Kisi Ka Naseeb Hota Hai.
ना कोई किसी के पास होता है ना कोई किसी के दूर होता है .
प्यार खुद चलकर आता है जब कोई किसी का नसीब होता है .
نہ کوئی کسی کے پاس ہوتا ہے نہ کوئی کسی کے دور ہوتا ہے .
پیار خود چلکر آتا ہے جب کوئی کسی کا نصیب ہوتا ہے .
---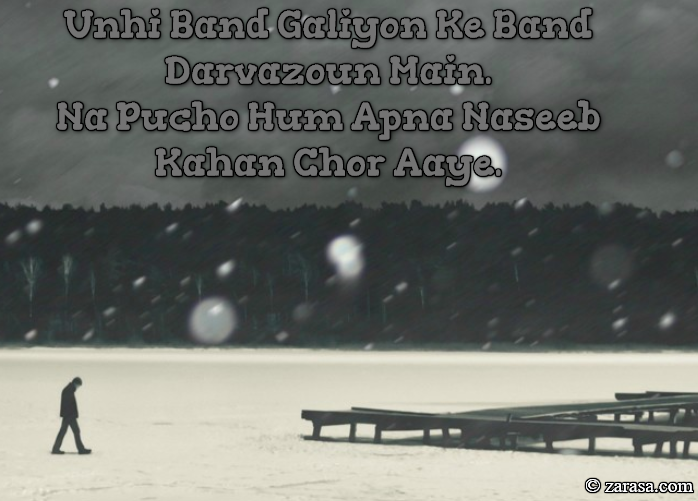 Unhi Band Galiyon Ke Band Darvazoun Main.
Na Pucho Hum Apna Naseeb Kahan Chor Aaye.
उन्ही बंद गलियों के बंद दरवाज़ों में .
ना पूछो हम अपना नसीब कहाँ छोड़ आये .
انہی بینڈ گلیو کے بینڈ دروازوں مے .
نہ پچو ہم اپنا نصیب کہاں چوڑ اے .
---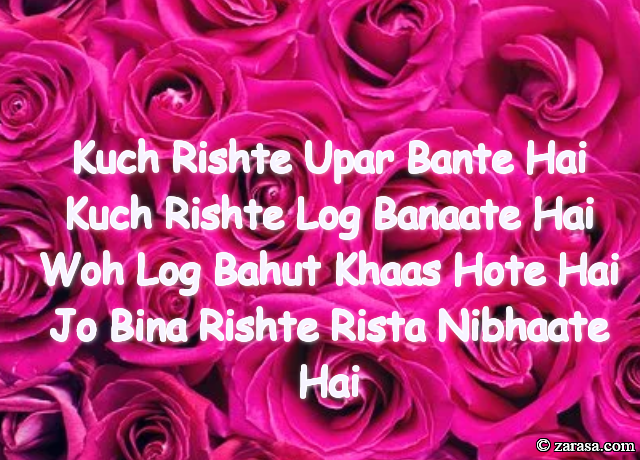 Kuch Rishte Upar Bante Hai
Kuch Rishte Log Banaate Hai
Woh Log Bahut Khaas Hote Hai
Jo Bina Rishte Rishta Nibhaate Hai
कुछ रिश्ते ऊपर बनते है
कुछ रिश्ते लोग बनाते है
वह लोग बहुत ख़ास होते है
जो बिना रिश्ते रिस्ता निभाते है
کچھ رشتے اپر بنتے ہے
کچھ رشتے لوگ بناتے ہے
وہ لوگ بہت خاص ہوتے ہے
جو بنا رشتے رستہ نبھاتے ہے
---