Naseeb Shayari "Jise Chaha Use Paa Na Sake"
|
Kuch Kismat Hi Mili Thi Aisi Ke Chain Se Jeene Ki Soorat Nahi Hui.
Jise Chaha Use Paa Na Sake Jo Mila Usse Mohabbat Na Hui.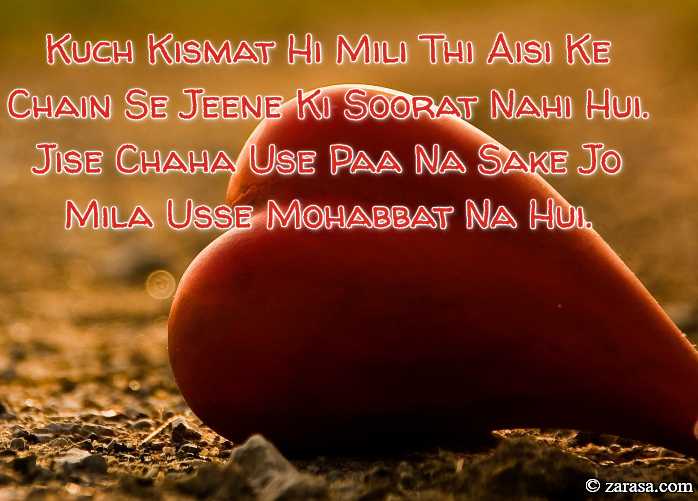 ---

कुछ किस्मत ही मिली थी ऐसी के चैन से जीने की सूरत नहीं हुई .
जिसे चाहा उसे पा ना सके जो मिला उससे मोहब्बत ना हुई .


---

کچھ کسمت ہی ملی تھی ایسی کے چین سے جینے کی صورت نہیں ہی .
جسے چاہا اسے پا نہ سکے جو ملا اسے موحبّت نہ ہی .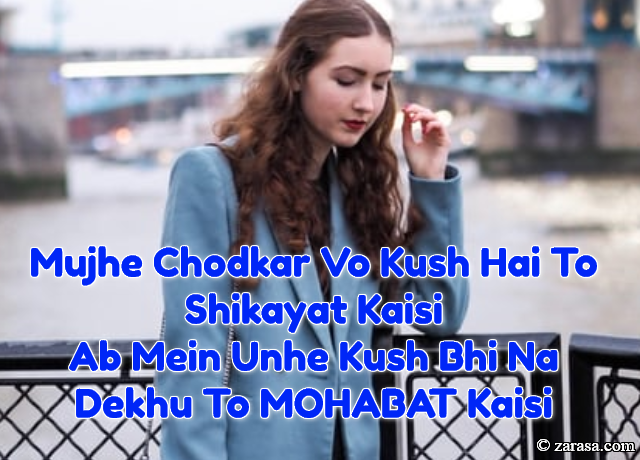 Mujhe Chodkar Vo Kush Hai To Shikayat Kaisi
Ab Mein Unhe Khush Bhi Na Dekhu To Mohabbat Kaisi
मुझे छोड़कर वो कुश है तो शिकायत कैसी
अब में उन्हें कुश भी न देखु तो मोहबत कैसी
مجھے چھوڑکر وہ خوش ہے تو شکایات کیسی
اب میں انھ خوش بھی نہ دیکھو تو موہبت کیسی
---
Kon Kehta He Ke Aadmi Apni Kismat Khud Likhta Hai.
Agar Yeh Sach He To Kismat Mein Dard Kon Likta Hai?
कोण कहता हे के आदमी अपनी किस्मत खुद लिखता है .
अगर यह सच हे तो किस्मत में दर्द कोन लिकता है ?
کون کہتا ہے کے آدمی اپنی کسمت خود لکھتا ہے .
اگر یہ سچ ہے تو کسمت میں درد کون لکتا ہے ؟

---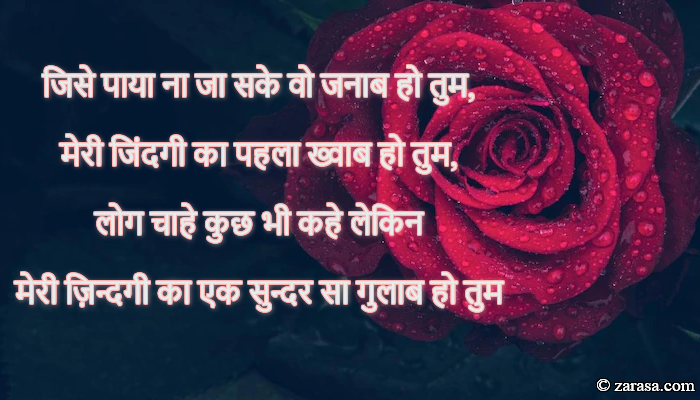 Jise Paya Na ja Sake Vo Janab Ho Tum,
Meri Zindagi Ka Pehla Khwab Ho Tum,
Log Chahe Kuch Bhi Kahe Lekin
Meri Zindagi Ka Ek Sundar sa Gulab Ho Tum.
जिसे पाया ना जा सके वो जनाब हो तुम,
मेरी जिंदगी का पहला ख्वाब हो तुम,
लोग चाहे कुछ भी कहे लेकिन
मेरी ज़िन्दगी का एक सुन्दर सा गुलाब हो तुम |

جسے پایا نہ جا سکے وو جناب ہو تم
میری زندگی کا پہلا خواب ہو تم
لوگ چاہے کچھ بھی کہے لیکن
میری زندگی کا ایک سندر سا گلاب ہو تم
---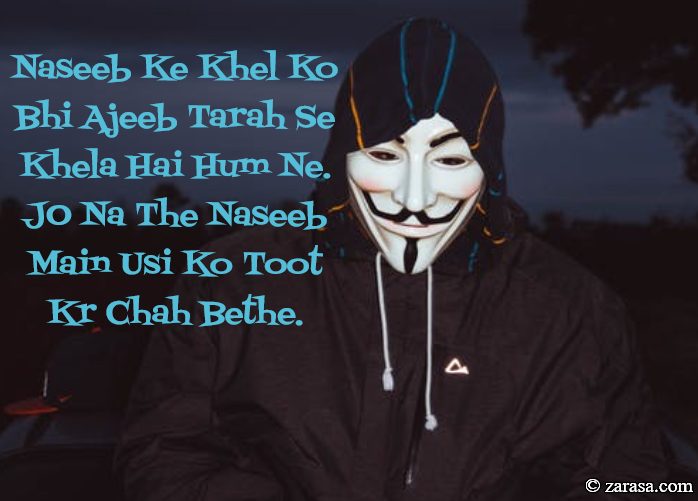 Naseeb Ke Khel Ko Bhi Ajeeb Tarah Se Khela Hai Hum Ne.
JO Na The Naseeb Main Usi Ko Toot Kr Chah Bethe.
नसीब के खेल को भी अजीब तरह से खेला है हम ने .
जो ना थे नसीब मैं उसी को टूट कर छह बैठे .
نسیب کے کھل کو بھی عجیب طرح سے کھلا ہے ہم نے .
جو نہ تھے نصیب میں اسی کو ٹوٹ کر چہ بیٹھے .
---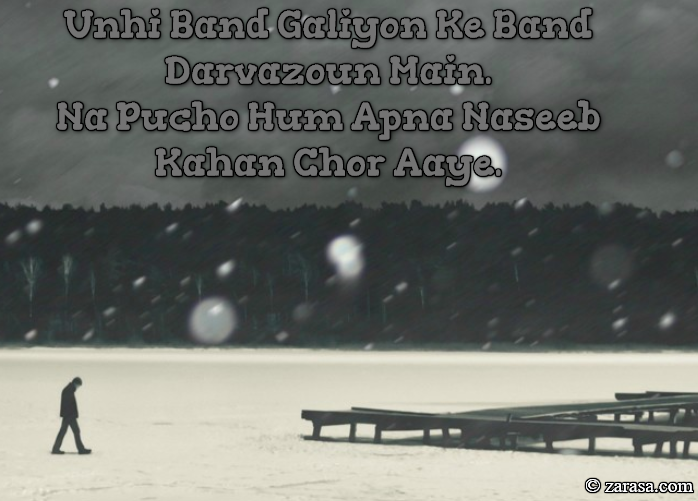 Unhi Band Galiyon Ke Band Darvazoun Main.
Na Pucho Hum Apna Naseeb Kahan Chor Aaye.
उन्ही बंद गलियों के बंद दरवाज़ों में .
ना पूछो हम अपना नसीब कहाँ छोड़ आये .
انہی بینڈ گلیو کے بینڈ دروازوں مے .
نہ پچو ہم اپنا نصیب کہاں چوڑ اے .
---