SHAYARI FOR BHAROSA"Apni Mohabbat Pe Itna Bharosa Toh Hai Mujhe"
|
Apni Mohabbat Pe Itna Bharosa Toh Hai Mujhe.
Meri Wafayein Tujhe Kisi Aaur Ka Hone Nahi Dengi.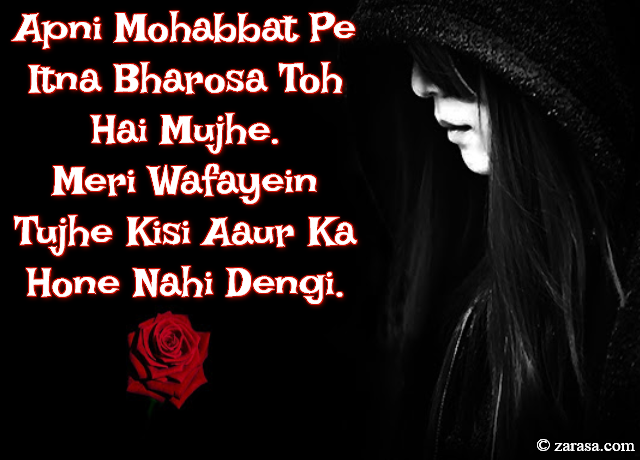 ---

अपनी मोहब्बत पे इतना भरोसा तो है मुझे .
मेरी वफ़ाएं तुझे किसी और का होने नहीं देंगी .



---

اپنی موحبّت پی اتنا بھروسہ تو ہے مجھے .
میری وافےیں تجھے کسی اور کا ہونے نہیں دینگی .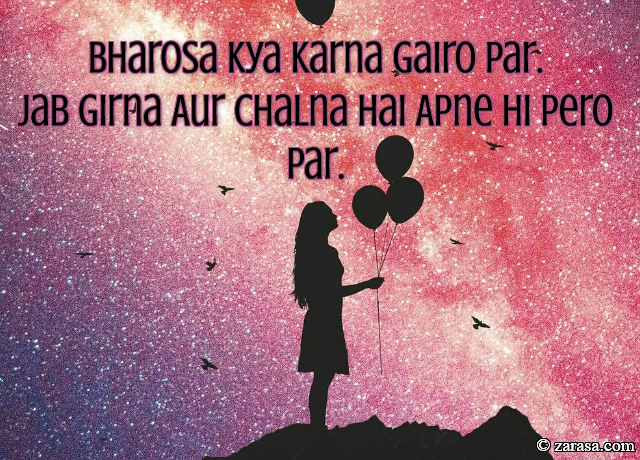 Bharosa Kya Karna Gairo Par.
Jab Girna Aur Chalna Hai Apne Hi Pero Par.
भरोसा क्या करना गैरो पर .
जब गिरना और चलना है अपने ही पेरो पर .
بھروسہ کیا کرنا گیرو پر .
جب گرنا اور چلنا ہے اپنے ہی پیرو پر .
---
Zindagi kamaal hoti hai …
ulhaj jaaye toh jaan lele …
sulhaj jaaye toh ,bemisaal hoti hai.
ज़िन्दगी कमाल होती है ...
उलहज जाए तोह जान लेले,
सुल्हज जाए तोह ,बेमिसाल होती है।
زندگی کمال ہوتی ہے
الحج جائے ٹوہ جان لیلے
سلھج جائے ٹوہ بمسال ہوتی ہے
---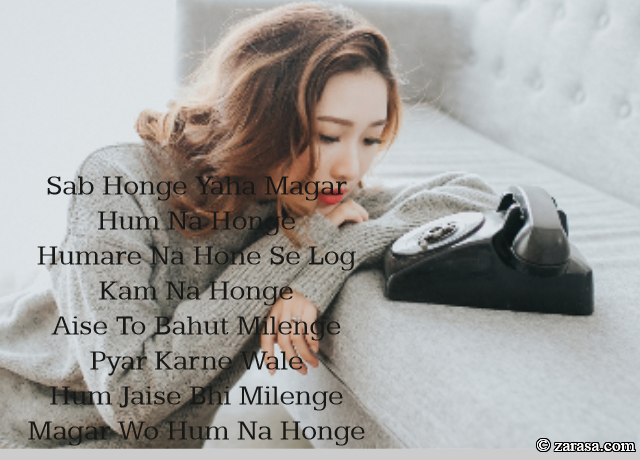 Sab Honge Yaha Magar Hum Na Honge
Humare Na Hone Se Log Kam Na Honge
Aise To Bahut Milenge Pyar Karne Wale
Hum Jaise Bhi Milenge Magar Wo Hum Na Honge
सब होंगे यहाँ मगर हम न होंगे
हमारे न होने से लोग काम न होंगे
ऐसे तो बहुत मिलेंगे प्यार करने वाले
हम जैसे भी मिलेंगे म मगर वो हम न होंगे
سب ہونگے یہا مگر ہم نہ ہونگے
ہمارے نہ ہونے سے لوگ کم نہ ہونگے
ایسے تو بہت ملینگے پیار کرنے والے
ہم جیسے بھی ملینگے مگر وہ ہم نہ ہونگے
---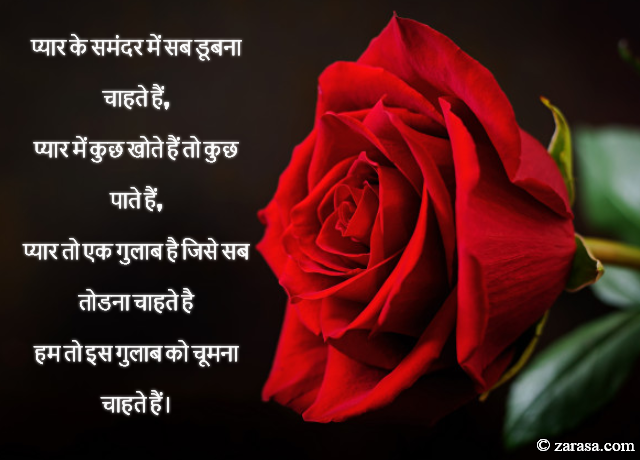 Pyaar ke Samandar Me Sab Doobna Chahte Hain,
Pyaar me Kuch Khote Hain, Toh Kuch Paate Hain,
Pyaar Toh Ek Gulaab hai Jise Sab Todna Chahte Hai,
Hum To Es Gulab Ko Chumna Chahte Hain.
प्यार के समंदर में सब डूबना चाहते हैं,
प्यार में कुछ खोते हैं तो कुछ पाते हैं,
प्यार तो एक गुलाब है जिसे सब तोडना चाहते है
हम तो इस गुलाब को चूमना चाहते हैं।
پیار کے سمندر مے سب دبنا چاہتے ہیں
پیار مے کچھ کھوتے ہیں ٹوہ کچھ پاتے ہیں
پیار ٹوہ ایک گلاب ہے جسے سب توڑنا چاہتے ہے
ہم تو یس گلاب کو چومنا چاہتے ہیں
---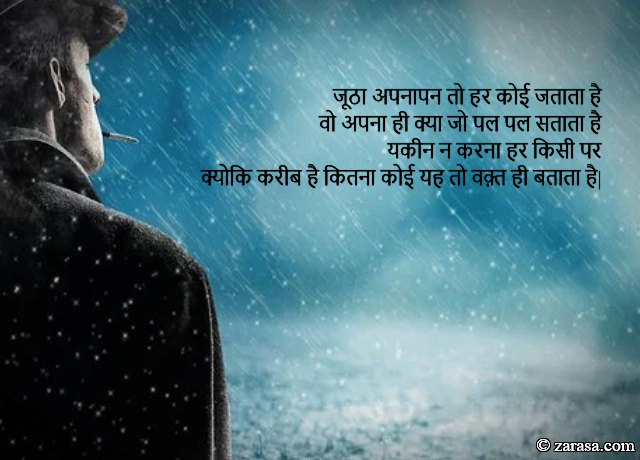 Jhuta apnapan toh har koi jatata hai

Vo Apna hi kya jo pal pal satata hai

Yakeen na karna har kisi pr

Kyunki kareeb hai kitna koi yeh toh vaqt hi batata hai
जूठा अपनापन तो हर कोई जताता है
वो अपना ही क्या जो पल पल सताता है
यकीन न करना हर किसी पर
क्योकि करीब है कितना कोई यह तो वक़्त ही बताता है i
جوتھا اپناپن توہر کوئی جاتاتھا ہے
وو اپنا ہی کیا جو پل پل ستاتا ہے
یکین نہ کرنا ہر کسی پر
کیوکی قریب ہے کتنا کوئی یہ تو وقت ہی بتاتا ہے
---