Shayari for Dosti "Dilse Yaad Karti Hai"
|
Jinki Dosti Sachi Hai Wo Kab Fariyad Karte Hai.
Zubaan Khamosh Hoti Hai Magar Dilse Yaad Karti Hai.


---

जिनकी दोस्ती सच्ची है वो कब फरियाद करते है .
ज़ुबान खामोश होती है मगर दिलसे याद करती है .


---

جنکی دوستی سچی ہے وو کب فریاد کرتے ہے .
زبان خاموش ہوتی ہے مگر دلسے یاد کرتی ہے .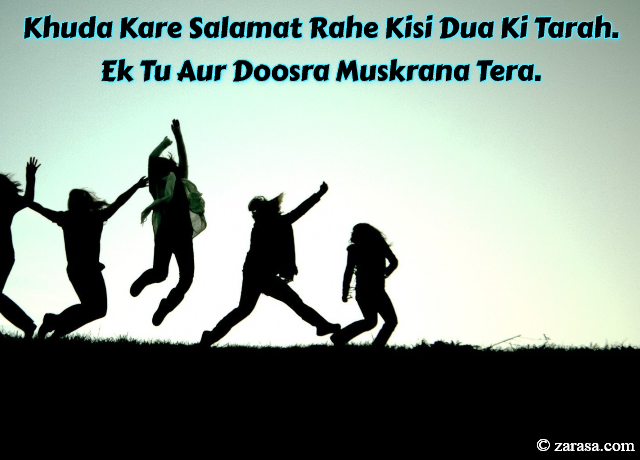 Khuda Kare Salamat Rahe Kisi Dua Ki Tarah.
Ek Tu Aur Doosra Muskrana Tera.
ख़ुदा करे सलामत रहे किसी दुआ की तरह .
एक तू और दूसरा मुस्कुराना तेरा .
خدا کرے سلامت رہے کسی دوا کی طرح .
ایک تو اور دوسرا مسکرانا تیرا .
---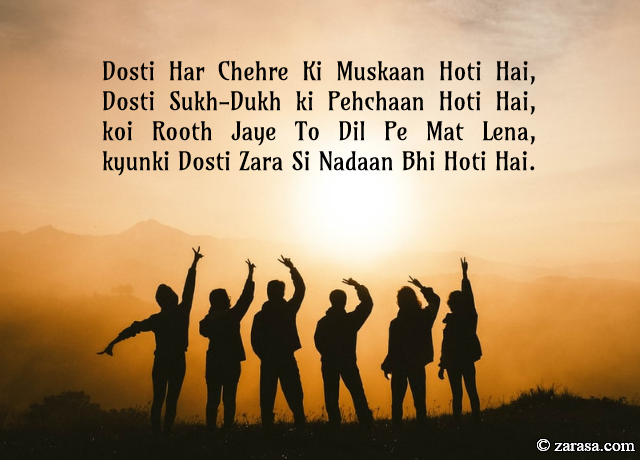 Dosti Har Chehre Ki Muskaan Hoti Hai,
Dosti Sukh-Dukh ki Pehchaan Hoti Hai,
koi Rooth Jaye To Dil Pe Mat Lena,
kyunki Dosti Zara Si Nadaan Bhi Hoti Hai.
दोस्ती हर चेहरे की मुस्कान होती है,
दोस्ती ही सुख-दुःख की पहचान होती है,
कोई रूठ भी जाये तो दिल पे मत लेना,
क्यूंकि दोस्ती ज़रा सी नादान होती है।
دوستی ہر چہرے کی مسکراہٹ ہوتی ہے
دوستی سکھ-افسوس کی شناخت ہوتی ہے
کوئی روٹھ جائے تو دل پہ مت لینا
کیوںک دوستی ذرا سی نادان بھی ہوتی ہے
---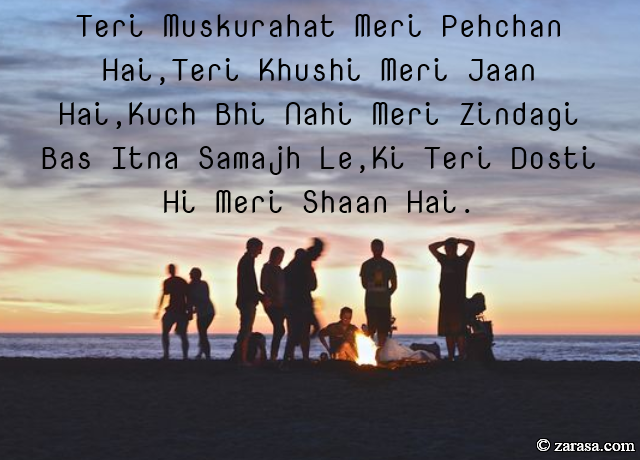 Teri Muskurahat Meri Pehchan Hai,Teri Khushi Meri Jaan Hai,Kuch Bhi Nahi Meri Zindagi Bas Itna Samajh Le,Ki Teri Dosti Hi Meri Shaan Hai.
तेरी मुस्कराहट मेरी पहचान है ,तेरी ख़ुशी मेरी जान है ,कुछ भी नहीं मेरी ज़िन्दगी बस इतना समझ ले ,की तेरी दोस्ती ही मेरी शान है .
تیری مسکراہٹ میری پہچان ہے ,تیری خوشی میری جان ہے ,کچھ بھی نہیں میری زندگی بس اتنا سمجھ لے ,کی تیری دوستی ہی میری شان ہے .
---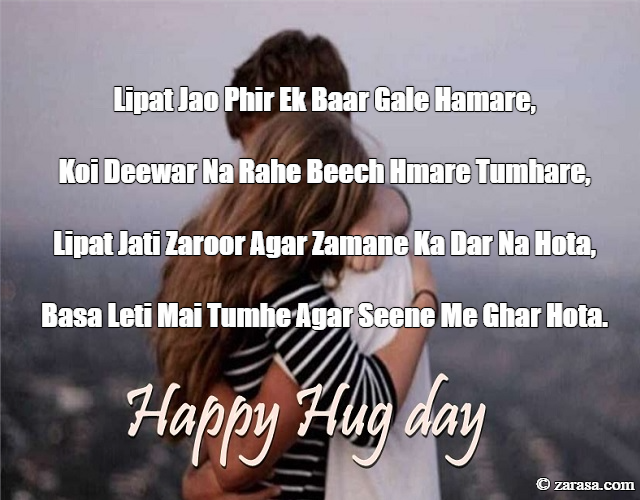 Koi Kahe Ise Jadu Ki Jhappi,
Koi Kahe Ise Pyaar...
Moka Hai Khubsurat,
Aa Gale Lag Ja Mere Yaar.
Wishing you Hug day…
कोई कहे इसे जादू की झप्पी,
कोई कहे इसे प्यार…
मौका है खूबसूरत,
आ गले लग जा मेरे यार।

Wishing you Hug day…
کوئی کہے اسے جادو کی جھپپی
کوئی کھے اسے پیار
موکا ہے خوبصورت
آ گلے لگ جا میرے یار
---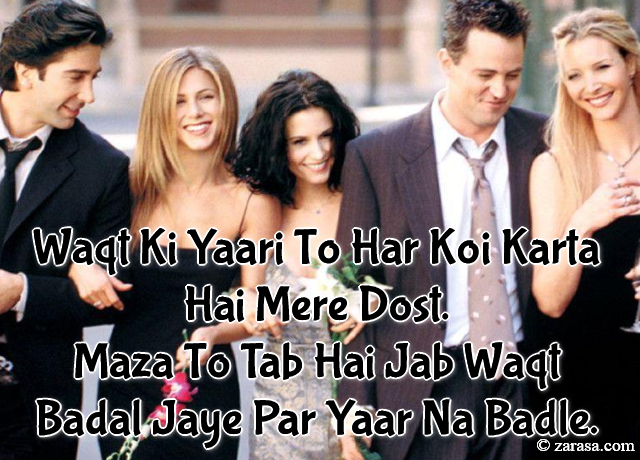 Waqt Ki Yaari To Har Koi Karta Hai Mere Dost.
Maza To Tab Hai Jab Waqt Badal Jaye Par Yaar Na Badle.
वक़्त की यारी तो हर कोई करता है मेरे दोस्त .
मज़ा तो तब है जब वक़्त बदल जाये पर यार ना बदले .
وقت کی یاری تو ہر کوئی کرتا ہے میرے دوست .
مزہ تو ٹیب ہے جب وقت بدل جائے پر یار نہ بدلے .
---