Shayari for Dosti "Aye Yaar Sun"
Aye Yaar Sun Yaari Teri Mujhe Zindagi Se Bhi Pyari Hai.
Jawab Hi Nahi Hamara Kahi Badi Khub Jodi Hamari Hai.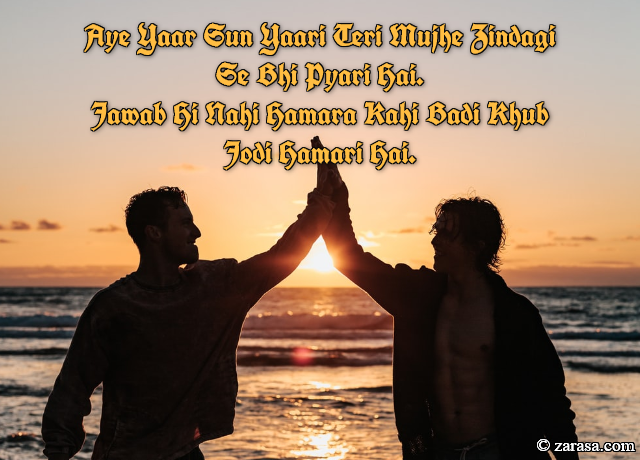 ---

ए यार सुन यारी तेरी मुझे ज़िन्दगी से भी प्यारी है .
जवाब ही नहीं हमारा कही बड़ी खूब जोड़ी हमारी है .


---

ہے یار سن یاری تیری مجھے زندگی سے بھی پیاری ہے .
جواب ہی نہیں ہمارا کہی بدی خوب جوڈی ہماری ہے .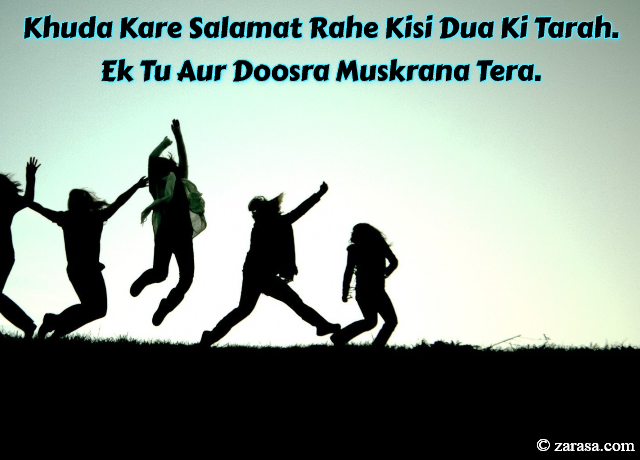 Khuda Kare Salamat Rahe Kisi Dua Ki Tarah.
Ek Tu Aur Doosra Muskrana Tera.
ख़ुदा करे सलामत रहे किसी दुआ की तरह .
एक तू और दूसरा मुस्कुराना तेरा .
خدا کرے سلامت رہے کسی دوا کی طرح .
ایک تو اور دوسرا مسکرانا تیرا .
---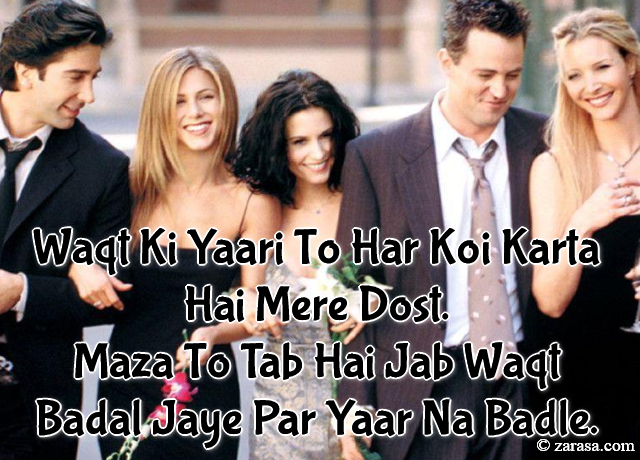 Waqt Ki Yaari To Har Koi Karta Hai Mere Dost.
Maza To Tab Hai Jab Waqt Badal Jaye Par Yaar Na Badle.
वक़्त की यारी तो हर कोई करता है मेरे दोस्त .
मज़ा तो तब है जब वक़्त बदल जाये पर यार ना बदले .
وقت کی یاری تو ہر کوئی کرتا ہے میرے دوست .
مزہ تو ٹیب ہے جب وقت بدل جائے پر یار نہ بدلے .
---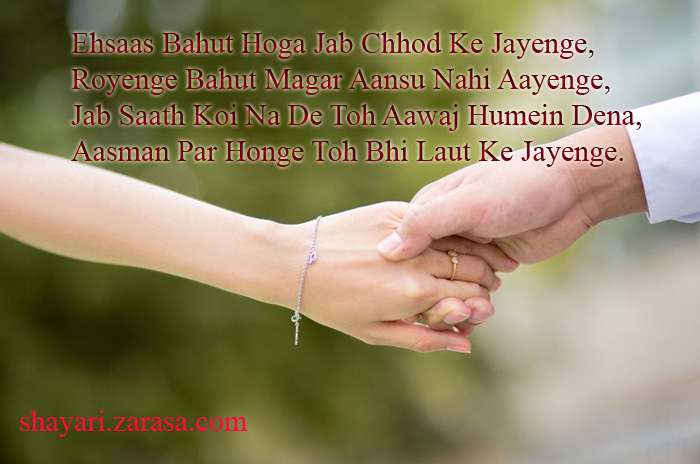 Ehsaas Bahut Hoga Jab Chhod Ke Jayenge,
Royenge Bahut Magar Aansu Nahi Aayenge,
Jab Saath Koi Na De Toh Aawaj Humein Dena,
Aasman Par Honge Toh Bhi Laut Ke Jayenge.



एहसास बहुत होगा जब छोड़ के जायेंगे,
रोयेंगे बहुत मगर आंसू नहीं आएंगे,
जब साथ कोई न दे तो आवाज हमें देना,
आसमान पर होंगे तो भी लौट के जायेंगे।
احساس بہت ہوگا جب چھوڑ کے جائیں گے،
رونا بہت مگر آنسو نہیں آئیں گے،
جب ساتھ کوئی نہ دے تو آواز ہمیں دینا،
آسمان پر ہوں گے تو بھی لوٹ کے جائیں گے
---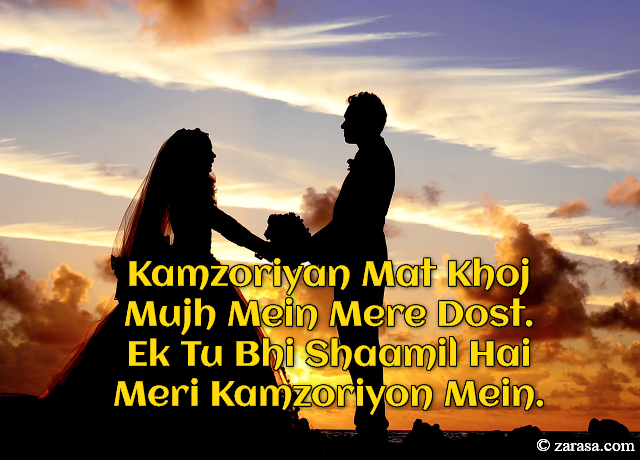 Kamzoriyan Mat Khoj Mujh Mein Mere Dost.
Ek Tu Bhi Shaamil Hai Meri Kamzoriyon Mein.
कमज़ोरियाँ मत खोज मुझ में मेरे दोस्त .
एक तू भी शामिल है मेरी कमज़ोरियों में .
کمزوریاں مت کھوج مجھ میں میرے دوست .
ایک تو بھی شامل ہے میری کمزوریوں میں .
---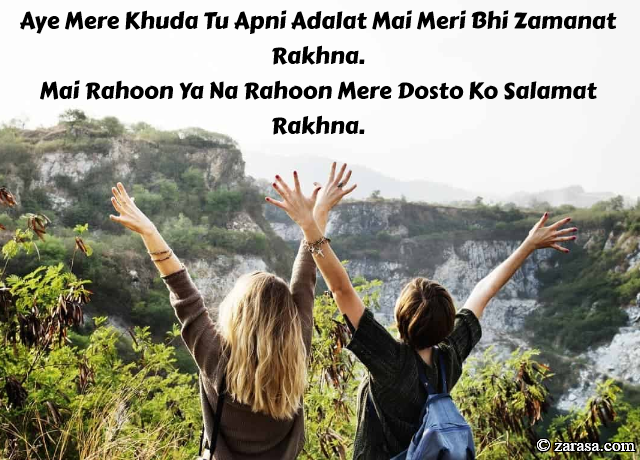 Aye Mere Khuda Tu Apni Adalat Mai Meri Bhi Zamanat Rakhna.
Mai Rahoon Ya Na Rahoon Mere Dosto Ko Salamat Rakhna.
ए मेरे ख़ुदा तू अपनी अदालत मै मेरी भी ज़मानत रखना .
मै रहूँ या न रहूँ मेरे दोस्तों को सलामत रखना .
ہے میرے خدا تو اپنی عدالت می میری بھی ضمانت رکھنا .
می رہوں یا نہ رہوں میرے دوستو کو سلامت رکھنا .
---