Shayari for Dosti(Friendship) "न रहे कोई गिला इस क़दर वफ़ा देंगे"
|
Na rahe Koi Gila Is Qadar Wafa Denge,
Apki Ek Khushi Ki Khatir Ansu Tak Baha Denge,
Kabhi Na Bholenge Apki Dosti Ko Hum,
Dor Reh Kar Bhi Apko Dil Se Dua Deng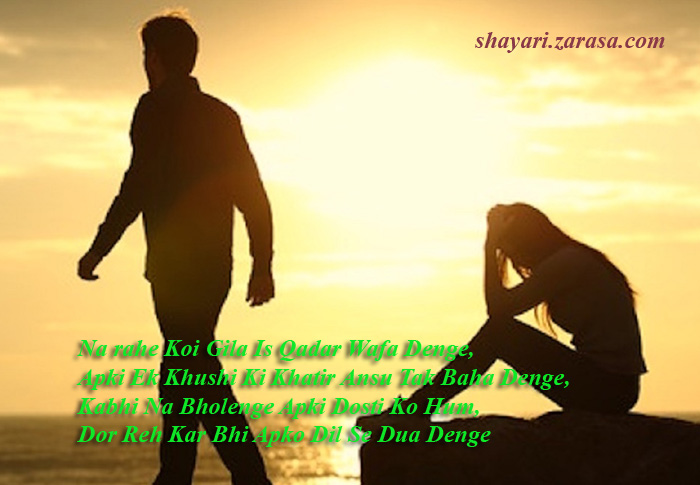 ---

न रहे कोई गिला इस क़दर वफ़ा देंगे,
आपकी एक ख़ुशी की खातिर आंसू तक बहा देंगे,
कभी न भूलेंगे आपकी दोस्ती को हम,
दूर रह कर भी आपको दिल से दुआ देंगे .


---

نہ رہے کوئی گلہ اس قدر وفا دیں گے،
آپ کی ایک خوشی کی خاطر آنسو تک بہا دیں گے،
کبھی نہ بھولیں گے آپ کی دوستی کو ہم،
دور رہ کر بھی آپ کو دل سے دعا دیں گے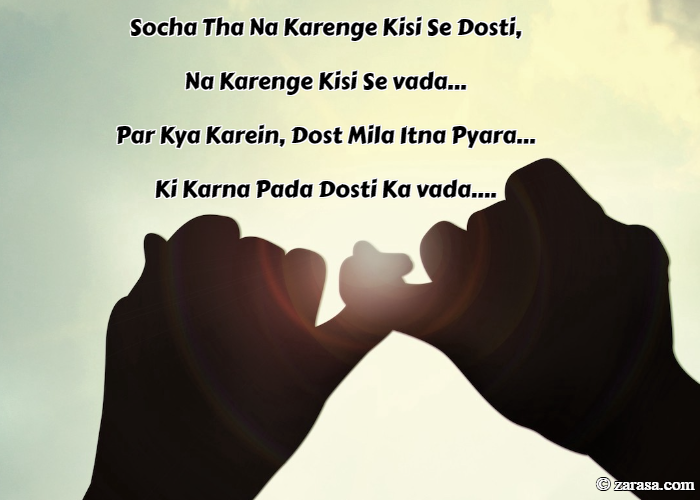 Socha Tha Na Karenge Kisi Se Dosti,
Na Karenge Kisi Se vada...
Par Kya Karein, Dost Mila Itna Pyara...
Ki Karna Pada Dosti Ka vada....
सोचा था ना करेंगे किसी से दोस्ती,
ना करेंगेे किसी से वादा…
पर क्या करें, दोस्त मिला इतना प्यारा…
कि करना पड़ा दोस्ती का वादा…
سوچا تھا نہ کرینگے کسی سے دوستی
نہ کرینگے کسی سے وادا
پر کیا کرے دوست ملا اتنا پیارا
کی کرنا پڑا دوستی کا وادا
---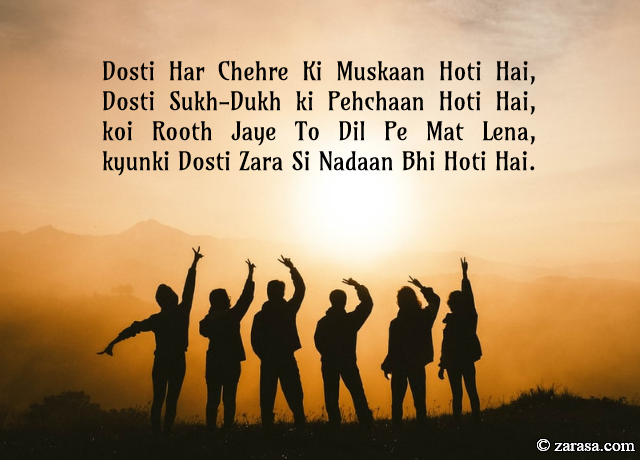 Dosti Har Chehre Ki Muskaan Hoti Hai,
Dosti Sukh-Dukh ki Pehchaan Hoti Hai,
koi Rooth Jaye To Dil Pe Mat Lena,
kyunki Dosti Zara Si Nadaan Bhi Hoti Hai.
दोस्ती हर चेहरे की मुस्कान होती है,
दोस्ती ही सुख-दुःख की पहचान होती है,
कोई रूठ भी जाये तो दिल पे मत लेना,
क्यूंकि दोस्ती ज़रा सी नादान होती है।
دوستی ہر چہرے کی مسکراہٹ ہوتی ہے
دوستی سکھ-افسوس کی شناخت ہوتی ہے
کوئی روٹھ جائے تو دل پہ مت لینا
کیوںک دوستی ذرا سی نادان بھی ہوتی ہے
---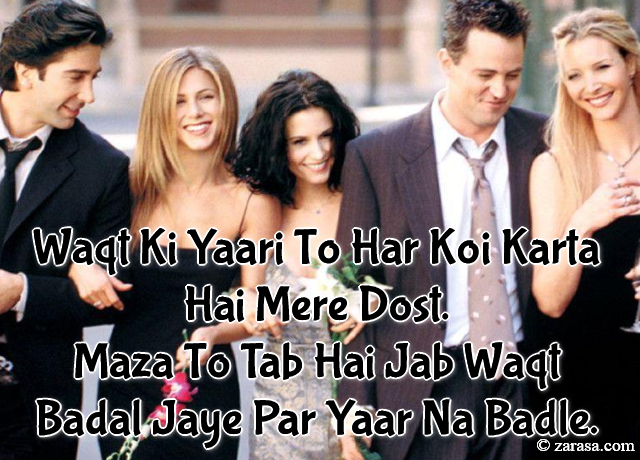 Waqt Ki Yaari To Har Koi Karta Hai Mere Dost.
Maza To Tab Hai Jab Waqt Badal Jaye Par Yaar Na Badle.
वक़्त की यारी तो हर कोई करता है मेरे दोस्त .
मज़ा तो तब है जब वक़्त बदल जाये पर यार ना बदले .
وقت کی یاری تو ہر کوئی کرتا ہے میرے دوست .
مزہ تو ٹیب ہے جب وقت بدل جائے پر یار نہ بدلے .
---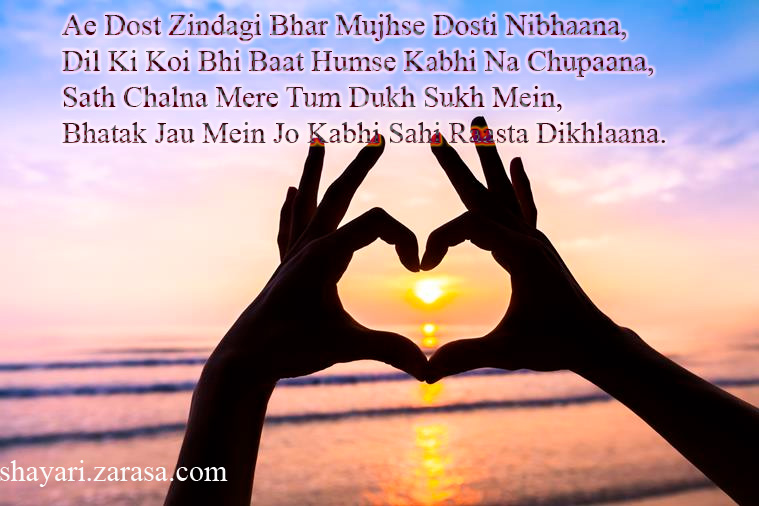 Ae Dost Zindagi Bhar Mujhse Dosti Nibhaana,
Dil Ki Koi Bhi Baat Humse Kabhi Na Chupaana,
Sath Chalna Mere Tum Dukh Sukh Mein,
Bhatak Jau Mein Jo Kabhi Sahi Raasta Dikhlaana.



ऐ दोस्त ज़िन्दगी भर मुझसे दोस्ती निभाना,
दिल की कोई भी बात हमसे कभी न छुपाना,
साथ चलना मेरे तुम दुःख सुख में,
भटक जाऊ में जो कभी सही रास्ता दिखलाना।
اے دوست زندگی بھر مجھ سے دوستی نبھانا
دل کی کوئی بھی بات حمسے کبھی نہ چھپانا
ساتھ چلنا میرے آپ دکھ سکھ میں،
گمراہ جاو میں جو کبھی صحیح راستہ دكھلانا
---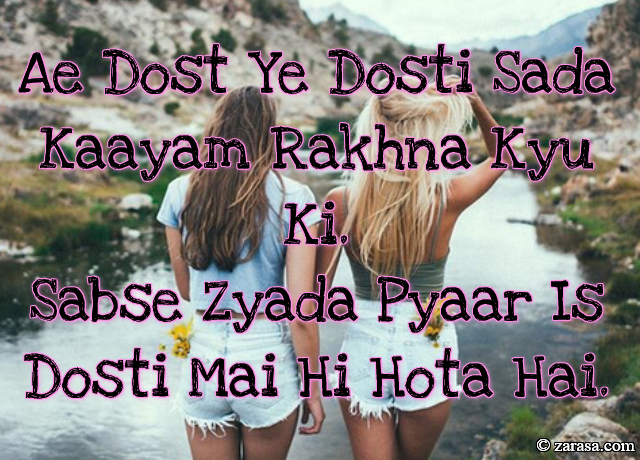 Ae Dost Ye Dosti Sada Kaayam Rakhna Kyu Ki.
Sabse Zyada Pyaar Is Dosti Mai Hi Hota Hai.
ऐ दोस्त ये दोस्ती सदा क़ायम रखना क्यों की .
सबसे ज़्यादा प्यार इस दोस्ती मै ही होता है .
اے دوست یہ دوستی صدا کاایم رکھنا کیو کی .
سبسے زیادہ پیار اس دوستی می ہی ہوتا ہے .
---