Shayari for Dosti "Yaar Na Badle"
|
Waqt Ki Yaari To Har Koi Karta Hai Mere Dost.
Maza To Tab Hai Jab Waqt Badal Jaye Par Yaar Na Badle.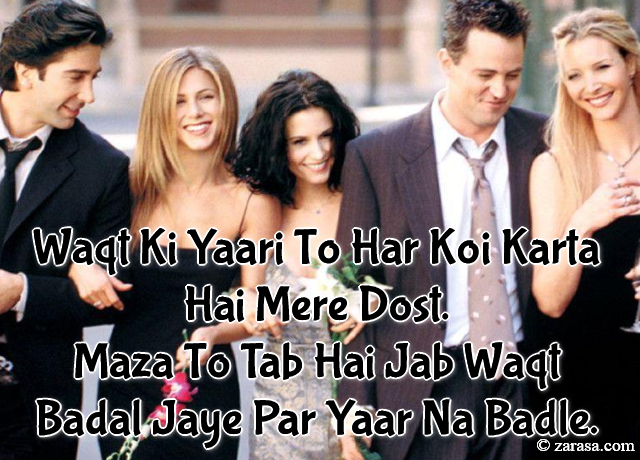 ---

वक़्त की यारी तो हर कोई करता है मेरे दोस्त .
मज़ा तो तब है जब वक़्त बदल जाये पर यार ना बदले .


---

وقت کی یاری تو ہر کوئی کرتا ہے میرے دوست .
مزہ تو ٹیب ہے جب وقت بدل جائے پر یار نہ بدلے .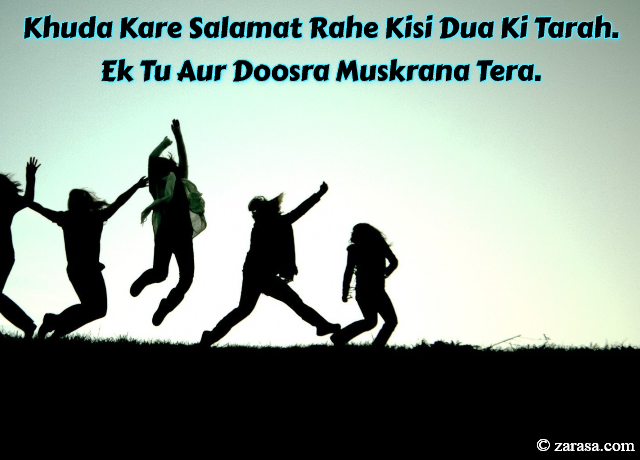 Khuda Kare Salamat Rahe Kisi Dua Ki Tarah.
Ek Tu Aur Doosra Muskrana Tera.
ख़ुदा करे सलामत रहे किसी दुआ की तरह .
एक तू और दूसरा मुस्कुराना तेरा .
خدا کرے سلامت رہے کسی دوا کی طرح .
ایک تو اور دوسرا مسکرانا تیرا .
---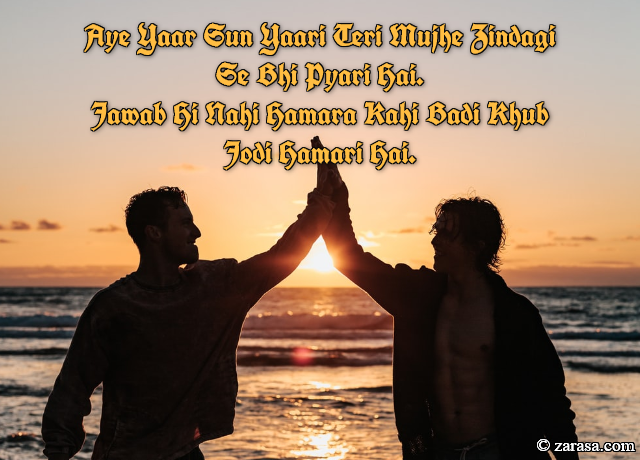 Aye Yaar Sun Yaari Teri Mujhe Zindagi Se Bhi Pyari Hai.
Jawab Hi Nahi Hamara Kahi Badi Khub Jodi Hamari Hai.
ए यार सुन यारी तेरी मुझे ज़िन्दगी से भी प्यारी है .
जवाब ही नहीं हमारा कही बड़ी खूब जोड़ी हमारी है .
ہے یار سن یاری تیری مجھے زندگی سے بھی پیاری ہے .
جواب ہی نہیں ہمارا کہی بدی خوب جوڈی ہماری ہے .
---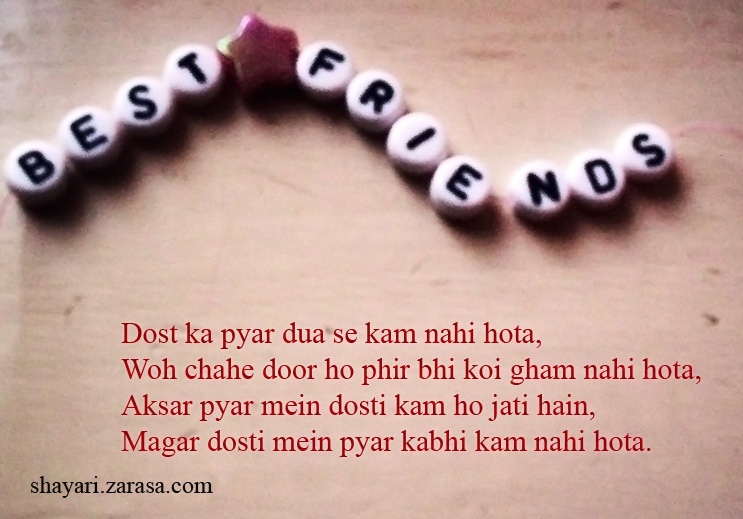 Dost ka pyar dua se kam nahi hota,
Woh chahe door ho phir bhi koi gham nahi hota,
Aksar pyar mein dosti kam ho jati hain,
Magar dosti mein pyar kabhi kam nahi hota


दोस्त का प्यार दुआ से कम नहीं होता,
वो चाहे दूर हो फिर भी कोई ग़म नहीं होता,
अक्सर प्यार में होता कम हो जाती हैं,
मगर दोस्ती में प्यार कभी कम नहीं होता।
دوست کی محبت دعا سے کم نہیں ہوتی،
وہ چاہے دور ہو پھر بھی کوئی غم نہیں ہوتی،
اکثر محبت میں دوستی کم ہو جاتی ہیں،
مگر دوستی میں محبت کبھی کم نہیں ہوتی.
---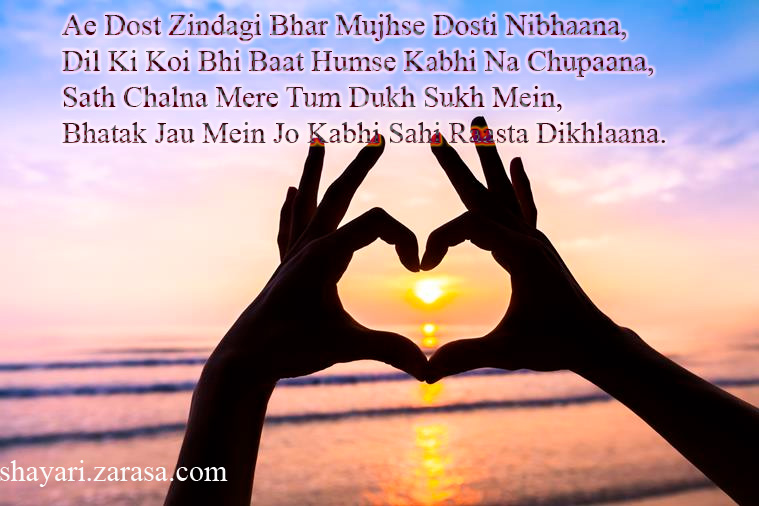 Ae Dost Zindagi Bhar Mujhse Dosti Nibhaana,
Dil Ki Koi Bhi Baat Humse Kabhi Na Chupaana,
Sath Chalna Mere Tum Dukh Sukh Mein,
Bhatak Jau Mein Jo Kabhi Sahi Raasta Dikhlaana.



ऐ दोस्त ज़िन्दगी भर मुझसे दोस्ती निभाना,
दिल की कोई भी बात हमसे कभी न छुपाना,
साथ चलना मेरे तुम दुःख सुख में,
भटक जाऊ में जो कभी सही रास्ता दिखलाना।
اے دوست زندگی بھر مجھ سے دوستی نبھانا
دل کی کوئی بھی بات حمسے کبھی نہ چھپانا
ساتھ چلنا میرے آپ دکھ سکھ میں،
گمراہ جاو میں جو کبھی صحیح راستہ دكھلانا
---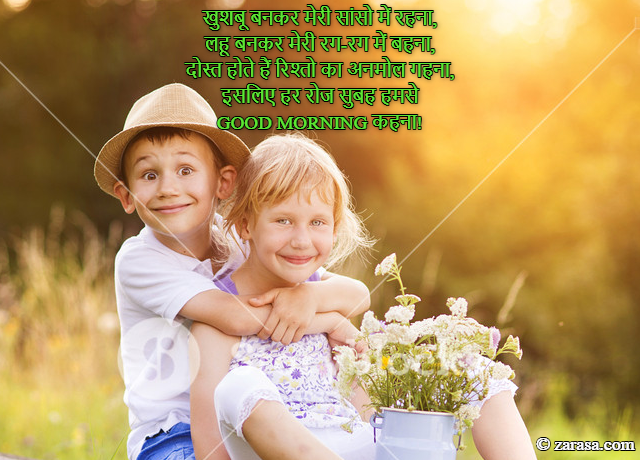 khushbu bankar meri Sason mai rehna ,
Lahu bankar meri rag-rag mai behna,
Dost Hote hai rishton ka anmol Gehna,
Isliye har roz subah hm se
Good Morning kehna.
खुशबू बनकर मेरी सांसो में रहना,
लहू बनकर मेरी रग-रग में बहना,
दोस्त होते हैं रिश्तो का अनमोल गहना,
इसलिए हर रोज सुबह हमसे
सु प्रभात कहना!
خوشبو بنکر میری ساسوں می رہنا
لہو بنکر میری رگ رگ می بہنا
دوست ہوتے ہے رشتوں کا انمول گہنا
اسلئے ہر روز سبھا ہم سے
گود مورننگ کہنا
---