Shayari for Dosti "Yaar Na Badle"
|
Waqt Ki Yaari To Har Koi Karta Hai Mere Dost.
Maza To Tab Hai Jab Waqt Badal Jaye Par Yaar Na Badle.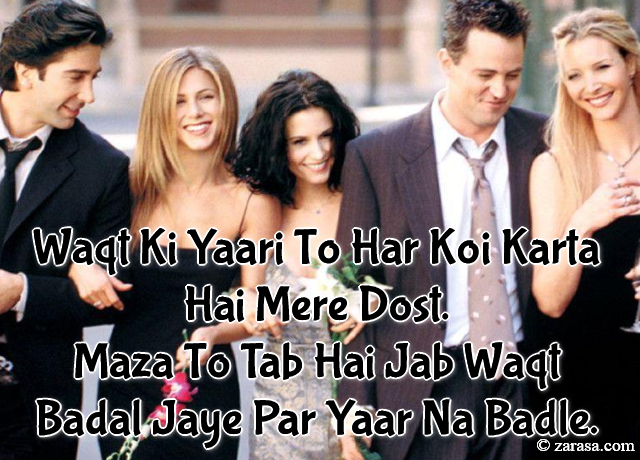 ---

वक़्त की यारी तो हर कोई करता है मेरे दोस्त .
मज़ा तो तब है जब वक़्त बदल जाये पर यार ना बदले .


---

وقت کی یاری تو ہر کوئی کرتا ہے میرے دوست .
مزہ تو ٹیب ہے جب وقت بدل جائے پر یار نہ بدلے .


Jinki Dosti Sachi Hai Wo Kab Fariyad Karte Hai.
Zubaan Khamosh Hoti Hai Magar Dilse Yaad Karti Hai.
जिनकी दोस्ती सच्ची है वो कब फरियाद करते है .
ज़ुबान खामोश होती है मगर दिलसे याद करती है .
جنکی دوستی سچی ہے وو کب فریاد کرتے ہے .
زبان خاموش ہوتی ہے مگر دلسے یاد کرتی ہے .
---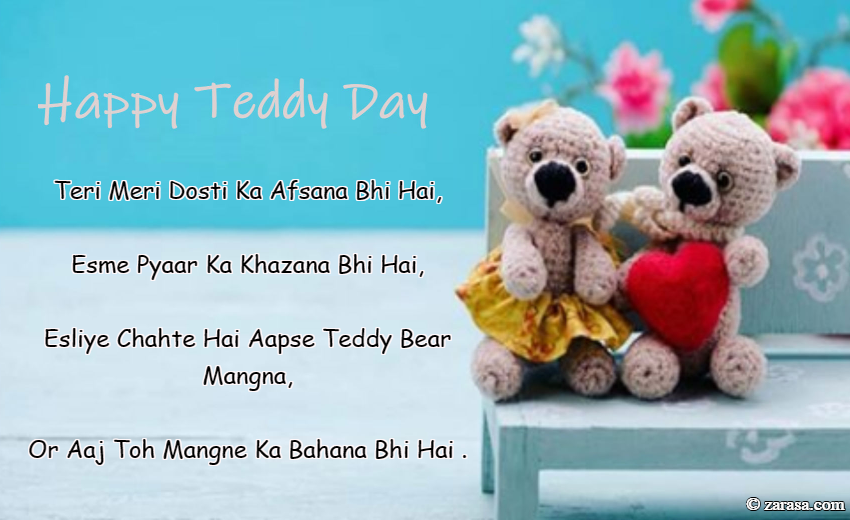 Teri Meri Dosti Ka Afsana Bhi Hai,
Esme Pyaar Ka Khazana Bhi Hai,
Esliye Chahte Hai Aapse Teddy Bear Mangna,
Or Aaj Toh Mangne Ka Bahana Bhi Hai .
तेरी मेरी दोस्ती का अफसाना भी है,
इस में प्यार का खज़ाना भी है,
इसलिए चाहते हैं आपसे टेडी बियर मांगना,
और आज तो मांगने का बहाना भी है।
تیری میری دوستی کا افسانہ بھی ہے
یسمے پیار کا خزانہ بھی ہے
اسلئے چاہتے ہے آپسے تددے بیر مانگنا
اور آج تو مانگنے کا بہانہ بھی ہے
---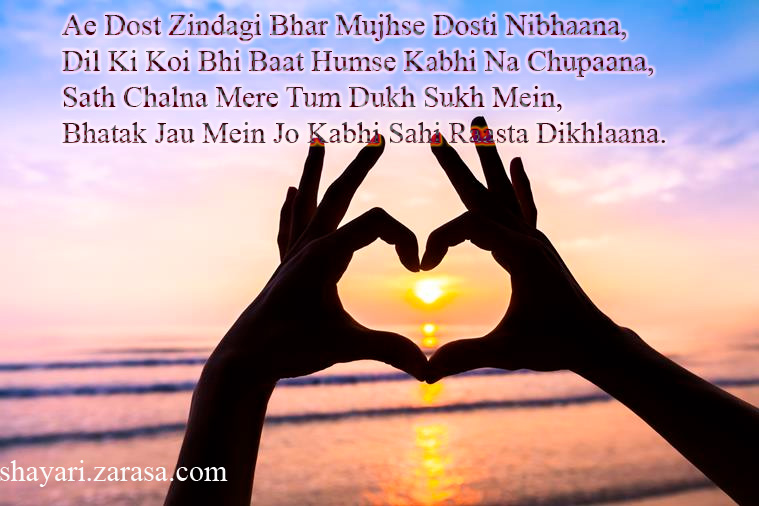 Ae Dost Zindagi Bhar Mujhse Dosti Nibhaana,
Dil Ki Koi Bhi Baat Humse Kabhi Na Chupaana,
Sath Chalna Mere Tum Dukh Sukh Mein,
Bhatak Jau Mein Jo Kabhi Sahi Raasta Dikhlaana.



ऐ दोस्त ज़िन्दगी भर मुझसे दोस्ती निभाना,
दिल की कोई भी बात हमसे कभी न छुपाना,
साथ चलना मेरे तुम दुःख सुख में,
भटक जाऊ में जो कभी सही रास्ता दिखलाना।
اے دوست زندگی بھر مجھ سے دوستی نبھانا
دل کی کوئی بھی بات حمسے کبھی نہ چھپانا
ساتھ چلنا میرے آپ دکھ سکھ میں،
گمراہ جاو میں جو کبھی صحیح راستہ دكھلانا
---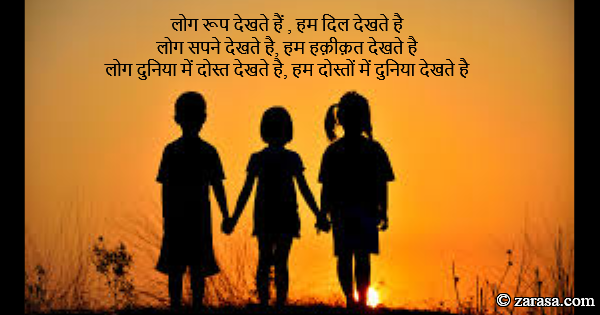 Log Roop Dekhte Hai , Hum Dil Dekhte Hai,
Log Sapne Dekhte Hai , Hum Haqiqat Dekhte Hai,
Log Duniya Mein Dost Dekhte Hai ,Hum Dosto Mein Duniya Dekhte Hai.
लोग रूप देखते हैं , हम दिल देखते है
लोग सपने देखते है, हम हक़ीक़त देखते है
लोग दुनिया में दोस्त देखते है, हम दोस्तों में दुनिया देखते है
لوگ روپ دیکھتے ہے, ہم دل دیکھتے ہے
لوگ سپنے دیکھتے, ہے ہم حقیقت دیکھتے ہے
لوگ دنیا میں دوست دیکھتے, ہے ہم دوستوں میں دنیا دیکھتے ہے
---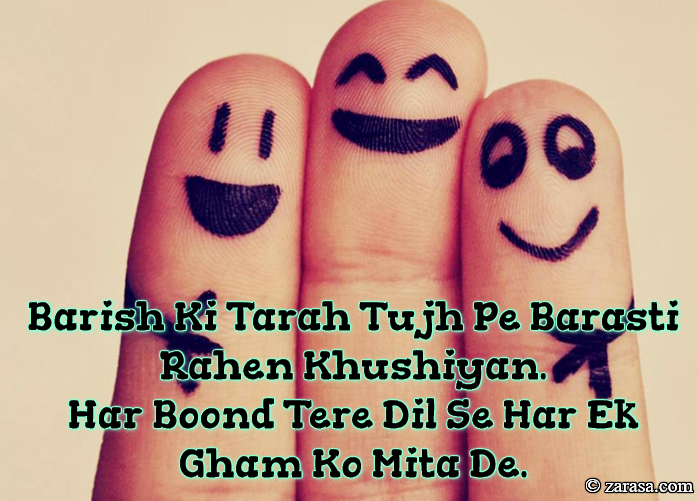 Barish Ki Tarah Tujh Pe Barasti Rahen Khushiyan.
Har Boond Tere Dil Se Har Ek Gham Ko Mita De.
बारिश की तरह तुझ पे बरसती रहें खुशियां .
हर बूँद तेरे दिल से हर एक ग़म को मिटा दे .
بارش کی طرح تجھ پی برستی رہیں خوشیاں .
ہر بوند تیرے دل سے ہر ایک غم کو مٹا دے .
---