Shayari for Dosti "Yaar Na Badle"
|
Waqt Ki Yaari To Har Koi Karta Hai Mere Dost.
Maza To Tab Hai Jab Waqt Badal Jaye Par Yaar Na Badle.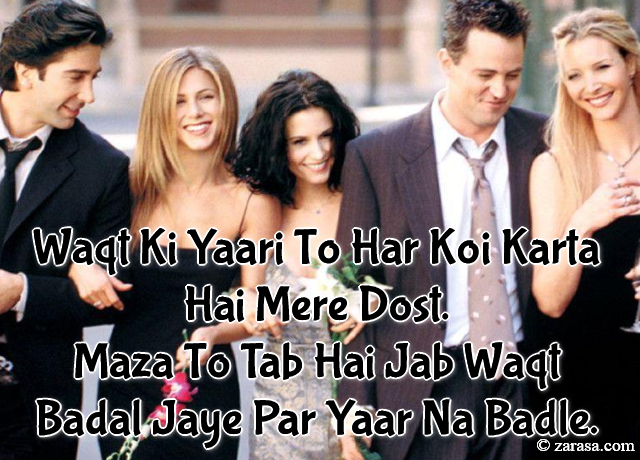 ---

वक़्त की यारी तो हर कोई करता है मेरे दोस्त .
मज़ा तो तब है जब वक़्त बदल जाये पर यार ना बदले .


---

وقت کی یاری تو ہر کوئی کرتا ہے میرے دوست .
مزہ تو ٹیب ہے جب وقت بدل جائے پر یار نہ بدلے .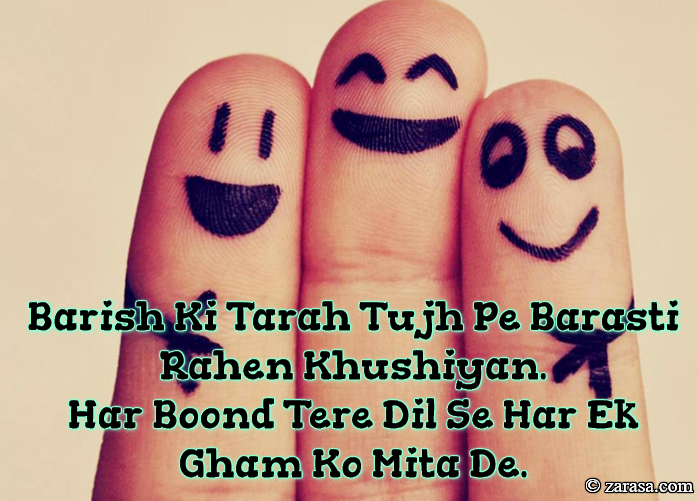 Barish Ki Tarah Tujh Pe Barasti Rahen Khushiyan.
Har Boond Tere Dil Se Har Ek Gham Ko Mita De.
बारिश की तरह तुझ पे बरसती रहें खुशियां .
हर बूँद तेरे दिल से हर एक ग़म को मिटा दे .
بارش کی طرح تجھ پی برستی رہیں خوشیاں .
ہر بوند تیرے دل سے ہر ایک غم کو مٹا دے .
---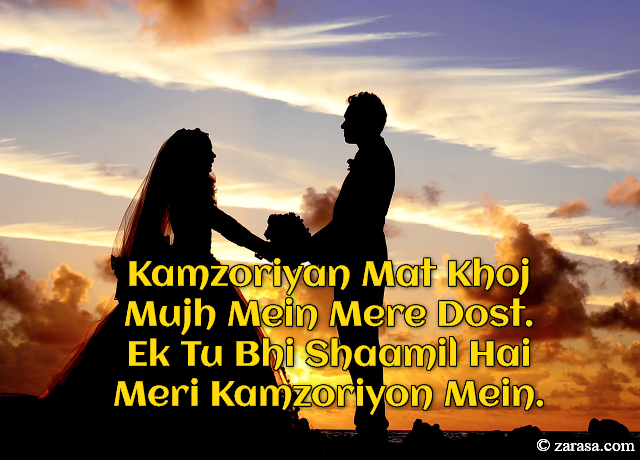 Kamzoriyan Mat Khoj Mujh Mein Mere Dost.
Ek Tu Bhi Shaamil Hai Meri Kamzoriyon Mein.
कमज़ोरियाँ मत खोज मुझ में मेरे दोस्त .
एक तू भी शामिल है मेरी कमज़ोरियों में .
کمزوریاں مت کھوج مجھ میں میرے دوست .
ایک تو بھی شامل ہے میری کمزوریوں میں .
---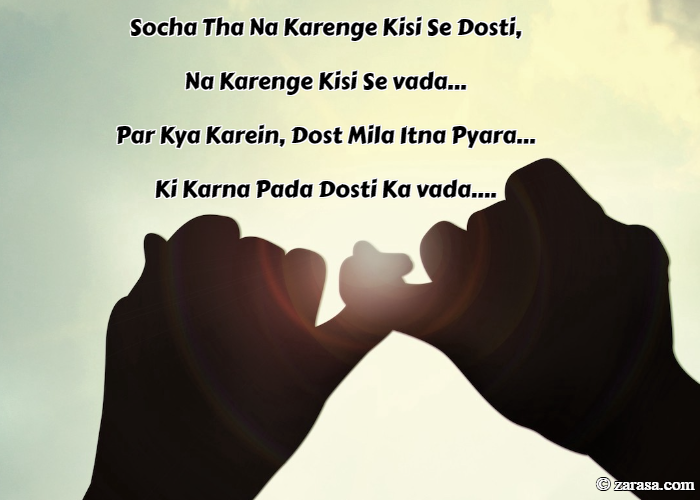 Socha Tha Na Karenge Kisi Se Dosti,
Na Karenge Kisi Se vada...
Par Kya Karein, Dost Mila Itna Pyara...
Ki Karna Pada Dosti Ka vada....
सोचा था ना करेंगे किसी से दोस्ती,
ना करेंगेे किसी से वादा…
पर क्या करें, दोस्त मिला इतना प्यारा…
कि करना पड़ा दोस्ती का वादा…
سوچا تھا نہ کرینگے کسی سے دوستی
نہ کرینگے کسی سے وادا
پر کیا کرے دوست ملا اتنا پیارا
کی کرنا پڑا دوستی کا وادا
---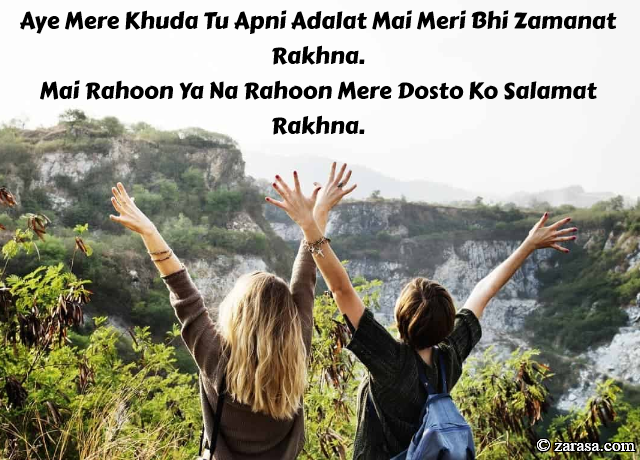 Aye Mere Khuda Tu Apni Adalat Mai Meri Bhi Zamanat Rakhna.
Mai Rahoon Ya Na Rahoon Mere Dosto Ko Salamat Rakhna.
ए मेरे ख़ुदा तू अपनी अदालत मै मेरी भी ज़मानत रखना .
मै रहूँ या न रहूँ मेरे दोस्तों को सलामत रखना .
ہے میرے خدا تو اپنی عدالت می میری بھی ضمانت رکھنا .
می رہوں یا نہ رہوں میرے دوستو کو سلامت رکھنا .
---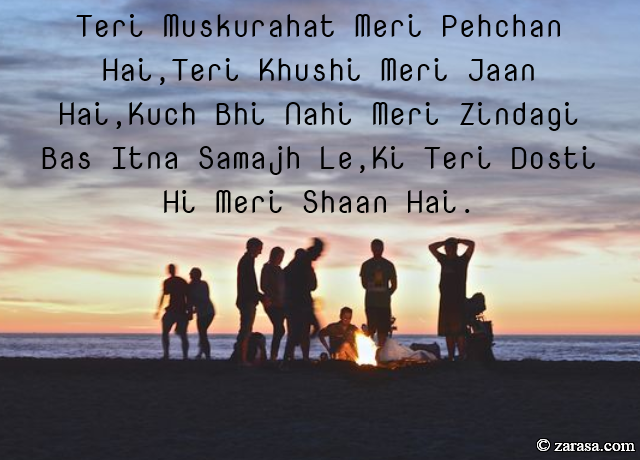 Teri Muskurahat Meri Pehchan Hai,Teri Khushi Meri Jaan Hai,Kuch Bhi Nahi Meri Zindagi Bas Itna Samajh Le,Ki Teri Dosti Hi Meri Shaan Hai.
तेरी मुस्कराहट मेरी पहचान है ,तेरी ख़ुशी मेरी जान है ,कुछ भी नहीं मेरी ज़िन्दगी बस इतना समझ ले ,की तेरी दोस्ती ही मेरी शान है .
تیری مسکراہٹ میری پہچان ہے ,تیری خوشی میری جان ہے ,کچھ بھی نہیں میری زندگی بس اتنا سمجھ لے ,کی تیری دوستی ہی میری شان ہے .
---