Shayari for Eye "Khushk Aankho Ka"
|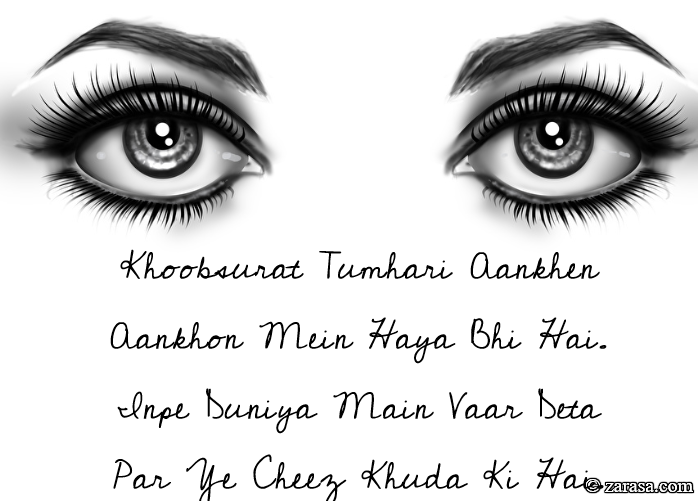 Khoobsurat Tumhari Aankhen Aankhon Mein Haya Bhi Hai.
Inpe Duniya Main Vaar Deta Par Ye Cheez Khuda Ki Hai.
खूबसूरत तुम्हारी आँखें आँखों में हाय भी है .
इनपे दुनिया मैं वार देता पर ये चीज़ खुदा की है .
خوبصورت تمہاری آنکھیں آنکھوں میں ہی بھی ہے .
انپے دنیا میں وار دیتا پر یہ چیز خدا کی ہے .
---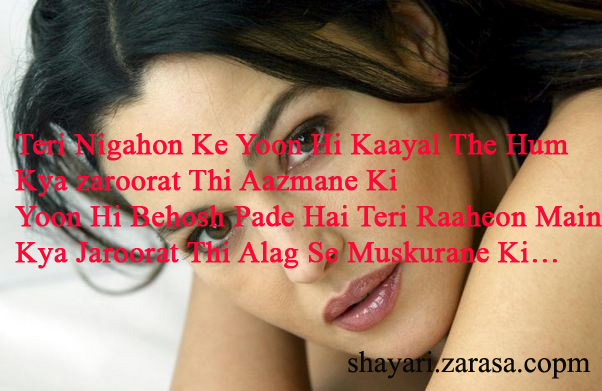 Teri Nigahon Ke Yoon Hi Kaayal The Hum
Kya zaroorat Thi Aazmane Ki
Yoon Hi Behosh Pade Hai Teri Raaheon Main
Kya Jaroorat Thi Alag Se Muskurane Ki…



तेरी निगाहों के यूं ही कायल थे हम
क्या ज़रुरत थी आज़माने की
यूं ही बेहोश पड़े है तेरी राहों मैं
क्या जरूरत थी अलग से मुस्कुराने की…
تیری نگاہوں کے یوں ہی کایل تھے ہم
کیا ضرورت تھی آزمانے کی
یوں ہی بیہوش پڑے ہے تیری راہوں میں
کیا ضرورت تھی الگ سے مسکرانے کی
---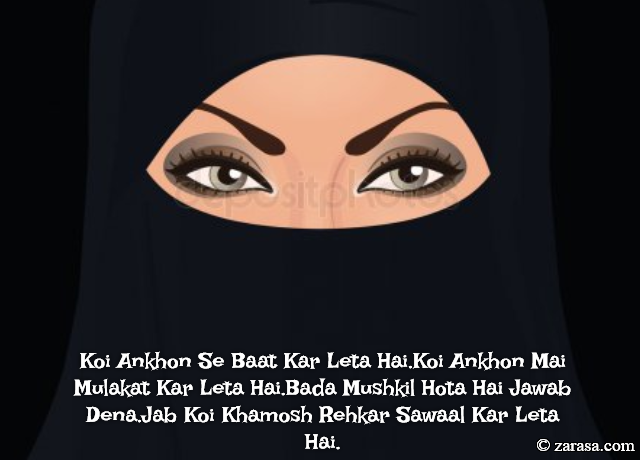 Koi Ankhon Se Baat Kar Leta Hai.Koi Ankhon Mai Mulakat Kar Leta Hai.Bada Mushkil Hota Hai Jawab Dena.Jab Koi Khamosh Rehkar Sawaal Kar Leta Hai.
कोई आँखों से बात कर लेता है .कोई आँखों मै मुलाकात कर लेता है .बड़ा मुश्किल होता है जवाब देना .जब कोई ख़ामोश रहकर सवाल कर लेता है .
کوئی آنکھوں سے بات کر لیتا ہے کوئی آنکھوں می ملکت کر لیتا ہے .بد مشکل ہوتا ہے جواب دینا .جب کوئی خاموش رہکر سوال کر لیتا ہے .
---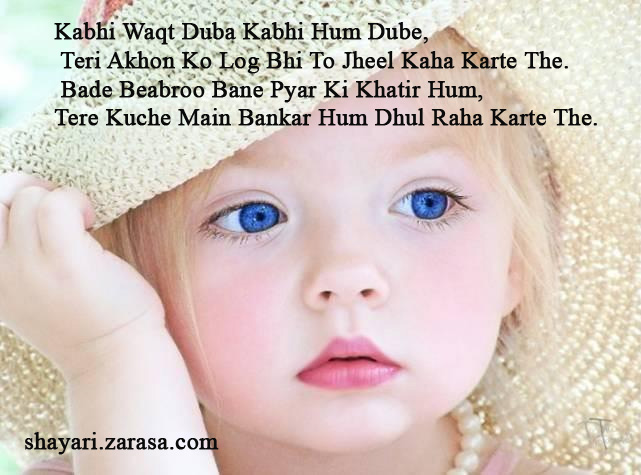 Kabhi Waqt Duba Kabhi Hum Dube,
Teri Akhon Ko Log Bhi To Jheel Kaha Karte The.
Bade Beabroo Bane Pyar Ki Khatir Hum,
Tere Kuche Main Bankar Hum Dhul Raha Karte The.


कभी वक़्त डूबा कभी हम दुबे,
तेरी आँखों को लोग भी तो झील कहा करते थे.
बड़े बेआबरू बने प्यार की खातिर हम,
तेरे कूचे मैं बनकर हम धूल रहा करते थे।
کبھی وقت ڈوبا کبھی ہم ڈوبے
تیری انکھون کو لوگ بھی جھیل کہا کرتے تھے
برھے بےابرو بنے پیار کی خھاتر ہم
تیرے کوچے مے بنکر ہم دھول رحا کرتے تھے
---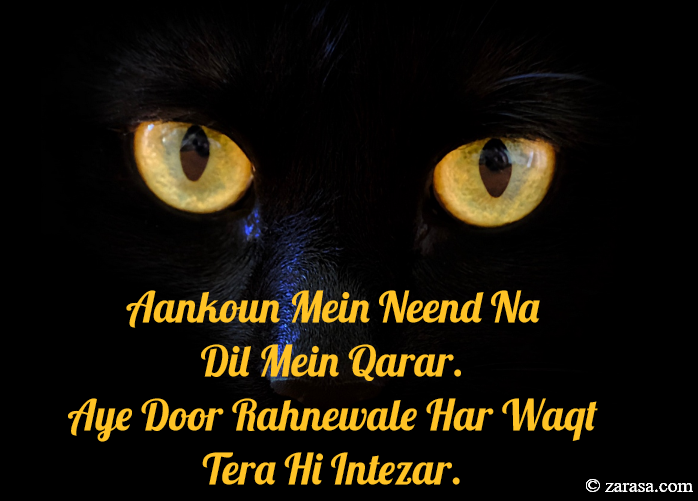 Aankoun Mein Neend Na Dil Mein Qarar.
Aye Door Rahnewale Har Waqt Tera Hi Intezar.
आँखोँ में नींद न दिल में क़रार .
ए दूर रहनेवाले हर वक़्त तेरा ही इंतज़ार .
آنکوں میں نیند نہ دل میں قرار .
ہے دور رہنےوالے ہر وقت تیرا ہی انتظار .
---