Shayari for Eye "Khushk Aankho Ka"
|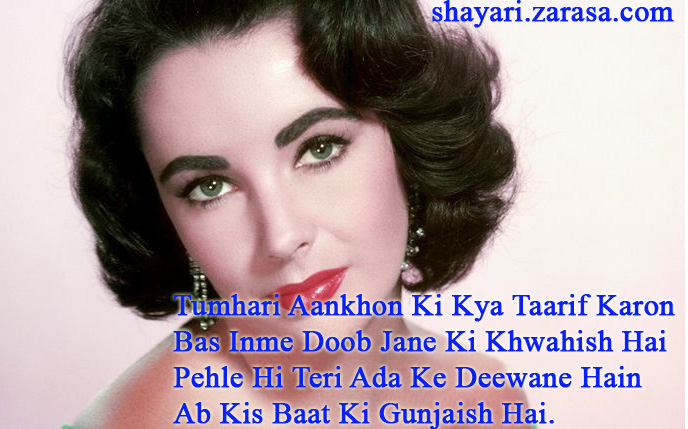 Tumhari Aankhon Ki Kya Taarif Karon
Bas Inme Doob Jane Ki Khwahish Hai
Pehle Hi Teri Ada Ke Deewane Hain
Ab Kis Baat Ki Gunjaish Hai.




तुम्हारी आँखों की क्या तारीफ़ करूं,
बस इनमे डूब जाने की ख्वाहिश है,
पहले ही तेरी अदा के दीवाने हैं,
अब किस बात की गुंजाईश है।
تمہاری انکھون کی کیا تاریف کرون
بس ان مین ڈوب جانے کو جی چاحتا ہے
پہلے حی تیری ادا کے دیوانے ہین
اب کسبات کی گنجایش ہے۔
---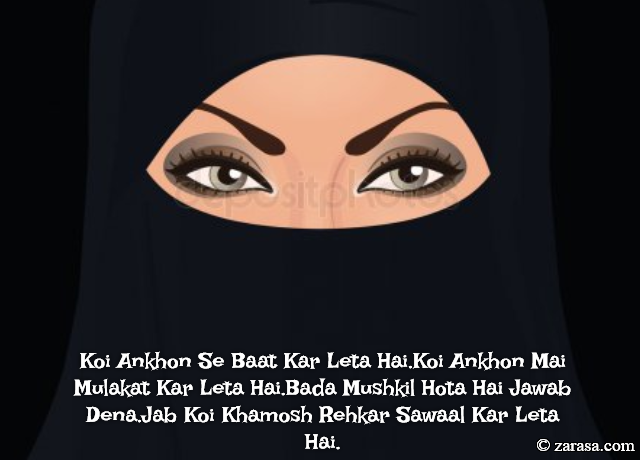 Koi Ankhon Se Baat Kar Leta Hai.Koi Ankhon Mai Mulakat Kar Leta Hai.Bada Mushkil Hota Hai Jawab Dena.Jab Koi Khamosh Rehkar Sawaal Kar Leta Hai.
कोई आँखों से बात कर लेता है .कोई आँखों मै मुलाकात कर लेता है .बड़ा मुश्किल होता है जवाब देना .जब कोई ख़ामोश रहकर सवाल कर लेता है .
کوئی آنکھوں سے بات کر لیتا ہے کوئی آنکھوں می ملکت کر لیتا ہے .بد مشکل ہوتا ہے جواب دینا .جب کوئی خاموش رہکر سوال کر لیتا ہے .
---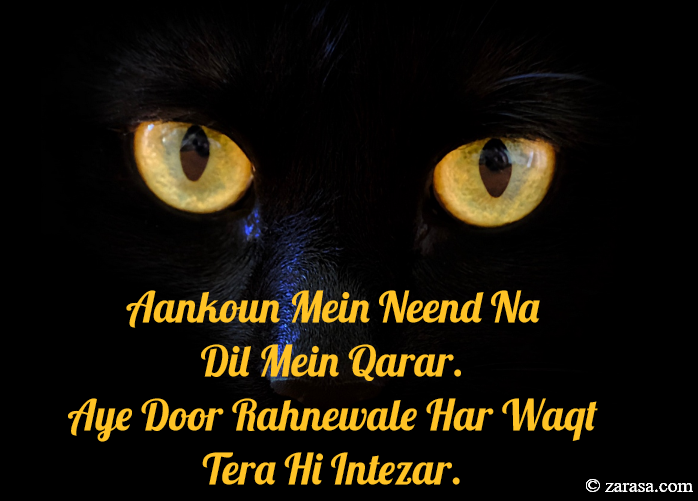 Aankoun Mein Neend Na Dil Mein Qarar.
Aye Door Rahnewale Har Waqt Tera Hi Intezar.
आँखोँ में नींद न दिल में क़रार .
ए दूर रहनेवाले हर वक़्त तेरा ही इंतज़ार .
آنکوں میں نیند نہ دل میں قرار .
ہے دور رہنےوالے ہر وقت تیرا ہی انتظار .
---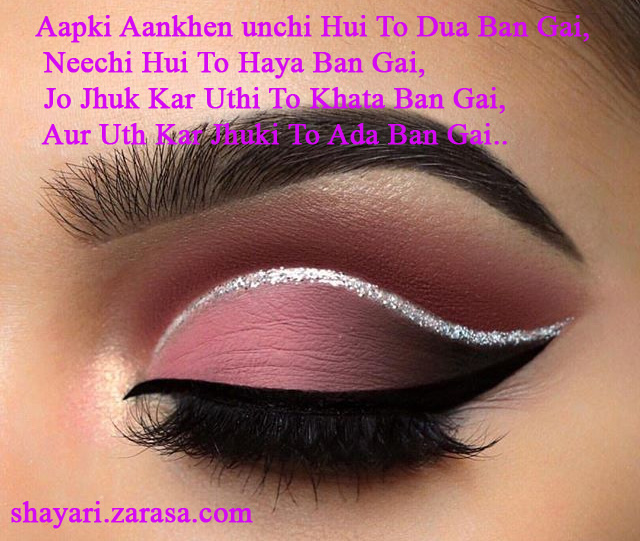 Aapki Aankhen unchi Hui To Dua Ban Gai,
Neechi Hui To Haya Ban Gai,
Jo Jhuk Kar Uthi To Khata Ban Gai,
Aur Uth Kar Jhuki To Ada Ban Gai..



आपकी आँखें ऊँची हुई तो दुआ बन गई,
नीची हुई तो हाय बन गई,
जो झुक कर उठी तो खता बन गई,
और उठ कर झुकी तो अदा बन गई।
اپ کی انکحعن اءنچی حوی تو حےا بن گی
نععچحی حوی تو حےا بن گین
جو جھک کر اٹھی تو ختا بن گین
اور اٹھ کر جھکی تو ادا بن گین۔
---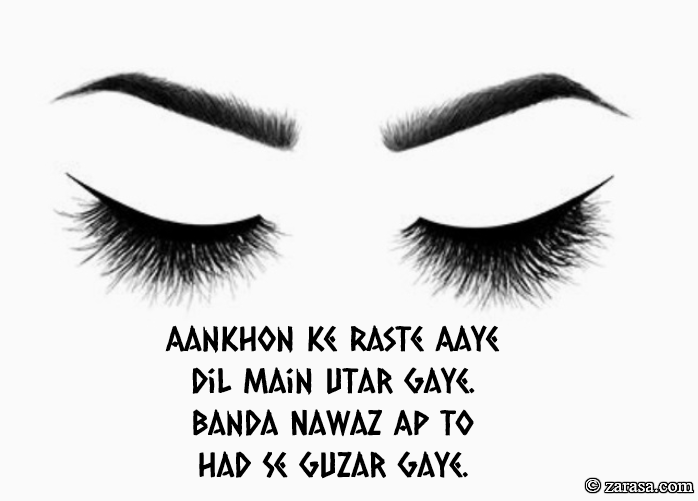 Aankhon Ke Raste Aaye Dil Main Utar Gaye.
Banda Nawaz Ap To Had Se Guzar Gaye.
आँखों के रस्ते आये दिल मैं उतर गए .
बाँदा नवाज़ आप तो हद से गुज़र गए .
آنکھوں کے راستے اے دل میں اتر گئے .
بندا نواز اپ تو حد سے گزر گئے .
---