Shayari for Eyes"Tere Pyaar Bhari Aankhon Mai Aansoo Achche Nahi Lagte"
|
Tere Pyaar Bhari Aankhon Mai Aansoo Achche Nahi Lagte.
Chaahe Jitnaa Bhi Roye But Kabhi Sachche Nahin Lagte.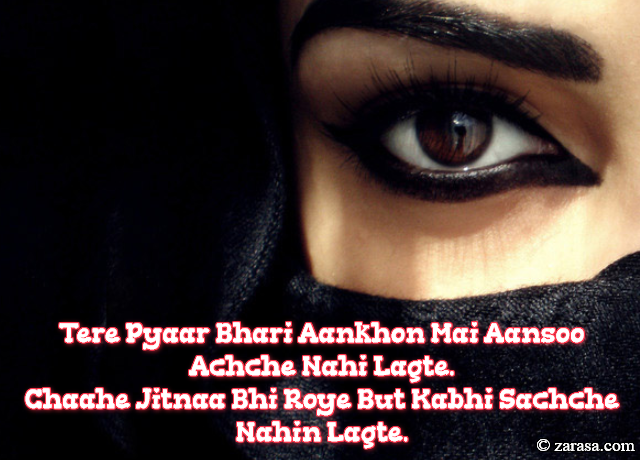 ---

तेरे प्यार भरी आँखों मै आंसू अच्छे नहीं लगते .
चाहे जितना भी रोए बट कभी सच्चे नहीं लगते .


---

تیرے پیار بھری آنکھوں می آنسو اچّھے نہیں لگتے .
چاہے جتنا بھی رویے بٹ کبھی سچچے نہیں لگتے .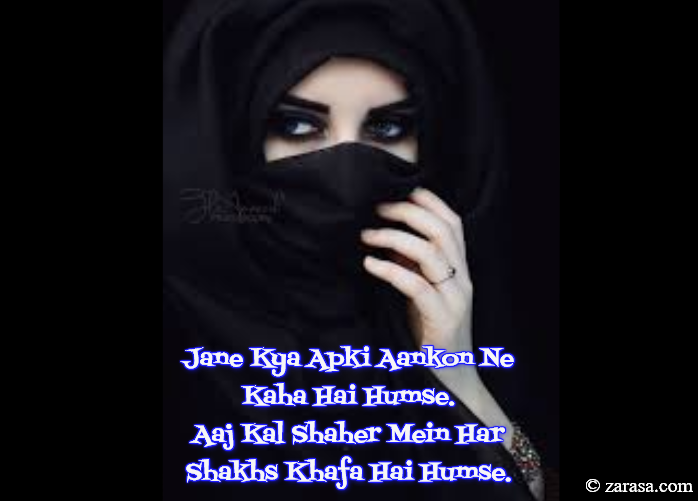 Jane Kya Apki Aankon Ne Kaha Hai Humse.
Aaj Kal Shaher Mein Har Shakhs Khafa Hai Humse.
जाने क्या आपकी आंखों ने कहा है हमसे .
आज कल शहर में हर शख्स खफा है हमसे .
جانے کیا آپکی آنکوں نے کہا ہے ہمسے .
آج کل شہر میں ہر شخص خفا ہے ہمسے .
---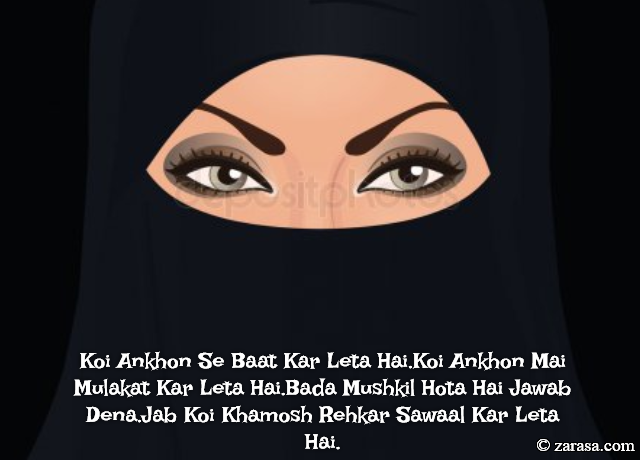 Koi Ankhon Se Baat Kar Leta Hai.Koi Ankhon Mai Mulakat Kar Leta Hai.Bada Mushkil Hota Hai Jawab Dena.Jab Koi Khamosh Rehkar Sawaal Kar Leta Hai.
कोई आँखों से बात कर लेता है .कोई आँखों मै मुलाकात कर लेता है .बड़ा मुश्किल होता है जवाब देना .जब कोई ख़ामोश रहकर सवाल कर लेता है .
کوئی آنکھوں سے بات کر لیتا ہے کوئی آنکھوں می ملکت کر لیتا ہے .بد مشکل ہوتا ہے جواب دینا .جب کوئی خاموش رہکر سوال کر لیتا ہے .
---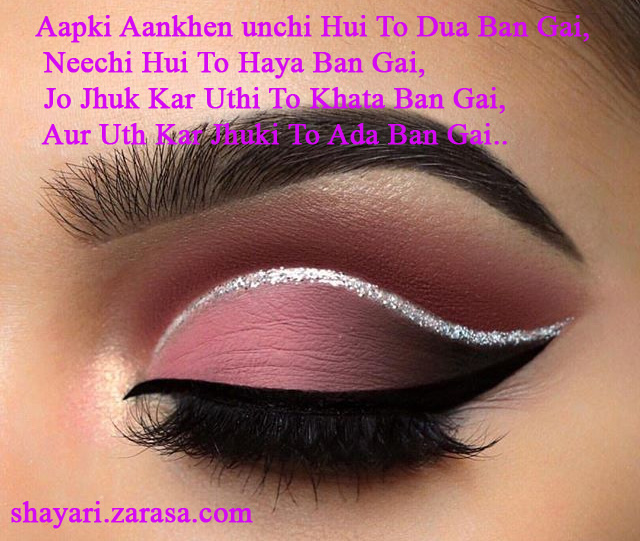 Aapki Aankhen unchi Hui To Dua Ban Gai,
Neechi Hui To Haya Ban Gai,
Jo Jhuk Kar Uthi To Khata Ban Gai,
Aur Uth Kar Jhuki To Ada Ban Gai..



आपकी आँखें ऊँची हुई तो दुआ बन गई,
नीची हुई तो हाय बन गई,
जो झुक कर उठी तो खता बन गई,
और उठ कर झुकी तो अदा बन गई।
اپ کی انکحعن اءنچی حوی تو حےا بن گی
نععچحی حوی تو حےا بن گین
جو جھک کر اٹھی تو ختا بن گین
اور اٹھ کر جھکی تو ادا بن گین۔
---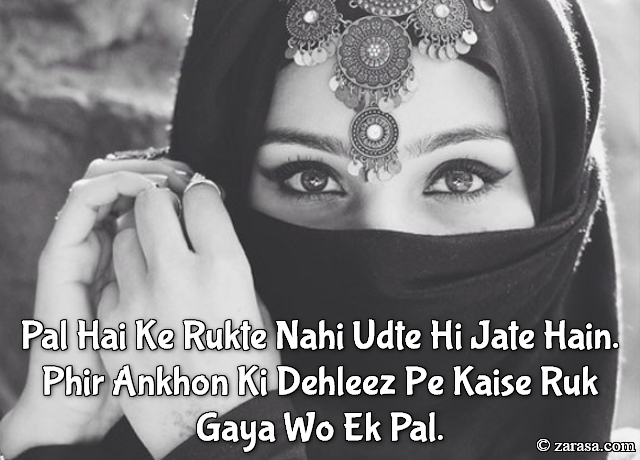 Pal Hai Ke Rukte Nahi Udte Hi Jate Hain.
Phir Ankhon Ki Dehleez Pe Kaise Ruk Gaya Wo Ek Pal.
पल है के रुकते नहीं उड़ते ही जाते है .
फिर आँखों की देहलीज़ पे कैसे रुक गया वो एक पल .
پل ہے کے روکتے نہیں اوڈتے ہی جاتے ہیں .
پھر آنکھوں کی دہلیز پی کیسے روک گیا وہ ایک پل .
---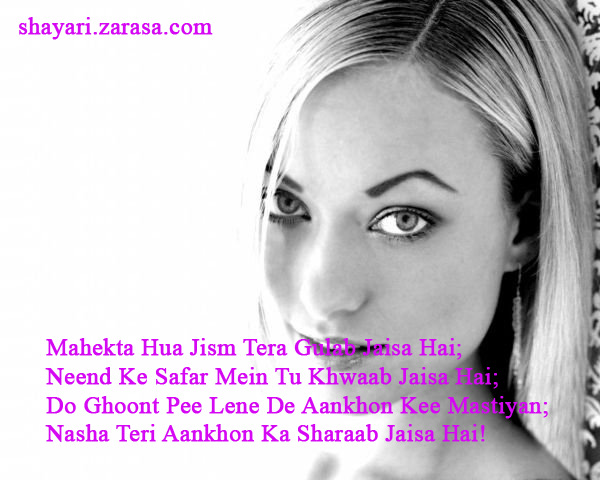 Mahekta Hua Jism Tera Gulab Jaisa Hai;
Neend Ke Safar Mein Tu Khwaab Jaisa Hai;
Do Ghoont Pee Lene De Aankhon Kee Mastiyan;
Nasha Teri Aankhon Ka Sharaab Jaisa Hai!




महेकता हुआ जिस्म तेरा गुलाब जैसा है,
नींद के सफर में तू ख्वाब जैसा है,
दो घूँट पी लेने दे आँखों की मस्तियाँ,
नशा तेरी आँखों का शराब जैसा है।
مہکتا ہوا جسم تیرا گلاب جیسا ہے,
نیند کے سفر مے تو خواب جیسا ہے,
دو گھونٹ پی لینے دے آنکھوں کی مستیاں,
نشہ تیری آنکھوں کا شراب جیسا ہ
---