Shayari for Farewell "Aaj apne School se"
|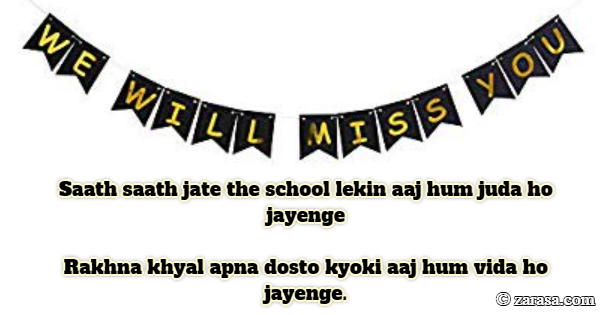 Saath saath jate the school lekin aaj hum juda ho jayenge
Rakhna khyal apna dosto kyoki aaj hum vida ho jayenge.
साथ-साथ जाते थे स्कूल लेकिन आज हम जुदा हो जायेंगे
रखना ख्याल अपना दोस्तों क्योंकि आज हम विदा हो जायेंगे।
سات سات جاتے تھے اسکول لیکن آج ہم جودا ہو جاینگے
رخنا خیال اپنا دوستو کیونکی آج ہم ویدا ہو جاینگے
---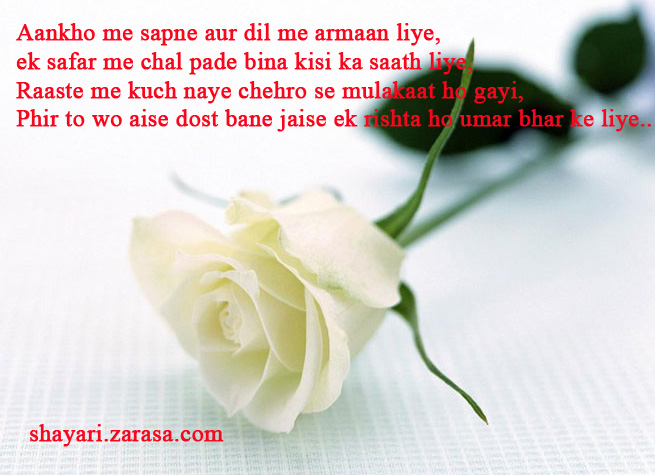 Aankho me sapne aur dil me armaan liye,
ek safar me chal pade bina kisi ka saath liye,
Raaste me kuch naye chehro se mulakaat ho gayi,
Phir to wo aise dost bane jaise ek rishta ho umar bhar ke liye.



आँखों में सपने और दिल में अरमान लिए,
एक सफर में चल पड़े बिना किसी का साथ लिए,
रास्ते में कुछ नए चेहरों से मुलाकात हो गयी,
फिर तो वो ऐसे दोस्त बने जैसे एक रिश्ता हो उम्र भर के लिए.
انکھون منی سپنے اور دل مین ارمان لیے
ایک سفر مین چل پڑے بنا کسی کا نام لیے
راستے مین کچھ نیے چھرون سے ملاقات حو گہی
فر تو وہ ایسے دوست بنے جیسے اک رشتا حو عمر بھر کے لیے۔
---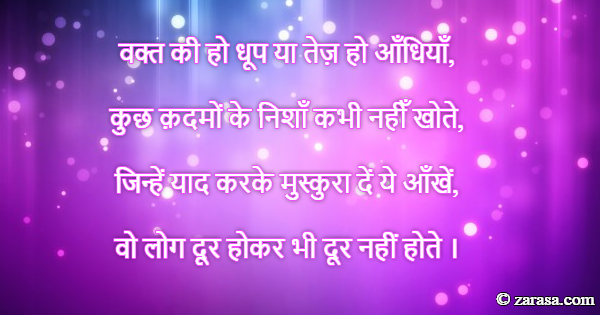 Waqt ki ho dhup ya Tez ho Aandhiyan,
Kuch kadmo ke nishaan kabhi nhi khote,
Jinhe yaad karke Muskura de ye Aankhe,
Vo log door hokar bhi door nahi hote.
वक्त की हो धूप या तेज़ हो आँधियाँ,
कुछ क़दमों के निशाँ कभी नहीँ खोते,
जिन्हें याद करके मुस्कुरा दें ये आँखें,
वो लोग दूर होकर भी दूर नहीं होते ।
وقت کی ھو دھوپ یا تیز ھو آندھیا
کچھ کدمو کے نشان کبھی نہی کھوتے
جنھ یاد کرکے موسکرا دے یہ آنکھ
وہ لوگ دور ہوکر بھی دور نہیں ہوتے
---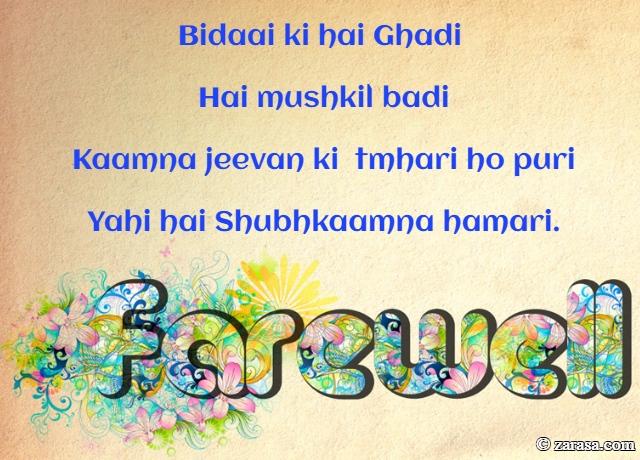 Bidaai ki hai Ghadi
Hai mushkil badi
Kaamna jeevan ki  tmhari ho puri
Yahi hai Shubhkaamna hamari.
विदाई की है घड़ी
है मुश्किल बड़ी
कामना जीवन की तम्हारी हो पूरी
यही है शुभकामना हमारी।
بدای کی ہے گھاڈی
ہے موشکل باڈی
کامنہ جیون کی تمہاری ھو پوری
یہی ہے شبھکامنہ ہماری
---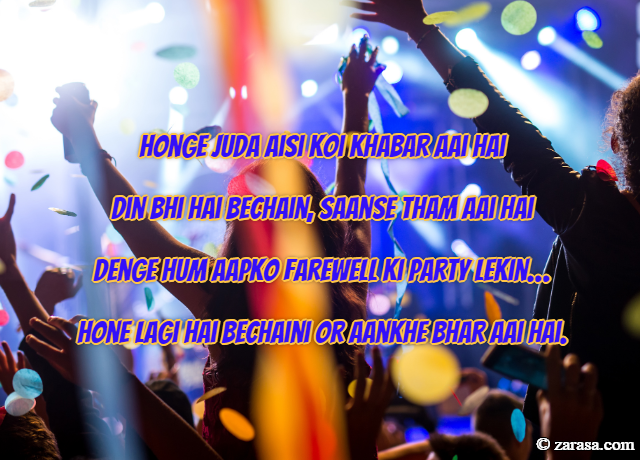 Honge juda aisi koi khabar aai hai
Din bhi hai bechain, Saanse tham aai hai
Denge hum aapko farewell ki party lekin…
Hone lagi hai bechaini or aankhe bhar aai hai.


होंगे जुदा ऐसी कोई खबर आई है
दिन भी है बेचैन, साँसे थम आई है
देंगे हम आपको फेयरवेल की पार्टी लेकिन…
होने लगी है बेचैनी और आँखे भर आई है।
ہونگے جودا ایسی کوئی خبر ای ہے
دین بھی ہے بچین سانسے تھام ای ہے
دینگے ہم آپکو فیرول کی پارٹی لیکن
ہونے لگی ہے بیچینی اور آنکھیں بھر ای ہے
---