Shayari for Husband"Wo Mere Dil Per Sar Rakh Ke Soyi Thi Bekhbar"
|
Wo Mere Dil Per Sar Rakh Ke Soyi Thi Bekhbar.
Humne Dhadkan Hi Rok Li Kahi Nind Na Tut Aaye Unki.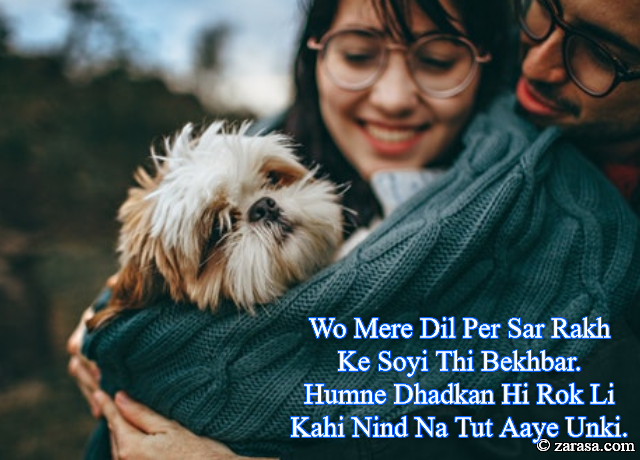 ---

वो मेरे दिल पर सर रख के सोई थी बेखबर .
हमने धड़कन ही रोक ली कही नींद न टूट जाए उनकी .


---

وہ میرے دل پر سر رکھ کے سویی تھی بےخبر .
ہمنے دھڑکن ہی روک لی کہی نیند نہ ٹوٹ اے انکی .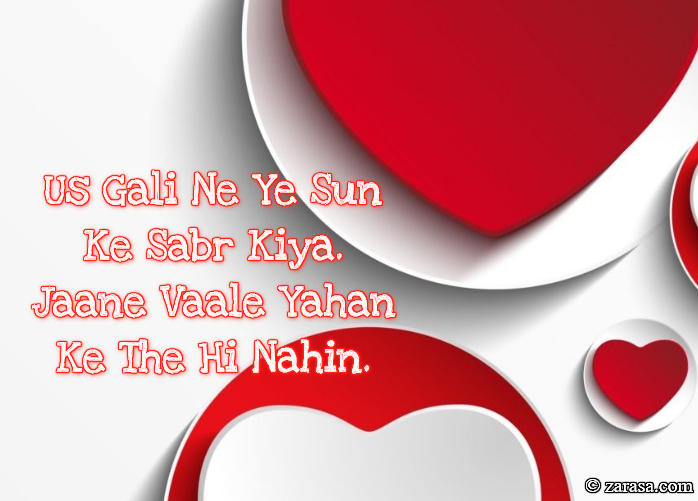 Us Gali Ne Ye Sun Ke Sabr Kiya.
Jaane Vaale Yahan Ke The Hi Nahin.
उस गली ने ये सुन के सब्र किया .
जाने वाले यहाँ के थे ही नहीं .
اس گلی نے یہ سن کے صبر کیا .
جانے والے یہاں کے تھے ہی نہیں.
---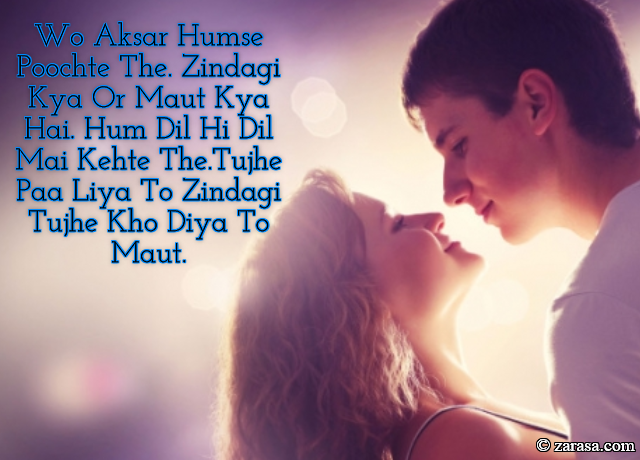 Wo Aksar Humse Poochte The. Zindagi Kya Or Maut Kya Hai. Hum Dil Hi Dil Mai Kehte The.Tujhe Paa Liya To Zindagi Tujhe Kho Diya To Maut.
वो अक्सर हमसे पूछते थे .ज़िन्दगी क्या और मौत क्या है . हम दिल ही दिल मई कहते थे .तुझे पा लिया तो ज़िन्दगी तुझे खो दिया तो मौत .
وہ اکثر ہمسے پوچھتے تھے . زندگی کیا اور موت کیا ہے . ہم دل ہی دل می کہتے تھے .تجھے پا لیا تو زندگی تجھے کھو دیا تو موت .
---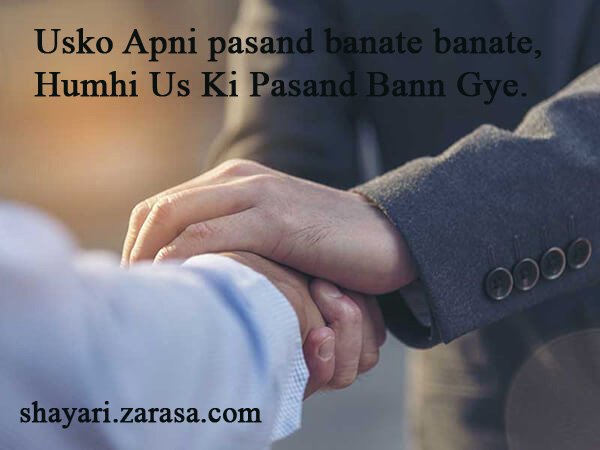 Usko Apni pasand banate banate,
Humhi Us Ki Pasand Bann Gye.




उसको अपनी पसंद बनते बनते,
हमहि उस की पसंद बन गए.
اسکو اپنی پسند بناتے بناتے
ہم ہی اس کی پسند بن گئے
---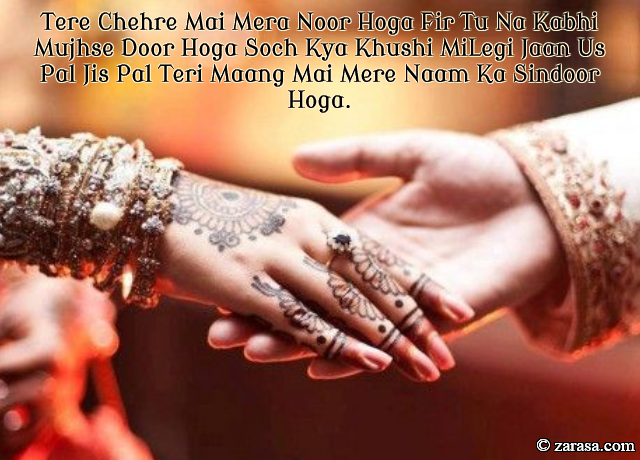 Tere Chehre Mai Mera Noor Hoga Fir Tu Na Kabhi Mujhse Door Hoga Soch Kya Khushi MiLegi Jaan Us Pal Jis Pal Teri Maang Mai Mere Naam Ka Sindoor Hoga.
तेरे चेहरे में मेरा नूर होगा फिर तू न कभी मुझसे दूर होगा सोच क्या ख़ुशी मिलेगी जान उस पल जिस पल तेरी मांग में मेरे नाम का सिन्दूर होगा .
تیرے چہرے میں میرا نور ہوگا فر تو نہ کبھی مجھسے دور ہوگا سوچ کیا خوشی ملیگی جان اس پل جس پل تیری مانگ میں میرے نام کا سندور ہوگا .
---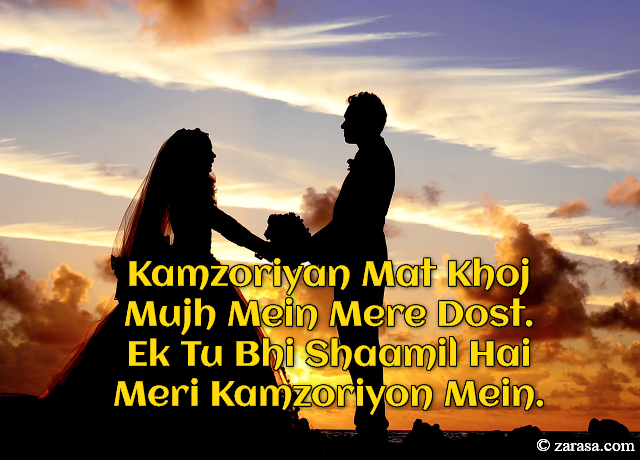 Kamzoriyan Mat Khoj Mujh Mein Mere Dost.
Ek Tu Bhi Shaamil Hai Meri Kamzoriyon Mein.
कमज़ोरियाँ मत खोज मुझ में मेरे दोस्त .
एक तू भी शामिल है मेरी कमज़ोरियों में .
کمزوریاں مت کھوج مجھ میں میرے دوست .
ایک تو بھی شامل ہے میری کمزوریوں میں .
---