Shayari for Husband"Wo Mere Dil Per Sar Rakh Ke Soyi Thi Bekhbar"
|
Wo Mere Dil Per Sar Rakh Ke Soyi Thi Bekhbar.
Humne Dhadkan Hi Rok Li Kahi Nind Na Tut Aaye Unki.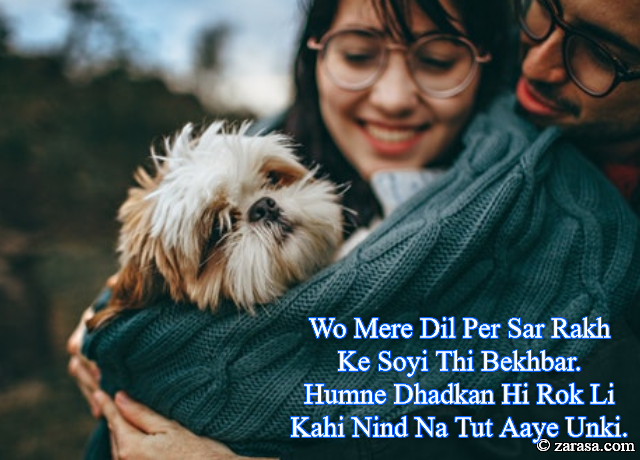 ---

वो मेरे दिल पर सर रख के सोई थी बेखबर .
हमने धड़कन ही रोक ली कही नींद न टूट जाए उनकी .


---

وہ میرے دل پر سر رکھ کے سویی تھی بےخبر .
ہمنے دھڑکن ہی روک لی کہی نیند نہ ٹوٹ اے انکی .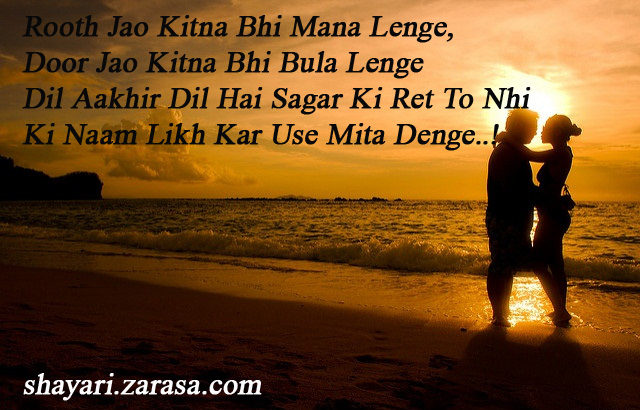 Rooth Jao Kitna Bhi Mana Lenge,
Door Jao Kitna Bhi Bula Lenge
Dil Aakhir Dil Hai Sagar Ki Ret To Nhi
Ki Naam Likh Kar Use Mita Denge..!


रूठ जाओ कितना भी मना लेंगे,
दूर जाओ कितना भी बुला लेंगे दिल आखिर दिल है
सागर की रेत तो नहीं की नाम लिख कर उससे मिटा देंगे..!
روٹھ جاؤ کتنا بھی منا لیں گے
دور کریں کتنا بھی بلا لیں گے
دل آخر دل ہے سمندر کی ریت تو نہیں
کسی کا نام لکھ کر اس سے مٹا دیں گے
---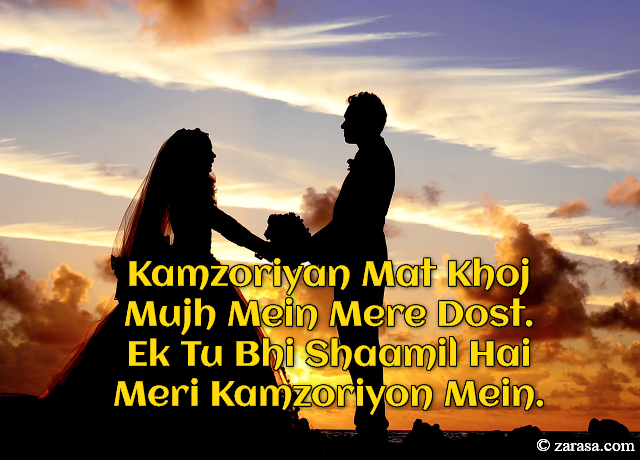 Kamzoriyan Mat Khoj Mujh Mein Mere Dost.
Ek Tu Bhi Shaamil Hai Meri Kamzoriyon Mein.
कमज़ोरियाँ मत खोज मुझ में मेरे दोस्त .
एक तू भी शामिल है मेरी कमज़ोरियों में .
کمزوریاں مت کھوج مجھ میں میرے دوست .
ایک تو بھی شامل ہے میری کمزوریوں میں .
---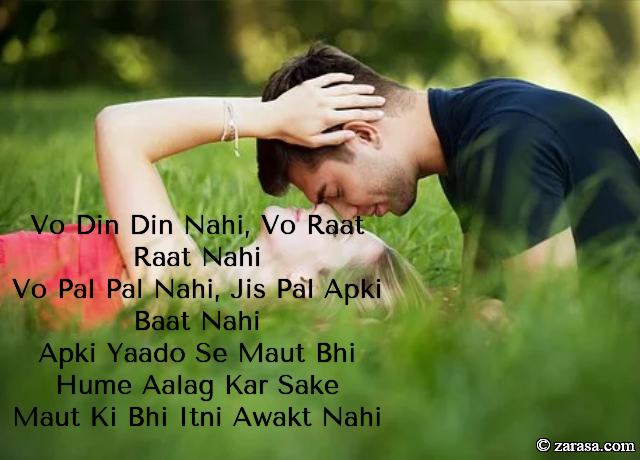 Vo Din Din Nahi, Vo Raat Raat Nahi
Vo Pal Pal Nahi, Jis Pal Apki Baat Nahi
Apki Yaado Se Maut Bhi Hume Aalag Kar Sake
Maut Ki Bhi Itni Awakt Nahi
वो दिन दिन नहीं , वो रात रात नहीं
वो पल पल नहीं , जिस पल आपकी बात नहीं
आपकी यादो से मौत भी हमे अलग कर सके
मौत की भी इतनी अव्यक्त नहीं
وہ دن دن نہیں , وو رات رات نہیں
وہ پل پل نہیں , جس پل آپکی بات نہیں
آپکی یادو سے موت بھی ہمیں الگ کر سکے
موت کی بھی اتنی آواکت نہیں
---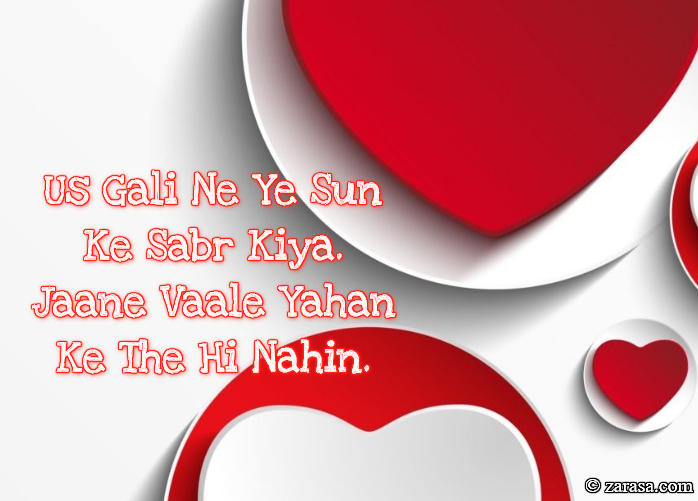 Us Gali Ne Ye Sun Ke Sabr Kiya.
Jaane Vaale Yahan Ke The Hi Nahin.
उस गली ने ये सुन के सब्र किया .
जाने वाले यहाँ के थे ही नहीं .
اس گلی نے یہ سن کے صبر کیا .
جانے والے یہاں کے تھے ہی نہیں.
---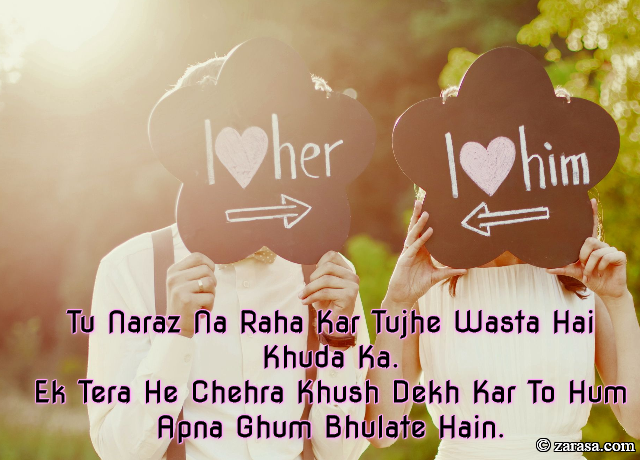 Tu Naraz Na Raha Kar Tujhe Wasta Hai Khuda Ka.
Ek Tera He Chehra Khush Dekh Kar To Hum Apna Ghum Bhulate Hain.
तू नाराज़ ना रहा कर तुझे वास्ता है खुदा का.
एक तेरा हे चेहरा खुश देख कर तो हम अपना ग़म भुलाते हैं .
تو ناراض نہ رہا کر تجھے واسطہ خدا کا .
ایک تیرا ہے چہرہ خوش دیکھ کر تو ہم اپنا غم بھولتے ہیں .
---