Shayari for Husband "Sabr Kiya"
|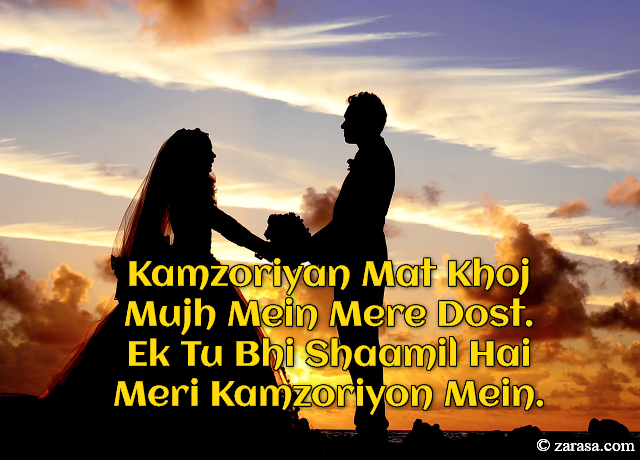 Kamzoriyan Mat Khoj Mujh Mein Mere Dost.
Ek Tu Bhi Shaamil Hai Meri Kamzoriyon Mein.
कमज़ोरियाँ मत खोज मुझ में मेरे दोस्त .
एक तू भी शामिल है मेरी कमज़ोरियों में .
کمزوریاں مت کھوج مجھ میں میرے دوست .
ایک تو بھی شامل ہے میری کمزوریوں میں .
---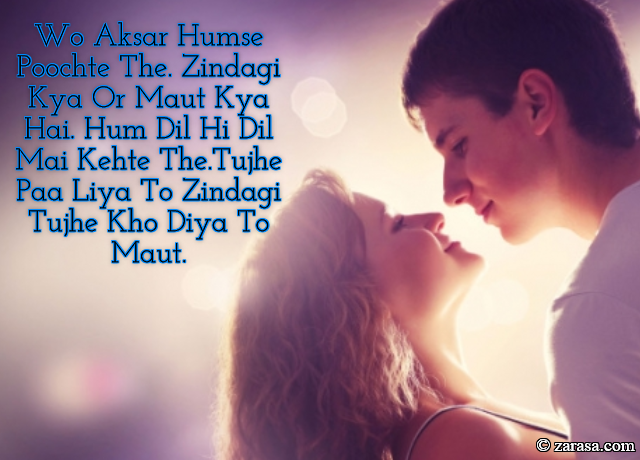 Wo Aksar Humse Poochte The. Zindagi Kya Or Maut Kya Hai. Hum Dil Hi Dil Mai Kehte The.Tujhe Paa Liya To Zindagi Tujhe Kho Diya To Maut.
वो अक्सर हमसे पूछते थे .ज़िन्दगी क्या और मौत क्या है . हम दिल ही दिल मई कहते थे .तुझे पा लिया तो ज़िन्दगी तुझे खो दिया तो मौत .
وہ اکثر ہمسے پوچھتے تھے . زندگی کیا اور موت کیا ہے . ہم دل ہی دل می کہتے تھے .تجھے پا لیا تو زندگی تجھے کھو دیا تو موت .
---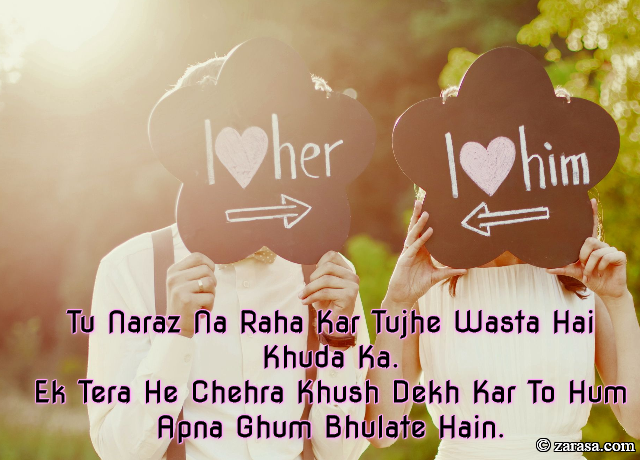 Tu Naraz Na Raha Kar Tujhe Wasta Hai Khuda Ka.
Ek Tera He Chehra Khush Dekh Kar To Hum Apna Ghum Bhulate Hain.
तू नाराज़ ना रहा कर तुझे वास्ता है खुदा का.
एक तेरा हे चेहरा खुश देख कर तो हम अपना ग़म भुलाते हैं .
تو ناراض نہ رہا کر تجھے واسطہ خدا کا .
ایک تیرا ہے چہرہ خوش دیکھ کر تو ہم اپنا غم بھولتے ہیں .
---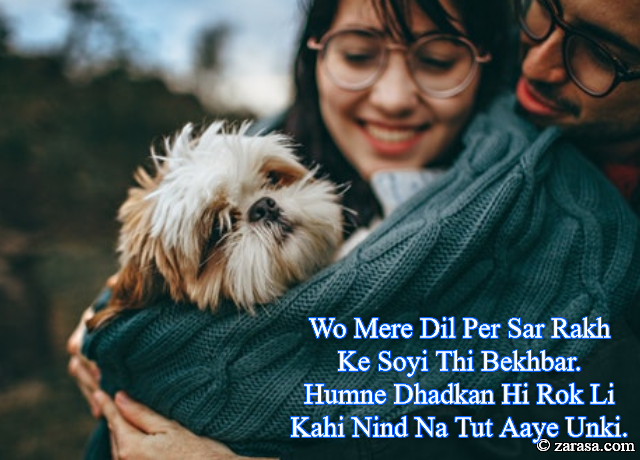 Wo Mere Dil Per Sar Rakh Ke Soyi Thi Bekhbar.
Humne Dhadkan Hi Rok Li Kahi Nind Na Tut Aaye Unki.
वो मेरे दिल पर सर रख के सोई थी बेखबर .
हमने धड़कन ही रोक ली कही नींद न टूट जाए उनकी .
وہ میرے دل پر سر رکھ کے سویی تھی بےخبر .
ہمنے دھڑکن ہی روک لی کہی نیند نہ ٹوٹ اے انکی .
---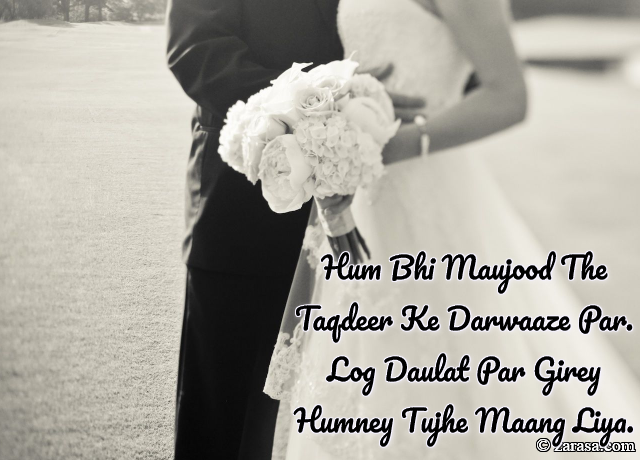 Hum Bhi Maujood The Taqdeer Ke Darwaaze Par.
Log Daulat Par Girey Humney Tujhe Maang Liya.
हम भी मौजूद थे तक़दीर के दरवाज़े पर .
लोग दौलत पर गिरे हमने तुझे मांग लिया .
ہم بھی موجود تھے تقدیر کے دروازے پر .
لوگ دولت پر گرے ہمنے تجھے مانگ لیا .
---