Shayari for Kamyabi (success)"Tera Hi Naam Hoga"
|
Har Pal Pe Tera Hi Naam Hoga
Tere Har Kadam Pe Dunia Ka Salam Hoga
Mushikilo Ka Samna Himmat Se Karna,
Dekhna Ek Din Waqt Bhi Tera Gulam Hoga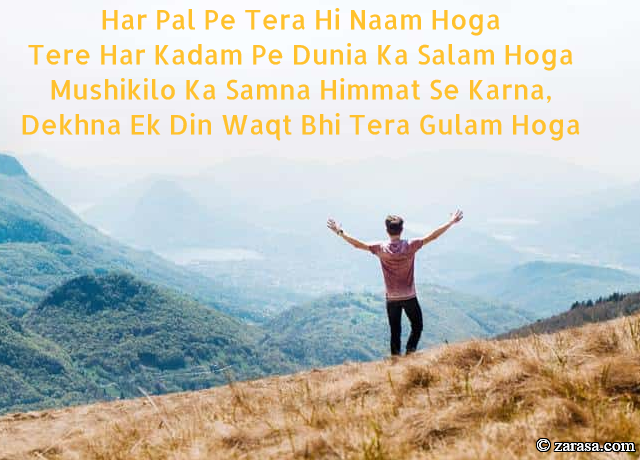 ---

हर पल पे तेरा ही नाम होगा
तेरे हर कदम पे दुनिआ का सलाम होगा
मुशिकिलो का सामना हिम्मत से करना
देखना एक दिन वक़्त भी तेरा गुलाम होगा


---

ہر پل پہ تیرا ہی نام ہوگا
تیرے ہر قدم پہ دنیا کا سلام ہوگا
مشیکلو کا سامنا ہیممت سے کرن
دیکھنا ایک دن وقت بھی تیرا غلام ہوگا


Insaan ko Us waqt Tak Koi Nahi Hara Sakta
Jab Tak Wo Apne Aap Se Na Haar Jaye
इंसान को उस वक़्त तक कोई नहीं हरा सकता
जब तक वो अपने आप से नहार जाये
انسان کو اس وقت تک کوئی نہیں ہر سکتا
جب تک وو اپنے آپ سے نہ ہار جائے
---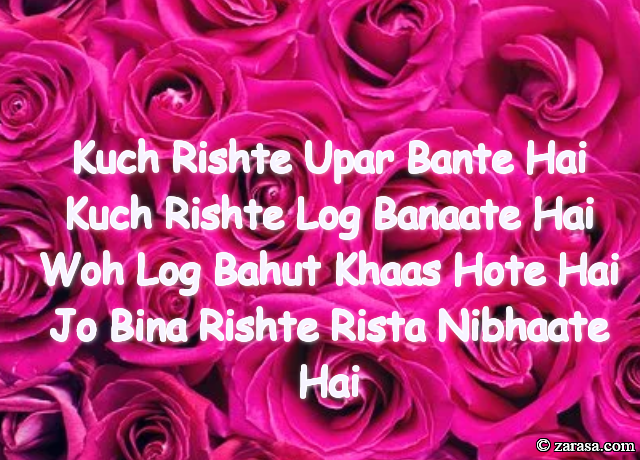 Kuch Rishte Upar Bante Hai
Kuch Rishte Log Banaate Hai
Woh Log Bahut Khaas Hote Hai
Jo Bina Rishte Rishta Nibhaate Hai
कुछ रिश्ते ऊपर बनते है
कुछ रिश्ते लोग बनाते है
वह लोग बहुत ख़ास होते है
जो बिना रिश्ते रिस्ता निभाते है
کچھ رشتے اپر بنتے ہے
کچھ رشتے لوگ بناتے ہے
وہ لوگ بہت خاص ہوتے ہے
جو بنا رشتے رستہ نبھاتے ہے
---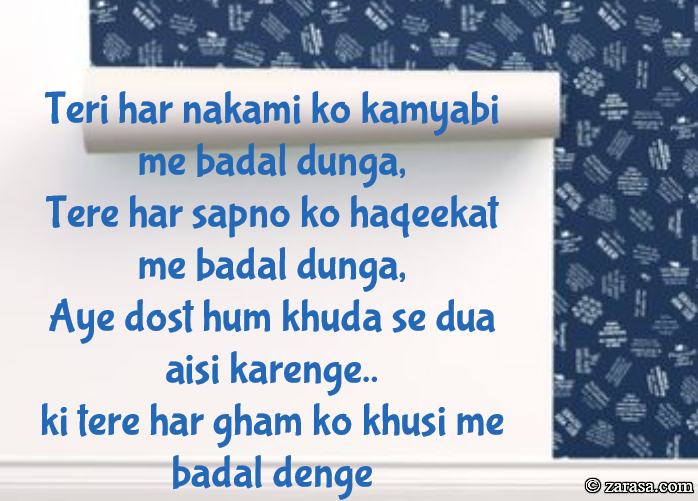 Teri Har Nakami Ko Kamyabi Me Badal Dunga.
Tere Har Sapno Ko Haqeekat Me Badal Dunga.
Aye Dost Hum Khuda Se Dua Aisi Karenge.
Ki Tere Har Gham Ko Khusi Me Badal Denge.
तेरी हर नाकामी को कामयाब में बदल दूंगा ,
तेरे हर सपनो को हक़ीक़त में बदल दूंगा ,
ए दोस्त हम खुदा से दुआ ऐसी करेंगे ..
की तेरे हर ग़म को खुसी में बदल देंगे
تیری ہر ناکامی کو کامیابی مے بدل دونگ ,
تیرے ہر سپنو کو حقیقت مے بدل دونگا ,
ہے دوست ہم خدا سے دوا ایسی کرینگے ..
کی تیرے ہر غم کو خصی مے بدل دینگے
---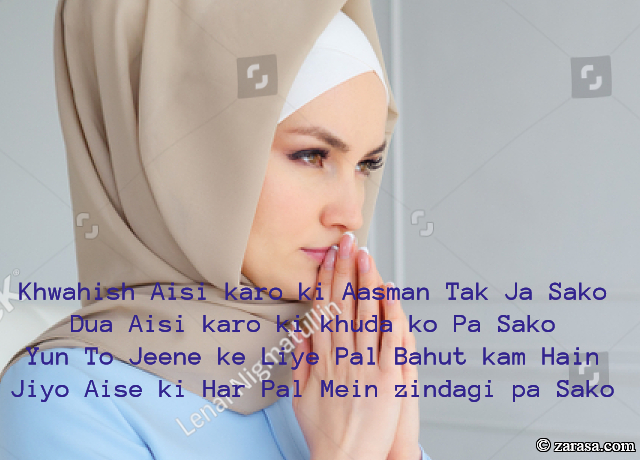 Khwahish Aisi karo ki Aasman Tak Ja Sako
Dua Aisi karo ki khuda ko Pa Sako
Yun To Jeene ke Liye Pal Bahut kam Hain
Jiyo Aise ki Har Pal Mein zindagi pa Sako
ख्वाहिश ऐसी करो की आसमान तक जा सको
दुआ ऐसी करो की खुदा को प् सको
यूँ तो जीने के लिए पल बहुत काम हैं
जियो ऐसे की हर पल में ज़िन्दगी प् सको
خواہش ایسی کرو کی آسمان تک جا سکو
دوا ایسی کرو کی خدا کو پا سکو
یوں تو جینے کے لئے پل بہت کم ہیں
جیو ایسے کی ہر پل میں زندگی i پا سکو
---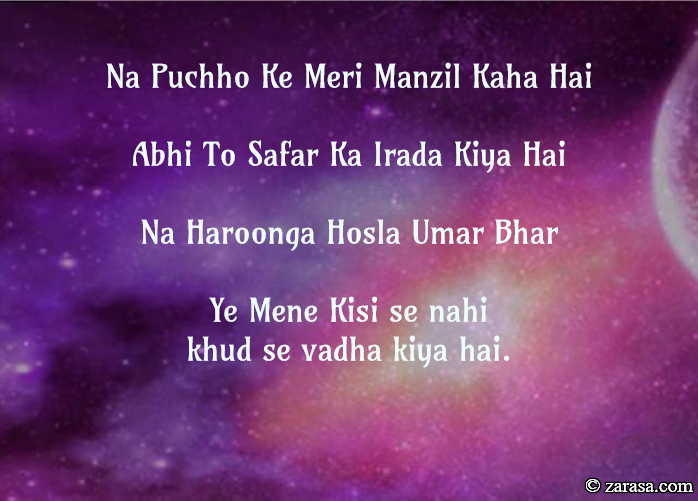 Na Puchho Ke Meri Manzil Kaha Hai
Abhi To Safar Ka Irada Kiya Hai
Na Haroonga Hosla Umar Bhar
Ye Mene Kisi se nahi khud se vadha kiya hai.
न पूछो के मेरी मंज़िल कहा है
अभी तो सफर का इरादा किया है
न हरूँगा हौसला उम्र भ
ये मेने किसी से नहीं खुद से वधा किया है .
نہ پوچھو کے میری منزل کہاں ہے
ابھی تو سفر کا ارادہ کیا ہے
نہ حرونگا حوصلہ امر بھر
یہ مینے کسی سے نہیں خود سے ودھ کیا ہے .
---