Shayari for Fikr "Jis Pal Apki Baat Nahi"
|
Vo Din Din Nahi, Vo Raat Raat Nahi
Vo Pal Pal Nahi, Jis Pal Apki Baat Nahi
Apki Yaado Se Maut Bhi Hume Aalag Kar Sake
Maut Ki Bhi Itni Awakt Nahi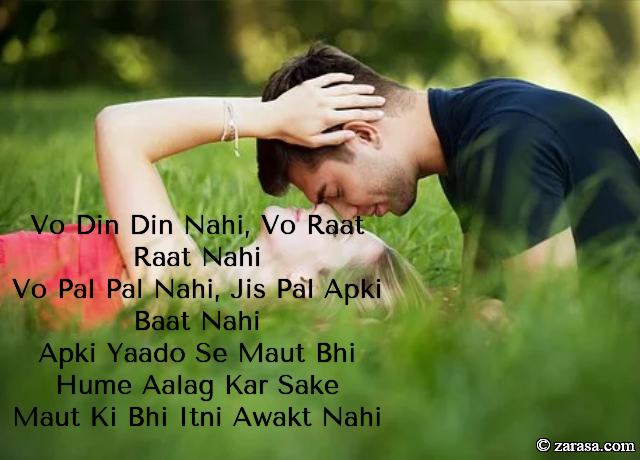 ---

वो दिन दिन नहीं , वो रात रात नहीं
वो पल पल नहीं , जिस पल आपकी बात नहीं
आपकी यादो से मौत भी हमे अलग कर सके
मौत की भी इतनी अव्यक्त नहीं


---

وہ دن دن نہیں , وو رات رات نہیں
وہ پل پل نہیں , جس پل آپکی بات نہیں
آپکی یادو سے موت بھی ہمیں الگ کر سکے
موت کی بھی اتنی آواکت نہیں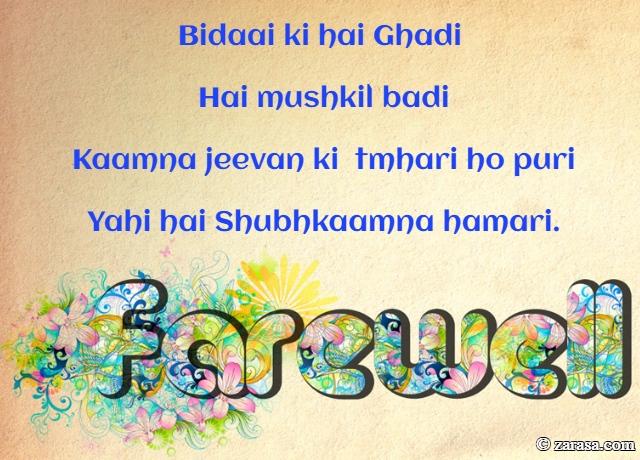 Bidaai ki hai Ghadi
Hai mushkil badi
Kaamna jeevan ki  tmhari ho puri
Yahi hai Shubhkaamna hamari.
विदाई की है घड़ी
है मुश्किल बड़ी
कामना जीवन की तम्हारी हो पूरी
यही है शुभकामना हमारी।
بدای کی ہے گھاڈی
ہے موشکل باڈی
کامنہ جیون کی تمہاری ھو پوری
یہی ہے شبھکامنہ ہماری
---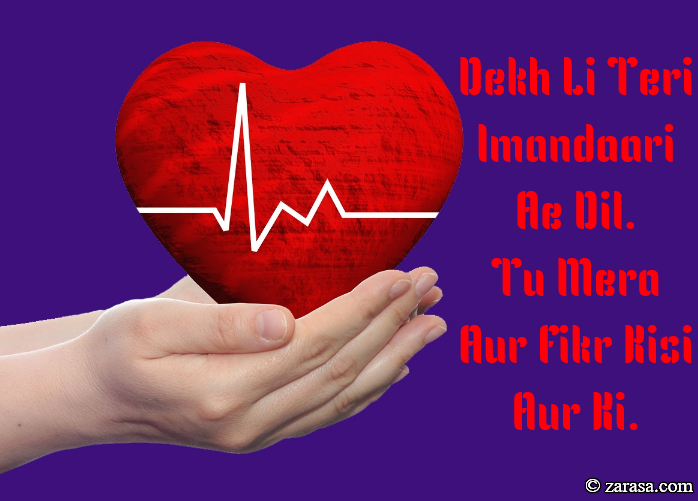 Dekh Li Teri Imandaari Ae Dil.
Tu Mera Aur Fikr Kisi Aur Ki.
देख ली तेरी ईमानदारी ऐ दिल .
तू मेरा और फ़िक्र किसी और की .
دیکھ لی تیری ایمانداری اے دل .
تو میرا اور فکر کسی اور کی .
---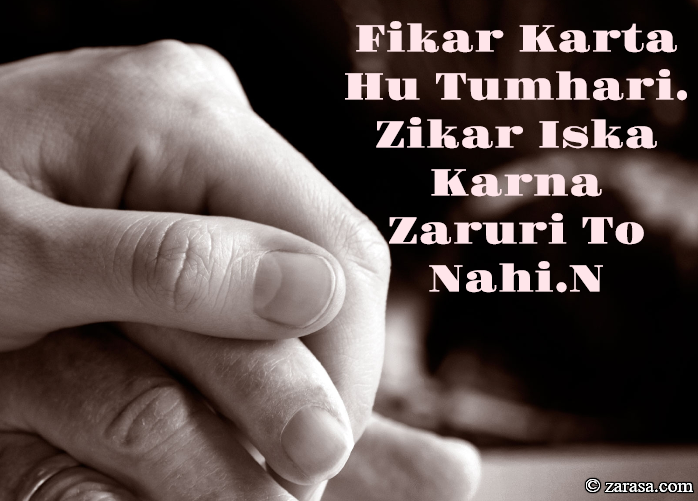 Fikar Karta Hu Tumhari.
Zikar Iska Karna Zaruri To Nahi.
फ़िक्र करता हु तुम्हारी .
ज़िकर इसका करना ज़रूरी तो नहीं .
فکر کرتا ہو تمہاری .
ذکر اسکا کرنا ضروری تو نہیں .
---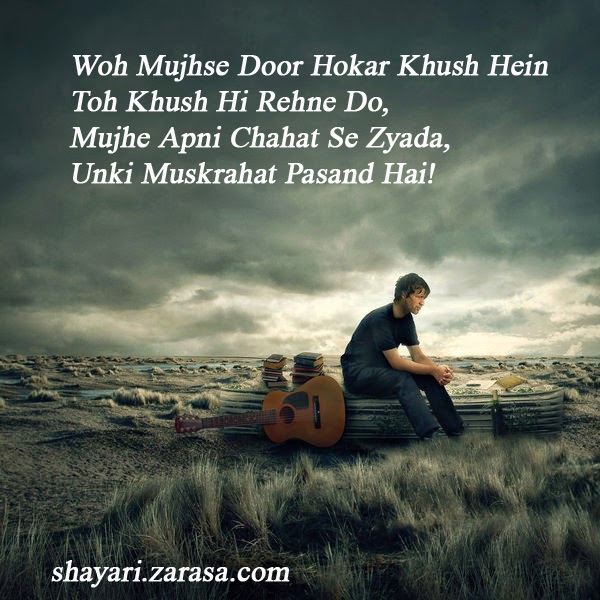 Woh Mujhse Door Hokar Khush Hein Toh Khush Hi Rehne Do,
Mujhe Apni Chahat Se Zyada, Unki Muskrahat Pasand Hai!



वह मुझसे दूर होकर खुश हैं तोह खुश ही रहने दो,
मुझे अपनी चाहत से ज़्यादा, उनकी मुस्कराहट पसंद है!
وہ مجھ سے دور ہو کر خوش ہیں تو خوش ہی رہنے دو
مجھے اپنی چاہت سے زیادہ، ان کی مسکراہٹ پسند ہے
---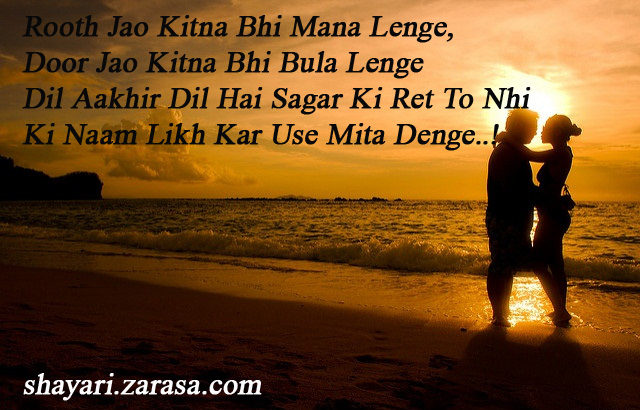 Rooth Jao Kitna Bhi Mana Lenge,
Door Jao Kitna Bhi Bula Lenge
Dil Aakhir Dil Hai Sagar Ki Ret To Nhi
Ki Naam Likh Kar Use Mita Denge..!


रूठ जाओ कितना भी मना लेंगे,
दूर जाओ कितना भी बुला लेंगे दिल आखिर दिल है
सागर की रेत तो नहीं की नाम लिख कर उससे मिटा देंगे..!
روٹھ جاؤ کتنا بھی منا لیں گے
دور کریں کتنا بھی بلا لیں گے
دل آخر دل ہے سمندر کی ریت تو نہیں
کسی کا نام لکھ کر اس سے مٹا دیں گے
---