Shayari for Kids "कितने खुबसूरत हुआ करते थे बचपन के वो दिन"
|
Kitne Khoobsoorat Hua Karte The Bachpan Ke Vo Din
Sirf Do Ungliyan Judne Se Dosti Phir Se Shuru Hojaya Karti Thi.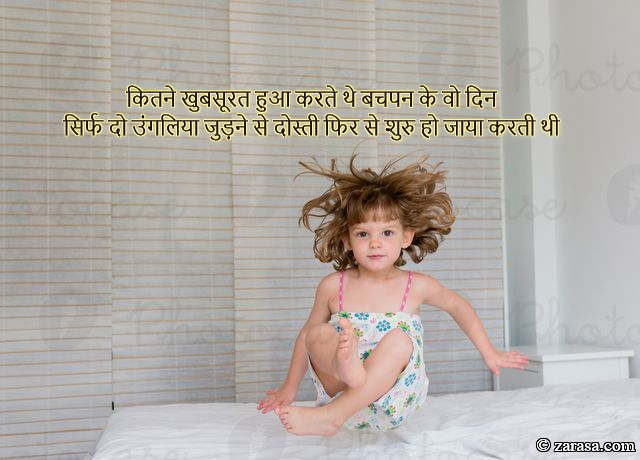 ---

कितने खुबसूरत हुआ करते थे बचपन के वो दिन
सिर्फ दो उंगलिया जुड़ने से दोस्ती फिर से शुरु हो जाया करती थी


---

کتنے خوبصورت ہوا کرتے تھے بچپن کے وہ دن
صرف دو انگلیاں جڑنے سے دوستی پھر سے شرو ہوجایا کرتی تھی.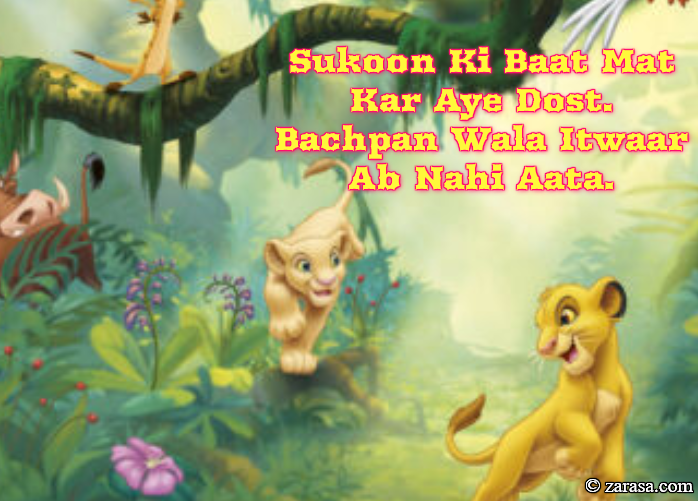 Sukoon Ki Baat Mat Kar Aye Dost.
Bachpan Wala Itwaar Ab Nahi Aata.
सुकून की बात मत कर ए दोस्त .
बचपन वाला इतवार अब नहीं आता .
سکوں کی بات مت کر ہے دوست .
بچپن والا اتوار اب نہیں آتا .
---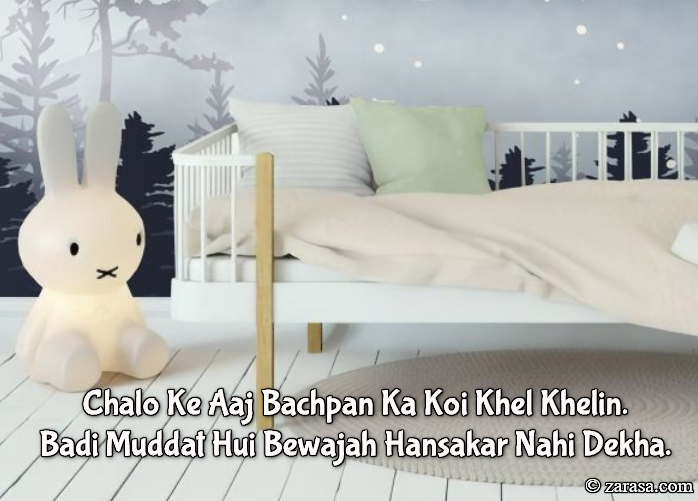 Chalo Ke Aaj Bachpan Ka Koi Khel Khelin.
Badi Muddat Hui Bewajah Hansakar Nahi Dekha.
चलो के आज बचपन का कोई खेल खेलीं .
बड़ी मुद्दत हुई बेवजह हंसकर नहीं देखा .
چلو کے آج بچپن کا کوئی کھل کھیلیں .
بدی مدّت ہی بوجہ ہنساکر نہیں دیکھا .
---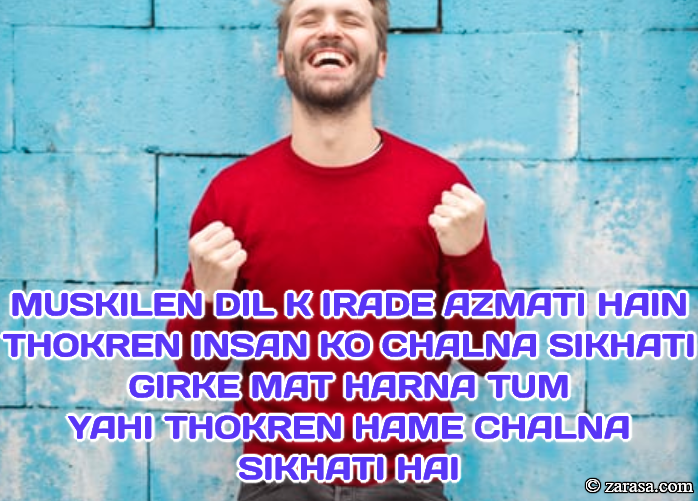 MUSHKILEN DIL KE IRADE AZMATI HAIN
THOKREN INSAN KO CHALNA SIKHATI
GIRKE MAT HARNA TUM
YAHI THOKREN HAME CHALNA SIKHATI HAI
मुश्किलें दिल क इरादे आज़माती हैं
ठोकरें इंसान को चलना सिखाती
गिरके मत हारना तुम
यही ठोकरें हमें चलना सिखाती है
مشکلیں دل کے ارادے آزماتی ہیں
ٹھوکریں انسان کو چلنا سیکھاتی
گرکے مت ہارنا تم
یہی ٹھوکریں ہمی چلنا سیکھاتی ہے
---
Der Tak Hansta Raha Unn Par Humara Bachpana.
Jab Tajurbe Aaye The Sanjeeda Banaane Ke Liye.
देर तक हँसता रहा उन् पर हमारा बचपना .
जब तजुर्बे आये थे संजीदा बनाने के लिए .
دیر تک ہنستا رہا ان پر ہمارا بچپنا .
جب تجربے اے تھے سنجیدہ بنانے کے لیا .
---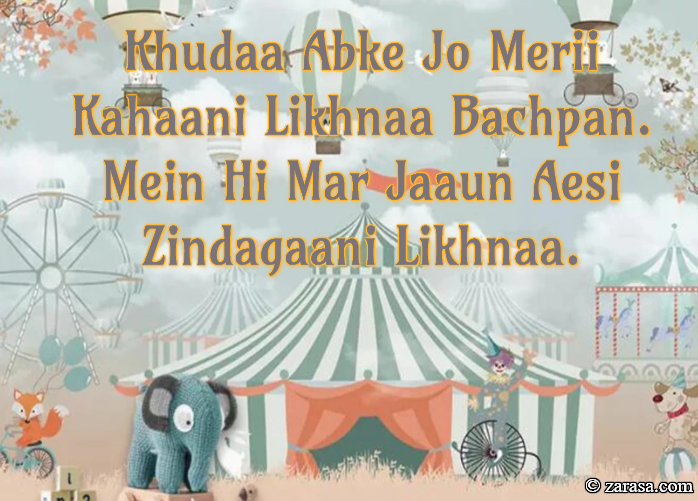 Khudaa Abke Jo Merii Kahaani Likhnaa Bachpan.
Mein Hi Mar Jaaun Aesi Zindagaani Likhnaa.
खुदा अबके जो मेरी कहानी लिखना बचपन .
में ही मर जाऊं ऐसी ज़िंदगानी लिखना .
خدا ابکے جو میری کہانی لکھنا بچپنا .
میں ہی مر جان ایسی زندگانی لکھنا .
---