Shayari for Kids "Bachche The Hum"
|
Jhooth Bolte The Phir Bhi Kitne Sachche The Hum.
Yeh Un Dino Ki Baat Hai Jab Bachche The Hum.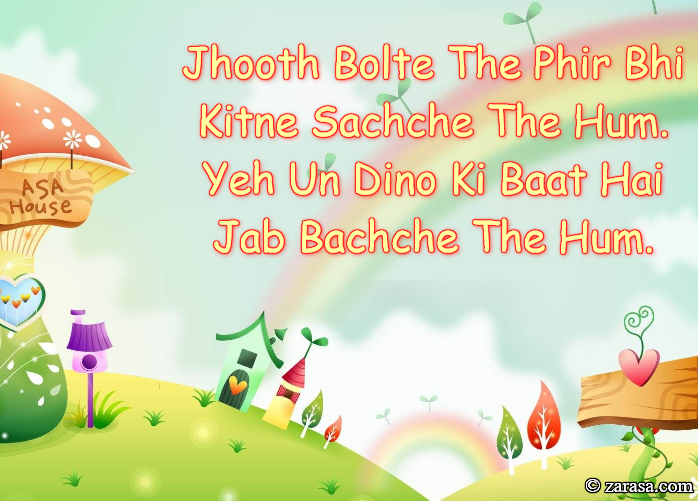 ---

झूठ बोलते थे फिर भी कितने सच्चे थे हम .
यह उन दिनों की बात है जब बच्चे थे हम .


---

جھوٹھ بولتے تھے پھر بھی کتنے سچچے تھے ہم .
یہ ان دنو کی بات ہے جب بچچے تھے ہم .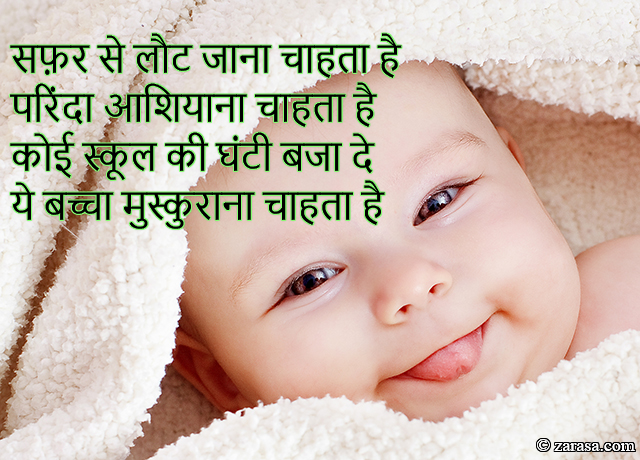 Safar Se Lot Jana Chahta Hai
Parinda Aashyana Chahta Hai,
Koi School Ki Ghanti Bajade
Ye Bachcha Muskurana Chahta Hai.



सफ़र से लौट जाना चाहता है
परिंदा आशियाना चाहता है
कोई स्कूल की घंटी बजा दे
ये बच्चा मुस्कुराना चाहता है

سفر سے لوٹ جانا چاہتا ہے ,
پرندہ آشیانہ چاہتا ہے,
کوی اسکول کی گھنٹی بجا دے
یہ بچچا مسکرانا چاہتا ہے.

[ssba-buttons]
---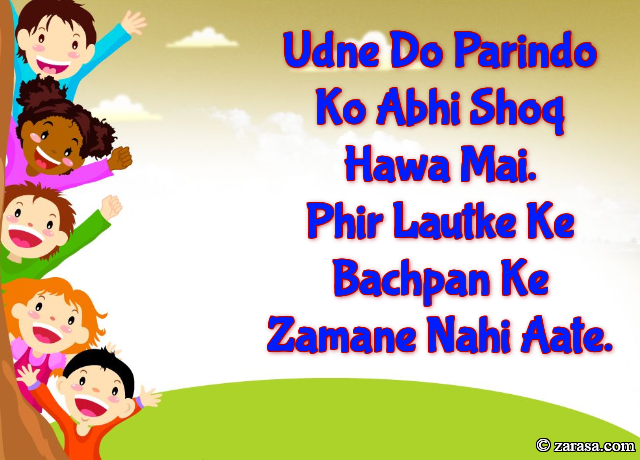 Udne Do Parindo Ko Abhi Shoq Hawa Mai.
Phir Lautke Ke Bachpan Ke Zamane Nahi Aate.

उड़ने दो परिंदों को अभी शोख़ हवा में
फिर लौट के बचपन के ज़माने नहीं आते

اڑنے دو پریندو کو ابھی شوق ہوا می .
پھر لوٹکے بچپن کے زمانے نہیں آتے .

[ssba-buttons]
---
Der Tak Hansta Raha Unn Par Humara Bachpana.
Jab Tajurbe Aaye The Sanjeeda Banaane Ke Liye.

देर तक हँसता रहा उन् पर हमारा बचपना .
जब तजुर्बे आये थे संजीदा बनाने के लिए .

دیر تک ہنستا رہا ان پر ہمارا بچپنا .
جب تجربے اے تھے سنجیدہ بنانے کے لیا .

[ssba-buttons]
---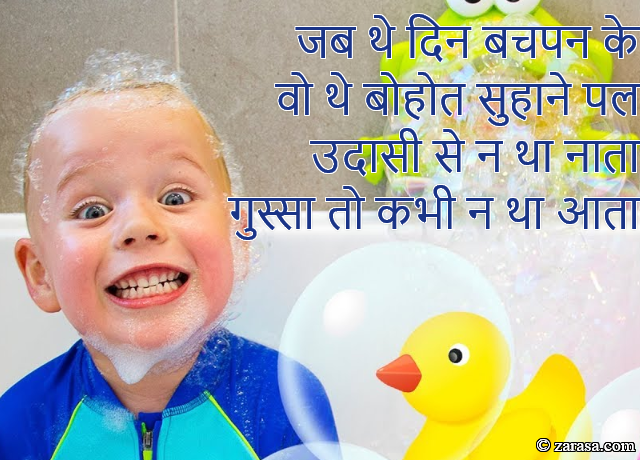 Jab The Din Bachpan Ke
Vo The Bohot Suhane Pal
Udasi Se Na Tha Nata
Gussa To Kabhi Na Tha Aata

जब थे दिन बचपन के
वो थे बोहोत सुहाने पल
उदासी से न था नाता
गुस्सा तो कभी न था आता

جب تھے دن بچپن کے
وو تھے بوہوت سہانے پل
اداسی سے نہ تھا ناتا
گسسا تو کبھی نہ تھا آتا

[ssba-buttons]
---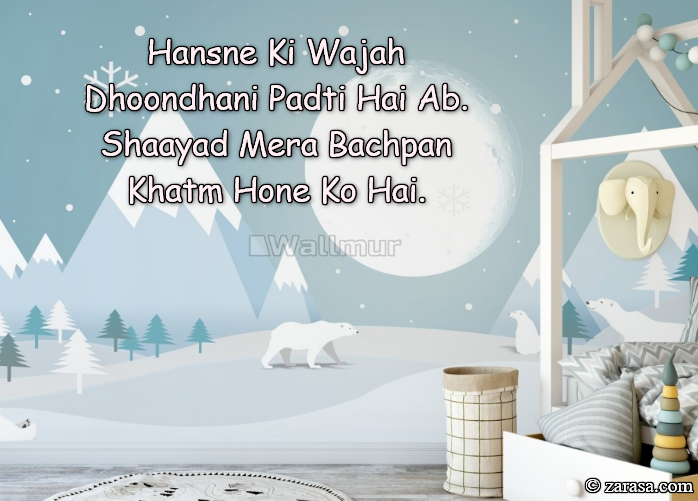 Hansne Ki Wajah Dhoondhani Padti Hai Ab.
Shaayad Mera Bachpan Khatm Hone Ko Hai.

हंसने की वजह ढूंढनी पड़ती है अब .
शायद मेरा बचपन ख़त्म होने को है .

ہنسنے کی وجہ ڈھوندھانی پڑتی ہے اب .
شاید میرا بچپن ختم ہونے کو ہے .

[ssba-buttons]
---