Shayari for Kids "Bachpan Khatm"
|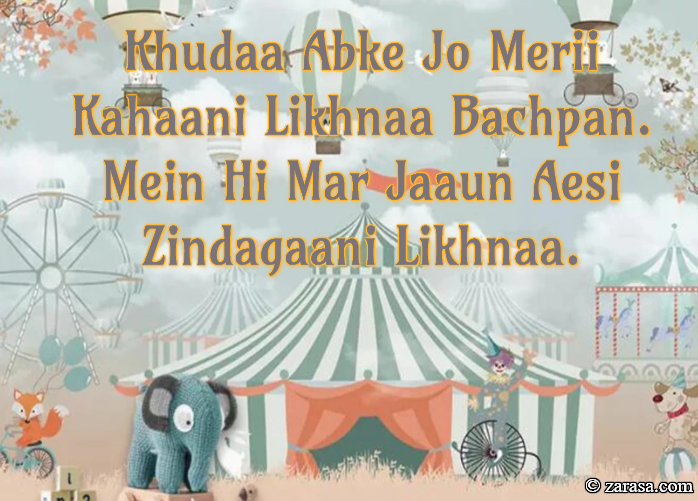 Khudaa Abke Jo Merii Kahaani Likhnaa Bachpan.
Mein Hi Mar Jaaun Aesi Zindagaani Likhnaa.
खुदा अबके जो मेरी कहानी लिखना बचपन .
में ही मर जाऊं ऐसी ज़िंदगानी लिखना .
خدا ابکے جو میری کہانی لکھنا بچپنا .
میں ہی مر جان ایسی زندگانی لکھنا .
---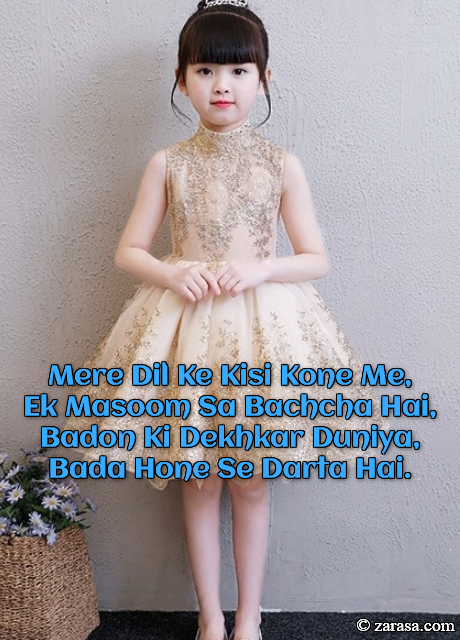 Mere Dil Ke Kisi Kone Me Ek Masoom Sa Bachcha Hai,
Badon Ki Dekhkar Duniya Barda Hone Se Darta Hai.
मिरे दिल के किसी कोने में, इक मासूम सा बच्चा है.
बड़ों की देखकर दुनिया, बड़ा होने से डरता है.
میرے دل کے کسی کونے مے ایک معصوم سا بچچا ہے,
بڑوں کی دیکھکر دنیا بڑا ہونے سے ڈرتا ہے
---
Der Tak Hansta Raha Unn Par Humara Bachpana.
Jab Tajurbe Aaye The Sanjeeda Banaane Ke Liye.
देर तक हँसता रहा उन् पर हमारा बचपना .
जब तजुर्बे आये थे संजीदा बनाने के लिए .
دیر تک ہنستا رہا ان پر ہمارا بچپنا .
جب تجربے اے تھے سنجیدہ بنانے کے لیا .
---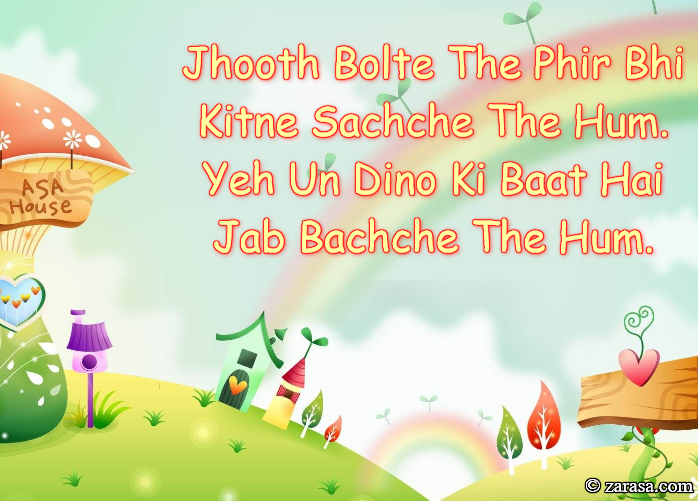 Jhooth Bolte The Phir Bhi Kitne Sachche The Hum.
Yeh Un Dino Ki Baat Hai Jab Bachche The Hum.
झूठ बोलते थे फिर भी कितने सच्चे थे हम .
यह उन दिनों की बात है जब बच्चे थे हम .
جھوٹھ بولتے تھے پھر بھی کتنے سچچے تھے ہم .
یہ ان دنو کی بات ہے جب بچچے تھے ہم .
---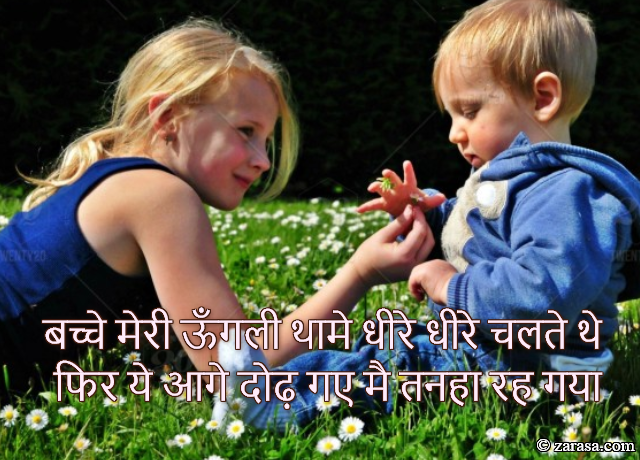 Bachche Meri Ungli Thame Dheere Dheere Chalte The
Phir Ye Aage Daurh Gaye Mai Tanha Reh Gaya.


बच्चे मेरी ऊँगली थामे धीरे धीरे चलते थे
फिर ये आगे दोढ़ गए मै तनहा रह गया .
بچچے میری انگلی تھامے دھیرے دھیرے چلتے تھے
پھر یہ آگے دوڈ گئے می تنہا رہ گیا-
---