Shayari for Teachers l"सही क्या है ग़लत क्या है"
Sahi Kya Hai Galat kya Hai
Ye Sabaq Padhatein Hein Aap
Jhoot Kya Hai Or Sach Kya Hai
Ye Baat Samjhatein Hein Aap.
Jab Soojhta Nahi kuchh Bhi
RaahoN ko Saral Banate HeiN Aap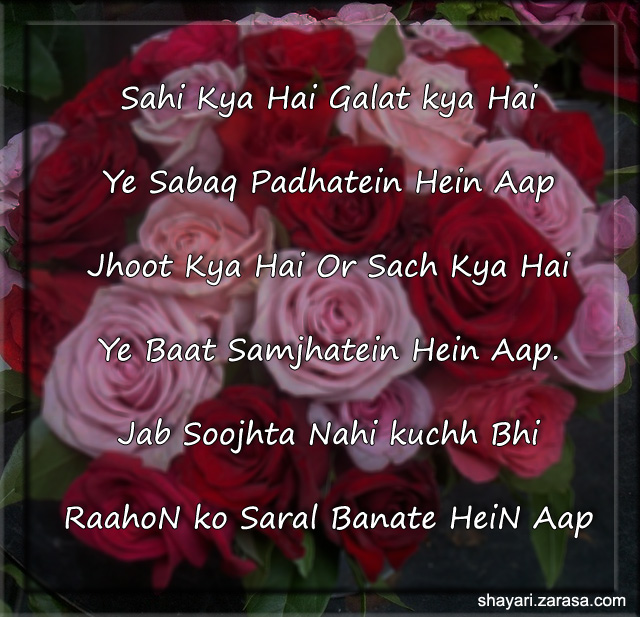 ---

सही क्या है ग़लत क्या है
यह सबक़ पढतें हैं आप

झूट क्या है और सच क्या है
यह बात समझतें हैं आप

जब सूझता नहीं कुछ भी
राहों को सरल बनाते हैं आप


---

سہی کیا ہے غلط کیا ہے
یہ سبق پڑھاتے  ہیں آپ

جھوٹ کیا ہے اور سچ کیا ہے
یہ بات سمجھتیں ہیں آپ

جب سوجھتا  نہیں کچھ بھی
راہوں کو سرل بناتے ہیں آپ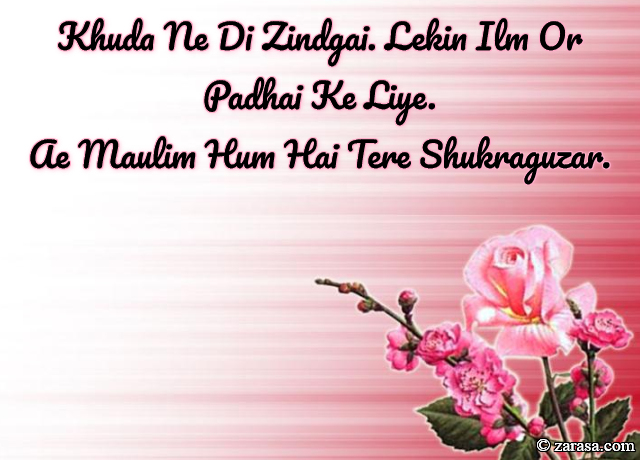 Khuda Ne Di Zindgai. Lekin Ilm Or Padhai Ke Liye.
Ae Maulim Hum Hai Tere Shukraguzar.
खुदा ने दी ज़िंदगी . लेकिन इल्म और पढाई के लिए .
ऐ मौलिम हम है तेरे मौलिम .
خدا نے دی زندگی . لیکن علم ور پڑھائی کے لئے .
اے معلم ہم ہے تیرے شکرگزار .
---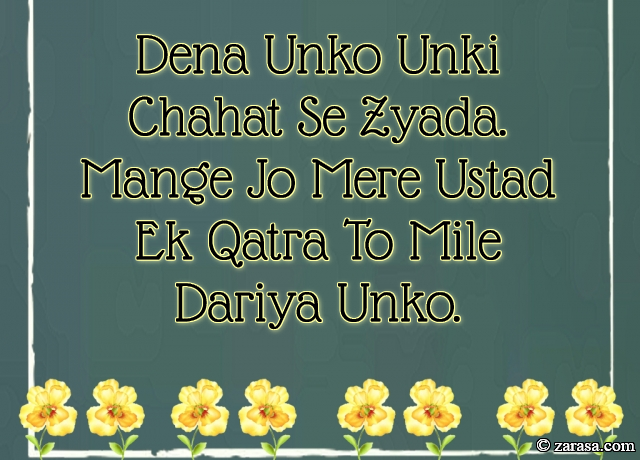 Dena Unko Unki Chahat Se Zyada.
Mange Jo Mere Ustad Ek Qatra To Mile Dariya Unko.
देना उनको उनकी चाहत से ज़्यादा .
मांगे जो मेरे उस्ताद एक क़तरा तो मिले दरिया उनको .
دینا انکو انکی چاہت سے زیادہ .
مانگے جو میرے استاد ایک قطرہ تو میل دریا انکو .
---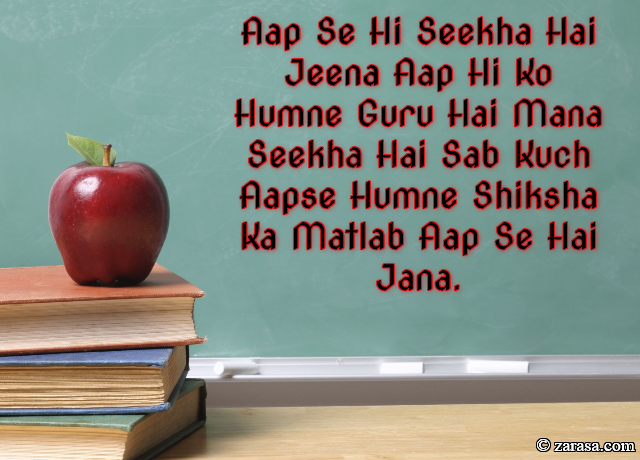 Aap Se Hi Seekha Hai Jeena Aap Hi Ko Humne Guru Hai Mana
Seekha Hai Sab Kuch Aapse Humne Shiksha Ka Matlab Aap Se Hai Jana.
आप से ही सीखा है जीना आप ही को हमने गुरु है मन.
सीखा है सब कुछ आपसे हमने शिक्षा का मतलब आप से है जाना .
آپ سے ہی سیکھا ہے جینا آپ ہی کو ہمنے گورو ہے مانا
سیکھا ہے سب کچھ آپسے ہمنے شکشا کا مطلب آپ سے ہے جانا .
---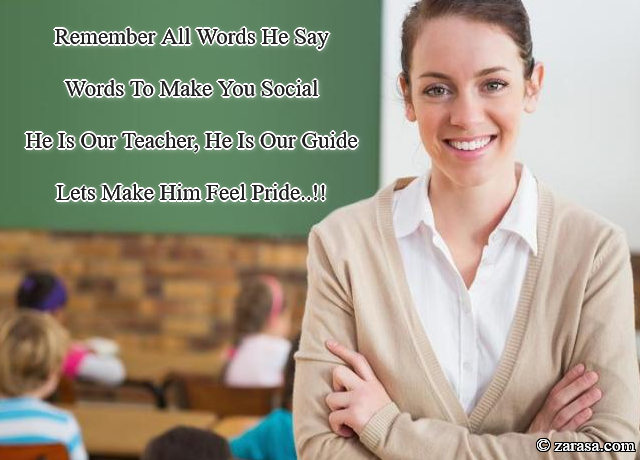 Remember All Words He Say
Words To Make You Social
He Is Our Teacher, He Is Our Guide
Lets Make Him Feel Pride..!!

रिमेम्बर आल वर्ड्स ही से
वर्ड्स टो मेक यू सोशल
ही इस आवर टीचर ,ही इस आवर गाइड
लेटस मेक हिम फील प्राइड।
ریممبر آل وورڈس ہے سے
وورڈس تو مکے یو سوشل
 ہے اس اور ٹیچر, ہے اس اور گائیڈ
لیٹس مکے ہم فیل پردے
---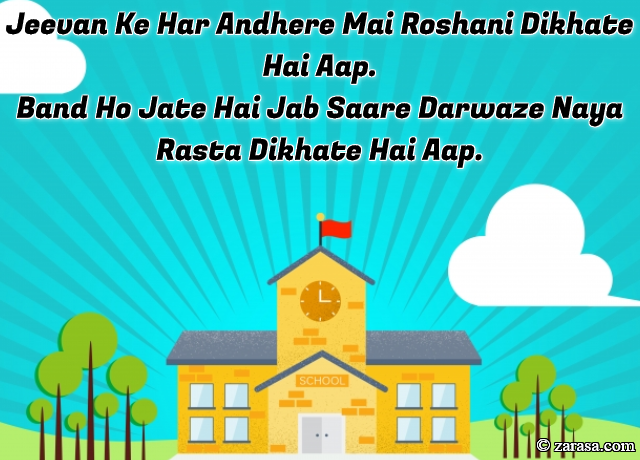 Jeevan Ke Har Andhere Mai Roshani Dikhate Hai Aap.
Band Ho Jate Hai Jab Saare Darwaze Naya Rasta Dikhate Hai Aap.
जीवन के हर अँधेरे मै रोशनी दिखाते है आप .
बंद हो जाते है जब सारे दरवाज़े नया रास्ता दिखाते है आप .
جیون کے ہر اندھیرے می روشنی دکھاتے ہے آپ .
بند ہو جاتے ہے جب سارے دروازے نیا راستہ دکھاتے ہے آپ .
---