Shayari for Welcome l"आये वो हमारी महफ़िल कुछ इस तरह"
|
Aaye Vo Hamari Mehfil Kuchh Is Tarah
Ke Har Taraf Chand Taare Jhilmilane Lage..
Dekhkar Dil Unko Jhoomne Laga,
Sab Ke Man Jaise Khilkhilane Lage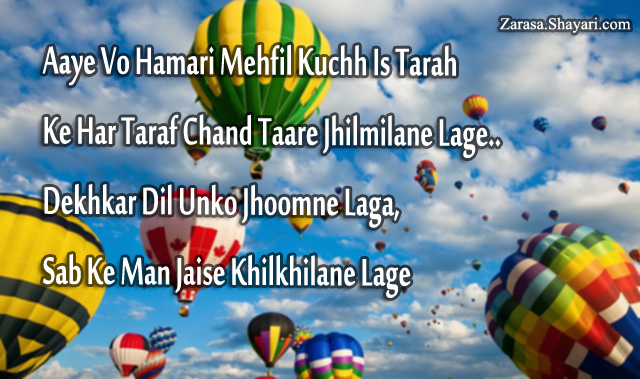 ---

आये वो हमारी महफ़िल कुछ इस तरह
के हर तरफ चाँद तारे झिलमिलाने लगे..
देखकर दिल उनको झूमने लगा,
सब के मन जैसे खिलखिलाने लगे


---

آئے وہ ہماری محفل کچھ اس طرح
کے ہر طرف چاند ستارے جھلملانے لگے
دیکھ کر دل ان جھومنے لگا
سب کے دماغ جیسے كھلكھلانے لگے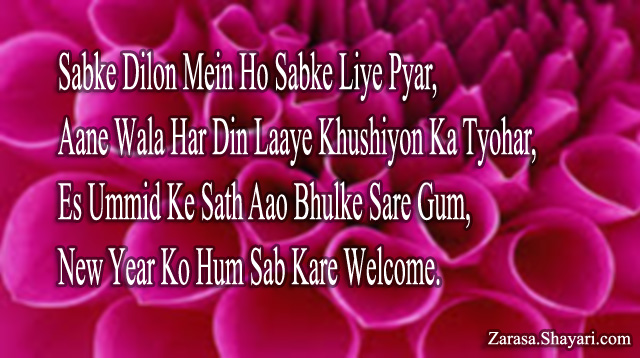 Sabke Dilon Mein Ho Sabke Liye Pyar,
Aane Wala Har Din Laaye Khushiyon Ka Tyohar,
Es Ummid Ke Sath Aao Bhulke Sare Gum,
New Year Ko Hum Sab Kare Welcome.

 

 

सबके दिलो में हो सबके लिए प्यार,
आने वाला हर दिन लाये खुशियों का त्यौहार,
इस उम्मीद के साथ आओ भूलके सारे गम,
न्यू इयर को हम सब करें वेलकम.
سب کے دل میں ہو سب کے لئے محبت
آنے والا ہر دن لائے خوشی کا تہوار
اس امید کے ساتھ آئے بھولكے سارے گم
نیو کن کو ہم سب کریں ویلکم
---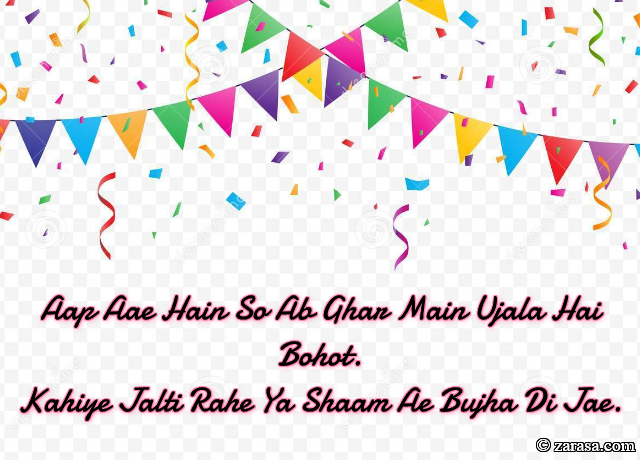 Aap Aae Hain So Ab Ghar Main Ujala Hai Bohot.
Kahiye Jalti Rahe Ya Shaam Ae Bujha Di Jae.
आप आए हैं सो अब घर मैं उजाला है बोहोत .
कहिये जलती रहे या शाम ऐ बुझा दी जाए .
آپ ے ہیں سو اب گھر میں اجالا ہے بوہوت .
کہئے جلتی رہے یا شام اے بجھا دی جاۓ .
---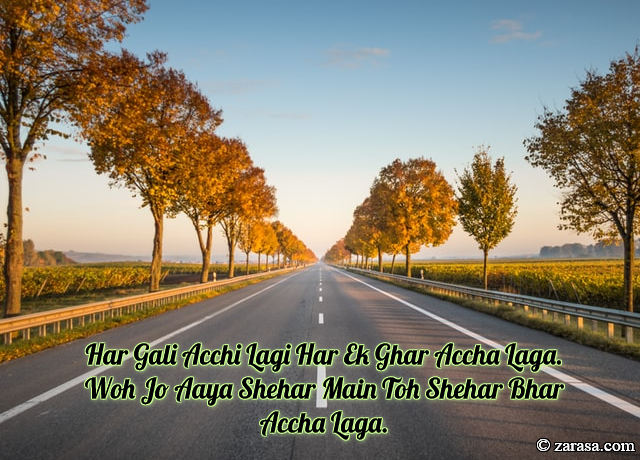 Har Gali Acchi Lagi Har Ek Ghar Accha Laga.
Woh Jo Aaya Shehar Main Toh Shehar Bhar Accha Laga.
हर गली अच्छी लगी हर एक घर अच्छा लगा .
वो जो आया शहर मैं तो शहर भर अच्छा लगा .
ہر گلی اکچی لگی ہر ایک گھر اکچھا لگا .
وہ جو آیا شہر میں تو شہر بھر اکچھا لگا .
---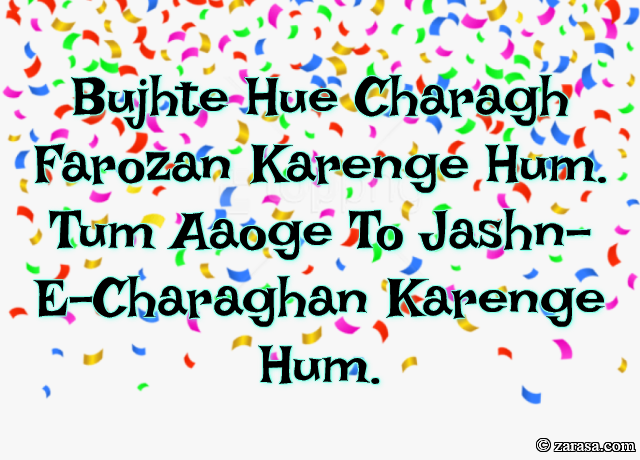 Bujhte Hue Charagh Farozan Karenge Hum.
Tum Aaoge To Jashn-E-Charaghan Karenge Hum.
बुझते हुए चराग़ फ्रोज़न करेंगे हम .
तुम आओगे तो जश्न -इ -चराग़ाँ करेंगे हम .
بجھتے ہوئے چراغ فروزاں کرینگے ہم .
تم آؤگے تو جشن -ا -چراغاں کرینگے ہم .
---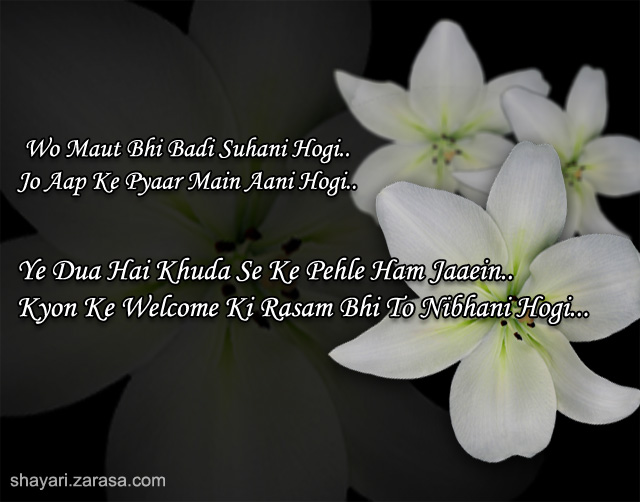 Wo Maut Bhi Badi Suhani Hogi..
Jo Aap Ke Pyaar Mein Aani Hogi..
Ye Dua Hai Khuda Se Ke Pehle Ham Jaaein..
Kyon Ke Welcome Ki Rasam Bhi To Nibhani Hogi...

 


 
वो मौत भी बड़ी सुहानी होगी..
जो आप के प्यार मे आनी होगी..
ये दुआ है खुदा सै के पहले हम जाएं..
क्यों के वेलकम की रस्म भी तो निभानी होगी...
وہ موت بھی بڑی سہانی ہوگی
جو آپ کی محبت میں آنی ہو گی
یہ دعا ہے خدا سے پہلے ہم جائیں
کیوں کے ویلکم کی رسم بھی تو نبھانی ہوگی
---