Shayari for Welcome"Der Lagi Aane Lekin Shukr Hai Phir Bhi Aae Toh"
|
Der Lagi Aane Mai Lekin Shukr Hai Phir Bhi Aae Toh.
Aas Ne Dil Ka Saath Na Choda Wese Hum Ghabrae Toh.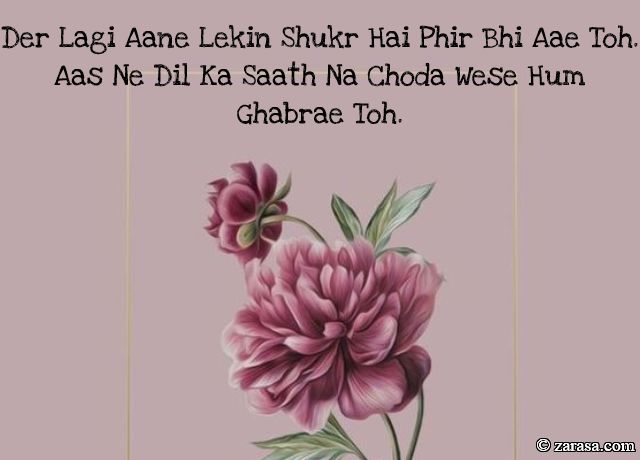 ---

देर लगी आने मै लेकिन शुक्र है फिर भी आए तो .
आस ने दिल का साथ न छोड़ा वैसे हम घबराए तो .


---

دیر لگی آنے می لیکن شکر ہے پھر بھی ے تو .
اس نے دل کا ساتھ نہ چودہ ویسے ہم گھبراۓ تو.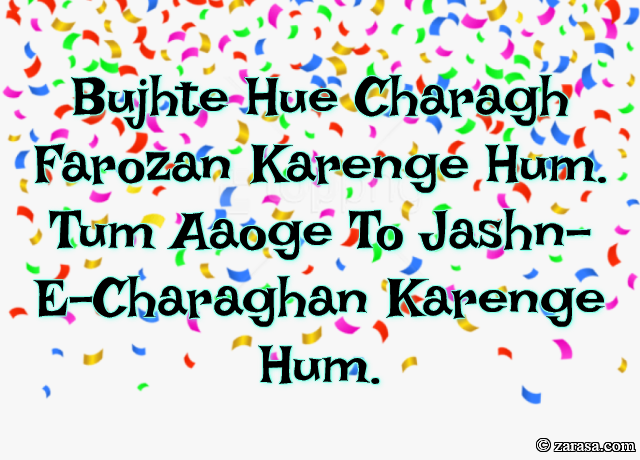 Bujhte Hue Charagh Farozan Karenge Hum.
Tum Aaoge To Jashn-E-Charaghan Karenge Hum.
बुझते हुए चराग़ फ्रोज़न करेंगे हम .
तुम आओगे तो जश्न -इ -चराग़ाँ करेंगे हम .
بجھتے ہوئے چراغ فروزاں کرینگے ہم .
تم آؤگے تو جشن -ا -چراغاں کرینگے ہم .
---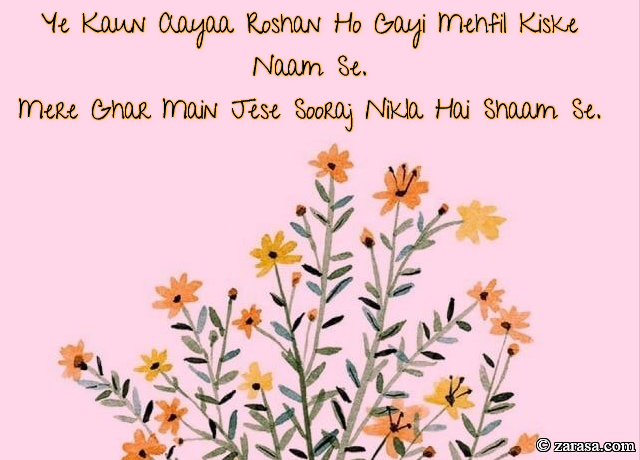 Ye Kaun Aayaa Roshan Ho Gayi Mehfil Kiske Naam Se.
Mere Ghar Main Jese Sooraj Nikla Hai Shaam Se.
ये कौन आया रोशन हो गयी महफ़िल किसके नाम से .
मेरे घर मैं जैसे सूरज निकला है शाम से .
یہ کون آیا روشن ہو گی محفل کسکے نام سے .
میرے گھر میں جیسے سورج نکلا ہے شام سے .
---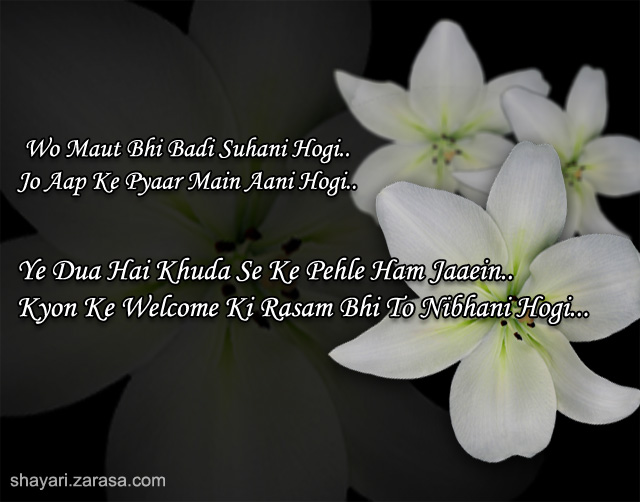 Wo Maut Bhi Badi Suhani Hogi..
Jo Aap Ke Pyaar Mein Aani Hogi..
Ye Dua Hai Khuda Se Ke Pehle Ham Jaaein..
Kyon Ke Welcome Ki Rasam Bhi To Nibhani Hogi...

 


 
वो मौत भी बड़ी सुहानी होगी..
जो आप के प्यार मे आनी होगी..
ये दुआ है खुदा सै के पहले हम जाएं..
क्यों के वेलकम की रस्म भी तो निभानी होगी...
وہ موت بھی بڑی سہانی ہوگی
جو آپ کی محبت میں آنی ہو گی
یہ دعا ہے خدا سے پہلے ہم جائیں
کیوں کے ویلکم کی رسم بھی تو نبھانی ہوگی
---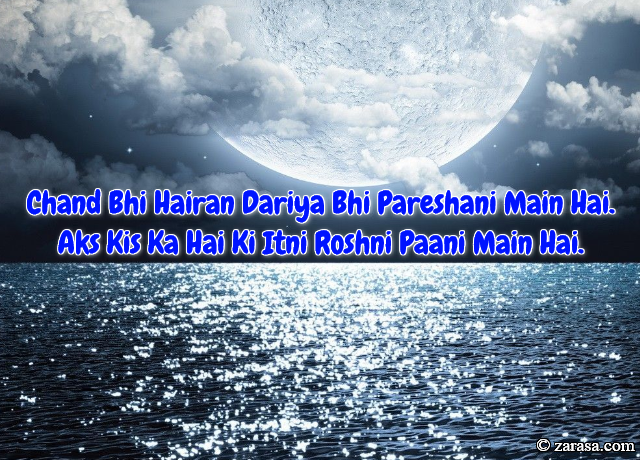 Chand Bhi Hairan Dariya Bhi Pareshani Main Hai.
Aks Kis Ka Hai Ki Itni Roshni Paani Main Hai.
चाँद भी हैरान दरिया भी परेशानी मैं है .
अक्स किस का है की इतनी रौशनी पानी मैं है .
چاند بھی حیران دریا بھی پریشانی میں ہے .
عکس کس کا ہے کی اتنی روشنی پانی میں ہے .
---
Har Gali Achchhi Lagi Har Ek Ghar Achchha Laga
Vo Jo Aaya Shahar Mein To Shahar Bhar Achchha Laga


हर गली अच्छी लगी हर एक घर अच्छा लगा
वो जो आया शहर मैं तो शहर भर अच्छा लगा
ہر گلی اچھی لگی ہر ایک گھر اچھا لگا
وہ جو آیا شہر میں تو شہر بھر اچھا لگا
---