Shayari for Welcome"Der Lagi Aane Lekin Shukr Hai Phir Bhi Aae Toh"
|
Der Lagi Aane Mai Lekin Shukr Hai Phir Bhi Aae Toh.
Aas Ne Dil Ka Saath Na Choda Wese Hum Ghabrae Toh.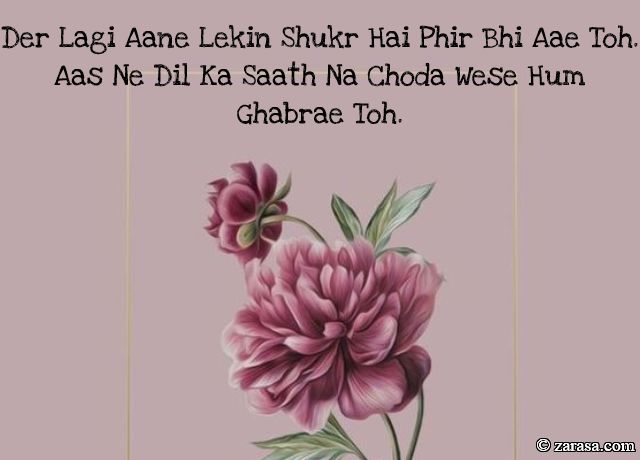 ---

देर लगी आने मै लेकिन शुक्र है फिर भी आए तो .
आस ने दिल का साथ न छोड़ा वैसे हम घबराए तो .


---

دیر لگی آنے می لیکن شکر ہے پھر بھی ے تو .
اس نے دل کا ساتھ نہ چودہ ویسے ہم گھبراۓ تو.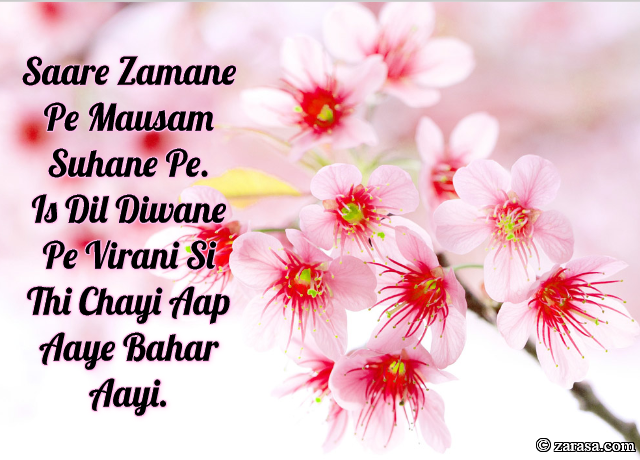 Saare Zamane Pe Mausam Suhane Pe.
Is Dil Diwane Pe Virani Si Thi Chayi Aap Aaye Bahar Aayi.
सारे ज़माने पे मौसम सुहाने पे .
इस दिल दीवाने पे विरानी सी थी छायी आप आये बहार आयी .
سارے زمانے پی موسم سہانے پی .
اس دل دیوانے پی ویرانی سی تھی چائ آپ اے بہار آی .
---
Har Gali Achchhi Lagi Har Ek Ghar Achchha Laga
Vo Jo Aaya Shahar Mein To Shahar Bhar Achchha Laga


हर गली अच्छी लगी हर एक घर अच्छा लगा
वो जो आया शहर मैं तो शहर भर अच्छा लगा
ہر گلی اچھی لگی ہر ایک گھر اچھا لگا
وہ جو آیا شہر میں تو شہر بھر اچھا لگا
---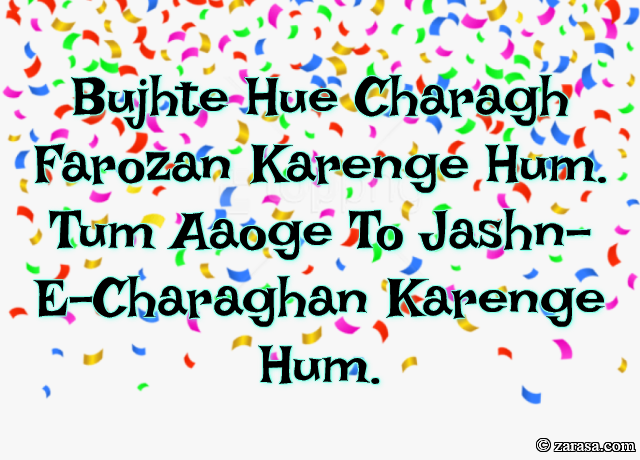 Bujhte Hue Charagh Farozan Karenge Hum.
Tum Aaoge To Jashn-E-Charaghan Karenge Hum.
बुझते हुए चराग़ फ्रोज़न करेंगे हम .
तुम आओगे तो जश्न -इ -चराग़ाँ करेंगे हम .
بجھتے ہوئے چراغ فروزاں کرینگے ہم .
تم آؤگے تو جشن -ا -چراغاں کرینگے ہم .
---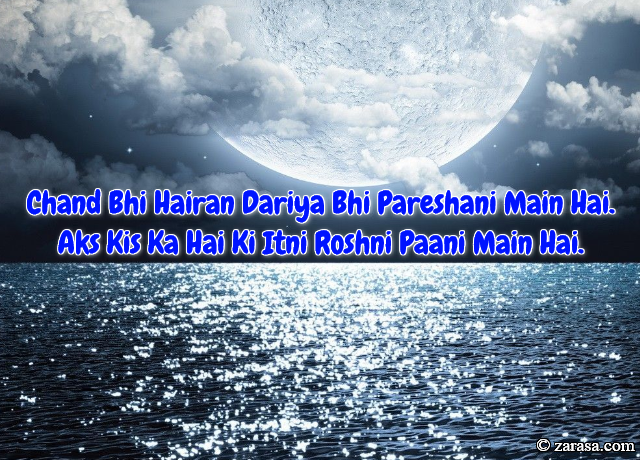 Chand Bhi Hairan Dariya Bhi Pareshani Main Hai.
Aks Kis Ka Hai Ki Itni Roshni Paani Main Hai.
चाँद भी हैरान दरिया भी परेशानी मैं है .
अक्स किस का है की इतनी रौशनी पानी मैं है .
چاند بھی حیران دریا بھی پریشانی میں ہے .
عکس کس کا ہے کی اتنی روشنی پانی میں ہے .
---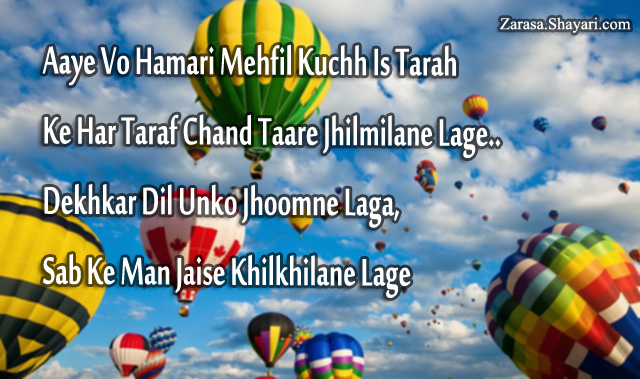 Aaye Vo Hamari Mehfil Kuchh Is Tarah
Ke Har Taraf Chand Taare Jhilmilane Lage..
Dekhkar Dil Unko Jhoomne Laga,
Sab Ke Man Jaise Khilkhilane Lage

 



आये वो हमारी महफ़िल कुछ इस तरह
के हर तरफ चाँद तारे झिलमिलाने लगे..
देखकर दिल उनको झूमने लगा,
सब के मन जैसे खिलखिलाने लगे
آئے وہ ہماری محفل کچھ اس طرح
کے ہر طرف چاند ستارے جھلملانے لگے
دیکھ کر دل ان جھومنے لگا
سب کے دماغ جیسے كھلكھلانے لگے
---