Shayari for Welcome l "रूह खिलने लगी"
|
Kaun Aaya Ki Nigahon Mein Chamak Jaag Uthi
Dil Ke Soye Huye Taaron Mein Khanak Jaag Uthi
Kiske Aane Ki Khabar Le Ke Havaayein Aaeen
Rooh Khilne Lagi Saanson Mein Mehak Jaag Uthi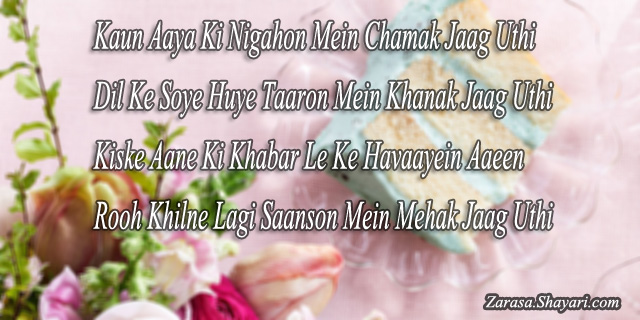 ---

कौन आया की निगाहों में चमक जाग उठी
दिल के सोये हुए तारों में खनक जाग उठी
किसके आने की खबर ले के हवाएं आईं
रूह खिलने लगी साँसों में महक जाग उठी


---

کون آیا کی نگاہوں میں چمک جاگ اٹھی
دل کے سوئے ہوئے تاروں میں کھنک جاگ اٹھی
کس کے آنے کی خبر لے کے ہوائیں آئیں
روح کھلتے لگی سانسوں میں مہک جاگ اٹھی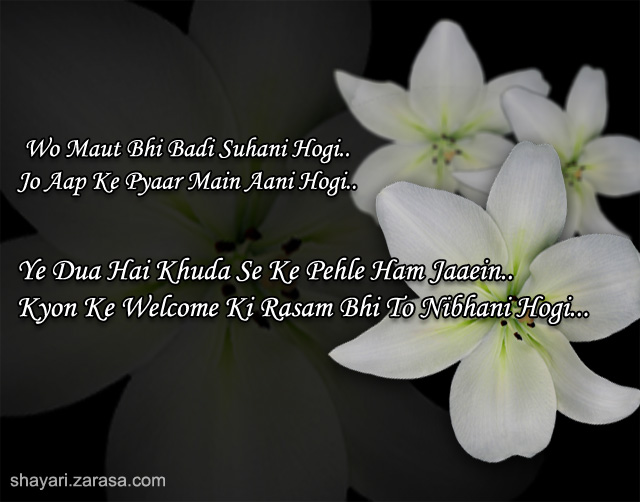 Wo Maut Bhi Badi Suhani Hogi..
Jo Aap Ke Pyaar Mein Aani Hogi..
Ye Dua Hai Khuda Se Ke Pehle Ham Jaaein..
Kyon Ke Welcome Ki Rasam Bhi To Nibhani Hogi...

 


 
वो मौत भी बड़ी सुहानी होगी..
जो आप के प्यार मे आनी होगी..
ये दुआ है खुदा सै के पहले हम जाएं..
क्यों के वेलकम की रस्म भी तो निभानी होगी...
وہ موت بھی بڑی سہانی ہوگی
جو آپ کی محبت میں آنی ہو گی
یہ دعا ہے خدا سے پہلے ہم جائیں
کیوں کے ویلکم کی رسم بھی تو نبھانی ہوگی
---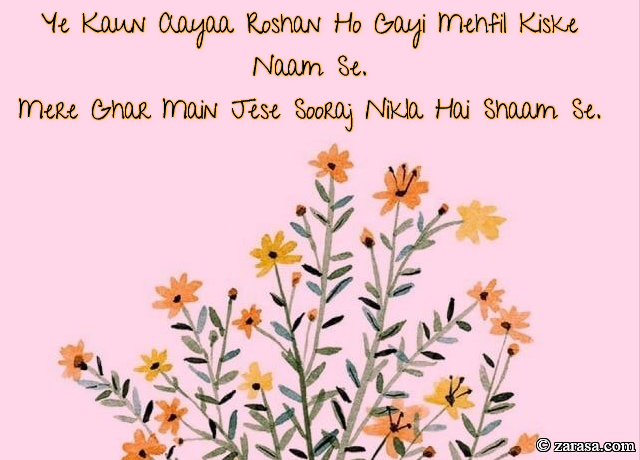 Ye Kaun Aayaa Roshan Ho Gayi Mehfil Kiske Naam Se.
Mere Ghar Main Jese Sooraj Nikla Hai Shaam Se.
ये कौन आया रोशन हो गयी महफ़िल किसके नाम से .
मेरे घर मैं जैसे सूरज निकला है शाम से .
یہ کون آیا روشن ہو گی محفل کسکے نام سے .
میرے گھر میں جیسے سورج نکلا ہے شام سے .
---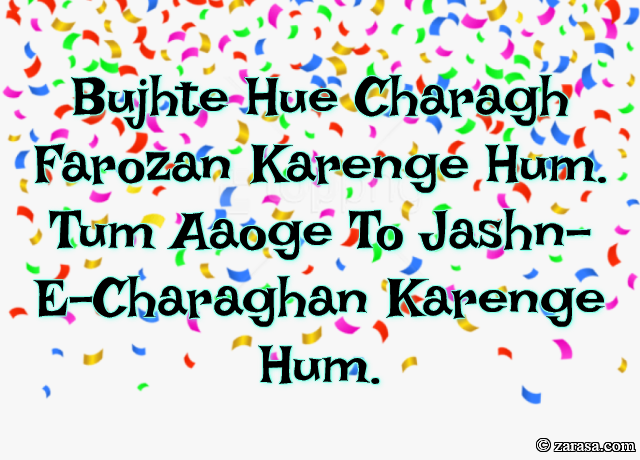 Bujhte Hue Charagh Farozan Karenge Hum.
Tum Aaoge To Jashn-E-Charaghan Karenge Hum.
बुझते हुए चराग़ फ्रोज़न करेंगे हम .
तुम आओगे तो जश्न -इ -चराग़ाँ करेंगे हम .
بجھتے ہوئے چراغ فروزاں کرینگے ہم .
تم آؤگے تو جشن -ا -چراغاں کرینگے ہم .
---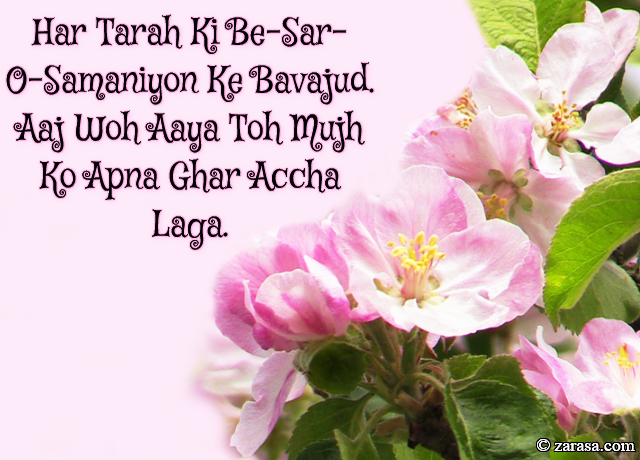 Har Tarah Ki Be-Sar-O-Samaniyon Ke Bavajud.
Aaj Woh Aaya Toh Mujh Ko Apna Ghar Accha Laga.
हर तरह की बे -सर -ो -समानियों के बावजूद .
आज वह आया तो मुझ को अपना घर अच्छा लगा .
ہر طرح کی بے -سر -و -سامانیوں کے باوجود .
آج وہ آیا تو مجھ کو اپنا گھر اکچھا لگا .
---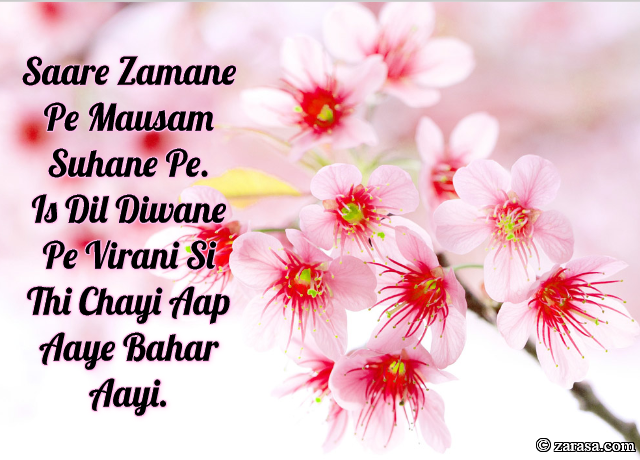 Saare Zamane Pe Mausam Suhane Pe.
Is Dil Diwane Pe Virani Si Thi Chayi Aap Aaye Bahar Aayi.
सारे ज़माने पे मौसम सुहाने पे .
इस दिल दीवाने पे विरानी सी थी छायी आप आये बहार आयी .
سارے زمانے پی موسم سہانے پی .
اس دل دیوانے پی ویرانی سی تھی چائ آپ اے بہار آی .
---