Shayari for Welcome l "सबके दिलो में हो सबके लिए प्यार,"
|
Sabke Dilon Mein Ho Sabke Liye Pyar,
Aane Wala Har Din Laaye Khushiyon Ka Tyohar,
Es Ummid Ke Sath Aao Bhulke Sare Gum,
New Year Ko Hum Sab Kare Welcome.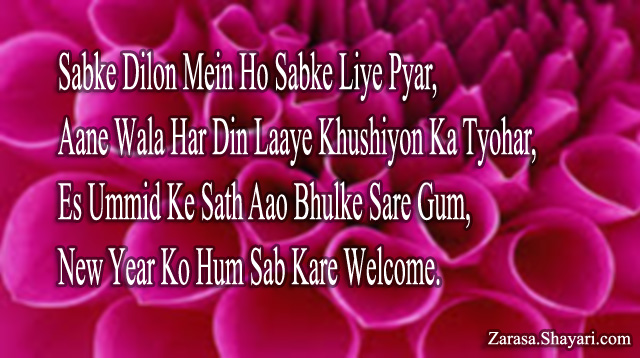 ---

सबके दिलो में हो सबके लिए प्यार,
आने वाला हर दिन लाये खुशियों का त्यौहार,
इस उम्मीद के साथ आओ भूलके सारे गम,
न्यू इयर को हम सब करें वेलकम.


---

سب کے دل میں ہو سب کے لئے محبت
آنے والا ہر دن لائے خوشی کا تہوار
اس امید کے ساتھ آئے بھولكے سارے گم
نیو کن کو ہم سب کریں ویلکم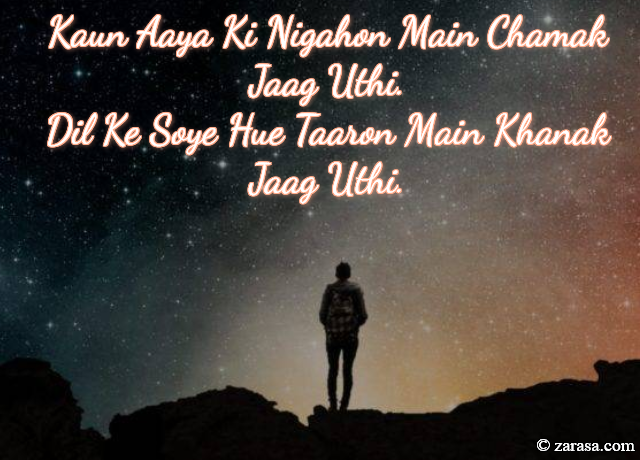 Kaun Aaya Ki Nigahon Main Chamak Jaag Uthi.
Dil Ke Soye Hue Taaron Main Khanak Jaag Uthi.
कौन आया की निगाहों मैं चमक जाग उठी .
दिल के सोये हुए तारों मैं खनक जाग उठी .
کون آیا کی نگاہوں میں چمک جاگ اٹھی .
دل کے سوی ہوئے تاروں میں خنک جاگ اٹھی .
---
Har Gali Achchhi Lagi Har Ek Ghar Achchha Laga
Vo Jo Aaya Shahar Mein To Shahar Bhar Achchha Laga


हर गली अच्छी लगी हर एक घर अच्छा लगा
वो जो आया शहर मैं तो शहर भर अच्छा लगा
ہر گلی اچھی لگی ہر ایک گھر اچھا لگا
وہ جو آیا شہر میں تو شہر بھر اچھا لگا
---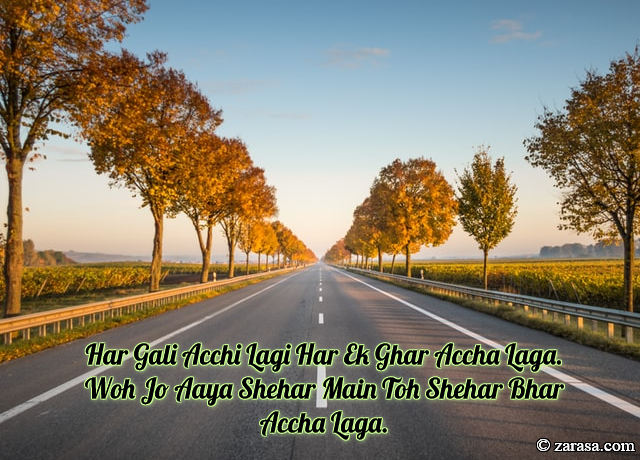 Har Gali Acchi Lagi Har Ek Ghar Accha Laga.
Woh Jo Aaya Shehar Main Toh Shehar Bhar Accha Laga.
हर गली अच्छी लगी हर एक घर अच्छा लगा .
वो जो आया शहर मैं तो शहर भर अच्छा लगा .
ہر گلی اکچی لگی ہر ایک گھر اکچھا لگا .
وہ جو آیا شہر میں تو شہر بھر اکچھا لگا .
---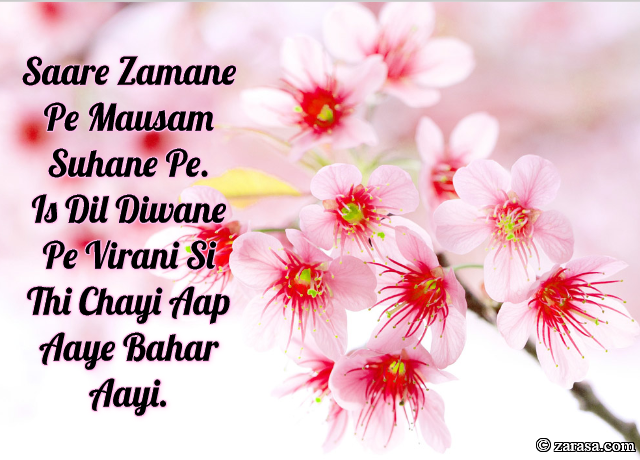 Saare Zamane Pe Mausam Suhane Pe.
Is Dil Diwane Pe Virani Si Thi Chayi Aap Aaye Bahar Aayi.
सारे ज़माने पे मौसम सुहाने पे .
इस दिल दीवाने पे विरानी सी थी छायी आप आये बहार आयी .
سارے زمانے پی موسم سہانے پی .
اس دل دیوانے پی ویرانی سی تھی چائ آپ اے بہار آی .
---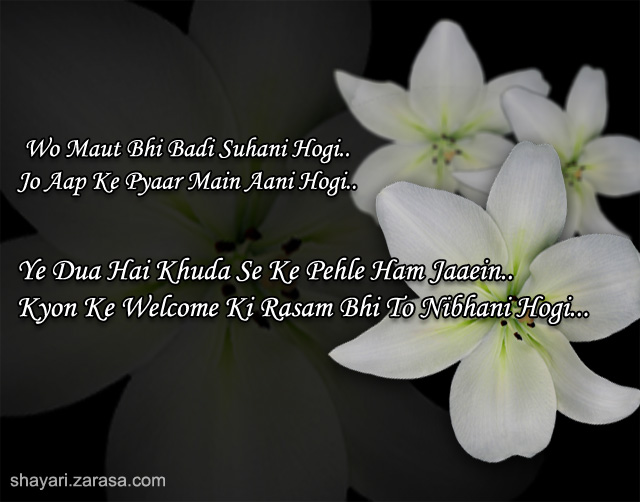 Wo Maut Bhi Badi Suhani Hogi..
Jo Aap Ke Pyaar Mein Aani Hogi..
Ye Dua Hai Khuda Se Ke Pehle Ham Jaaein..
Kyon Ke Welcome Ki Rasam Bhi To Nibhani Hogi...

 


 
वो मौत भी बड़ी सुहानी होगी..
जो आप के प्यार मे आनी होगी..
ये दुआ है खुदा सै के पहले हम जाएं..
क्यों के वेलकम की रस्म भी तो निभानी होगी...
وہ موت بھی بڑی سہانی ہوگی
جو آپ کی محبت میں آنی ہو گی
یہ دعا ہے خدا سے پہلے ہم جائیں
کیوں کے ویلکم کی رسم بھی تو نبھانی ہوگی
---