Shayari for Welcome l "सबके दिलो में हो सबके लिए प्यार,"
|
Sabke Dilon Mein Ho Sabke Liye Pyar,
Aane Wala Har Din Laaye Khushiyon Ka Tyohar,
Es Ummid Ke Sath Aao Bhulke Sare Gum,
New Year Ko Hum Sab Kare Welcome.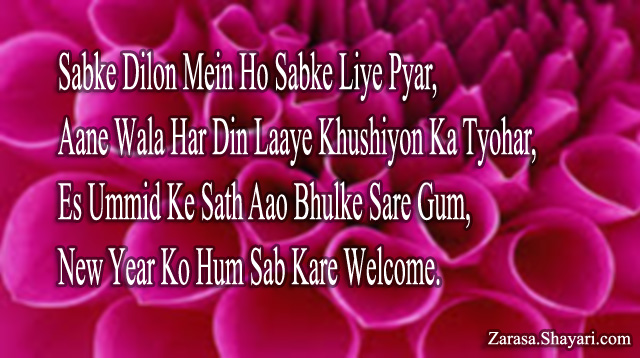 ---

सबके दिलो में हो सबके लिए प्यार,
आने वाला हर दिन लाये खुशियों का त्यौहार,
इस उम्मीद के साथ आओ भूलके सारे गम,
न्यू इयर को हम सब करें वेलकम.


---

سب کے دل میں ہو سب کے لئے محبت
آنے والا ہر دن لائے خوشی کا تہوار
اس امید کے ساتھ آئے بھولكے سارے گم
نیو کن کو ہم سب کریں ویلکم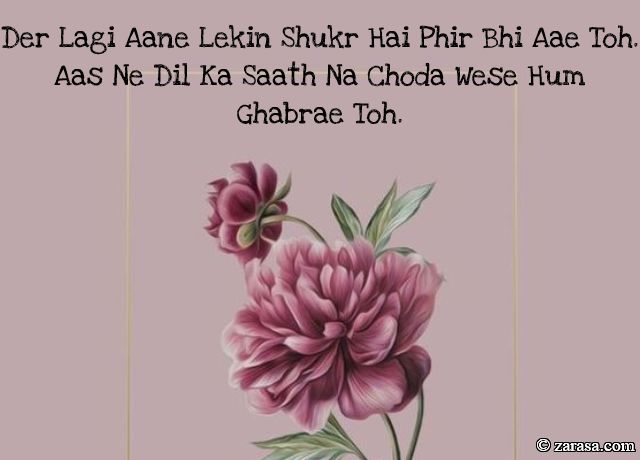 Der Lagi Aane Mai Lekin Shukr Hai Phir Bhi Aae Toh.
Aas Ne Dil Ka Saath Na Choda Wese Hum Ghabrae Toh.
देर लगी आने मै लेकिन शुक्र है फिर भी आए तो .
आस ने दिल का साथ न छोड़ा वैसे हम घबराए तो .
دیر لگی آنے می لیکن شکر ہے پھر بھی ے تو .
اس نے دل کا ساتھ نہ چودہ ویسے ہم گھبراۓ تو.
---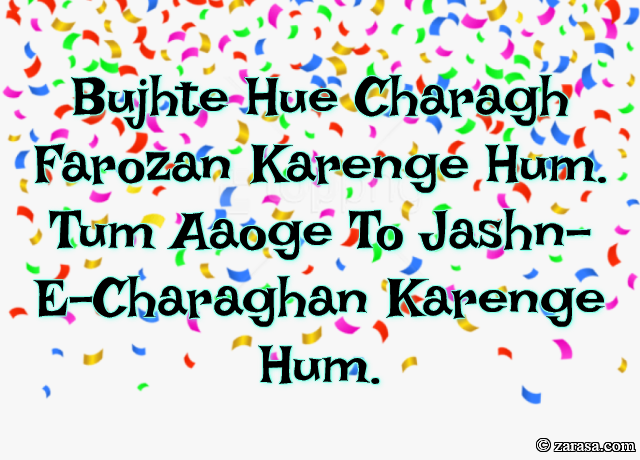 Bujhte Hue Charagh Farozan Karenge Hum.
Tum Aaoge To Jashn-E-Charaghan Karenge Hum.
बुझते हुए चराग़ फ्रोज़न करेंगे हम .
तुम आओगे तो जश्न -इ -चराग़ाँ करेंगे हम .
بجھتے ہوئے چراغ فروزاں کرینگے ہم .
تم آؤگے تو جشن -ا -چراغاں کرینگے ہم .
---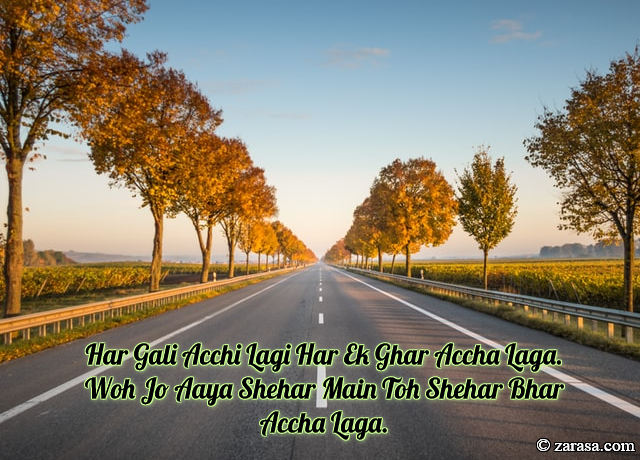 Har Gali Acchi Lagi Har Ek Ghar Accha Laga.
Woh Jo Aaya Shehar Main Toh Shehar Bhar Accha Laga.
हर गली अच्छी लगी हर एक घर अच्छा लगा .
वो जो आया शहर मैं तो शहर भर अच्छा लगा .
ہر گلی اکچی لگی ہر ایک گھر اکچھا لگا .
وہ جو آیا شہر میں تو شہر بھر اکچھا لگا .
---
Har Gali Achchhi Lagi Har Ek Ghar Achchha Laga
Vo Jo Aaya Shahar Mein To Shahar Bhar Achchha Laga


हर गली अच्छी लगी हर एक घर अच्छा लगा
वो जो आया शहर मैं तो शहर भर अच्छा लगा
ہر گلی اچھی لگی ہر ایک گھر اچھا لگا
وہ جو آیا شہر میں تو شہر بھر اچھا لگا
---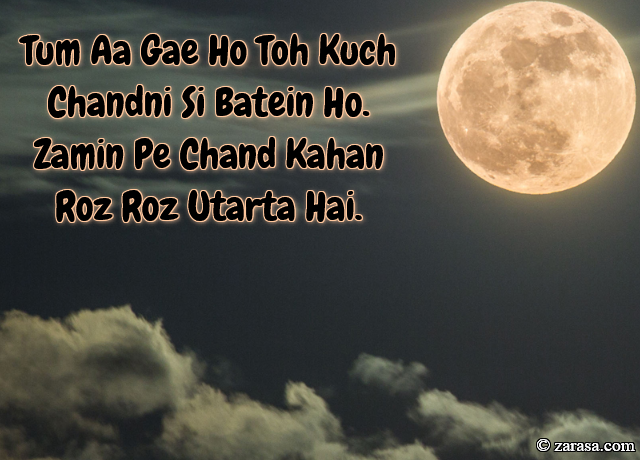 Tum Aa Gae Ho Toh Kuch Chandni Si Batein Ho.
Zamin Pe Chand Kahan Roz Roz Utarta Hai.
तुम आ गए हो तो कुछ चांदनी सी बातें हो .
ज़मीन पे चाँद कहाँ रोज़ रोज़ उतरता है .
تم آ گے ہو ٹوہ کچھ چاندنی سی باتیں ہو .
زمیں پی چند کہاں روز روز اترتا ہے .
---