Shayari On Valentines Day "क्या तुम मेरी वैलेंटाइन बनोगी ?"
Dil Karta Hai Zindagi Tujhe De Doon,
Zindagi Ki Saari Khushiyan Tujhe De Doon,
De De Agar tu Mujhe Bharosa Apne Saath Ka,
Toh Yakeen Maan Apni Saanse Bhi Tujhe De Doon.
WILL YOU BE MY VALENTINE?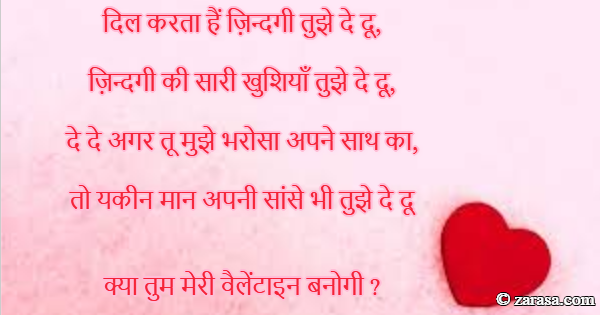 ---

दिल करता हैं ज़िन्दगी तुझे दे दू,
ज़िन्दगी की सारी खुशियाँ तुझे दे दू,
दे दे अगर तू मुझे भरोसा अपने साथ का,
तो यकीन मान अपनी सांसे भी तुझे दे दू

क्या तुम मेरी वैलेंटाइन बनोगी ?


---

دل کرتا ہے زندگی تجھے دے دو
زندگی کی ساری خوشیاں تجھے دے دو
دے دے اگر تو مجھے بھروسا اپنے ساتھ کا
تو یکین ماں اپنی سانسے بھی تجھے دے دو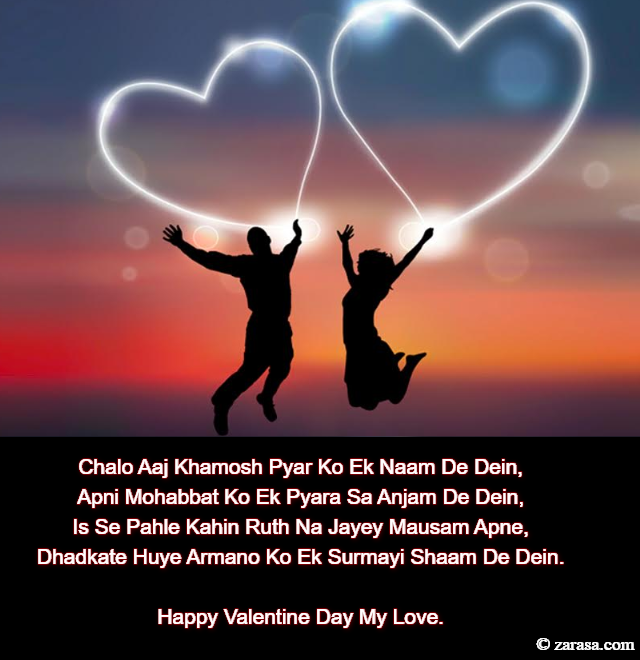 Chalo Aaj Khamosh Pyar Ko Ek Naam De Dein,
Apni Mohabbat Ko Ek Pyara Sa Anjam De Dein,
Is Se Pahle Kahin Ruth Na Jayey Mausam Apne,
Dhadkate Huye Armano Ko Ek Surmayi Shaam De Dein.
Happy Valentine Day My Love.
चलो आज खामोश प्यार को इक नाम दे दें,
अपनी मुहब्बत को इक प्यारा सा अंजाम दे दें,
इससे पहले कहीं रूठ न जाएँ मौसम अपने,
धड़कते हुए अरमानों एक सुरमई शाम दे दें।
आई लव यू. हैप्पी वैलेंटाइन डे।
چلو آج خاموش پیار کو ایک نام دے دین
اپنی موحبّت کو ایک پیرا سا انجام دے دیں
اس سے پہلے کہیں روٹھ نہ جائے موسم اپنے
دھڑکتے ہے ارمانو کو ایک سرمیی شام دے دیں
---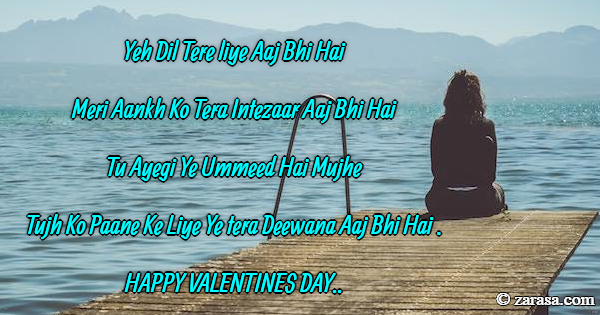 Yeh Dil Tere liye Aaj Bhi Hai
Meri Aankh Ko Tera Intezaar Aaj Bhi Hai
Tu Ayegi Ye Ummeed Hai Mujhe
Tujh Ko Paane Ke Liye Ye tera Deewana Aaj Bhi Hai .
HAPPY VALENTINES DAY..
ये दिल तेरे लिए बेक़रार आज भी है
मेरी आँख को तेरा इन्तजार आज भी है
तू आएगी ये उम्मीद है मुझे
तुझ को पाने के लिए ये तेरा दीवाना आज भी है |
हैप्पी वैलेंटाइन डे !
یہ دل تیرے لئے آج بھی ہے
میری آنکھ کو تیرا انتظار آج بھی ہے
تو ایگی یہ امید ہے مجھے
تجھ کو پانے کے لئے یہ تیرا دیوانا آج بھی ہے
---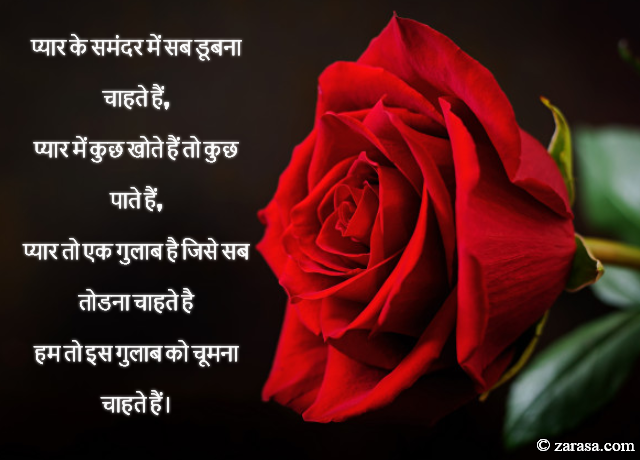 Pyaar ke Samandar Me Sab Doobna Chahte Hain,
Pyaar me Kuch Khote Hain, Toh Kuch Paate Hain,
Pyaar Toh Ek Gulaab hai Jise Sab Todna Chahte Hai,
Hum To Es Gulab Ko Chumna Chahte Hain.
प्यार के समंदर में सब डूबना चाहते हैं,
प्यार में कुछ खोते हैं तो कुछ पाते हैं,
प्यार तो एक गुलाब है जिसे सब तोडना चाहते है
हम तो इस गुलाब को चूमना चाहते हैं।
پیار کے سمندر مے سب دبنا چاہتے ہیں
پیار مے کچھ کھوتے ہیں ٹوہ کچھ پاتے ہیں
پیار ٹوہ ایک گلاب ہے جسے سب توڑنا چاہتے ہے
ہم تو یس گلاب کو چومنا چاہتے ہیں
---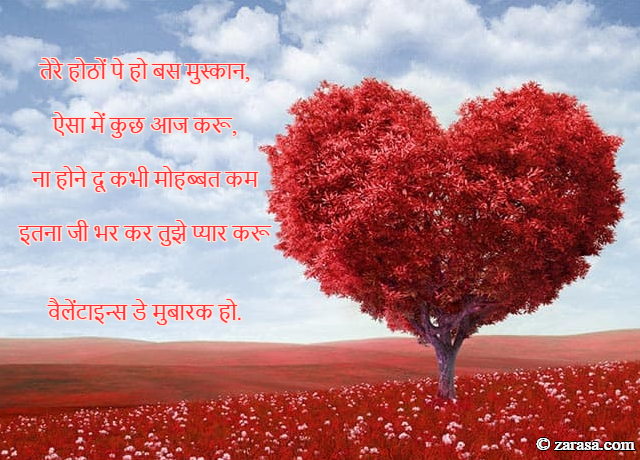 Tere hothon pe ho bs muskaan,
Aesa mai kuch aaj karo,
Na hone do kabhi Mohabbat kam,
Itna ji bhar kar tujhe pyar karo.
HAPPY VALENTINES DAY
तेरे होठों पे हो बस मुस्कान,
ऐसा में कुछ आज करू,
ना होने दू कभी मोहब्बत कम
इतना जी भर कर तुझे प्यार करू

वैलेंटाइन्स डे मुबारक हो.
تیرے ہوتہوں پی ہو بس مسکان
ایسا می کچھ آج کرو
نہ ہونے دو کبھی موحبّت کم
اتنا جی بھر کر تجھے پیار کرو
---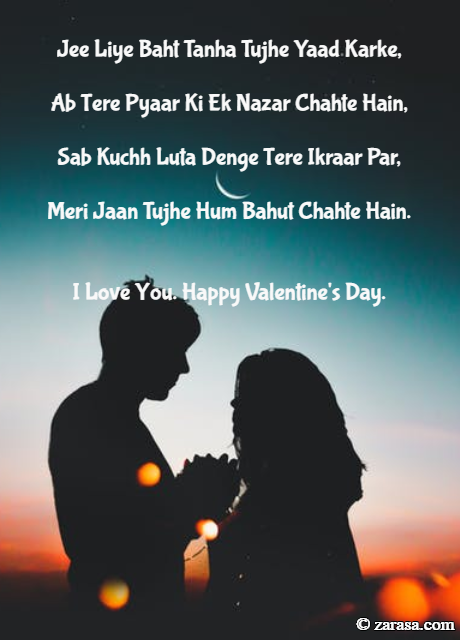 Jee Liye Baht Tanha Tujhe Yaad Karke,
Ab Tere Pyaar Ki Ek Nazar Chahte Hain,
Sab Kuchh Luta Denge Tere Ikraar Par,
Meri Jaan Tujhe Hum Bahut Chahte Hain.

I Love You. Happy Valentine's Day.
जी लिए बहुत तनहा तुझे याद करके,
अब तेरे प्यार की एक नजर चाहते हैं,
सब कुछ लुटा देंगे तेरे इकरार पर,
मेरी जान तुझे हम बहुत चाहते हैं।
جی لئے بھات تنہا تجھے یاد کرکے
اب تیرے پیار کی ایک نظر چاہتے ہیں
سب کچھ لوٹا دینگے تیرے اکرار [پر
میری جان تجھے ہم بہت چاہتے ہیں
---