Shayari On Valentines Day "क्या तुम मेरी वैलेंटाइन बनोगी ?"
|
Dil Karta Hai Zindagi Tujhe De Doon,
Zindagi Ki Saari Khushiyan Tujhe De Doon,
De De Agar tu Mujhe Bharosa Apne Saath Ka,
Toh Yakeen Maan Apni Saanse Bhi Tujhe De Doon.
WILL YOU BE MY VALENTINE?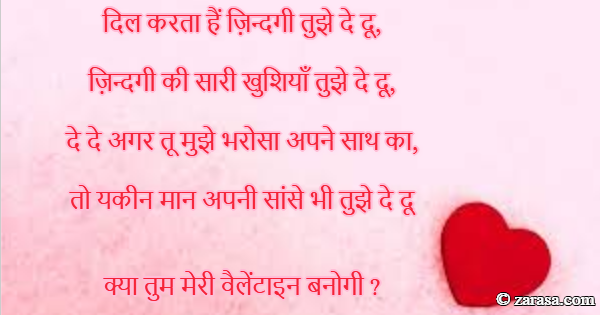 ---

दिल करता हैं ज़िन्दगी तुझे दे दू,
ज़िन्दगी की सारी खुशियाँ तुझे दे दू,
दे दे अगर तू मुझे भरोसा अपने साथ का,
तो यकीन मान अपनी सांसे भी तुझे दे दू

क्या तुम मेरी वैलेंटाइन बनोगी ?


---

دل کرتا ہے زندگی تجھے دے دو
زندگی کی ساری خوشیاں تجھے دے دو
دے دے اگر تو مجھے بھروسا اپنے ساتھ کا
تو یکین ماں اپنی سانسے بھی تجھے دے دو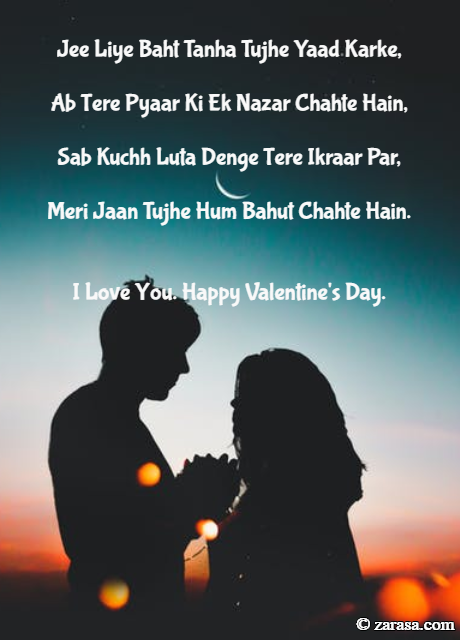 Jee Liye Baht Tanha Tujhe Yaad Karke,
Ab Tere Pyaar Ki Ek Nazar Chahte Hain,
Sab Kuchh Luta Denge Tere Ikraar Par,
Meri Jaan Tujhe Hum Bahut Chahte Hain.

I Love You. Happy Valentine's Day.
जी लिए बहुत तनहा तुझे याद करके,
अब तेरे प्यार की एक नजर चाहते हैं,
सब कुछ लुटा देंगे तेरे इकरार पर,
मेरी जान तुझे हम बहुत चाहते हैं।
جی لئے بھات تنہا تجھے یاد کرکے
اب تیرے پیار کی ایک نظر چاہتے ہیں
سب کچھ لوٹا دینگے تیرے اکرار [پر
میری جان تجھے ہم بہت چاہتے ہیں
---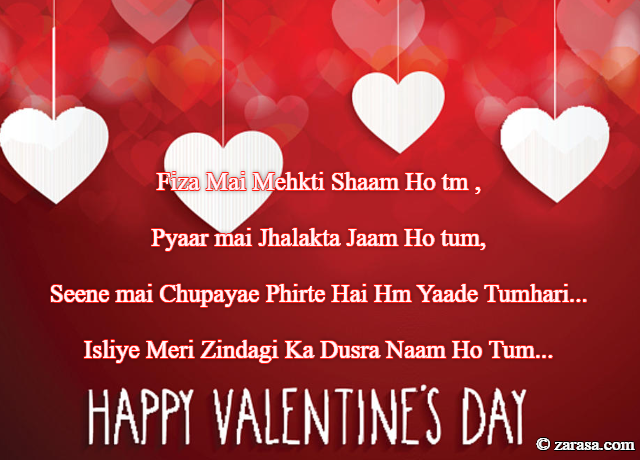 Fiza Mai Mehkti Shaam Ho tm ,
Pyaar mai Jhalakta Jaam Ho tum,
Seene mai Chupayae Phirte Hai Hm Yaade Tumhari...
Isliye Meri Zindagi Ka Dusra Naam Ho Tum...
फिज़ा में महकती शाम हो  तुम,
प्यार में झलकता जाम हो  तुम,
सीने में छुपाये फिरते है हम यादें  तुम्हारी…
इसलिये मेरी जिंदगी का दूसरा नाम हो तुम…
فضا می مہکتی شام ہو تم
پیار می جھلکتا جام ہو تم
سینے می چھپایا پھرتے ہے ہم یادیں تمہری
اسلئے میری زندگی کا دوسرا نام ہو تم
---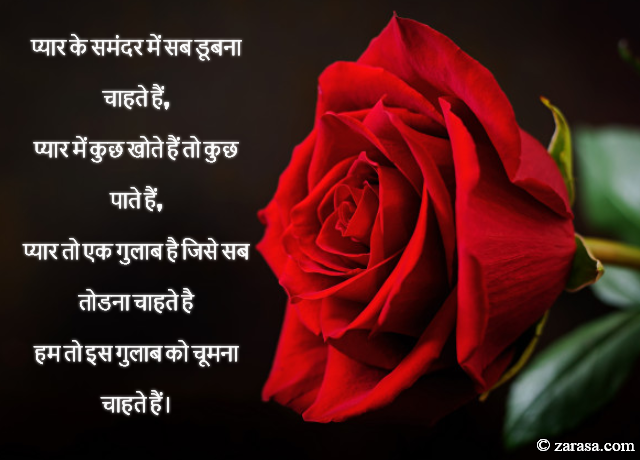 Pyaar ke Samandar Me Sab Doobna Chahte Hain,
Pyaar me Kuch Khote Hain, Toh Kuch Paate Hain,
Pyaar Toh Ek Gulaab hai Jise Sab Todna Chahte Hai,
Hum To Es Gulab Ko Chumna Chahte Hain.
प्यार के समंदर में सब डूबना चाहते हैं,
प्यार में कुछ खोते हैं तो कुछ पाते हैं,
प्यार तो एक गुलाब है जिसे सब तोडना चाहते है
हम तो इस गुलाब को चूमना चाहते हैं।
پیار کے سمندر مے سب دبنا چاہتے ہیں
پیار مے کچھ کھوتے ہیں ٹوہ کچھ پاتے ہیں
پیار ٹوہ ایک گلاب ہے جسے سب توڑنا چاہتے ہے
ہم تو یس گلاب کو چومنا چاہتے ہیں
---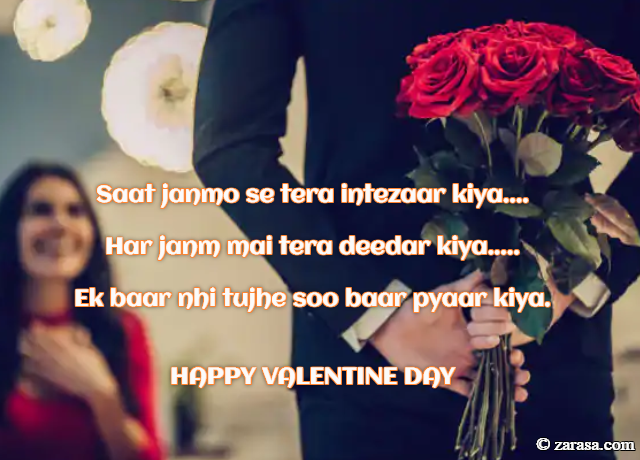 Saat janmo se tera intezaar kiya....
Har janm mai tera deedar kiya.....
Ek baar nhi tujhe soo baar pyaar kiya.

HAPPY VALENTINE DAY
सात जन्मो से तेरा इंतज़ार किया…
हर जन्म में तेरा दीदार किया…..
एक बार नहीं तुझे सौ बार प्यार किया.

HAPPY VALENTINE DAY
سات جنمو سے تیرا انتظار کیا
ہر جنم می تیرا دیدار کیا
ایک بار نہی سو بار پیار کیا
---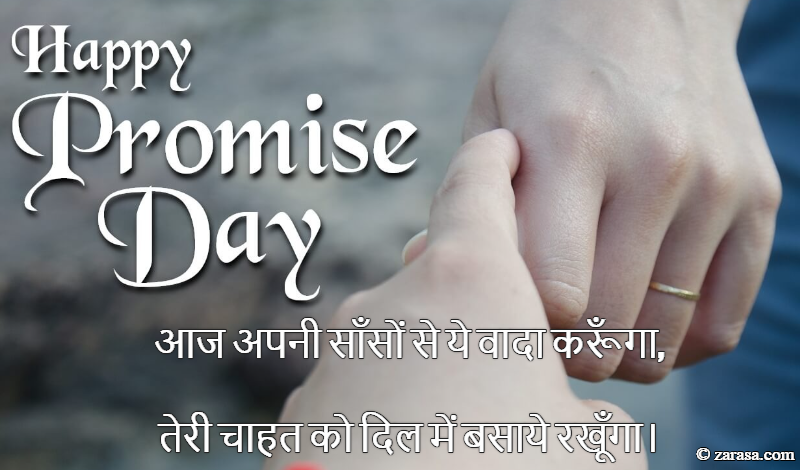 Aaj Apni Saason Se Ye Vada Karunga,
Teri Chahat Ko Dil Mai Basaye Rakhunga..
आज अपनी साँसों से ये वादा करूँगा,

तेरी चाहत को दिल में बसाये रखूँगा।
آج اپنی ساسوں سے یہ وادا کرونگا
تیری چاہت کو دل می بسے رکھونگا
---