Shayari On Valentines Day "क्या तुम मेरी वैलेंटाइन बनोगी ?"
|
Dil Karta Hai Zindagi Tujhe De Doon,
Zindagi Ki Saari Khushiyan Tujhe De Doon,
De De Agar tu Mujhe Bharosa Apne Saath Ka,
Toh Yakeen Maan Apni Saanse Bhi Tujhe De Doon.
WILL YOU BE MY VALENTINE?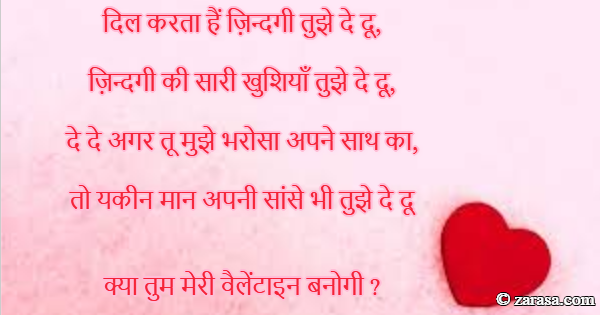 ---

दिल करता हैं ज़िन्दगी तुझे दे दू,
ज़िन्दगी की सारी खुशियाँ तुझे दे दू,
दे दे अगर तू मुझे भरोसा अपने साथ का,
तो यकीन मान अपनी सांसे भी तुझे दे दू

क्या तुम मेरी वैलेंटाइन बनोगी ?


---

دل کرتا ہے زندگی تجھے دے دو
زندگی کی ساری خوشیاں تجھے دے دو
دے دے اگر تو مجھے بھروسا اپنے ساتھ کا
تو یکین ماں اپنی سانسے بھی تجھے دے دو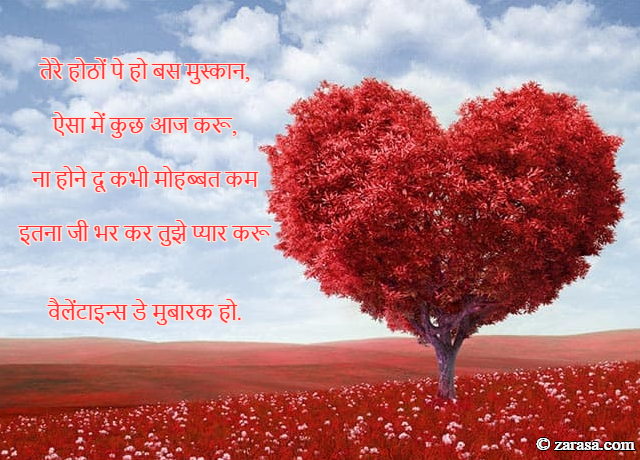 Tere hothon pe ho bs muskaan,
Aesa mai kuch aaj karo,
Na hone do kabhi Mohabbat kam,
Itna ji bhar kar tujhe pyar karo.
HAPPY VALENTINES DAY
तेरे होठों पे हो बस मुस्कान,
ऐसा में कुछ आज करू,
ना होने दू कभी मोहब्बत कम
इतना जी भर कर तुझे प्यार करू

वैलेंटाइन्स डे मुबारक हो.
تیرے ہوتہوں پی ہو بس مسکان
ایسا می کچھ آج کرو
نہ ہونے دو کبھی موحبّت کم
اتنا جی بھر کر تجھے پیار کرو
---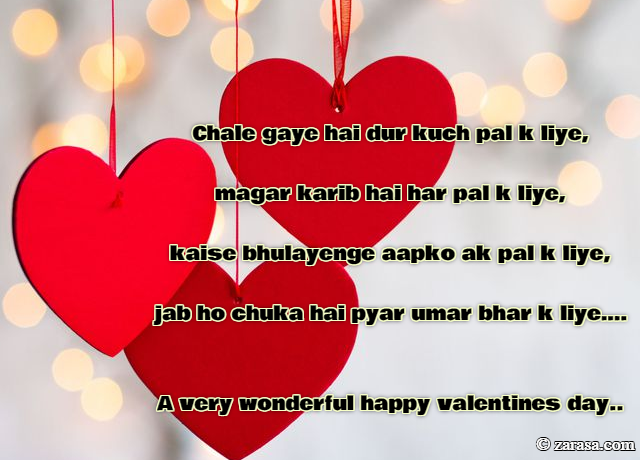 Chale gaye hai dur kuch pal k liye,
magar karib hai har pal k liye,
kaise bhulayenge aapko ak pal k liye,
jab ho chuka hai pyar umar bhar k liye….
A very wonderful happy valentines day..
चले गए है दूर कुछ पल के लिए ,
मगर करीब है हर पल के लिए ,
कैसे भुलाएँगे आपको एक पल के लिए ,
जब हो चुका है प्यार उम्र भर के लिए। ..
چلے گئے ہے دور کچھ پل کے لئے
مگر کرب ہے ہر پل کے لئے
کیسے بھولینگے آپکو ایک پل کے لئے
جب ہو چوکا ہے پیار امار بھر کے لئے
---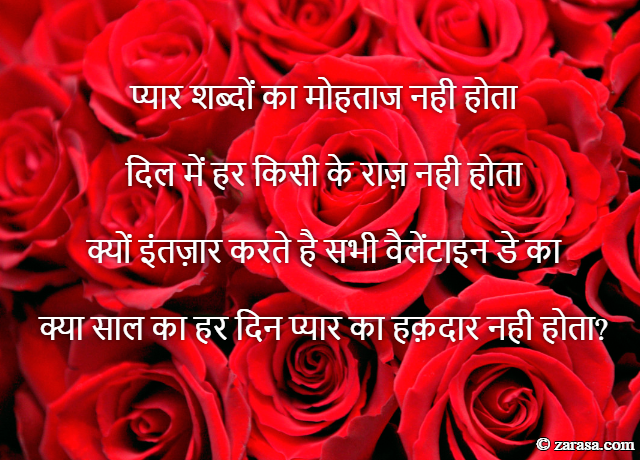 Pyaar shabdon ka mohtaj nhi hota
Dil mai har kisi ke rose nhi hota
Kyon intezaar karte hai sabhi Valentines Day ka
Kya saal ka har din pyaar ka hak daar nhi hota?
प्यार शब्दों का मोहताज नही होता
दिल में हर किसी के राज़ नही होता
क्यों इंतज़ार करते है सभी वैलेंटाइन डे का
क्या साल का हर दिन प्यार का हक़दार नही होता?
پیار شبدو کا موھتاج نہی ہوتا
دل می ہر کسی کے روس نہی ھوتا
کیو انتظار کرتے ہے سبھی والینتینس دے کا
کیا سال کا ہر دن پیار کا حکدار نہی ہوتا
---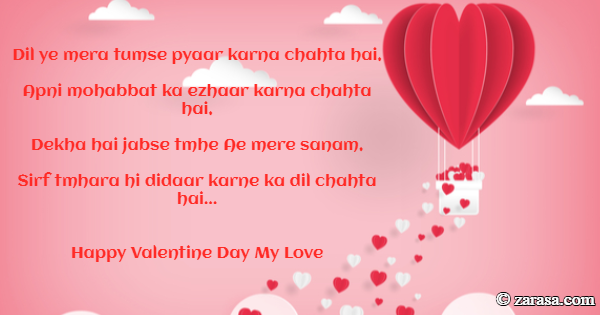 Dil ye mera tumse pyaar karna chahta hai,
Apni mohabbat ka ezhaar karna chahta hai,
Dekha hai jabse tmhe Ae mere sanam,
Sirf tmhara hi didaar karne ka dil chahta hai...
Happy Valentine Day My Love
दिल ये मेरा तुमसे प्यार करना चाहता है,
अपनी मोहब्बत का इज़हार करना चाहता है,
देखा है जब से तुम्हें ए मेरे सनम,
सिर्फ तुम्हारा ही दीदार करने का दिल चाहता है..
Happy Valentine Day My Love
دل یہ میرا تمسے پیار کرنا چاہتا ہے
اپنی موحبّت کا اظہار کرنا چاہتا ہے
دیکھا ہے جبسے تمھ اے میرے صنم
صرف تمہارا ہی دیدار کرنے کا دل چاہتا ہے
---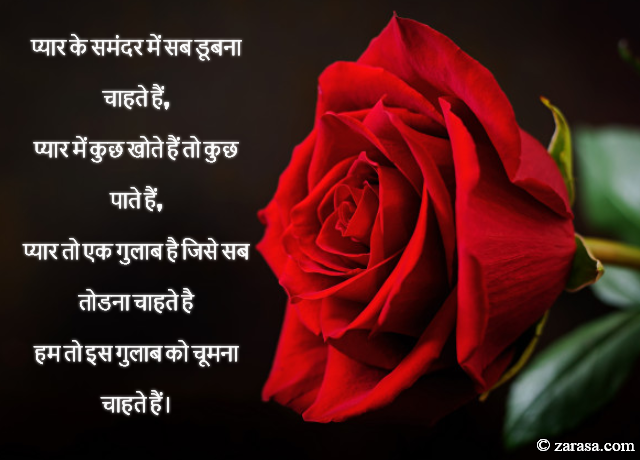 Pyaar ke Samandar Me Sab Doobna Chahte Hain,
Pyaar me Kuch Khote Hain, Toh Kuch Paate Hain,
Pyaar Toh Ek Gulaab hai Jise Sab Todna Chahte Hai,
Hum To Es Gulab Ko Chumna Chahte Hain.
प्यार के समंदर में सब डूबना चाहते हैं,
प्यार में कुछ खोते हैं तो कुछ पाते हैं,
प्यार तो एक गुलाब है जिसे सब तोडना चाहते है
हम तो इस गुलाब को चूमना चाहते हैं।
پیار کے سمندر مے سب دبنا چاہتے ہیں
پیار مے کچھ کھوتے ہیں ٹوہ کچھ پاتے ہیں
پیار ٹوہ ایک گلاب ہے جسے سب توڑنا چاہتے ہے
ہم تو یس گلاب کو چومنا چاہتے ہیں
---