Shayari On Valentines Day "Meri Aankh Ko Tera Intezaar Aaj Bhi Hai"
|
Yeh Dil Tere liye Aaj Bhi Hai
Meri Aankh Ko Tera Intezaar Aaj Bhi Hai
Tu Ayegi Ye Ummeed Hai Mujhe
Tujh Ko Paane Ke Liye Ye tera Deewana Aaj Bhi Hai .
HAPPY VALENTINES DAY..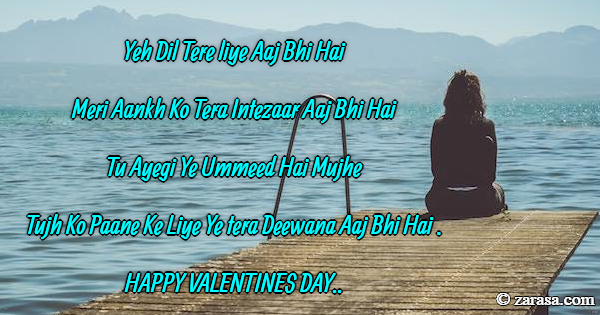 ---

ये दिल तेरे लिए बेक़रार आज भी है
मेरी आँख को तेरा इन्तजार आज भी है
तू आएगी ये उम्मीद है मुझे
तुझ को पाने के लिए ये तेरा दीवाना आज भी है |
हैप्पी वैलेंटाइन डे !


---

یہ دل تیرے لئے آج بھی ہے
میری آنکھ کو تیرا انتظار آج بھی ہے
تو ایگی یہ امید ہے مجھے
تجھ کو پانے کے لئے یہ تیرا دیوانا آج بھی ہے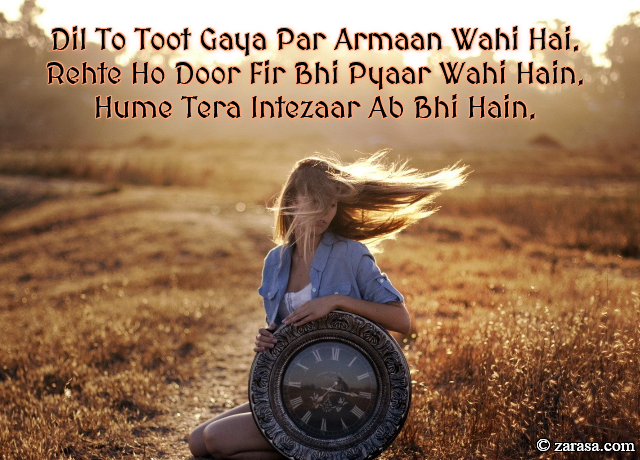 Dil To Toot Gaya Par Armaan Wahi Hai.
Rehte Ho Door Fir Bhi Pyaar Wahi Hain.
Hume Tera Intezaar Ab Bhi Hain.
दिल तो टूट गया पर अरमान वही है .
रहते हो दूर फिर भी प्यार वही हैं .
हमे तेरा इंतज़ार अब भी हैं .


دل تو ٹوٹ گیا پر ارمان وہی ہے .
رہتے ہو دور فر بھی پیار وہی ہیں .
ہمے تیرا انتظار اب بھی ہیں .


---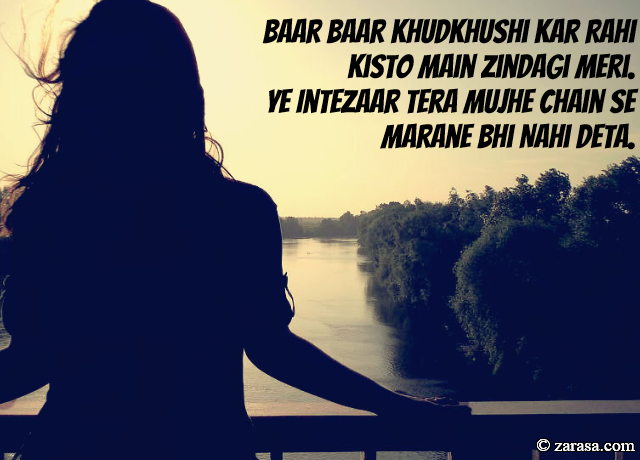 Baar Baar Khudkhushi Kar Rahi Kisto Main Zindagi Meri.
Ye Intezaar Tera Mujhe Chain Se Marne Bhi Nahi Deta.
बार बार खुदखुशी कर रही क़िस्तो मैं ज़िन्दगी मेरी .
ये इंतेज़ार तेरा मुझे चैन से मरने भी नहीं देता .
بار بار خدخشی کر رہی کستو میں زندگی میری .
یہ انتظار تیرا مجھے چین سے مرنے بھی نہیں دیتا .
---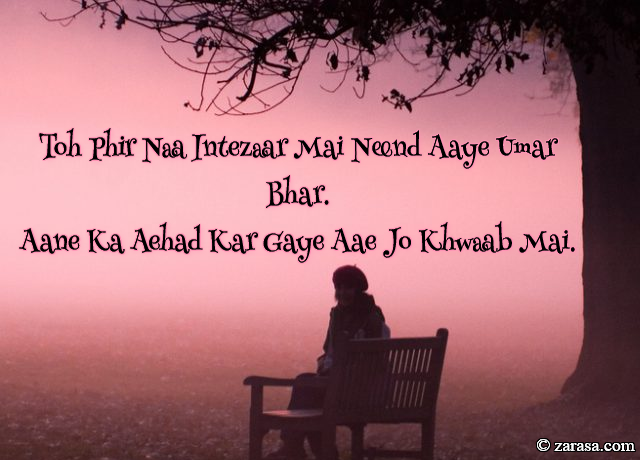 Toh Phir Naa Intezaar Mai Neend Aaye Umar Bhar.
Aane Ka Aehad Kar Gaye Aae Jo Khwaab Mai.
तोह फिर ना इंतज़ार मै नींद आये उम्र भर .
आने का एहद कर गए आए जो ख़्वाब मै .
تو پھر نا انتیزار می نیند اے عمر بھر .
آنے کا ایہد کر گئے ے جو خواب می .
---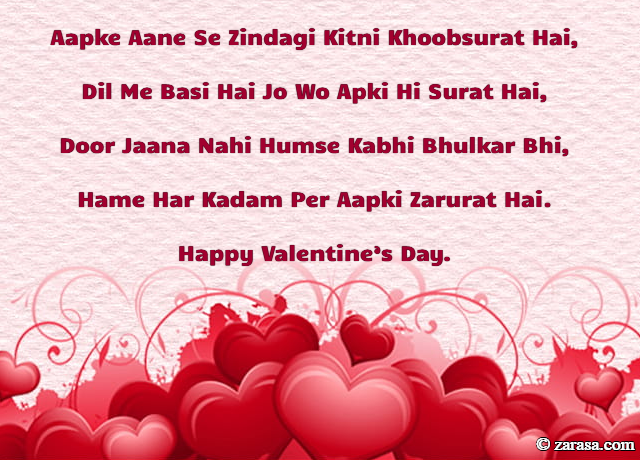 Aapke Aane Se Zindagi Kitni Kh00bsurat Hai,
Dil Me Basi Hai Jo Wo Apki Hi Surat Hai,
Door Jaana Nahi Humse Kabhi Bhulkar Bhi,
Hame Har Kadam Per Aapki Zarurat Hai.
Happy Valentine's Day.
आपके आने से ज़िन्दगी कितनी खूबसूरत है ,
दिल में बसी है जो वो आपकी ही सूरत है ,
दूर जाना नहीं हमसे कभी भूलकर भी ,
हमें हर कदम पर आपकी ज़रूरत है।
آپکے آنے سے زندگی کتنی خوبصورت ہے
دل می بسی ہے جو وہ آپکی ہی سورت ہے
دور جانا نہی ہمسے کبھی بھلکر بھی
ہمی ہر کدم پر آپکی ضرورت ہے
---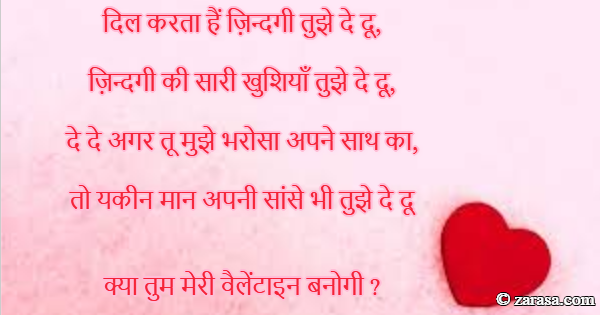 Dil Karta Hai Zindagi Tujhe De Doon,
Zindagi Ki Saari Khushiyan Tujhe De Doon,
De De Agar tu Mujhe Bharosa Apne Saath Ka,
Toh Yakeen Maan Apni Saanse Bhi Tujhe De Doon.
WILL YOU BE MY VALENTINE?
दिल करता हैं ज़िन्दगी तुझे दे दू,
ज़िन्दगी की सारी खुशियाँ तुझे दे दू,
दे दे अगर तू मुझे भरोसा अपने साथ का,
तो यकीन मान अपनी सांसे भी तुझे दे दू

क्या तुम मेरी वैलेंटाइन बनोगी ?
دل کرتا ہے زندگی تجھے دے دو
زندگی کی ساری خوشیاں تجھے دے دو
دے دے اگر تو مجھے بھروسا اپنے ساتھ کا
تو یکین ماں اپنی سانسے بھی تجھے دے دو
---