Shayari On Valentines Day " लफ़्ज़ों में क्या तारीफ करु आपकी "
|
 Lafzon Me Kya Taarif Karu Aapki,
Aap Lafzon Me Kaise Sama Paoge,
Jb Log Hamare Pyar Ke Bare Me Puchenge,
Meri Aankho Me Jaaneman Sirf Tum Nazar Aoge.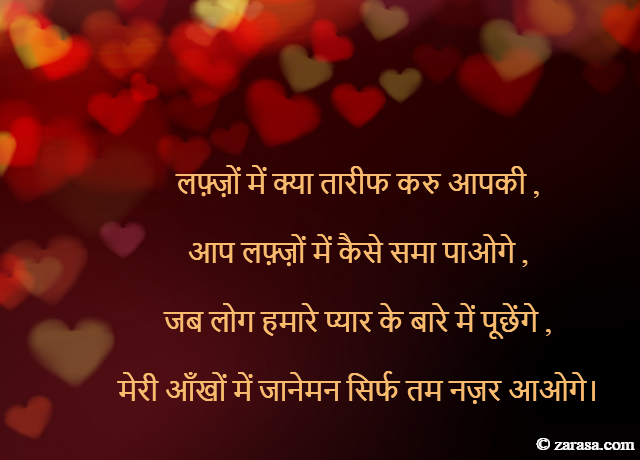 ---

लफ़्ज़ों में क्या तारीफ करु आपकी ,
आप लफ़्ज़ों में कैसे समा पाओगे ,
जब लोग हमारे प्यार के बारे में पूछेंगे ,
मेरी आँखों में जानेमन सिर्फ तम नज़र आओगे।


---

لفظوں می کیا تعارف کرو آپکی
آپ لفظوں می کیسے سما پاؤگے
جب لوگ ہمارے پیار کے بارے مے پچینگے
میری آنکوں مے جانیمن صرف تم نظر آؤگے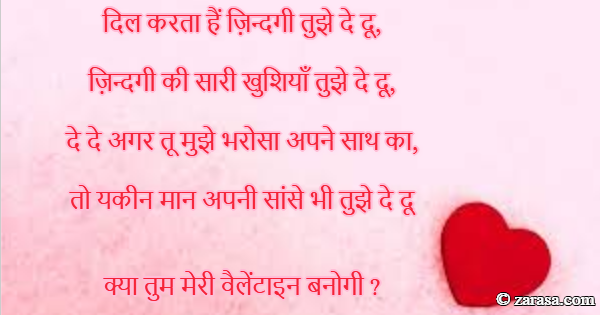 Dil Karta Hai Zindagi Tujhe De Doon,
Zindagi Ki Saari Khushiyan Tujhe De Doon,
De De Agar tu Mujhe Bharosa Apne Saath Ka,
Toh Yakeen Maan Apni Saanse Bhi Tujhe De Doon.
WILL YOU BE MY VALENTINE?
दिल करता हैं ज़िन्दगी तुझे दे दू,
ज़िन्दगी की सारी खुशियाँ तुझे दे दू,
दे दे अगर तू मुझे भरोसा अपने साथ का,
तो यकीन मान अपनी सांसे भी तुझे दे दू

क्या तुम मेरी वैलेंटाइन बनोगी ?
دل کرتا ہے زندگی تجھے دے دو
زندگی کی ساری خوشیاں تجھے دے دو
دے دے اگر تو مجھے بھروسا اپنے ساتھ کا
تو یکین ماں اپنی سانسے بھی تجھے دے دو
---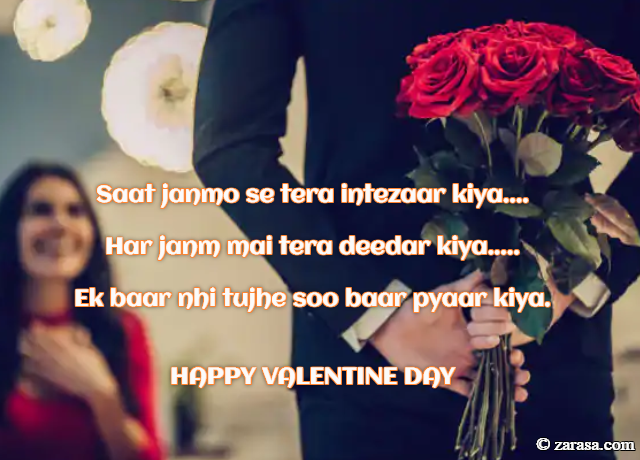 Saat janmo se tera intezaar kiya....
Har janm mai tera deedar kiya.....
Ek baar nhi tujhe soo baar pyaar kiya.

HAPPY VALENTINE DAY
सात जन्मो से तेरा इंतज़ार किया…
हर जन्म में तेरा दीदार किया…..
एक बार नहीं तुझे सौ बार प्यार किया.

HAPPY VALENTINE DAY
سات جنمو سے تیرا انتظار کیا
ہر جنم می تیرا دیدار کیا
ایک بار نہی سو بار پیار کیا
---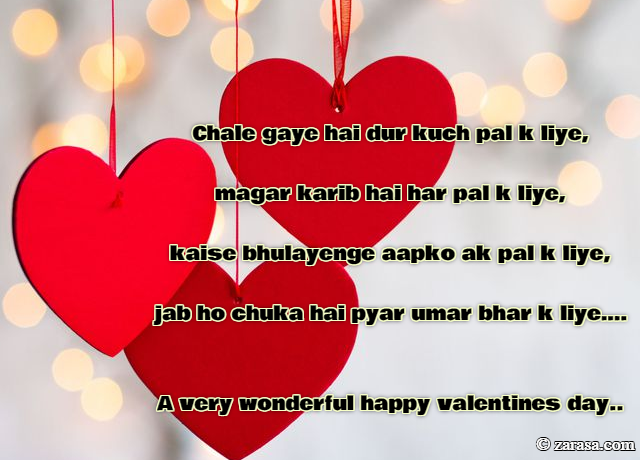 Chale gaye hai dur kuch pal k liye,
magar karib hai har pal k liye,
kaise bhulayenge aapko ak pal k liye,
jab ho chuka hai pyar umar bhar k liye….
A very wonderful happy valentines day..
चले गए है दूर कुछ पल के लिए ,
मगर करीब है हर पल के लिए ,
कैसे भुलाएँगे आपको एक पल के लिए ,
जब हो चुका है प्यार उम्र भर के लिए। ..
چلے گئے ہے دور کچھ پل کے لئے
مگر کرب ہے ہر پل کے لئے
کیسے بھولینگے آپکو ایک پل کے لئے
جب ہو چوکا ہے پیار امار بھر کے لئے
---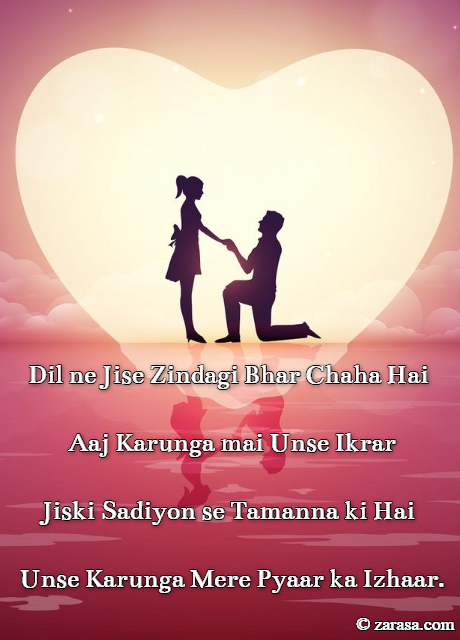 Dil ne jise zindagi bhar chaha hai
Aaj karunga mai unse ikrar
Jiski sadiyon se tamanna ki hai
Unse karunga mere pyaar ka Izhaar.
दिल ने जिसे ज़िन्दगी भर चाहा है
आज करूँगा में उनसे इकरार
जिसकी सदियों से तम्मना की है
उनसे करूँगा मेरे प्यार का इजहार।
دل نے جسے زندگی بھر چاہا ہے
آج کرونگا می انسے اکرار
جسکی صدیون سے تمنّا کی ہے
انسے کرونگا میرے پیار کا اظہار
---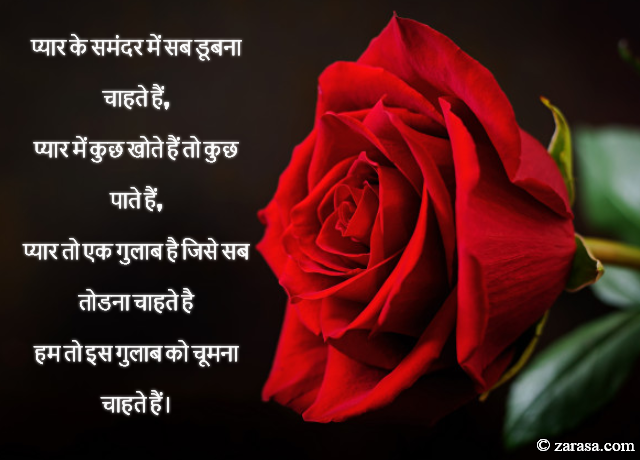 Pyaar ke Samandar Me Sab Doobna Chahte Hain,
Pyaar me Kuch Khote Hain, Toh Kuch Paate Hain,
Pyaar Toh Ek Gulaab hai Jise Sab Todna Chahte Hai,
Hum To Es Gulab Ko Chumna Chahte Hain.
प्यार के समंदर में सब डूबना चाहते हैं,
प्यार में कुछ खोते हैं तो कुछ पाते हैं,
प्यार तो एक गुलाब है जिसे सब तोडना चाहते है
हम तो इस गुलाब को चूमना चाहते हैं।
پیار کے سمندر مے سب دبنا چاہتے ہیں
پیار مے کچھ کھوتے ہیں ٹوہ کچھ پاتے ہیں
پیار ٹوہ ایک گلاب ہے جسے سب توڑنا چاہتے ہے
ہم تو یس گلاب کو چومنا چاہتے ہیں
---