Talaash Shayari "Pyaar Ki Talash Mai"
|
Pyaar Ki Talash Mai Nikla Us Dagar Pe Ja Pahucha Jaha.
Ek Taraf Zindgi Thi To Ek Taraf Maut Phir Socha Pyaar To Mila Nhi Sabse Achhi Maut.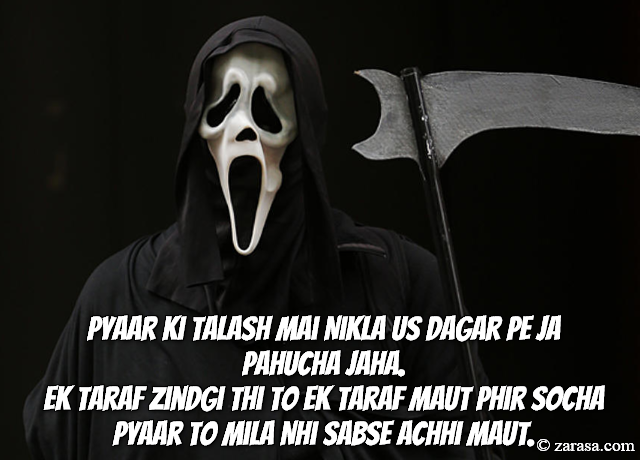 ---

प्यार की तलाश में निकला उस डगर पे जा पंहुचा जहा .
एक तरफ ज़िंदगी थी तो एक तरफ मौत फिर सोचा प्यार तो मिला नहीं सबसे अच्छी मौत .


---

پیار کی تلاش مے نکلا اس دگر پی جا پہچا جہا .
ایک طرف زندگی تھی تو ایک طرف موت پھر سوچا پیار تو ملا نہی سبسے اچھی موت .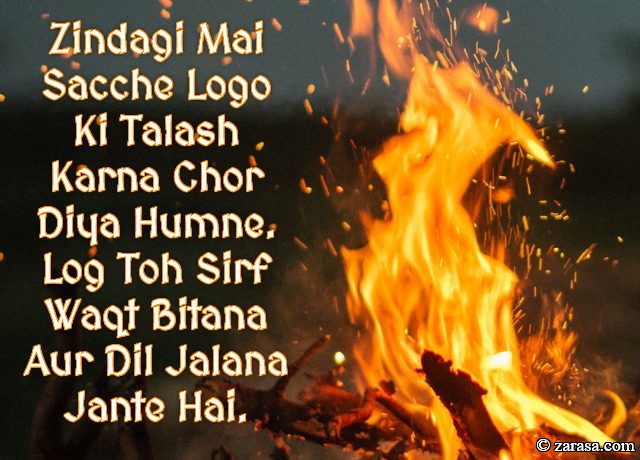 Zindagi Mai Sacche Logo Ki Talash Karna Chor Diya Humne.
Log Toh Sirf Waqt Bitana Aur Dil Jalana Jante Hai.
ज़िन्दगी मै सच्चे लोगो की तलाश करना छोड़ दिया हमने .
लोग तोह सिर्फ वक़्त बिताना और दिल जलना जानते है .



زندگی می سکچے لوگو کی تلاش کرنا چھوڑ دیا ہمنے .
لوگ ٹوہ صرف وقت بتانا اور دل جلانا جانتے ہے .



---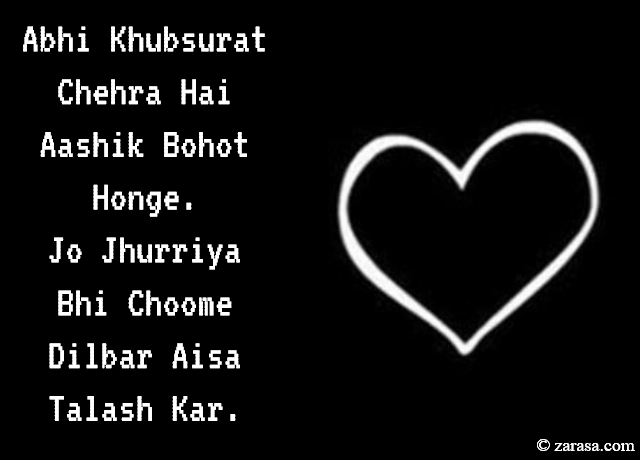 Abhi Khubsurat Chehra Hai Aashik Bohot Honge.
Jo Jhurriya Bhi Choome Dilbar Aisa Talash Kar.
अभी खूबसूरत चेहरा है आशिक बोहोत होंगे .
जो झुर्रिया भी चूमे दिलबर ऐसा तलाश कर .
ابھی خوبصورت چہرہ ہے اشک بوہوت ہونگے .
جو جھرریا بھی چومے دلبر ایسا تلاش کر .
---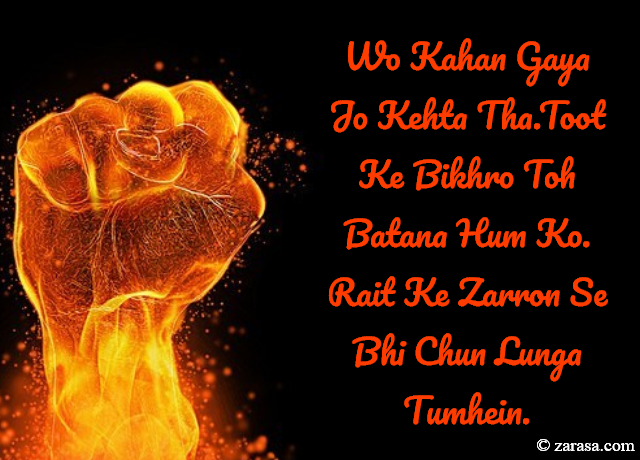 Wo Kahan Gaya Jo Kehta Tha.Toot Ke Bikhro Toh Batana Hum Ko.
Rait Ke Zarron Se Bhi Chun Lunga Tumhein.
वो कहाँ गया जो कहता था .तूट के बिखरो तोह बताना हम को .
राइट के ज़र्रों से भी चुन लूंगा तुम्हें .

وو کہاں گیا جو کہتا تھا .ٹوٹ کے بخرو تو بتانا ہم کو .
ریت کے زرروں سے بھی چن لونگا تمھیں .

---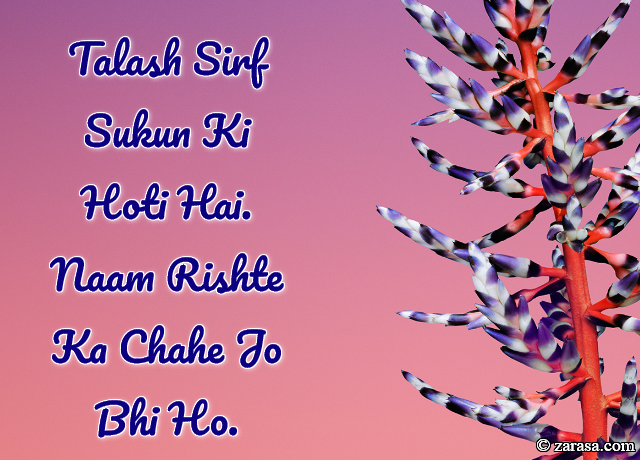 Talash Sirf Sukun Ki Hoti Hai.
Naam Rishte Ka Chahe Jo Bhi Ho.
तलाश सिर्फ सुकून की होती है .
नाम रिश्ते का चाहे जो भी हो .

تلاش صرف سکوں کی ہوتی ہے .
نام رشتے کا چاہے جو بھی ہو .

---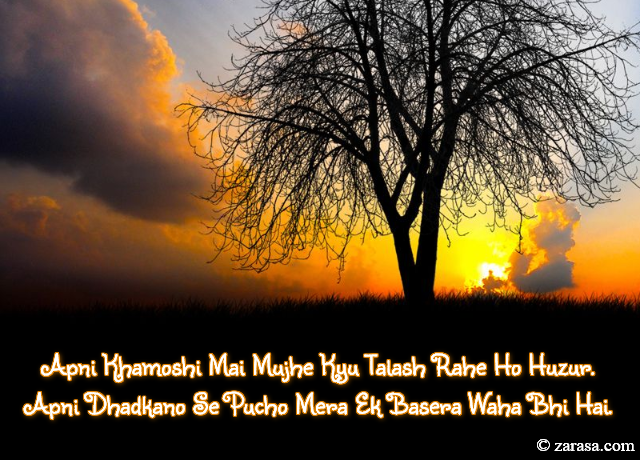 Apni Khamoshi Mai Mujhe Kyu Talash Rahe Ho Huzur.
Apni Dhadkano Se Pucho Mera Ek Basera Waha Bhi Hai.

अपनी ख़ामोशी मई मुझे क्यों तलाश रहे हो हुज़ूर .
अपनी धड़कनो से पूछो मेरा एक बसेरा वहा भी है .

اپنی خاموشی می مجھے کیو تلاش رہے ہو حضر .
اپنی دھدکانو سے پچو میرا ایک بسیرا وہا بھی ہے .
---