Talaash Shayari "Pyaar Ki Talash Mai"
|
Pyaar Ki Talash Mai Nikla Us Dagar Pe Ja Pahucha Jaha.
Ek Taraf Zindgi Thi To Ek Taraf Maut Phir Socha Pyaar To Mila Nhi Sabse Achhi Maut.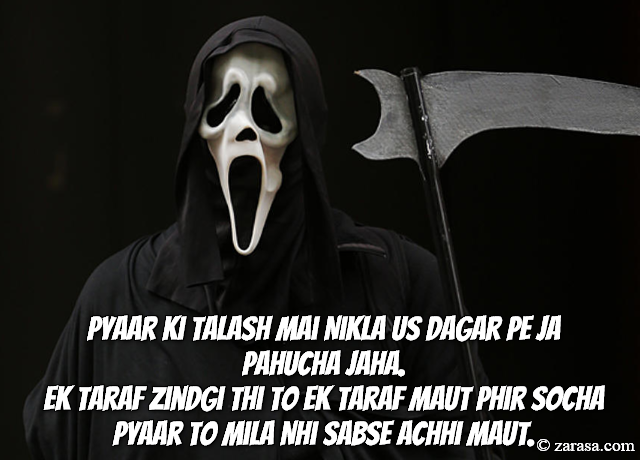 ---

प्यार की तलाश में निकला उस डगर पे जा पंहुचा जहा .
एक तरफ ज़िंदगी थी तो एक तरफ मौत फिर सोचा प्यार तो मिला नहीं सबसे अच्छी मौत .


---

پیار کی تلاش مے نکلا اس دگر پی جا پہچا جہا .
ایک طرف زندگی تھی تو ایک طرف موت پھر سوچا پیار تو ملا نہی سبسے اچھی موت .


Umar Bhar Rahi Faqat Wafa Ki Talash.
Par Har Shaks Mujhko Hi Kyun Bewafa Mila.


उम्र भर रही फ़क़त वफ़ा की तलाश .
पर हर शख्स मुझको ही क्यों बेवफा मिला .


امر بھر رہی فقط وفا کی تلاش .
پر ہر شکس مجھکو ہی کیوں بیوفا ملا .

[ssba-buttons]
---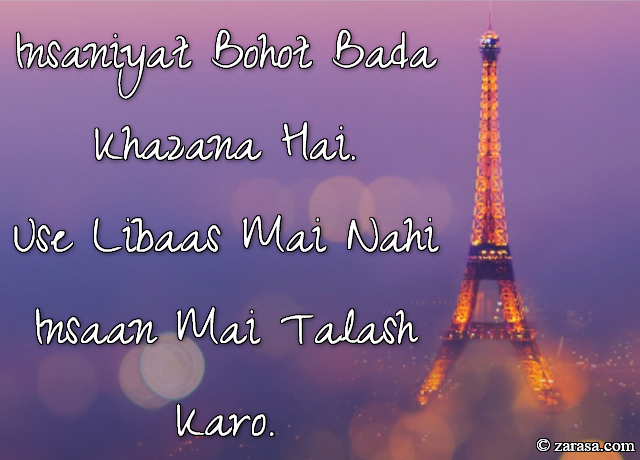 Insaniyat Bohot Bada Khazana Hai.
Use Libaas Mai Nahi Insaan Mai Talash Karo.


इंसानियत बोहोत बड़ा खज़ाना है .
उसे लिबास मै नहीं इंसान मै तलाश करो .


انسانیت بوہوت بد خزانہ ہے .
اسے لباس می نہیں انسان می تلاش کرو .

[ssba-buttons]
---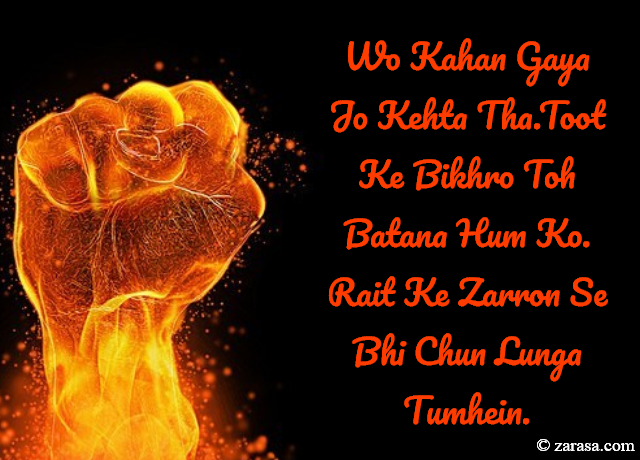 Wo Kahan Gaya Jo Kehta Tha.Toot Ke Bikhro Toh Batana Hum Ko.
Rait Ke Zarron Se Bhi Chun Lunga Tumhein.

वो कहाँ गया जो कहता था .तूट के बिखरो तोह बताना हम को .
राइट के ज़र्रों से भी चुन लूंगा तुम्हें .


وو کہاں گیا جو کہتا تھا .ٹوٹ کے بخرو تو بتانا ہم کو .
ریت کے زرروں سے بھی چن لونگا تمھیں .


[ssba-buttons]
---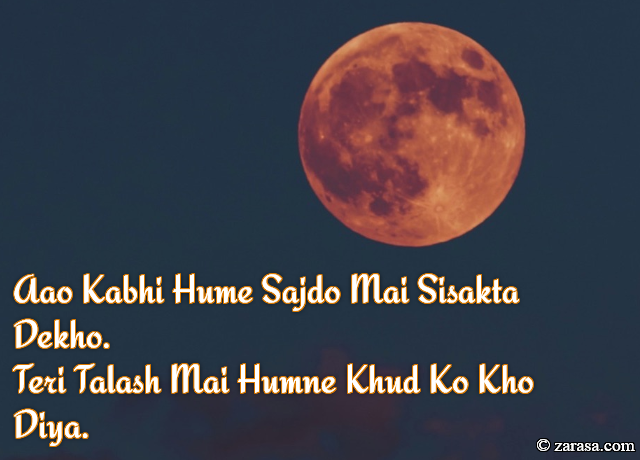 Aao Kabhi Hume Sajdo Mai Sisakta Dekho.
Teri Talash Mai Humne Khud Ko Kho Diya.

आओ कभी हमे सजदों मई सिसकता देखो .
तेरी तलाश मै हमने खुद को खो दिया .

او کبھی ہمے سجدو می سسکتا دیکھو .
تیری تلاش می ہمنے خود کو کھو دیا .

[ssba-buttons]
---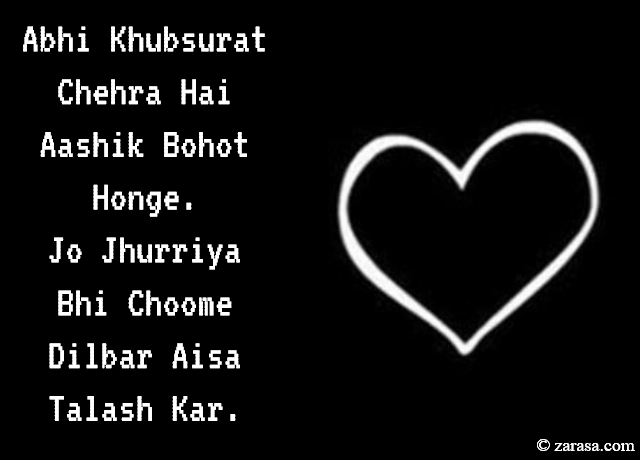 Abhi Khubsurat Chehra Hai Aashik Bohot Honge.
Jo Jhurriya Bhi Choome Dilbar Aisa Talash Kar.

अभी खूबसूरत चेहरा है आशिक बोहोत होंगे .
जो झुर्रिया भी चूमे दिलबर ऐसा तलाश कर .

ابھی خوبصورت چہرہ ہے اشک بوہوت ہونگے .
جو جھرریا بھی چومے دلبر ایسا تلاش کر .

[ssba-buttons]
---