Talaash Shayari "Talash Karna Chor Diya Humne"
|
Zindagi Mai Sacche Logo Ki Talash Karna Chor Diya Humne.
Log Toh Sirf Waqt Bitana Aur Dil Jalana Jante Hai.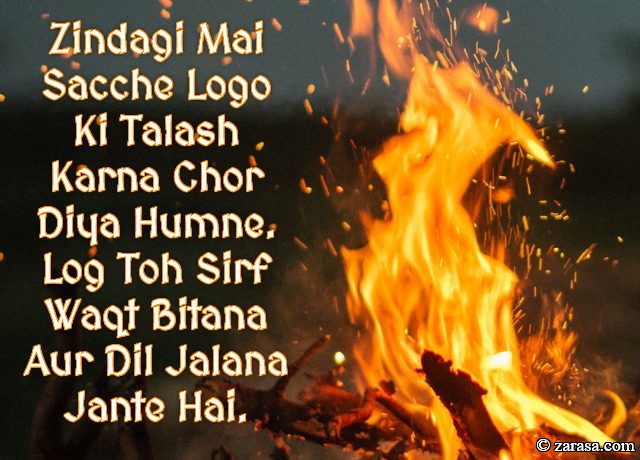 ---

ज़िन्दगी मै सच्चे लोगो की तलाश करना छोड़ दिया हमने .
लोग तोह सिर्फ वक़्त बिताना और दिल जलना जानते है .





---

زندگی می سکچے لوگو کی تلاش کرنا چھوڑ دیا ہمنے .
لوگ ٹوہ صرف وقت بتانا اور دل جلانا جانتے ہے .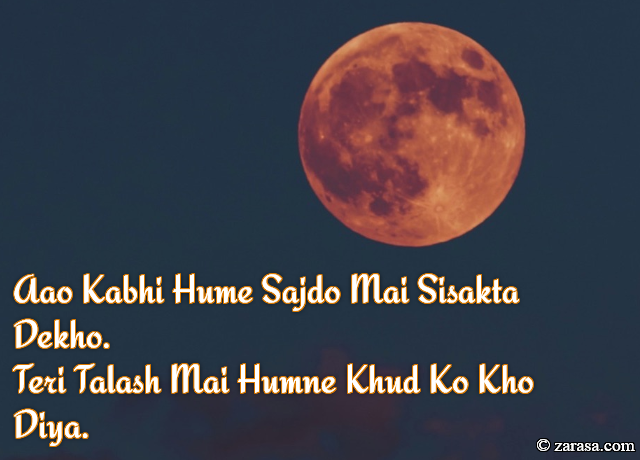 Aao Kabhi Hume Sajdo Mai Sisakta Dekho.
Teri Talash Mai Humne Khud Ko Kho Diya.
आओ कभी हमे सजदों मई सिसकता देखो .
तेरी तलाश मै हमने खुद को खो दिया .
او کبھی ہمے سجدو می سسکتا دیکھو .
تیری تلاش می ہمنے خود کو کھو دیا .
---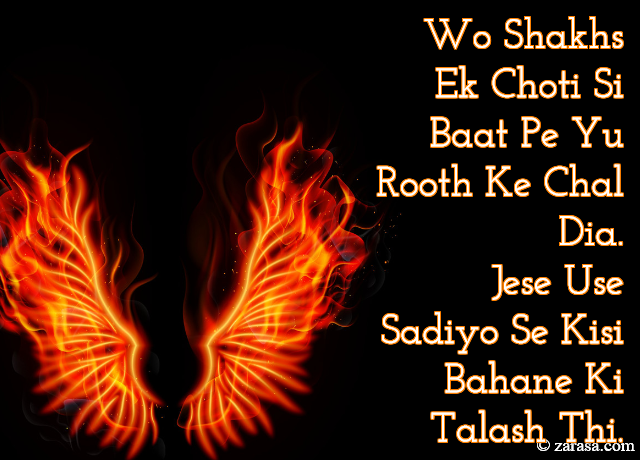 Wo Shakhs Ek Choti Si Baat Pe Yu Rooth Ke Chal Dia.
Jese Use Sadiyo Se Kisi Bahane Ki Talash Thi.
वो शख्स एक छोटी सी बात पे यु रूठ के चल दिए .
जैसे उसे सदियों से किसी बहाने की तलाश थी .

وو شخص ایک چوٹی سی بات پی یو روٹھ کے چل دیا .
جیسے اسے صدیو سے کسی بہانے کی تلاشک تھی .

---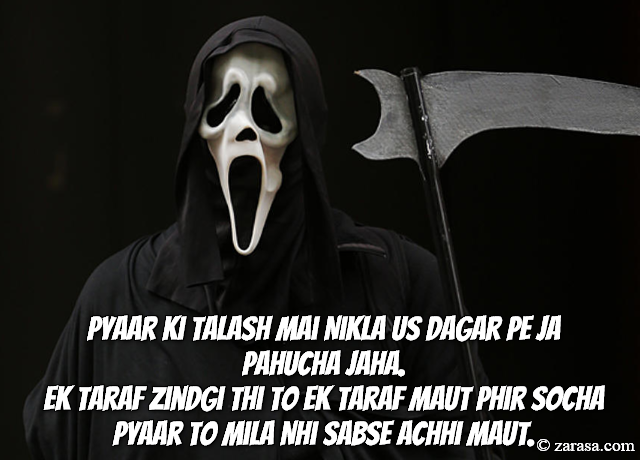 Pyaar Ki Talash Mai Nikla Us Dagar Pe Ja Pahucha Jaha.
Ek Taraf Zindgi Thi To Ek Taraf Maut Phir Socha Pyaar To Mila Nhi Sabse Achhi Maut.
प्यार की तलाश में निकला उस डगर पे जा पंहुचा जहा .
एक तरफ ज़िंदगी थी तो एक तरफ मौत फिर सोचा प्यार तो मिला नहीं सबसे अच्छी मौत .
پیار کی تلاش مے نکلا اس دگر پی جا پہچا جہا .
ایک طرف زندگی تھی تو ایک طرف موت پھر سوچا پیار تو ملا نہی سبسے اچھی موت .
---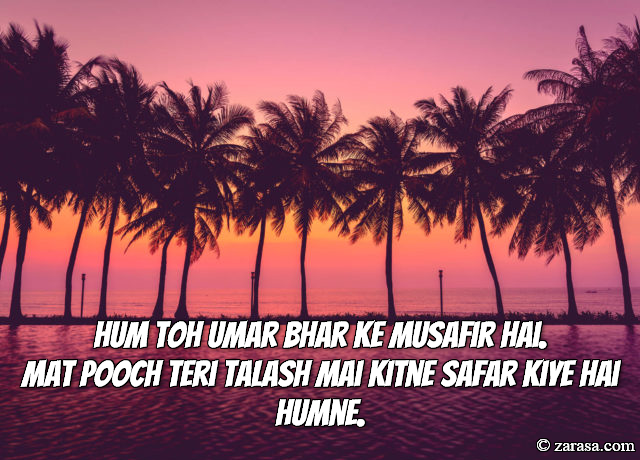 Hum Toh Umar Bhar Ke Musafir Hai.
Mat Pooch Teri Talash Mai Kitne Safar Kiye Hai Humne.
हम तोह उम्र भर के मुसाफिर है .
मत पूछ तेरी तलाश मई कितने सफर किये है हमने .

ہم ٹوہ امر بھر کے مسافر ہے .
مت پوچھ تیری تلاش می کتنے سفر کے ہے ہمنے .

---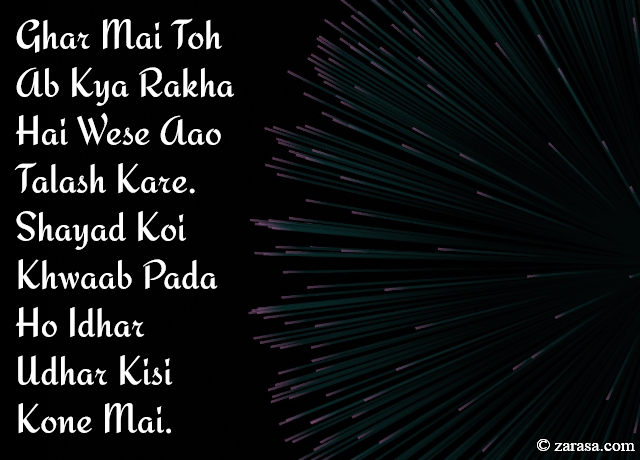 Ghar Mai Toh Ab Kya Rakha Hai Wese Aao Talash Kare.
Shayad Koi Khwaab Pada Ho Idhar Udhar Kisi Kone Mai.
घर मै तो अब क्या रखा है वैसे आओ तलाश करे .
शायद कोई ख्वाब पड़ा हो इधर उधर किसी कोने मै .



گھر می ٹوہ اب کیا رکھا ہے ویسے او تلاش کرے .
شاید کوئی خواب پڑا ہو ادھر ادھر کسی کونے می .



---