Shayari for Happiness (Smile) "Nazar Ko Badlo To Nazare Badal Jate Hai"
|
Nazar Ko Badlo To Nazare Badal Jate Hai,
Soch Ko Badlo To sitare Badal Jate Hai,
Kashtiya Badal Ne Ki Zarurat Nahi,
Disha Ko Badlo To Kinare Khud-b-Khud Badal Jate Hai.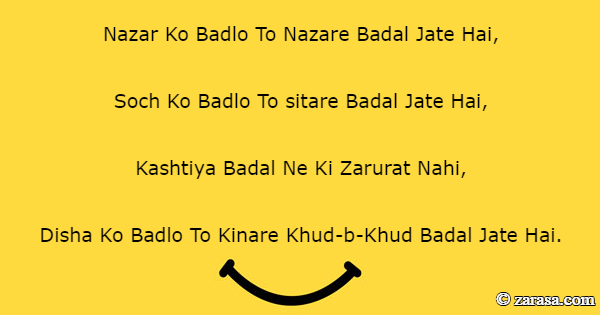 ---

नज़र को बदलो तो नज़ारे बदल जाते है,
सोच को बदलो तो सितारे बदल जाते है,
कश्तिया बदल ने की ज़रूरत नहीं ,
दिशा को बदलो तो किनारे खुद बा खुद बदल जाते है।


---

نظر کو بفلو تو نظارے بدل جاتے ہے
سوچ کو بدلو تو ستارے بدل جاتے ہے
کشتیا بدل نے کی ضرورت نہیں
دشا کو بدلو تو کنارے خود با خود بدل جاتے ہے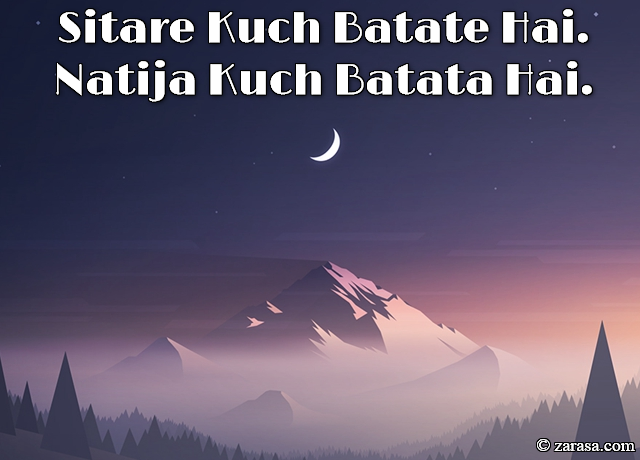 Sitare Kuch Batate Hai.
Natija Kuch Batata Hai.
सितारे कुछ बताते है .
नतीजा कुछ बताता है .
ستارے کچھ بتات ہے .
نتیجہ کچھ بتاتا ہے .
---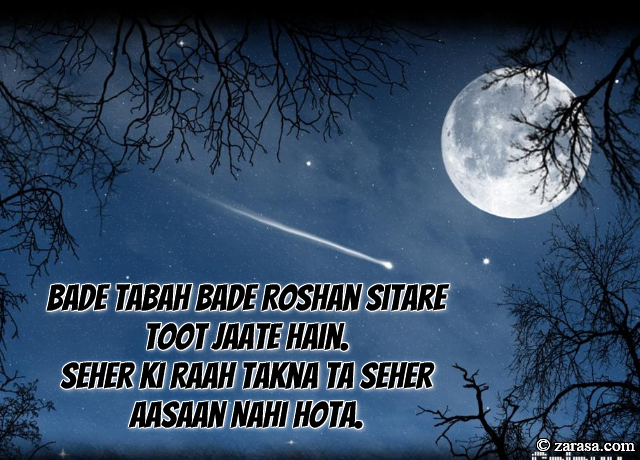 Bade Tabah Bade Roshan Sitare Toot Jaate Hain.
Seher Ki Raah Takna Ta Seher Aasaan Nahi Hota.
बड़े तबाह बड़े रोशन सितारे तूट जाते हैं .
सेहर की राह ताकना ता सेहर आसान नहीं होता .

بدی تباہ بدی روشن ستارے ٹوٹ جاتے ہیں .
سہر کی راہ تکنا تا سہر آسان نہیں ہوتا .

---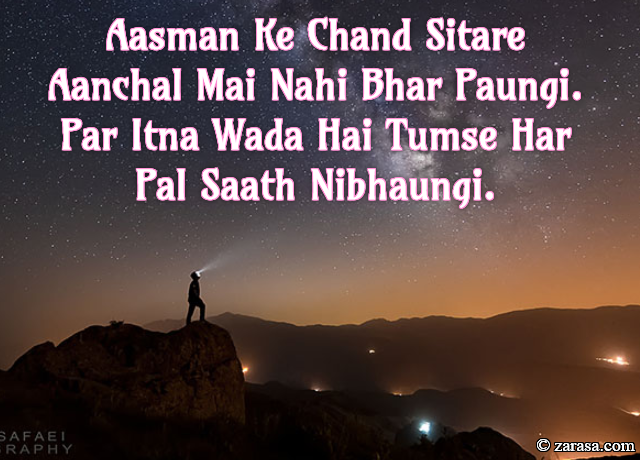 Aasman Ke Chand Sitare Aanchal Mai Nahi Bhar Paungi.
Par Itna Wada Hai Tumse Har Pal Saath Nibhaungi.

आसमान के चाँद सितारे आँचल मै नहीं भर पाऊँगी .
पर इतना वादा है तुमसे हर पल साथ निभाऊंगी .



آسمان کے چند ستارے آنچل می نہیں بھر پونگی .
پر اتنا وداع ہے تمسے ہر پل ساتھ نبھونگی .


---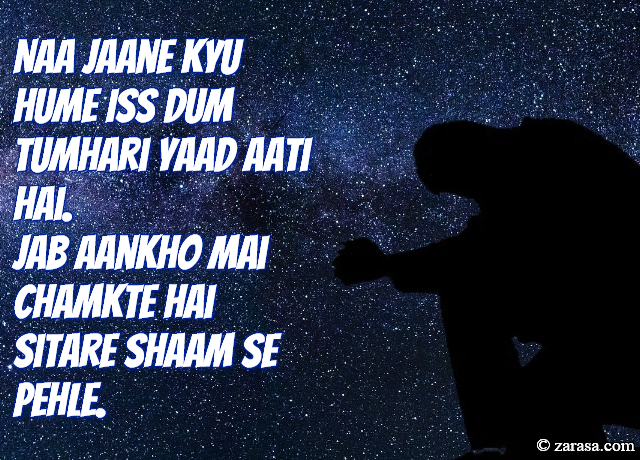 Naa Jaane Kyu Hume Iss Dum Tumhari Yaad Aati Hai.
Jab Aankho Mai Chamkte Hai Sitare Shaam Se Pehle.
ना जाने क्यों हमे इस दम तुम्हारी याद आती है .
जब आँखों मई चमकते है सितारे शाम से पहले .
نا جانے کیو ہمے اسس دم تمہاری یاد آتی ہے .
جب آنکھو می چمکتے ہے ستارے شام سے پہلے .
---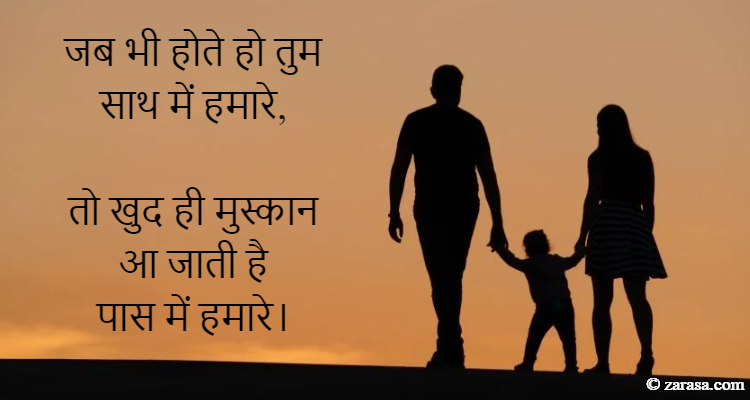 Jab Bhi Hote Ho Tum Saath Me Hamare,
To Khud Hi Muskan Aajati Hai Pass Me Hamare.
जब भी होते हो तुम साथ में हमारे,
तो खुद ही मुस्कान आ जाती है पास में हमारे।
جب بھی ہوتے ہو تم ساتھ مے ہمارے
تو خود ہی مسکن آجاتی ہے پاس مے ہمارے
---