Sitare Shayari "Bichad Gaya Jo Sitara"
|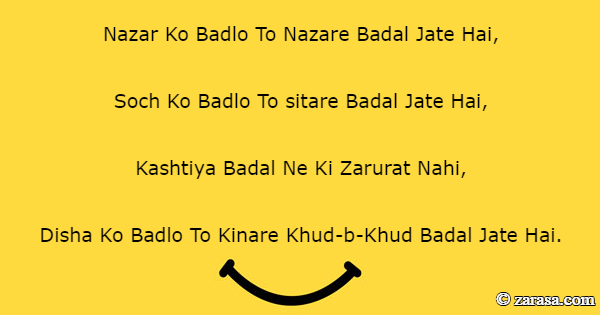 Nazar Ko Badlo To Nazare Badal Jate Hai,
Soch Ko Badlo To sitare Badal Jate Hai,
Kashtiya Badal Ne Ki Zarurat Nahi,
Disha Ko Badlo To Kinare Khud-b-Khud Badal Jate Hai.
नज़र को बदलो तो नज़ारे बदल जाते है,
सोच को बदलो तो सितारे बदल जाते है,
कश्तिया बदल ने की ज़रूरत नहीं ,
दिशा को बदलो तो किनारे खुद बा खुद बदल जाते है।
نظر کو بفلو تو نظارے بدل جاتے ہے
سوچ کو بدلو تو ستارے بدل جاتے ہے
کشتیا بدل نے کی ضرورت نہیں
دشا کو بدلو تو کنارے خود با خود بدل جاتے ہے
---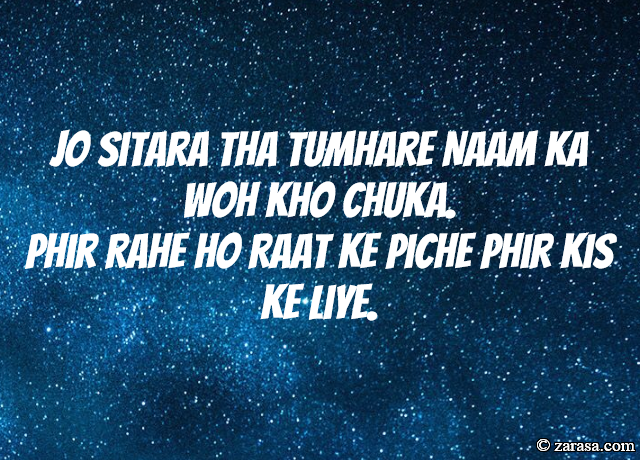 Jo Sitara Tha Tumhare Naam Ka Woh Kho Chuka.
Phir Rahe Ho Raat Ke Piche Phir Kis Ke Liye.
जो सितारा था तुम्हारे नाम का वह खो चूका .
फिर रहे हो रात के पीछे फिर किस के लिए .
جو سترہ تھا تمہارے نام کا وہ کھو چکا .
پھر رہے ہو رات کے پیچھے پھر کس کے لئے .
---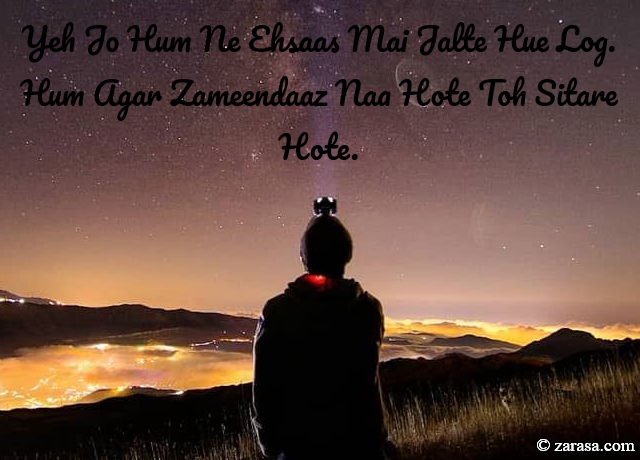 Yeh Jo Hum Ne Ehsaas Mai Jalte Hue Log.
Hum Agar Zameendaaz Naa Hote Toh Sitare Hote.
यह जो हम ने एहसास मई जलते हुए लोग .
हम अगर ज़मींदाज ना होते तोह सितारे होते .

یہ جو ہم نے احساس می جلتے ہوئے لوگ .
ہم اگر زمینداز نا ہوتے تو ستارے ہوتے .

---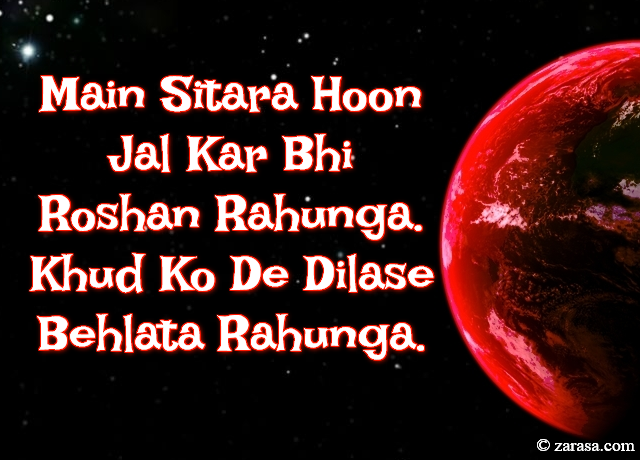 Main Sitara Hoon Jal Kar Bhi Roshan Rahunga.
Khud Ko De Dilase Behlata Rahunga.


मैं सितारा हूँ जल कर भी रोशन रहूँगा .
खुद को दे दिलसे बहलाता रहूँगा .



میں سترہ ہوں جل کر بھی روشن رہونگا .
خود کو دے دلاسے بہلاتا رہونگا .

---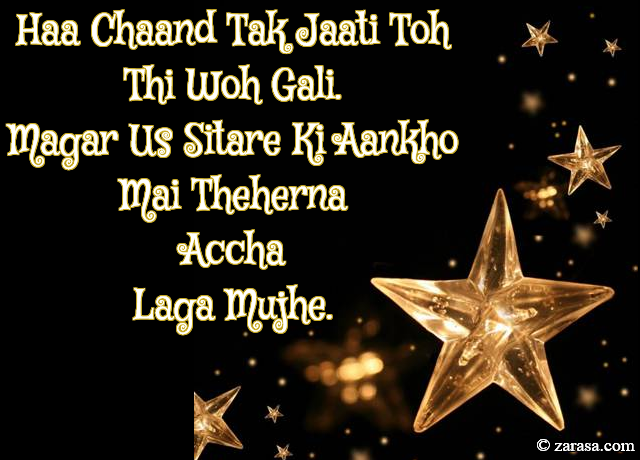 Haa Chaand Tak Jaati Toh Thi Woh Gali.
Magar Us Sitare Ki Aankho Mai Theherna Accha Laga Mujhe.
हां चाँद तक जाती तो थी वह गली .
मगर उस सितारे की आँखों मै ठहरना अच्छा लगा मुझे .
ہا چاند تک جاتی ٹوہ تھی وہ گلی .
مگر اس ستارے کی آنکھو می ٹھہرنا اکچھا لگا مجھے .
---