Sitare Shayari "Sitaare Tumhare Vaste"
|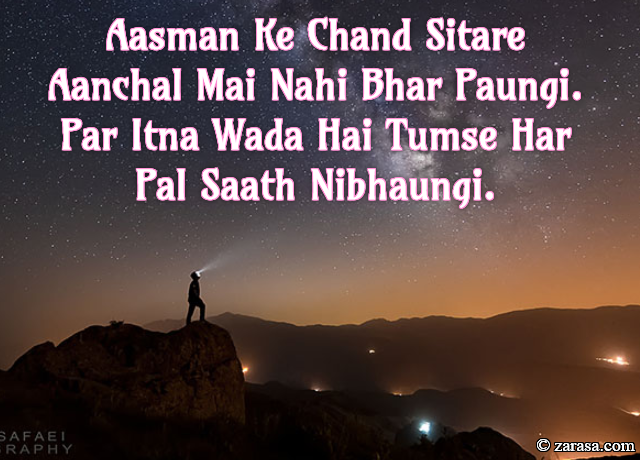 Aasman Ke Chand Sitare Aanchal Mai Nahi Bhar Paungi.
Par Itna Wada Hai Tumse Har Pal Saath Nibhaungi.

आसमान के चाँद सितारे आँचल मै नहीं भर पाऊँगी .
पर इतना वादा है तुमसे हर पल साथ निभाऊंगी .



آسمان کے چند ستارے آنچل می نہیں بھر پونگی .
پر اتنا وداع ہے تمسے ہر پل ساتھ نبھونگی .


---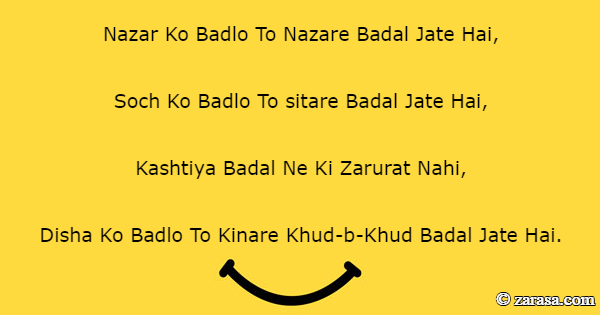 Nazar Ko Badlo To Nazare Badal Jate Hai,
Soch Ko Badlo To sitare Badal Jate Hai,
Kashtiya Badal Ne Ki Zarurat Nahi,
Disha Ko Badlo To Kinare Khud-b-Khud Badal Jate Hai.
नज़र को बदलो तो नज़ारे बदल जाते है,
सोच को बदलो तो सितारे बदल जाते है,
कश्तिया बदल ने की ज़रूरत नहीं ,
दिशा को बदलो तो किनारे खुद बा खुद बदल जाते है।
نظر کو بفلو تو نظارے بدل جاتے ہے
سوچ کو بدلو تو ستارے بدل جاتے ہے
کشتیا بدل نے کی ضرورت نہیں
دشا کو بدلو تو کنارے خود با خود بدل جاتے ہے
---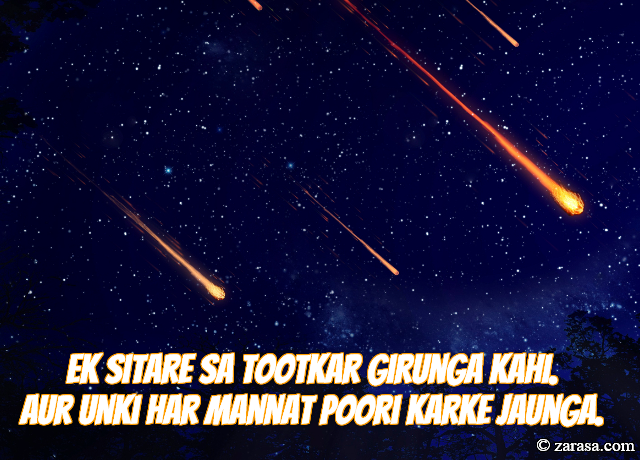 Ek Sitare Sa Tootkar Girunga Kahi.
Aur Unki Har Mannat Poori Karke Jaunga.
एक सितारे सा टूटकर गिरूंगा कही .
और उनकी हर मन्नत पूरी करके जाऊंगा .

ایک ستارے سا توتکار گرنگا کہی .
اور انکی ہر منّت پوری کرکے جاؤنگا .

---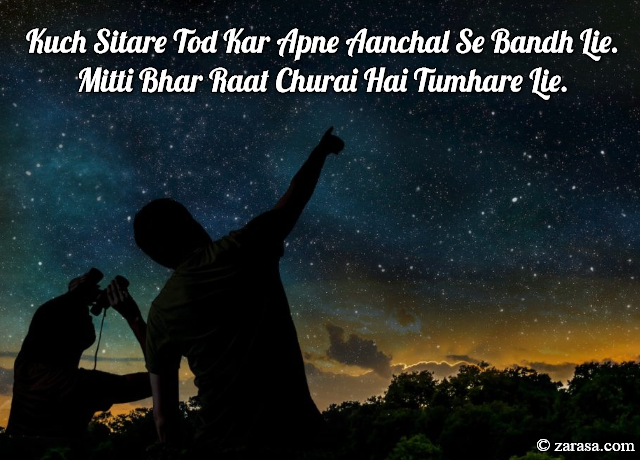 Kuch Sitare Tod Kar Apne Aanchal Se Bandh Lie.
Mitti Bhar Raat Churai Hai Tumhare Lie.

कुछ सितारे तोड़ कर अपने आँचल से बांध लिए .
मिटटी भर रात चुराई है तुम्हारे लिए .

کچھ ستارے توڈ کر اپنے آنچل سے بندہ لئے .
متی بھر رات چوری ہے تمہارے لئے .
---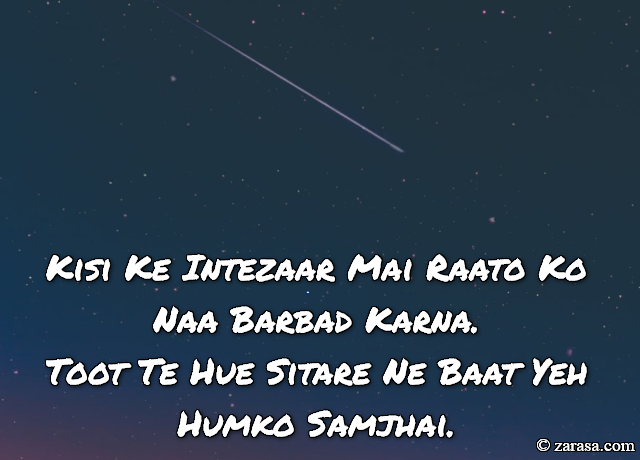 Kisi Ke Intezaar Mai Raato Ko Naa Barbad Karna.
Toot Te Hue Sitare Ne Baat Yeh Humko Samjhai.

किसी के इंतज़ार मई रातो को ना बर्बाद करना .
टूटते हुए सितारे ने बात यह हमको समझे .



کسی کے انتیزار می رہاتو کو نا برباد کرنا .
ٹوٹ تے ہوئے ستارے نے بات یہ ہمکو سمجھی .


---