Attitude Shayari "हम वो नही जो किसी के गम में मर जाये"
|
Hum Vo Nhi Jo Kisi Ke Gam Mai Mar Jaaye,
Hum Toh Vo Samaundar Hai Jo Kahin Bhi Bikhar Jaaye,
Tu Tarasta rehna Chahat Ki Bund Bund Ko,
Hum Vo Badal Hai Jo Pyaar Ban Kar Baras jaaye.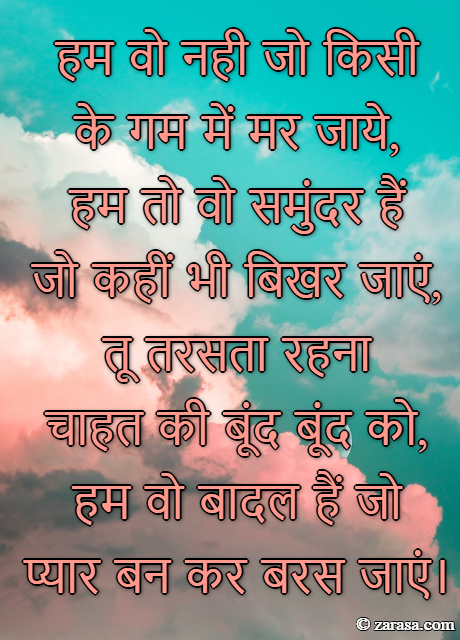 ---

हम वो नही जो किसी के गम में मर जाये,
हम तो वो समुंदर हैं जो कहीं भी बिखर जाएं,
तू तरसता रहना चाहत की बूंद बूंद को,
हम वो बादल हैं जो प्यार बन कर बरस जाएं।


---

ہم وہ نہی جو کسی کے گم می مر جائے
ہم تو وہ سمندر ہے جو کہیں بھی بکھر جائے
تو ترستا رہنا چاہت کی بوند بوند کو
ہم وہ ببادل ہیں جو پیار بن کر برس جائے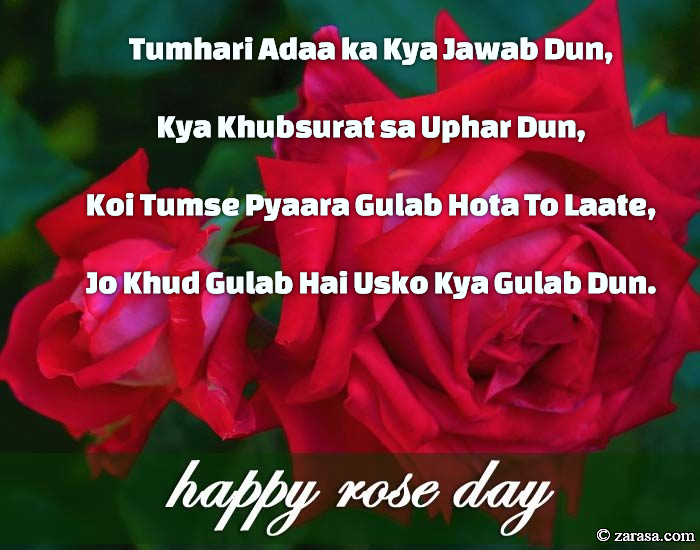 Tumhari Adaa ka Kya Jawab Dun,
Kya Khubsurat sa Uphar Dun,
Koi Tumse Pyaara Gulab Hota To Laate,
Jo Khud Gulab Hai Usko Kya Gulab Dun.
तुम्हारी अदा का क्या जवाब दूं,
क्या खूबसूरत सा उपहार दूं ,
कोई तुमसे प्यारा गुलाब होता तो लाते,
जो खुद गुलाब है उसको क्या गुलाब दूं।
تمہاری ادا کا کیا جواب دوں
کیا خوبصورت سا اپہار دوں
کوئی تمسے پیارا گلاب ہوتا تو لاتے
جو خود گلاب ہے اسکو کیا گلاب دوں
---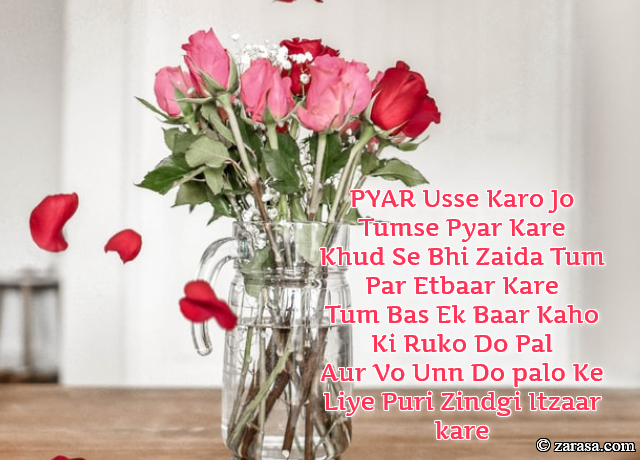 Pyar Usse Karo Jo Tumse Pyar Kare
Khud Se Bhi Zaida Tum Par Etbaar Kare
Tum Bas Ek Baar Kaho Ki Ruko Do Pal
Aur Vo Unn Do palo Ke Liye Puri Zindgi Intezaar kare
प्यार उससे करो जो तुमसे प्यार करे
कूद से भी जैड़ा तुम पर एतबार करे
तुम बस एक बार कहो की रुको दो पल
और वो उन् दो पालो के लिए पूरी ज़िंदगी इंतज़ार करे
پیار اسے کرو جو تمسے پیار کرے
خود سے بھی زیادہ تم پر عتبار کرے
تم بس ایک بار کہو کی روکو دو پل
اور وو ان دو پلو کے لئے پوری زندگی اتظار کرے
---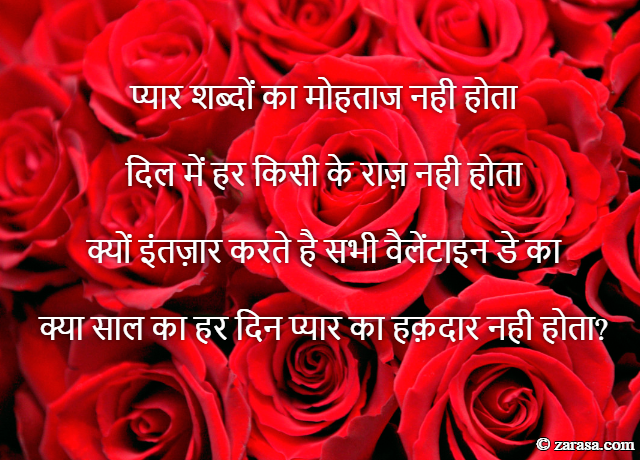 Pyaar shabdon ka mohtaj nhi hota
Dil mai har kisi ke rose nhi hota
Kyon intezaar karte hai sabhi Valentines Day ka
Kya saal ka har din pyaar ka hak daar nhi hota?
प्यार शब्दों का मोहताज नही होता
दिल में हर किसी के राज़ नही होता
क्यों इंतज़ार करते है सभी वैलेंटाइन डे का
क्या साल का हर दिन प्यार का हक़दार नही होता?
پیار شبدو کا موھتاج نہی ہوتا
دل می ہر کسی کے روس نہی ھوتا
کیو انتظار کرتے ہے سبھی والینتینس دے کا
کیا سال کا ہر دن پیار کا حکدار نہی ہوتا
---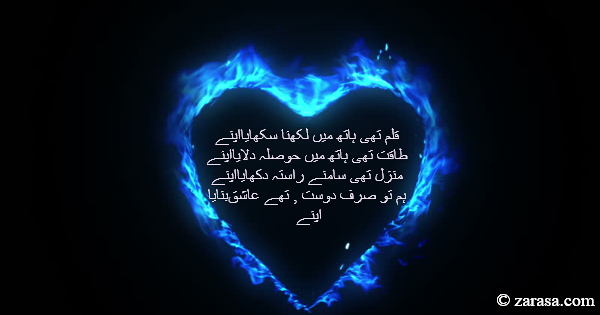 Kalam thi haath mai likhna sikhaya aapne

Taakt thi haath mai hausla Dilaya aapne

Manzil thi saamne rasta dikhaya aapne

Hm toh sirf Dost the ,Aashiq banaya aapne
कलम थी हाथ मई लिखना सिखाया आपने
ताकत थी हाथ मई हौसला दिलाया आपने
मंज़िल थी सामने रास्ता दिखाया आपने
हम तो सिर्फ दोस्त थे , आशिक़ बनाया आपने
قلم تھی ہاتھ میں لکھنا سکھایا اپنے
طاقت تھی ہاتھ میں حوصلہ دلایا اپنے
منزل تھی سامنے راستہ دکھایا اپنے
ہم تو صرف دوست تھے , عاشق بنایا اپنے
---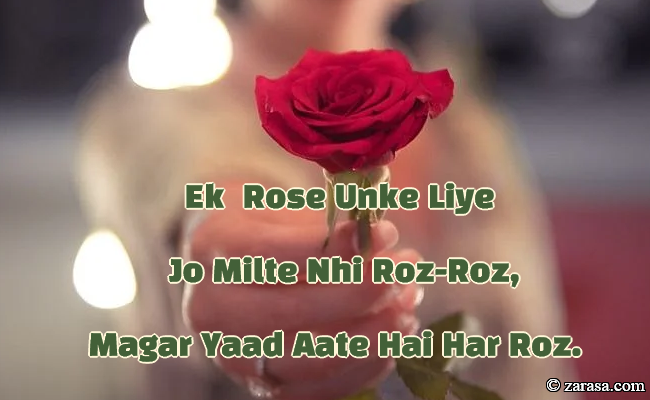 Ek  Rose Unke Liye
Jo Milte Nhi Roz-Roz,
Magar Yaad Aate Hai Har Roz.
एक रोस उनके लिए
जो मिलते नही रोज़-रोज़,
मगर याद आते है हर रोज़ |
ایک روسے انکے لئے
جو ملتے نہی روز -روز
مگر یاد آتے ہے ہر روز
---