Judaai Shayari "Tumhare Baad"
|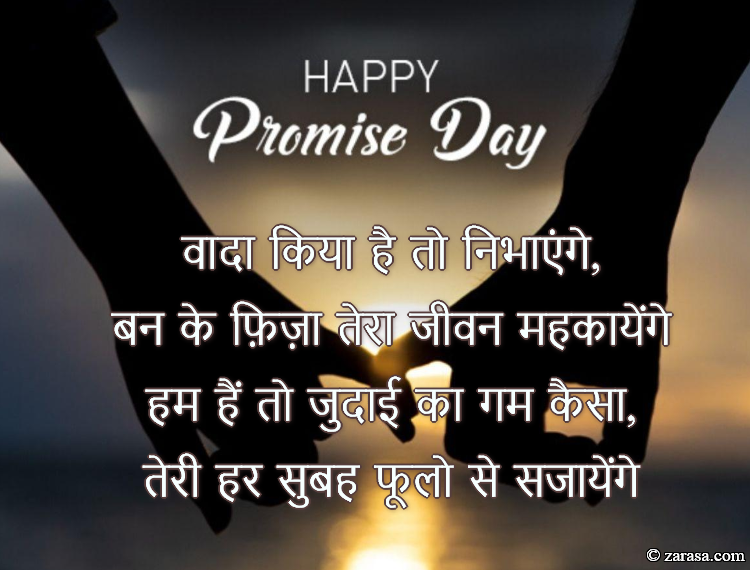 Vada Kiya Hai Toh Nibhaenge,
Ban Ke Fiza Tera Jeevan Mehkaenge
Hum Hai Toh Judaai Ka Gum Kaisa,
Teri Har Subah Phoolon Se Sajayenge
Happy Promise Day

वादा किया है तो निभाएंगे,
बन के फ़िज़ा तेरा जीवन महकायेंगे
हम हैं तो जुदाई का गम कैसा,
तेरी हर सुबह फूलो से सजायेंगे
हैप्पी प्रॉमिस डे
وادا کیا ہے تو نبھاینگے
بن کے فضا تیرا جیون محکینگے
ہم ہے توہ جدائی کا گم کیسا
تیری ہر صوبہ پھولوں سے ساجینگے
---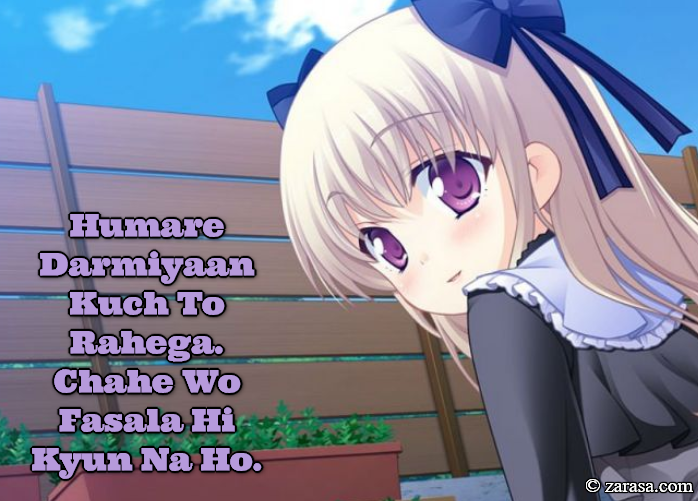 Humare Darmiyaan Kuch To Rahega.
Chahe Wo Fasala Hi Kyun Na Ho.
हमारे दरमियान कुछ तो रहेगा .
चाहे वो फैसला ही क्यों ना हो .
ہمارے درمیان کچھ تو رہیگا .
چاہے وو فاصلہ ہی کیوں نہ ہو .
---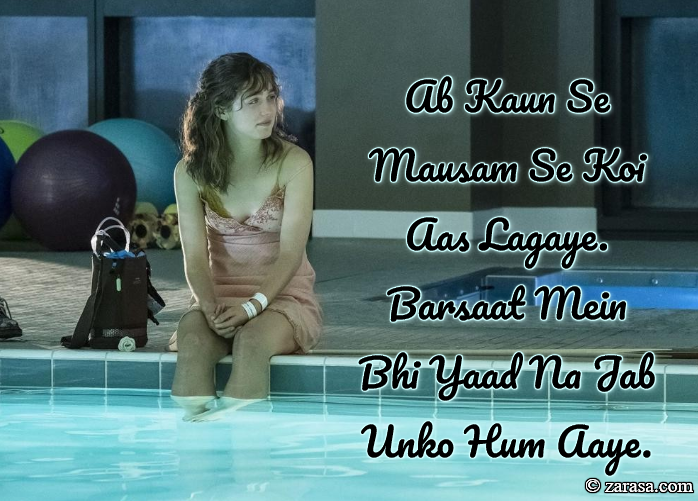 Ab Kaun Se Mausam Se Koi Aas Lagaye.
Barsaat Mein Bhi Yaad Na Jab Unko Hum Aaye.
अब कौन से मौसम से कोई आस लगाए .
बरसात में भी याद ना जब उनको हम आये .
اب کون سے موسم سے کوئی آس لگے .
برسات میں بھی یاد نہ جب انکو ہم اے .
---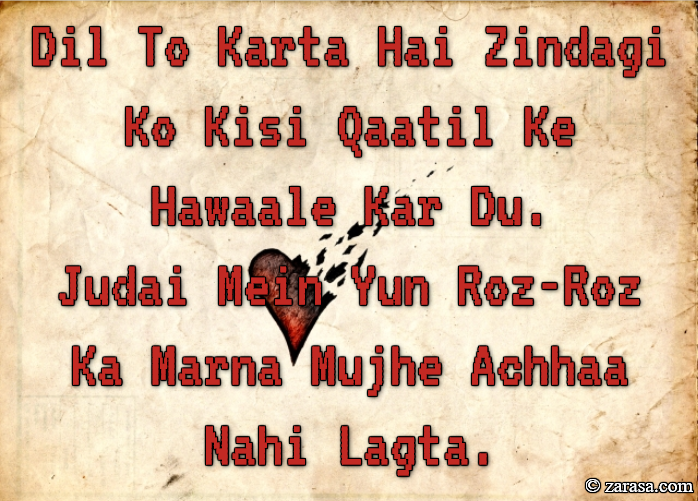 Dil To Karta Hai Zindagi Ko Kisi Qaatil Ke Hawaale Kar Du.
Judai Mein Yun Roz-Roz Ka Marna Mujhe Achhaa Nahi Lagta.
दिल तो करता है ज़िन्दगी को किसी कातिल के हवाले कर दू .
जुदाई में यूँ रोज़ -रोज़ का मरना मुझे अच्छा नहीं लगता .
دل تو کرتا ہے زندگی کو کسی قاتل کے حوالے کر دو .
جدائی میں یوں روز -روز کا مارنا مجھے اچھا نہیں لگتا .
---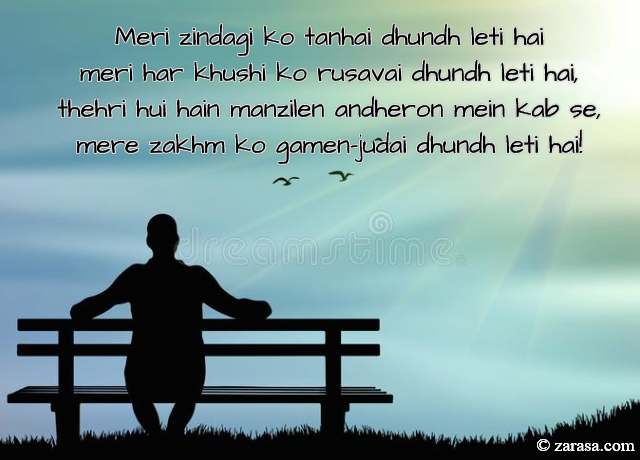 Meri zindagi ko tanhai dhundh leti hai
meri har khushi ko rusavai dhundh leti hai,
thehri hui hain manzilen andheron mein kab se,
mere zakhm ko gamen-judai dhundh leti hai!

मेरी ज़िन्दगी को तन्हाई ढूँढ लेती है,
मेरी हर खुशी को रुसवाई ढूँढ लेती है,
ठहरी हुई हैं मंजिलें अंधेरों में कबसे,
मेरे ज़ख्म को गमे-जुदाई ढूँढ लेती है!
میری زندگی کو تنہائی ڈھونڈ لیتی ہے
میری ہر خوشی کو رسوائی ڈھونڈ لیتی ہے
ٹھہری ہی ہیں منزلیں اندھیروں میں کب سے
میرے زخم کو گیم -جدائی ڈھونڈ لیتی ہے
---