Zid Shayari "Kya ajeeb si zid hai"
|
Kya ajeeb si zid hai..
hum dono ki..
teri tamanna mujhse judaa hone ki,
aur meri tamanna tere Liye tabah hone ki..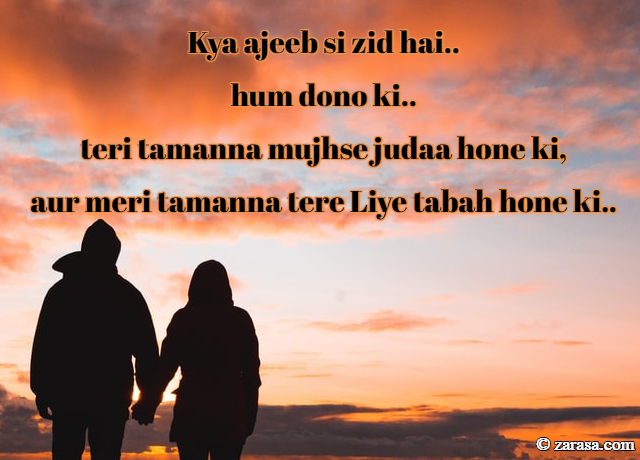 ---

क्या अजीब सी ज़िद है..
हम दोनों की,
तेरी मर्ज़ी हमसे जुदा होने की..
और मेरी तेरे पीछे तबाह होने की..


---

کیا عجیب سی زد ہے
ہم دونو کی
تیری تمنّا مجھسے جدا ہونے کی
اور میری تمنّا تیرے لئے تباہ ہونے کی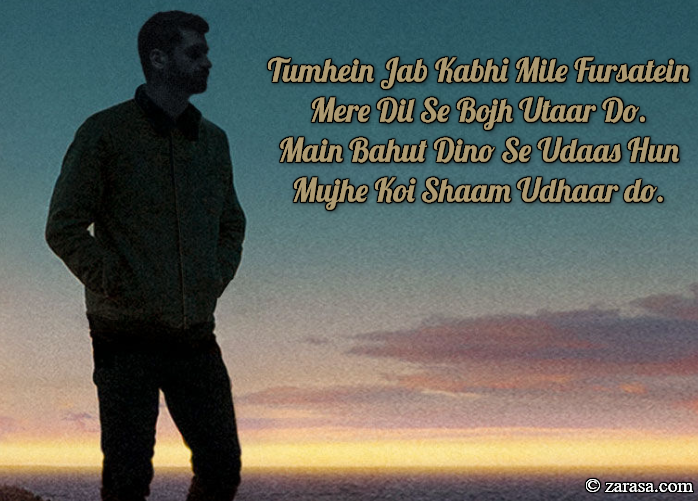 Tumhein Jab Kabhi Mile Fursatein Mere Dil Se Bojh Utaar Do.
Main Bahut Dino Se Udaas Hun Mujhe Koi Shaam Udhaar do.
तुम्हें जब कभी मिले फ़ुरसतें मेरे दिल से बोझ उतार दो .
मैं बहुत दिनों से उदास हूँ मुझे कोई शाम उधार दो .
تمھیں جب کبھی میل فرتیں میرے دل سے بوجھ اتار دو .
میں بہت دنو سے اداس ہوں مجھے کوئی شام ادھار دو .
---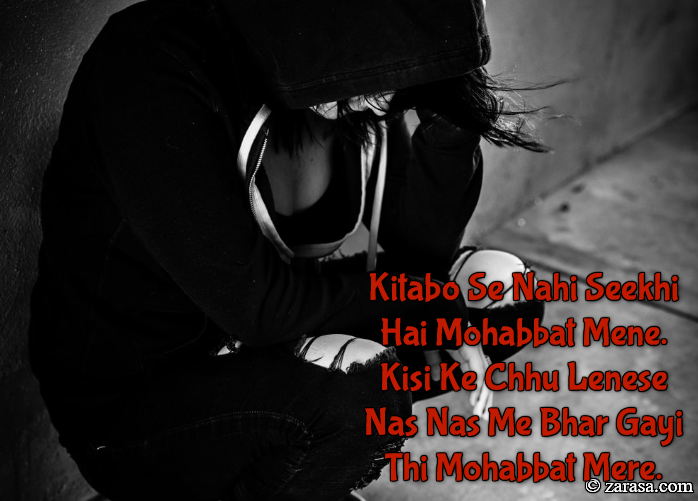 Kitabo Se Nahi Seekhi Hai Mohabbat Mene.
Kisi Ke Chhu Lenese Nas Nas Me Bhar Gayi Thi Mohabbat Mere.
किताबो से नहीं सीखी है मोहब्बत मेने .
किसी के छू लेनेसे नस नस में भर गयी थी मोहब्बत मेरे .
کتبو سے نہیں سیکھی ہے موحبّت منے .
کسی کے چھ لنسے ناس ناس مے بھر گی تھی موحبّت میرے .
---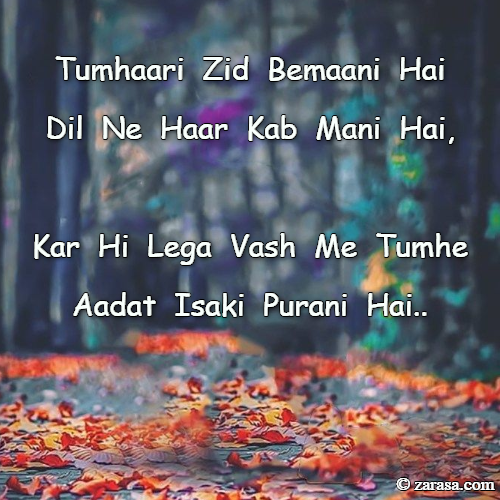 Tumhaari Zid Bemaani Hai Dil Ne Haar Kab Mani Hai,
Kar Hi Lega Vash Me Tumhe Aadat Isaki Purani Hai..
तुम्हारी ज़िद बेमानी है दिल ने हार कब मानी है,
कर ही लेगा वश में तुम्हें आदत इसकी पुरानी है.
تمہاری زد بمعنی ہے دل نے ہار کب مانی ہے
کر ہی لگا وش مے تمھ عادت اسکی پرانی ہے
---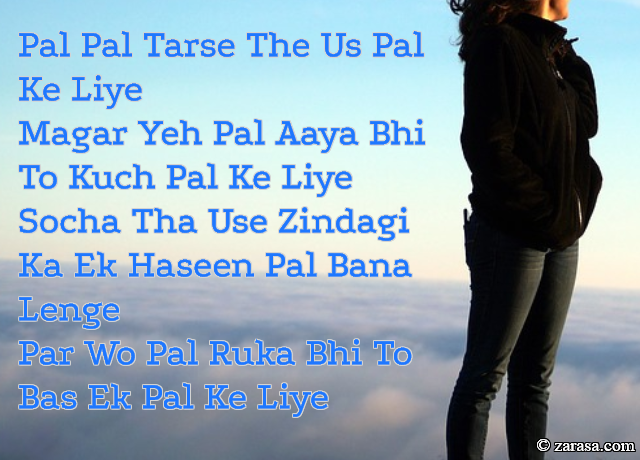 Pal Pal Tarse The Us Pal Ke Liye
Magar Yeh Pal Aaya Bhi To Kuch Pal Ke Liye
Socha Tha Use Zindagi Ka Ek Haseen Pal Bana Lenge
Par Wo Pal Ruka Bhi To Bas Ek Pal Ke Liye
पल पल तरसे थे उस पल के लिए
मगर यह पल आया भी तो कुछ पल के लिए
सोचा था उसे ज़िन्दगी का एक हसीं पल बना लेंगे
पर वो पल रुका भी तो बस एक पल के लिए
پل پل ترسے تھے اس پل کے لئے
مگر یہ پل آیا بھی تو کچھ پل کے لئے
سوچا تھا اسے زندگی کا ایک حسین پل بنا لینگے
پر وو پل روکا بھی تو بس ایک پل کے لئے
---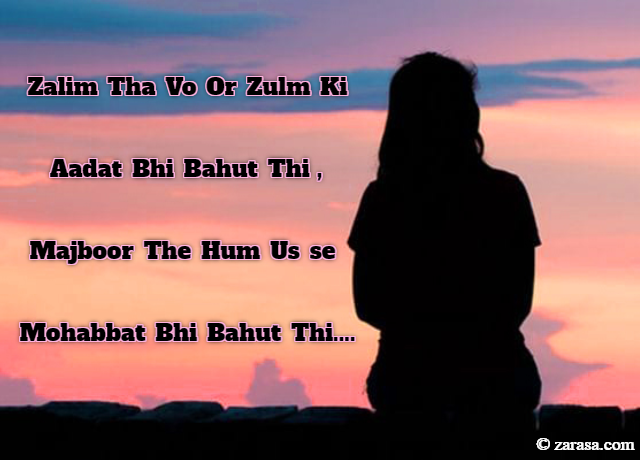 Zalim Tha Vo Or Zulm Ki
Aadat Bhi Bahut Thi ,
Majboor The Hum Us se
Mohabbat Bhi Bahut Thi....
ज़ालिम था वो और ज़ुल्म की
आदत भी बहुत थी ,
मजबूर थे हम उस से
मोहब्बत भी बहुत थी।
ظالم تھا وہ اور ظلم کی
عادت بھی بہت تھی
مجبور تھے ہم اس سے
موحبّت بھی بہت تھی
---