Naseeb Shayari "Kon Kehta He"
|
Kon Kehta He Ke Aadmi Apni Kismat Khud Likhta Hai.
Agar Yeh Sach He To Kismat Mein Dard Kon Likta Hai?


---

कोण कहता हे के आदमी अपनी किस्मत खुद लिखता है .
अगर यह सच हे तो किस्मत में दर्द कोन लिकता है ?


---

کون کہتا ہے کے آدمی اپنی کسمت خود لکھتا ہے .
اگر یہ سچ ہے تو کسمت میں درد کون لکتا ہے ؟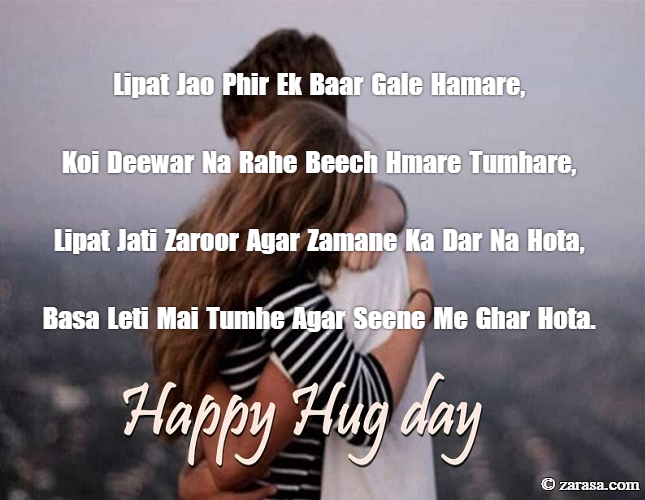 Lipat Jao Phir Ek Baar Gale Hamare,
Koi Deewar Na Rahe Beech Hmare Tumhare,
Lipat Jati Zaroor Agar Zamane Ka Dar Na Hota,
Basa Leti Mai Tumhe Agar Seene Me Ghar Hota.
लिपट जाओ फिर एक बार गले हमारे,
कोई दीवार ना रहे बीच हमारे तुम्हारे,
लिपट जाती जरूर अगर जमाने का डर ना होता,
बसा लेती मैं तुम्हें अगर सीने मैं घर होता।
لپٹ جاو پھر ایک بار گلے ہمارے
کوئی دیوار نہ رہے بیچ ہمارے تمہارے
لپٹ جاتی ضرور اگر زمانے کا در نہ ہوتا
بسا لیتی می تمھ اگر سینے مے گھر ہوتا
---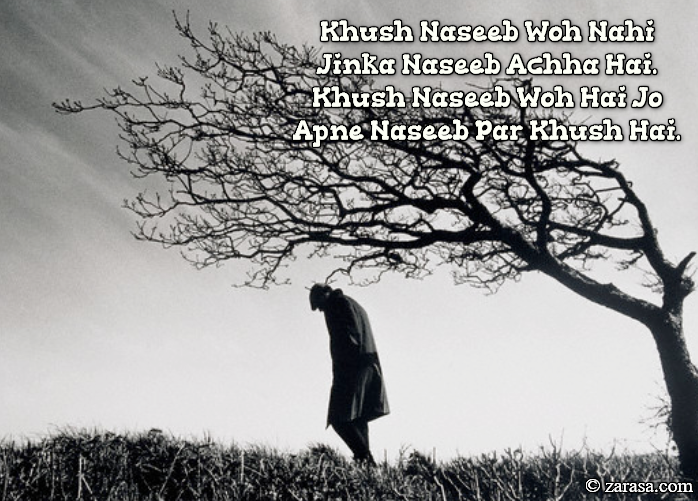 Khush Naseeb Woh Nahi Jinka Naseeb Achha Hai.
Khush Naseeb Woh Hai Jo Apne Naseeb Par Khush Hai.
खुश नसीब वह नहीं जिनका नसीब अच्छा है .
खुश नसीब वह है जो अपने नसीब पर खुश है .
خوش نصیب وہ نہیں جنکا نصیب اچھا ہے .
خوش نصیب وہ ہے جو اپنے نصیب پر خوش ہے .
---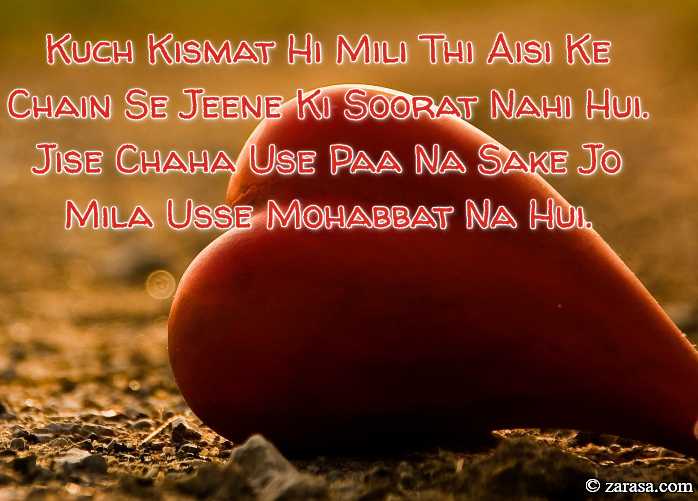 Kuch Kismat Hi Mili Thi Aisi Ke Chain Se Jeene Ki Soorat Nahi Hui.
Jise Chaha Use Paa Na Sake Jo Mila Usse Mohabbat Na Hui.
कुछ किस्मत ही मिली थी ऐसी के चैन से जीने की सूरत नहीं हुई .
जिसे चाहा उसे पा ना सके जो मिला उससे मोहब्बत ना हुई .
کچھ کسمت ہی ملی تھی ایسی کے چین سے جینے کی صورت نہیں ہی .
جسے چاہا اسے پا نہ سکے جو ملا اسے موحبّت نہ ہی .
---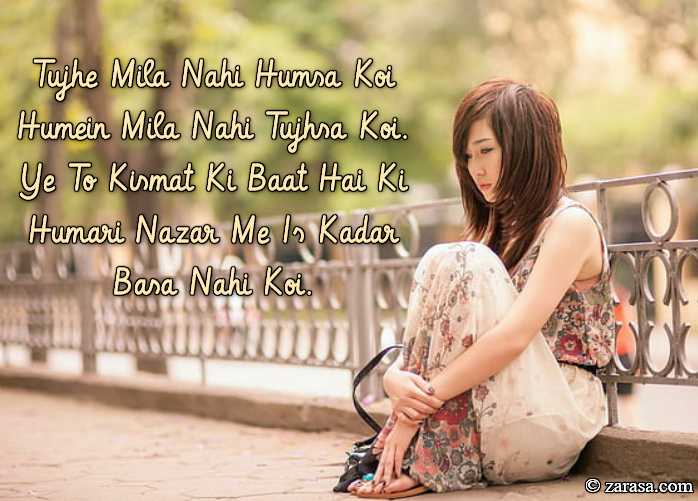 Tujhe Mila Nahi Humsa Koi Humein Mila Nahi Tujhsa Koi.
Ye To Kismat Ki Baat Hai Ki Humari Nazar Me Is Kadar Basa Nahi Koi.
तुझे मिला नहीं हमसा कोई हमें मिला नहीं तुझसे कोई .
ये तो किस्मत की बात है की हमारी नज़र में इस कदर बसा नहीं कोई .
تجھے ملا نہیں ہمس کوئی ہمیں ملا نہیں تجحسا کوئی .
یہ تو کسمت کی بات ہے کی ہماری نظر مے اس کدر بسا نہیں کوئی .
---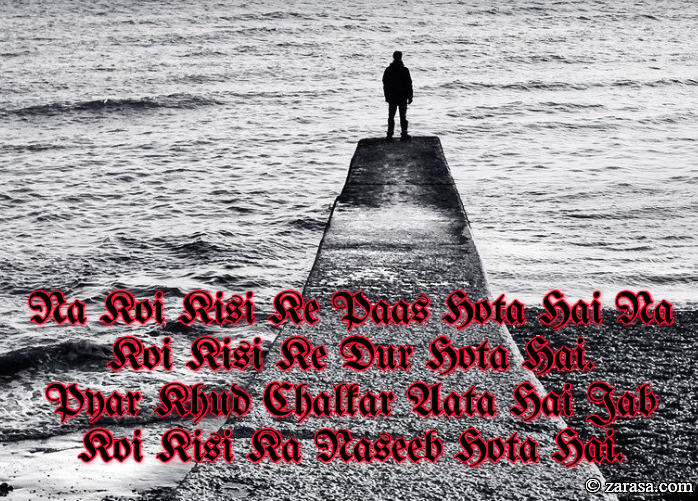 Na Koi Kisi Ke Paas Hota Hai Na Koi Kisi Ke Dur Hota Hai.
Pyar Khud Chalkar Aata Hai Jab Koi Kisi Ka Naseeb Hota Hai.
ना कोई किसी के पास होता है ना कोई किसी के दूर होता है .
प्यार खुद चलकर आता है जब कोई किसी का नसीब होता है .
نہ کوئی کسی کے پاس ہوتا ہے نہ کوئی کسی کے دور ہوتا ہے .
پیار خود چلکر آتا ہے جب کوئی کسی کا نصیب ہوتا ہے .
---