Naseeb Shayari "Kon Kehta He"
|
Kon Kehta He Ke Aadmi Apni Kismat Khud Likhta Hai.
Agar Yeh Sach He To Kismat Mein Dard Kon Likta Hai?


---

कोण कहता हे के आदमी अपनी किस्मत खुद लिखता है .
अगर यह सच हे तो किस्मत में दर्द कोन लिकता है ?


---

کون کہتا ہے کے آدمی اپنی کسمت خود لکھتا ہے .
اگر یہ سچ ہے تو کسمت میں درد کون لکتا ہے ؟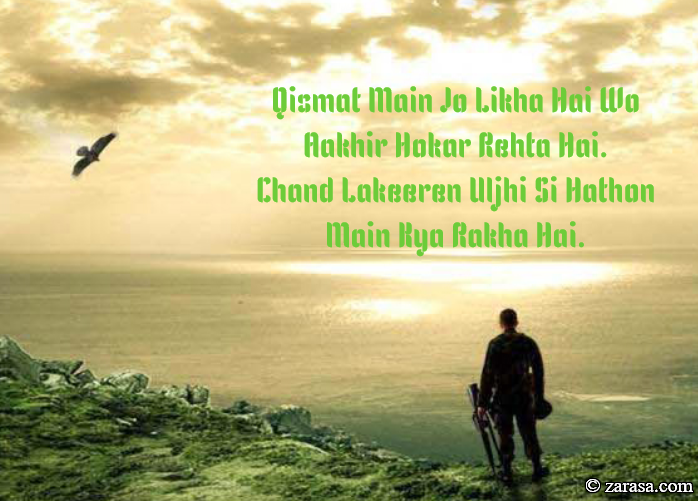 Qismat Main Jo Likha Hai Wo Aakhir Hokar Rehta Hai.
Chand Lakeeren Uljhi Si Hathon Main Kya Rakha Hai.
क़िस्मत मैं जो लिखा है वो आखिर होकर रहता है .
चाँद लकीरें उलझी सी हाथों मैं क्या रखा है .
قسمت میں جو لکھا ہے وو آخر ہوکر رہتا ہے .
چند لکیریں الجھی سی ہاتھوں میں کیا رکھا ہے .
---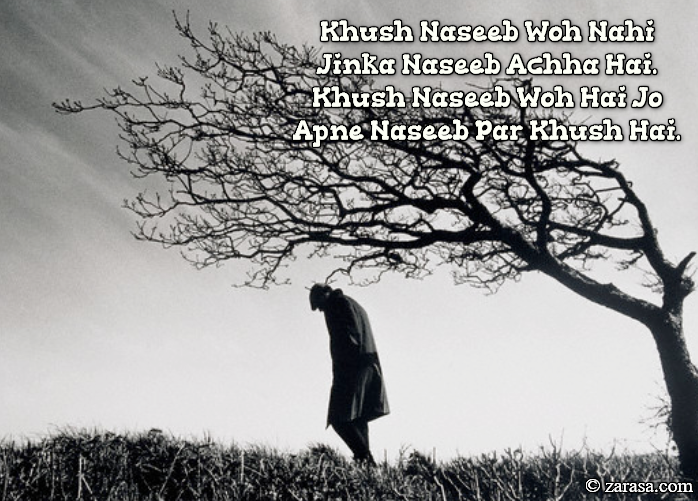 Khush Naseeb Woh Nahi Jinka Naseeb Achha Hai.
Khush Naseeb Woh Hai Jo Apne Naseeb Par Khush Hai.
खुश नसीब वह नहीं जिनका नसीब अच्छा है .
खुश नसीब वह है जो अपने नसीब पर खुश है .
خوش نصیب وہ نہیں جنکا نصیب اچھا ہے .
خوش نصیب وہ ہے جو اپنے نصیب پر خوش ہے .
---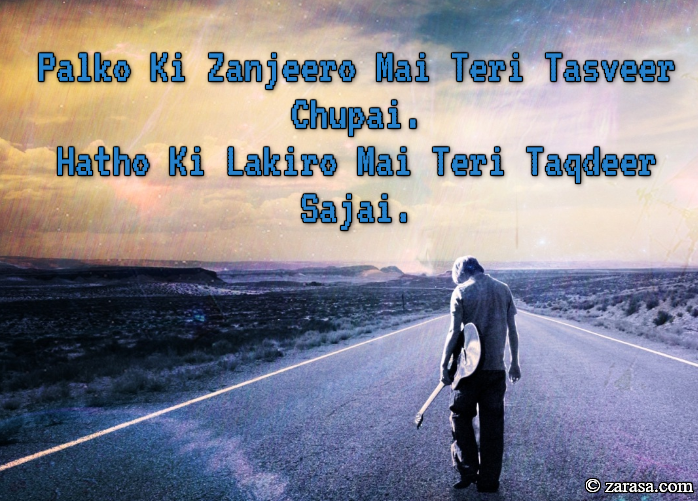 Palko Ki Zanjeero Mai Teri Tasveer Chupai.
Hatho Ki Lakiro Mai Teri Taqdeer Sajai.
पलकों की ज़ंजीरो मे तेरी तस्वीर छुपाई .
हाथो की लकीरो में तेरी तक़दीर सजाई .
پلکو کی زنجیرو می تیری تصویر چھپائی .
ہاتھو کی لکیرو می تیری تقدیر سجی .
---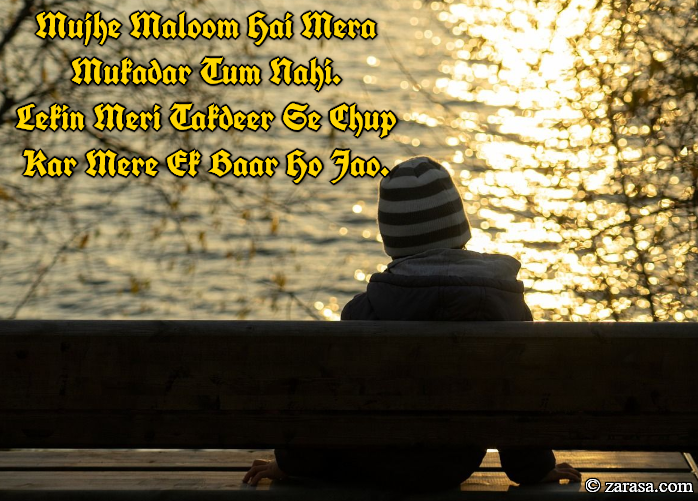 Mujhe Maloom Hai Mera Mukadar Tum Nahi.
Lekin Meri Takdeer Se Chup Kar Mere Ek Baar Ho Jao.
मुझे मालूम है मेरा मुकदर तुम नहीं .
लेकिन मेरी तकदीर से चुप कर मेरे एक बार हो जाओ .
مجھے معلوم ہے میرا مکدر تم نہیں .
لیکن میری تکدیر سے چپ کر میرے ایک بار ہو جاو .
---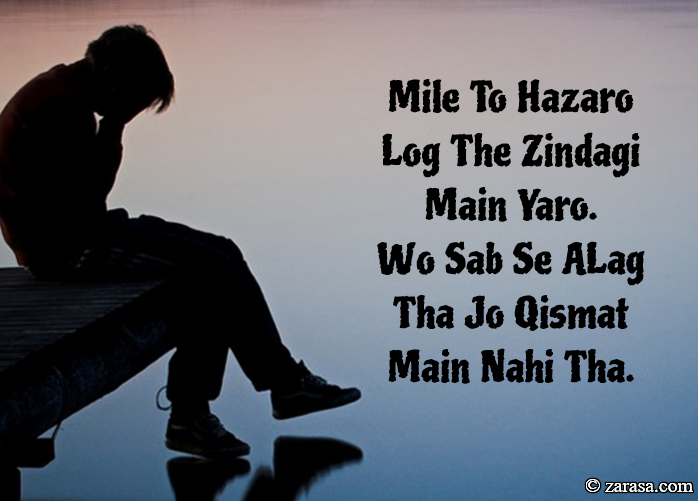 Mile To Hazaro Log The Zindagi Main Yaro.
Wo Sab Se ALag Tha Jo Qismat Main Nahi Tha.
मिले तो हज़ारो लोग थे ज़िन्दगी मैं यारो .
वो सब से अलग था जो किस्मत मैं नहीं था .
ملے تو ہزارو لوگ تھے زندگی میں یارو .
وو سب سے الگ تھا جو قسمت میں نہیں تھا .
---