Naseeb Shayari "Mujhe Maloom Hai"
|
Kon Kehta He Ke Aadmi Apni Kismat Khud Likhta Hai.
Agar Yeh Sach He To Kismat Mein Dard Kon Likta Hai?
कोण कहता हे के आदमी अपनी किस्मत खुद लिखता है .
अगर यह सच हे तो किस्मत में दर्द कोन लिकता है ?
کون کہتا ہے کے آدمی اپنی کسمت خود لکھتا ہے .
اگر یہ سچ ہے تو کسمت میں درد کون لکتا ہے ؟

---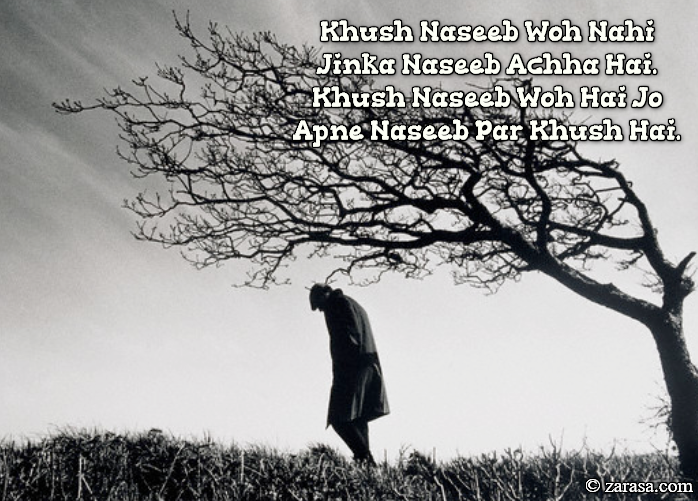 Khush Naseeb Woh Nahi Jinka Naseeb Achha Hai.
Khush Naseeb Woh Hai Jo Apne Naseeb Par Khush Hai.
खुश नसीब वह नहीं जिनका नसीब अच्छा है .
खुश नसीब वह है जो अपने नसीब पर खुश है .
خوش نصیب وہ نہیں جنکا نصیب اچھا ہے .
خوش نصیب وہ ہے جو اپنے نصیب پر خوش ہے .
---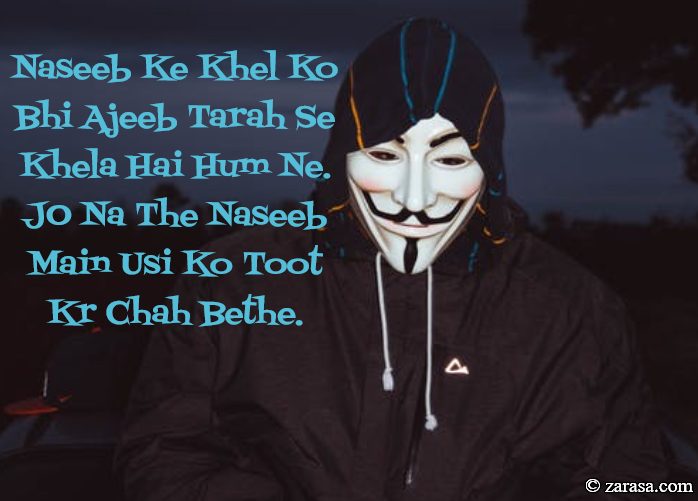 Naseeb Ke Khel Ko Bhi Ajeeb Tarah Se Khela Hai Hum Ne.
JO Na The Naseeb Main Usi Ko Toot Kr Chah Bethe.
नसीब के खेल को भी अजीब तरह से खेला है हम ने .
जो ना थे नसीब मैं उसी को टूट कर छह बैठे .
نسیب کے کھل کو بھی عجیب طرح سے کھلا ہے ہم نے .
جو نہ تھے نصیب میں اسی کو ٹوٹ کر چہ بیٹھے .
---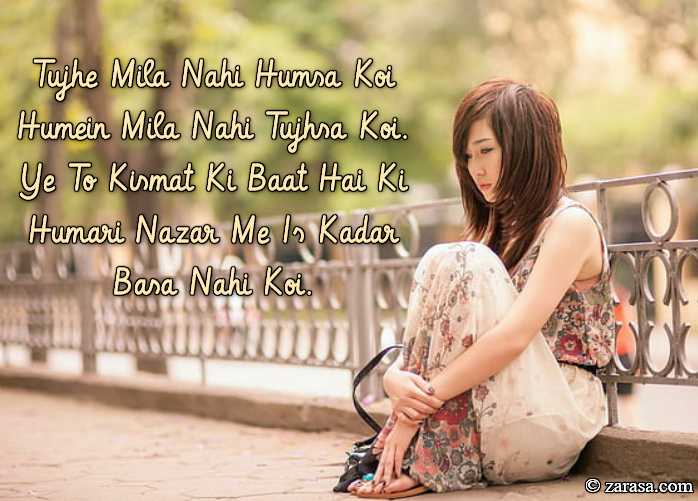 Tujhe Mila Nahi Humsa Koi Humein Mila Nahi Tujhsa Koi.
Ye To Kismat Ki Baat Hai Ki Humari Nazar Me Is Kadar Basa Nahi Koi.
तुझे मिला नहीं हमसा कोई हमें मिला नहीं तुझसे कोई .
ये तो किस्मत की बात है की हमारी नज़र में इस कदर बसा नहीं कोई .
تجھے ملا نہیں ہمس کوئی ہمیں ملا نہیں تجحسا کوئی .
یہ تو کسمت کی بات ہے کی ہماری نظر مے اس کدر بسا نہیں کوئی .
---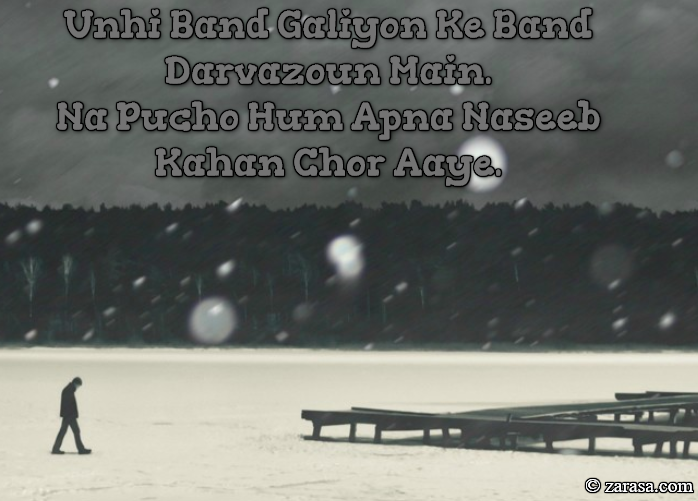 Unhi Band Galiyon Ke Band Darvazoun Main.
Na Pucho Hum Apna Naseeb Kahan Chor Aaye.
उन्ही बंद गलियों के बंद दरवाज़ों में .
ना पूछो हम अपना नसीब कहाँ छोड़ आये .
انہی بینڈ گلیو کے بینڈ دروازوں مے .
نہ پچو ہم اپنا نصیب کہاں چوڑ اے .
---