Shayari For Chiraag "Nazar Na Aaye Mujhe"
|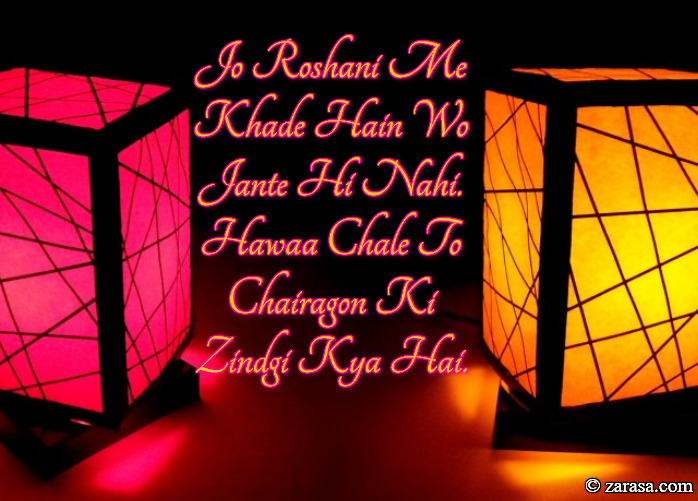 Jo Roshani Me Khade Hain Wo Jante Hi Nahi.
Hawaa Chale To Chairagon Ki Zindgi Kya Hai.
जो रोशनी में खड़े हैं वो जानते ही नहीं .
हवा चले तो चैरागों की ज़िंदगी क्या है .
جو روشنی مے کھڈے ہیں وو جانتے ہی نہیں .
ہوا چلے تو چیراگوں کی زندگی کیا ہے .
---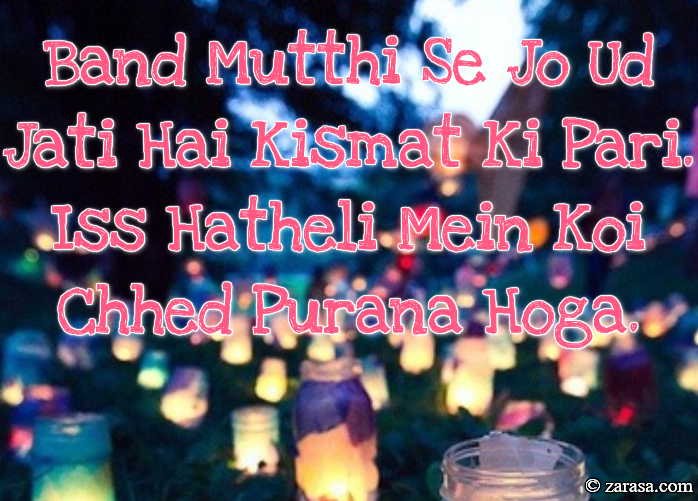 Band Mutthi Se Jo Ud Jati Hai Kismat Ki Pari.
Iss Hatheli Mein Koi Chhed Purana Hoga.
बंद मुट्ठी से जो उड़ जाती है किस्मत की पारी .
इस हथेली में कोई छेड़ पुराण होगा .
بند مٹھی سے جو اد جاتی ہے کسمت کی پر .
اسس ہتھیلی میں کوئی چھید پرانا ہوگا .
---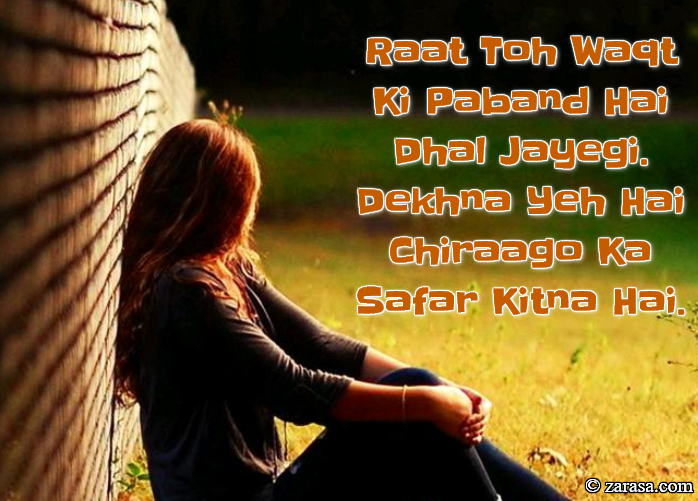 Raat Toh Waqt Ki Paband Hai Dhal Jayegi.
Dekhna Yeh Hai Chiraago Ka Safar Kitna Hai.
रात तो वक़्त की पाबंद है ढाल जाएगी .
देखना यह है चिरागो का सफर कितना है .
رات تو وقت کی پابند ہے ڈھال جاےگا .
دیکھنا یہ ہے چراگو کا سفر کتنا ہے .
---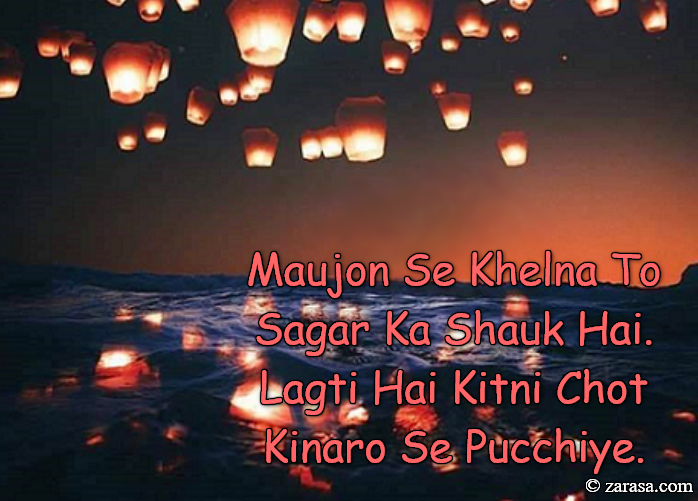 Maujon Se Khelna To Sagar Ka Shauk Hai.
Lagti Hai Kitni Chot Kinaro Se Pucchiye.
मौजों से खेलना तो सागर का शौक है .
लगती है कितनी चोट किनारो से पूछिए .
موجوں سے کھیلنا تو ساگر کا شہک ہے .
لگتی ہے کتنی چوٹ کنارو سے پکچئے .
---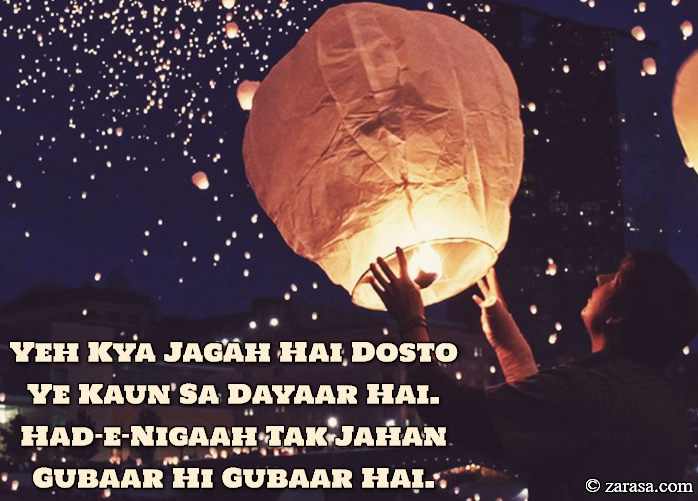 Yeh Kya Jagah Hai Dosto Ye Kaun Sa Dayaar Hai.
Had-e-Nigaah Tak Jahan Gubaar Hi Gubaar Hai.
यह क्या जगह है दोस्तों ये कौन सा दयार है .
हद -इ -निगाह तक जहाँ गुबार ही गुबार है .
یہ کیا جگہ ہے دوستو یہ کون سا دیار ہے .
حد -ا -نگاہ تک جہاں گبر ہی گبر ہے .
---