Shayari For Chiraag "Lakdi Ke Makano Mein"
|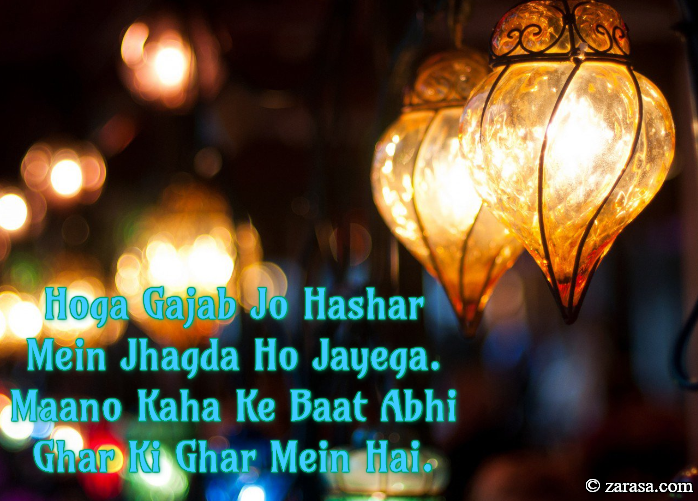 Hoga Gajab Jo Hashar Mein Jhagda Ho Jayega.
Maano Kaha Ke Baat Abhi Ghar Ki Ghar Mein Hai.
होगा गजब जो हशर में झगड़ा हो जायेगा .
मानो कहा के बात अभी घर की घर में है .
ہوگا گاجب جو حشر میں جھگڑا ہو جاےگا .
مانو کہا کے بات ابھی گھر کی گھر میں ہے .
---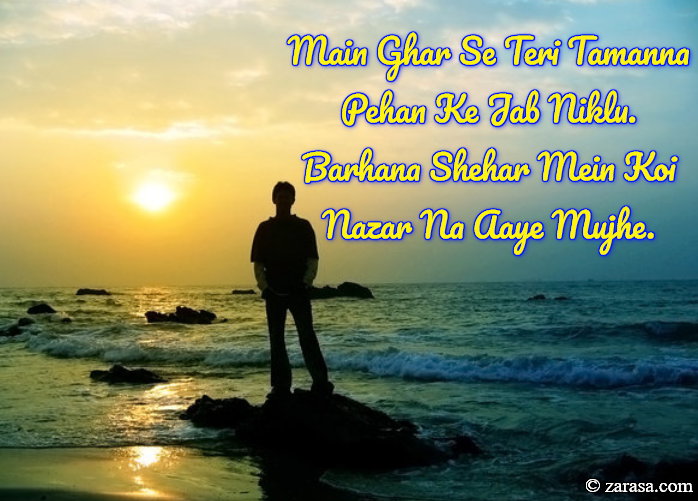 Main Ghar Se Teri Tamanna Pehan Ke Jab Niklu.
Barhana Shehar Mein Koi Nazar Na Aaye Mujhe.
मैं घर से तेरी तमन्ना पहन के जब निकलू .
बढ़ाना शहर में कोई नज़र ना आये मुझे .
میں گھر سے تیری تمنّ پہن کے جب نکلو .
بڑھانا شہر میں کوئی نظر نہ اے مجھے .
---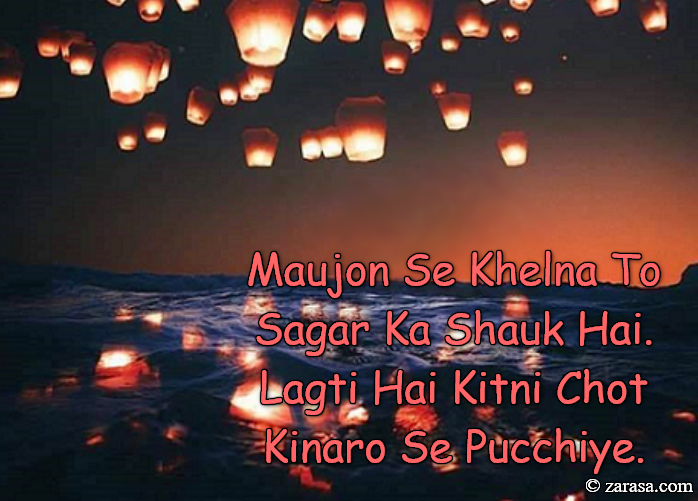 Maujon Se Khelna To Sagar Ka Shauk Hai.
Lagti Hai Kitni Chot Kinaro Se Pucchiye.
मौजों से खेलना तो सागर का शौक है .
लगती है कितनी चोट किनारो से पूछिए .
موجوں سے کھیلنا تو ساگر کا شہک ہے .
لگتی ہے کتنی چوٹ کنارو سے پکچئے .
---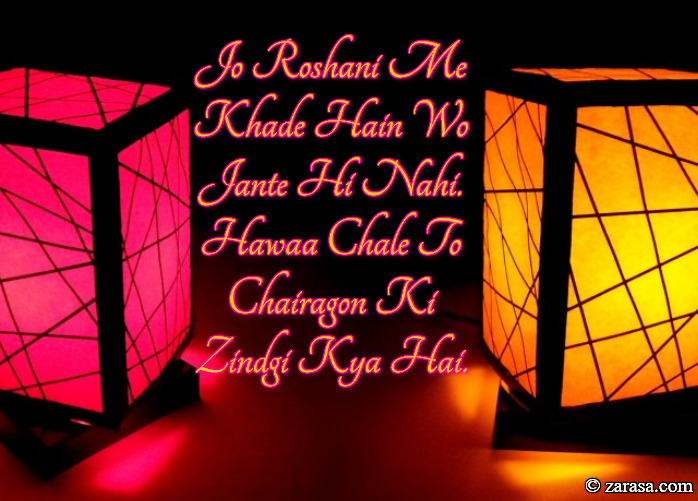 Jo Roshani Me Khade Hain Wo Jante Hi Nahi.
Hawaa Chale To Chairagon Ki Zindgi Kya Hai.
जो रोशनी में खड़े हैं वो जानते ही नहीं .
हवा चले तो चैरागों की ज़िंदगी क्या है .
جو روشنی مے کھڈے ہیں وو جانتے ہی نہیں .
ہوا چلے تو چیراگوں کی زندگی کیا ہے .
---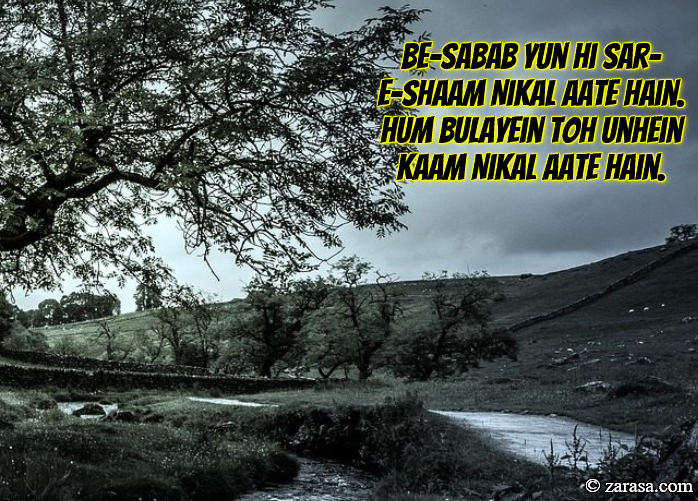 Be-Sabab Yun Hi Sar-e-Shaam Nikal Aate Hain.
Hum Bulayein Toh Unhein Kaam Nikal Aate Hain.
बे -सबब यूँ ही सर -इ -शाम निकल आते हैं .
हम बुलाएं तोह उन्हें काम निकल आते हैं .
بے -سبب یوں ہی سر -ا -شام نکل آتے ہیں .
ہم بلاییں ٹوہ انہیں کام نکل آتے ہیں .
---