Shayari for Country "Na Sar Jhuka Hai Kabhi"
|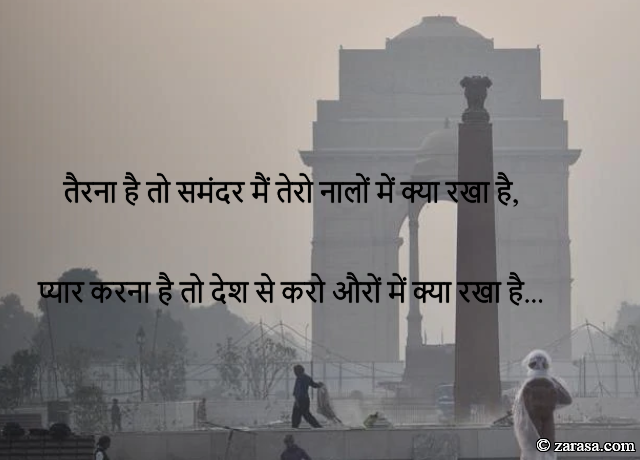 Terna Hai To Samandar Me Tero Naalon Me Kya Rakha Hai,
Pyar Karna Hai To Desh Se Karo Auron Me Kya Rakha Hai...
तैरना है तो समंदर मैं तेरो नालों मैं क्या रखा है,
प्यार करना है तो देश से करो औरों मैं क्या रखा है...
تیرنا ہے تو سمندر می تھرو نالوں میں کیا رکھا ہے'
پیار کرنا ہے تو دیش میں کرو آوروں میں کیا رکھا ہے -
---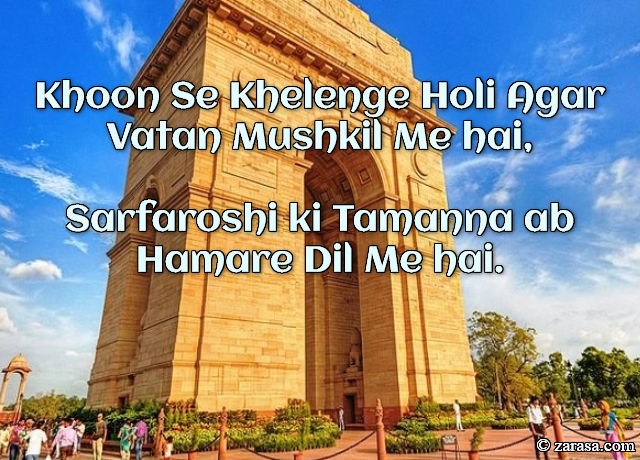 Khoon Se Khelenge Holi Agar Vatan Mushkil Me hai,
Sarfaroshi ki Tamanna ab Hamare Dil Me hai.
खून से खेलेंगे होली अगर वतन मुश्किल में है,
सरफ़रोशी की तमन्ना अब हमारे दिल में है.
خون سے کھیلینگے ہولی اگر وطن مشکل مے ہے,
سرفروشی کی تمنّ اب ہمارے دل مے ہے.
---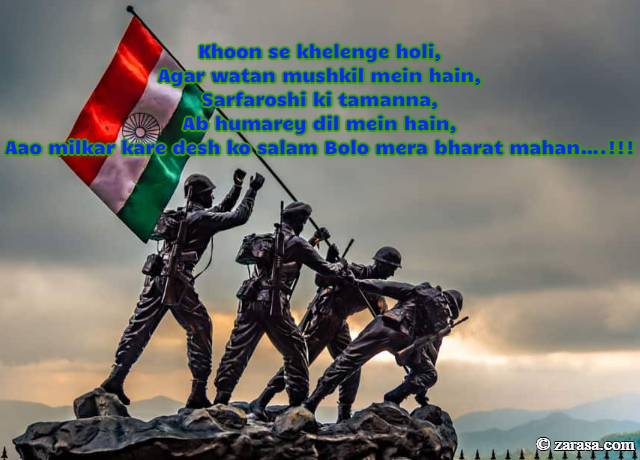 Khoon se khelenge holi,
Agar watan mushkil mein hain,
Sarfaroshi ki tamanna,
Ab humarey dil mein hain,
Aao milkar kare desh ko salam Bolo mera bharat mahan….!!!
खून से खेलेंगे होली,
अगर वतन मुश्किल में है,
सरफ़रोशी की तमन्ना ,
अब हमारे दिल में हैं ,
आओ मिलकर करे देश को सालाम बोलो मेरा भारत महान।

خون سے کھیلینگے ہولی ،
اگر وطن مشکل می ہے ،
سرفروشی کی تمنا ،
اب ہماری دل می ہے ،
آو ملکر کرے دیش کو سلام بولو میرا بھارت مہان .
---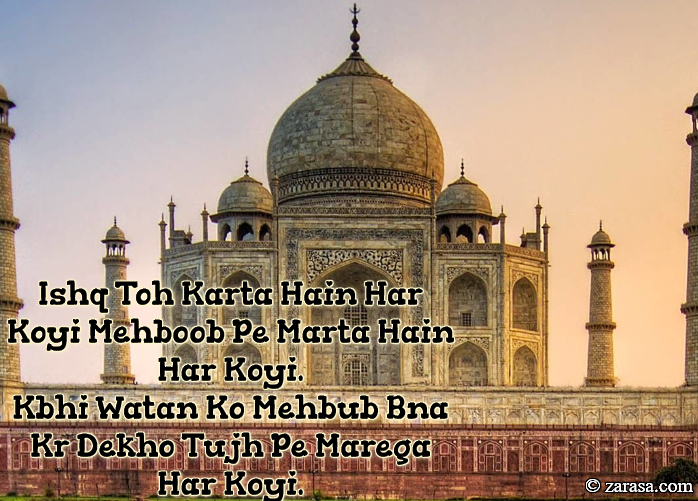 Ishq Toh Karta Hain Har Koyi Mehboob Pe Marta Hain Har Koyi.
Kbhi Watan Ko Mehbub Bna Kr Dekho Tujh Pe Marega Har Koyi.
इश्क़ तोह करता हैं हर कोई मेहबूब पे मरता हैं हर कोई .
कभी वतन को मेहबूब बना कर देखो तुझ पे मरेगा हर कोई .
عشق ٹوہ کرتا ہیں ہر کویی محبوب پی مارتا ہیں ہر کویی .
کبھی وطن کو محبوب بنا کر دیکھو تجھ پی مریگا ہر کویی .
---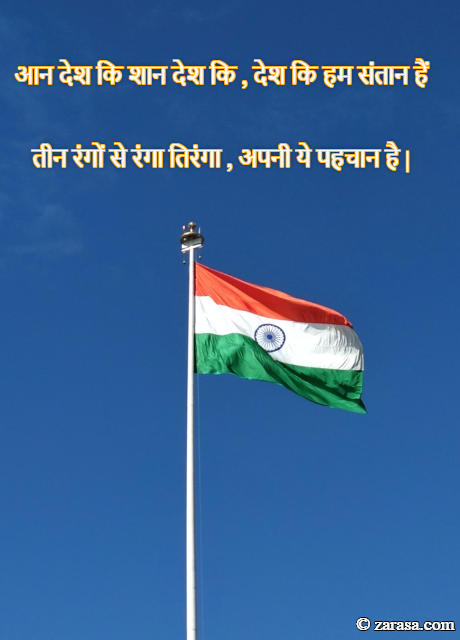 Aan desh ki shaan desh ki, desh ki ham santan hain
Teen rango se ranga tiranga, apni ye pahchaan hai
आन देश कि शान देश कि , देश कि हम संतान हैं

तीन रंगों से रंगा तिरंगा , अपनी ये पहचान है |
ان دیش کی شان کی ، دیش کی ہم سنتان ہیں

تین رنگو سے رنگ ترنگا ، اپنی یہ پہچان ہے .
---