Shayari for India (Country) "Khoon Se Khelenge Holi Agar Vatan Mushkil Me hai"
|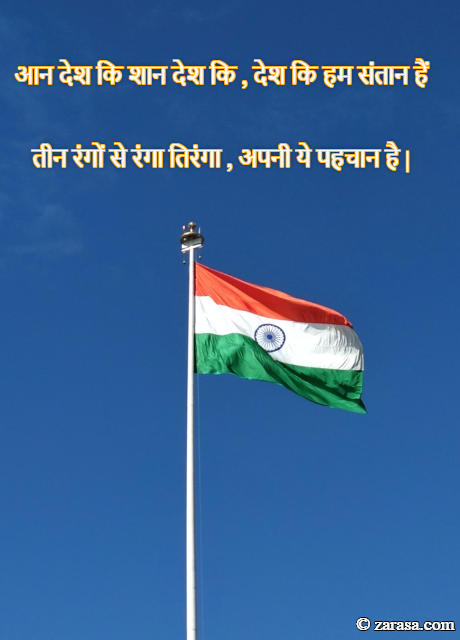 Aan desh ki shaan desh ki, desh ki ham santan hain
Teen rango se ranga tiranga, apni ye pahchaan hai
आन देश कि शान देश कि , देश कि हम संतान हैं

तीन रंगों से रंगा तिरंगा , अपनी ये पहचान है |
ان دیش کی شان کی ، دیش کی ہم سنتان ہیں

تین رنگو سے رنگ ترنگا ، اپنی یہ پہچان ہے .
---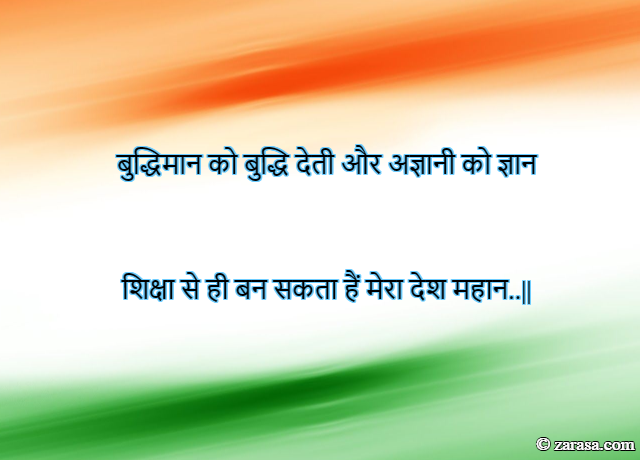 Budhimaan Ko Budhi deti Aur Gyaani Ko Gyaan
Shiksha Se Hi Ban Sakta Hai Mera Desh Mahaan.
बुद्धिमान को बुद्धि देती और अज्ञानी को ज्ञान

शिक्षा से ही बन सकता हैं मेरा देश महान..||
بوڑھیمان کو بوڑھی دیتی اور آگیانی کو گیان

شکشا سے ہی بن سکتا ہے میرا دیش مہان .
---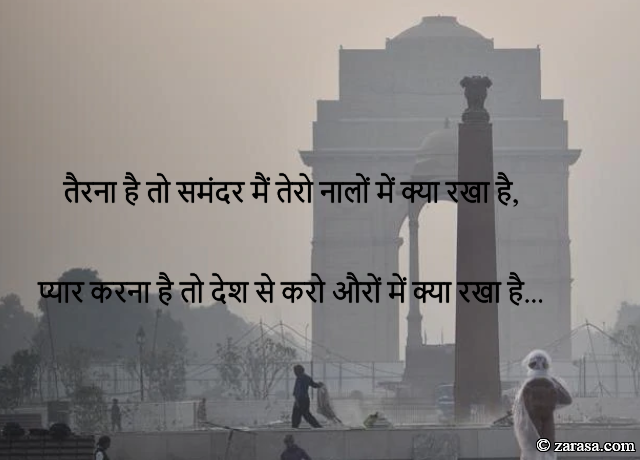 Terna Hai To Samandar Me Tero Naalon Me Kya Rakha Hai,
Pyar Karna Hai To Desh Se Karo Auron Me Kya Rakha Hai...
तैरना है तो समंदर मैं तेरो नालों मैं क्या रखा है,
प्यार करना है तो देश से करो औरों मैं क्या रखा है...
تیرنا ہے تو سمندر می تھرو نالوں میں کیا رکھا ہے'
پیار کرنا ہے تو دیش میں کرو آوروں میں کیا رکھا ہے -
---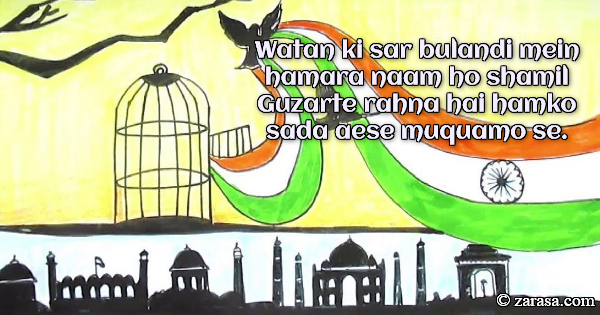 Watan Ki Sar Bulandi Mein Hamara Naam Ho Shamil
Guzarte Rahna Hai Hamko Sada Aese Muquamo Se.
वतन की सर बुलंदी में, हमारा नाम हो शामिल
गुजरते रहना है हमको, सदा ऐसे मुकामो से.
وطن کی سر بلندی میں ہمارا نام ہو شامل
گزرتے رہنا ہے ہمکو سادہ ایسے مقامو سے .
---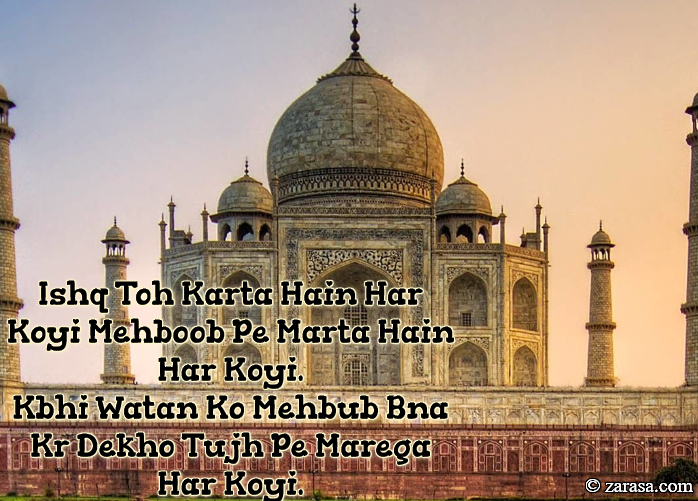 Ishq Toh Karta Hain Har Koyi Mehboob Pe Marta Hain Har Koyi.
Kbhi Watan Ko Mehbub Bna Kr Dekho Tujh Pe Marega Har Koyi.
इश्क़ तोह करता हैं हर कोई मेहबूब पे मरता हैं हर कोई .
कभी वतन को मेहबूब बना कर देखो तुझ पे मरेगा हर कोई .
عشق ٹوہ کرتا ہیں ہر کویی محبوب پی مارتا ہیں ہر کویی .
کبھی وطن کو محبوب بنا کر دیکھو تجھ پی مریگا ہر کویی .
---